To all who come to this photo trivia game, Welcome! Along the way, the photos can make us relive memories and see details Walt's Imagineers put into everything we love in Walt Disney World!
It's a big day, Players! A Big, big day! Does everyone have everything for the party? Then let's go! Celebrate!
It's the SIXTH ANNIVERSARY OF WHERE IN THE WORLD PHOTO FUN!
Why didn't we celebrate the fifth anniversary, I hear you ask. Because: I didn't think to look up when it started until this year. 🙂 We can call it:
THE ONE YEAR ANNIVERSARY of WHERE IN THE WORLD PHOTO FUN TURNING FIVE!
Barrie Brewer began the game with this description:
"The magic is in the details.
A visit to Disney World is like no other experience. From the moment you arrive you are engulfed by the atmosphere. Seems like every step you take provides a new treat for your senses, from the sound of beating drums to the sight of spectacular colors in every direction. There's so much to absorb that your brain focuses on the big picture rather than on the details. And that's the plan – Imagineers don't just create a set for us to look at, they immerse us in the set so that we actually feel something magical. For them it's is all about the detail. It wasn't until I started photographing Disney World that I really began to see the amazing intricacies of their work."
As I searched for the game's history, I discovered Jack Spence very nicely mentioned us on his blog:
"Each Sunday, under the "Picture This" section of the AllEars Blog Central page, Erin Blackwell presents "Where In The World." It's a great game that I play regularly. I can usually guess the location, but Erin is definitely capable of stumping me on occasion. If you haven't played this game, I recommend that you give it a try. "
Several of you were equally nice in commenting how much you liked the game.
Thank you, everyone, for all your support every week. It means so much to me and AllEars!
Here's how we're going to celebrate: TWO challenges, a call for action, and a special drawing!
But before we go any further, let's answer last week's challenge:
Challenge #288: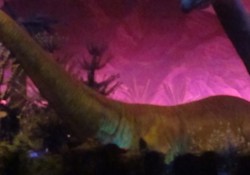 And here's the answer:


Copyright © Erin Blackwell
Elizabeth Johnston? "What is Ellen's Energy Adventure for $500, Alex?" That's right! The dinosaur section of Ellen's Energy Adventure in Epcot! Or as Karen Schlumpf says, "It's one of those mean ole dinosaurs who are either chewing with their mouth open or who sneeze on you :o)" As as Claire Gregory added: "Okay, everybody put on your widest bell bottoms and sparkliest disco tops, and sing along!! Here we go, see it glow….its the universe of Energy!" Finish it up, Matt Holley and The Hulse Family: "stupid Judy, stupid Energy."
Jeff Blank, the smellitzers and fog in this area was great, wasn't it? Added so much to it.
Justin Clavet was the first to send in the correct answer! Congratulations to Justin and all our winners this week! Amy Weber, Candice Grimes, Jodi Civill, Tammy Wright, Kate Nejman, Dawn Davis, Mary Ann Lamay, Leah Bailly, Jennifer Rowell, Andrew Carrieri, Maureen Handy, Sally Fralix, Jim, Melissa Such, Deme Grabert, Kim Miller, Kathy Morris, Allison Forson, Paul Knott, Laura V., Susan Burks, Trisha Johnson, Darlene Haven , Bill Cudney , Betsy Silvestri, Agnes Ciotti, Karen Ramirez, Chris Masse, Dave Wang, Jennifer Rowell , Leigh Mertz, Dawn Bach, Mary Beth Tarbet, Heather Arnold , Bruce Jones, Tricia Petty, Jason and Melinda Lenz, Patti Mccaffrey, Tom Koval, Christie Haskin , Luke Acquaro, Tracy Ludwig, Clare S, Ed Elder, Thetesa Rucando, Keith Rogers, Julie Canaday, Kathy Opitz, Denise Cayz, Kathy Wicks, Sharon Pierce, Janet Stavrides, Jill Sisk, Kathy Davies, Tinkerbell Wells, Fran Rendulic, Chris Matejka, Dave Freemyer, Vanessa Stjohn, Scott Cullen, Virginia Pierce, Sam Rossman, Danielle Ciotti Harsley, Kristi Strembicki, Belicia Cullen, Lisa Eyer, Kelley Madensky, Chris Nichols, Angela Fennell, Robert Hildebrandt , Ed Suscreba, Craig Grillo, Jennifer Page, Jenny Brennan , Karen Schlumpf, Axel Beer, Monica Hatch, Deb Ragno, Team Hill, Lindsay Coram, Kris Nixon, Kertes Family , The Strukel Famil, Tim Mcnulty, Mitzi Idziorek, Josh Weiss, Kim Shilkuski , Vera Dercole, Erika Murphy, Sharon Lucia, Chris Kelly, Leach Family, Pamela Gerdes, Ken Jackson, Mary Thatcher, Kye Layton, Kisha Garcia, Paul Gera, Deedee Kenney, Jacquelyn Law, Donna Frank, Justin Foss, Ashley P. , Erin Hammer, Karen Tuso, The Kahle Family, Tom Buck, Yvonne Marchione, Lynette Michalos, Jeff Schoeling, Olszak Family, Maggie Klotz, Steve And Ruby Jordan, Kenny, Scott Greenbaum, Lori Jordan, Jason Hocker, Julie Wickware, Karen Adamakis, Wendy T Faler, Janet Fishman, Noah Schweizer (9 Yrs Old), Wade, Duskin Henard, Janet Thorn, Daniel Schweizer (13 Yrs Old), Christopher Treece, Al Ganter, Sandie Albrecht, Kirsten Miller, Antoinette Leblanc, Emily Hudson, Pollyanna Buff, Bob Patterson, The Parker Family, Double Family, Sarah And Chris, Stephanie Henry, Tracey Mayfield, The Malesky Family, Laura Zale, Anjanette Tournillon, Kerri Coggins, Josh Carney, Jonathan Thomas, Lauren Thomas, Cynthia Hitchcock, Christina Rotella, Curtis Bille, Staci Plunkett , Pat Schwier, Jeremy Hardy, Paige, Theresa Fontaine, Lynn, Ronald Delorey, Morgan M., Irene Ng, Kaylie Seeley, Hobbes And Snorky, Bruce Hinterleitner, Liz Moreau, Tammy Kennedy, Trina Noggle, John Bickers, Tim Johansen, Stefan Owens, Linda Ranatza, Crol Ney, Evald Olson, Stefan Owens, Maryann Eckenrode, John P, Jeff And Cheryl Simmons, Brenda.r., Clay Anthony, Stacy, Shannon Stitzel, Hillary Waldroop, Rob Blundin, Kerry A., Larry Sprenkle, Claire Gregory, Annie Snodgrass, Ellie Argaluza, Kelly Cummings , Steve Morin, Jim Riddle, Eneli, Billie Jean Albolino, Emily Dagney, Christine Dagney, Carolyn Como, Kay Eidt, Anna Keene, The O'meara Family, Mike Malampy, Herb Miller, Sarah Calvario, Roxanne Kliebert, Kerry Mccaffrey, Gail States, Chris, Gretchen, And Katie Barnes, Ron Harper, Daniel Record, Jenn Crosby, Josette Gabel, Jenny Brams, Jeff Blank, Olivia, Nigel Mcquire (wales Uk), Craig, Cameron Lange, Les Stewart, Russ Morgan, Erika Loboda, Jodi Cook, Heather Hynes, The Patterson Family, Karen Costa, Melodi Clark, Mark Franklin, Paul Ignudo, Jr., Tricia Noble, Charles Everson, The Foley Family, Nathaniel Clements, Kate Fischer, Eva Mayhew, Dee Riccio, Shelly Borella, Jeff Stetson, Alison Rosenberger, Matt Holley, Ken Rhinehart, Andrew Pettit, Jim Finley, Michelle Boykin, Anastasia Macneil, Terry Fleming, Chris Bauman, Andrea Kruszewski, Maryann Romagnano, Matt Petty, Terry Blair, Stephanie Dollar, Carla C, Rebecca Keenan, Stephanie Linares, Dale Knight, Matt Ciccone, Suzanne Denham, Nancy Johansen, Ainsley Poe, Karen Smith, Diane Ramos, Anita Jodouin, Kristan Bertelmann, Mickey Eckert, Elizabeth Johnston, Stephanie Davis, The Hulse Family, Vera Williams, Nancy Cole, Amy Scott, Carolyn Duff, Melesia Love, Timothy Hutchinson, Melissa Littman, Dave Kanigowski, Sandy Kanigowski, Payton Dross, Robert P Flaherty, Melissa Rappley, Michael Gunnels, Chris Connors, Michael Pennington, Rob And April – Team Vanderpool, Carrie Kwiat, Kathryn Perkins, Peter Boguszewski, Team Bonnie Sue, Christina Meyer, Paul Dickson, Heidi Goodhue, Linda Scrivano, Elaine Kleinhenz, Jen Cerce, Steven Pluff, Sharon Leitgeb, Jane Johnson, Jared Orth, Joseph M. Zafia, Rachel Taylor, Kate Flanagan, Amanda Campbell, Terri Thornton, Shirley Garcowski, Allison Dibiase, Christian Lewis, Barclay Bakkum, David Ballard, Carrie Rampy, Craig Lordan, Mike Venere, Brendan Abel, Edward Haja, Angela Johnson, Team Meeker, George Mundy Jr, Madeline Davis, Emily Harper, Stacy Vasilak, Gloria Martin, Carri Marotto, Peggy Saeger, Marie Seilus, Marie Phillips, Jen Tremley, Caroline Burmester, Dave Carriere, Kathryn Hughes, Robert Wescovich, Barbara Ingrm, Tom Higbee, Ashley Collins, Sonnen's, Paul Scimeca, Gallagher Family, Vicki And William Edwards, Mike Haeberle, Theresa Rucando, Vickie Scioneaux, and Lori Rienhardt. Each of you are entered in this month's winners' drawing.
_____________________________________________________ _____________________
Challenge #289 Where in the world is this?
First, our Special Challenge:

This was the very FIRST Challenge posted six years ago! Can you guess where this is in the parks without looking up the answer in the photo blog?
Remember, you don't have to know both challenges to send in an answer. If you don't know this one but you know the next, just say so in your answer.
Now for our regular weekly challenge and the rest of our celebration:
The highest number of answers we've ever had was 555! I want to see you beat that, Players! I'm calling for everyone to show Barrie Brewer and Deb Wills how glad we are that they started this game as part of AllEars. BLOW THE DOORS OFF THIS GAME! As Eva Mayhew will tell you, I will happily enter 700 winner names if that's how many we have! And to help make this happen, I made this challenge Player friendly!
We are outside the parks! Do you know what this 'iconic' Walt Disney World thing is? There's more than one, but you only have to give me the general name. For example: if I posted something of a Disney bus, just say "A Disney bus", you don't have to give the bus number. 🙂
Somebody answer for The O'meara Family; because they are going to DISNEY! Whoo hoo! Have a great time!
And now to sweeten our celebration: we are having a special SIXTH ANNIVERSARY DRAWING! I will randomly draw a winner just like I do for the monthly ones. That means you get a chance to win TWICE this month! And you are still eligible for the monthly drawing even if you win the Sixth Anniversary special!
Let the challenges begin!
Do you know? Do you have a guess? Please send in your answer, before the end of the day on Thursday, July 25th, by clicking on the blue box below. Please do not post answers using the Feedback Form link at the bottom of this post.
See you next week, Players!


_______________________________________________________________________
Everyone who sends in a correct answer to a Where in the World Challenge this month will be entered in a drawing at the end of the month for some special AllEars® goodies!