Jack Spence is on a leave of absence until 2014. This is a reprint of a blog he wrote several years ago. This blog originally ran in 2009 and was accurate at the time of publication.
I've had a number of requests to post more pictures of the early years of Walt Disney World. So last night I dug through some of the Disneyana I've collected over the years. I'm hoping these scraps might help appease the voracious appetite you all have for things Disney.
As many of you know, I worked at Disneyland from 1971 to 1980. During this time, cast members were given lots of free tickets to Disneyland and Walt Disney World. This first ticket is one such item. In the early years, transportation from the TTC to the Magic Kingdom was not free. It required a separate ticket. If you notice, the price was $1.50. Also notice, "Motor Trams" were one of the options.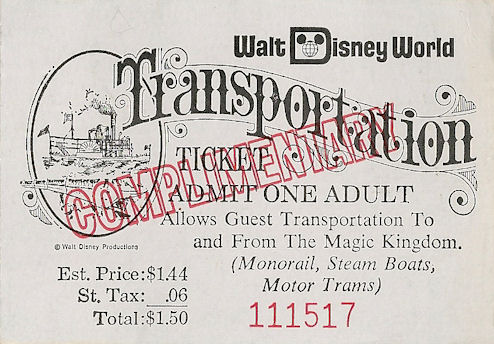 Attached to this Transportation ticket was an admission ticket to the Magic Kingdom. It has no date printed on it, so I can't pinpoint a time, but the cost of entry was $2.25.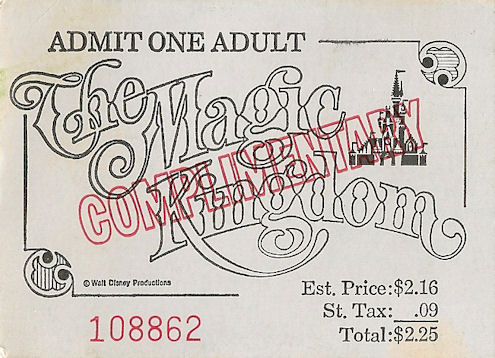 I know your first thought is this is incredibly cheap. But you have to remember, all this ticket did was grant you admission into the park. If you wanted to ride on something, you needed an A thru E ticket. Unfortunately, I don't have any of these tickets for Disney World, but I do have a complementary ticket book that contained five multi-use tickets.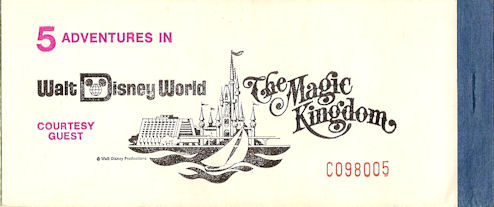 These tickets were not designated A thru E. Each ticket was good on ANY attraction in the Magic Kingdom. In other words, all of them were "E" tickets. Believe me, this was like gold back in the early years.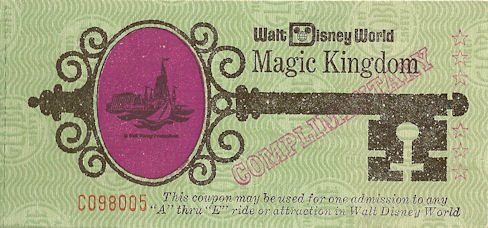 On the inside, back cover of the ticket book was a list of all the rides and attractions of the day.
This next bit of memorabilia centers around bus transportation. Dated 1989, this handout informed guests how to read the color coded pennants displayed on the front of each bus. Each destination had its own color or design. This was a complicated system that thankfully, didn't last too long.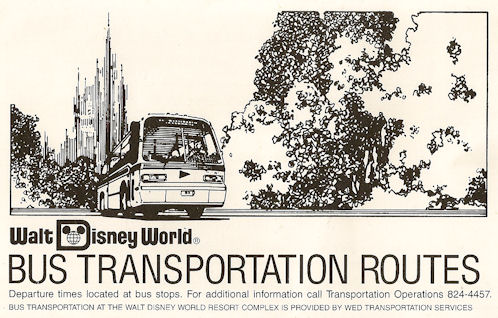 In later years, Disney started handing out elaborate sheets with a grid. First you would determine your current location from the left side of the sheet. Then you would search for your ultimate destination across the top of the page. Where the two lines intersected gave you what modes of transportation were needed to get you there. Once again, this sheet does not have a date on it, but on the reverse side it notes the Coronado Springs as a future project, opening in 1997. So I'm guessing this was 1995 or 1996.
Sorry, in order to fit this into the webpage, I had to shrink it beyond readability. The actual size was 15″x11″. But I think you can get the idea of its use.
For a very comprehensive Step Back in Time regarding Walt Disney World tickets, see Jack Marshall's Ticket History pages on AllEars!