On Thursday, my 8-year-old daughter and I felt like we had stepped onto the set of the television show "Sea Rescue" when we witnessed a SeaWorld Orlando team release four rehabilitated manatees into the wild.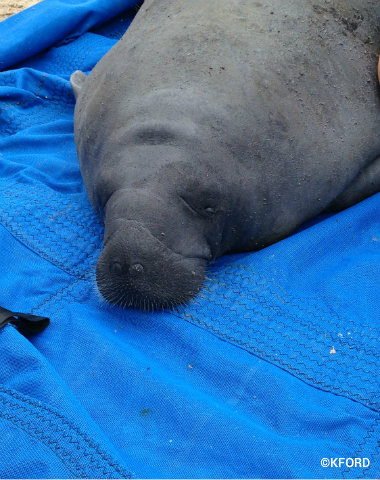 Although many people know that SeaWorld entertains and educates people through its theme parks, another goal of the company is to rescue and help ill, injured or orphaned marine animals. And that's where these special manatees come in. Three of the sea cows — Pipsqueak, Nitty and Braille — were rescued at different times last December after becoming trapped in a mosquito impound in the Merritt Island National Wildlife Refuge. They were suffering from mild cold stress, which is similar to frostbite in humans.
The fourth manatee, Asaka, was brought to SeaWorld by the Florida Fish and Wildlife Commission (FWC) in March after rangers found she had buoyancy issues and needed treatment for wounds caused by a boat's propeller and skeg.
For the SeaWorld team, rehabilitating marine animals is a labor of love, and it's also labor-intensive.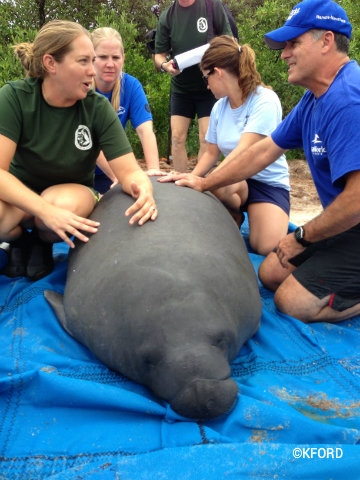 Pedro Ramos-Navarrette (right)
"It takes a lot of work " especially if they're orphans, it's 24/7," said Pedro Ramos-Navarrette, superviser of Animal Care at SeaWorld Orlando. "We do bottle-feeding every four hours, so we've got crews that are in from 3 a.m. for the first bottles and some stay as late as midnight to do the last bottles. Sometimes you have to tube-feed them because the animals are dehydrated. Some need antibiotics that are prescribed by our veterinary staff."
For this quartet, the work paid off. Ramos-Navarrette said, "They've responded very well to the treatment. All four animals have put on weight — we weighed them again this morning — and their exit weights show they have gained anywhere from 65 to 220 pounds [each]." Each manatee now weighs more than 400 pounds.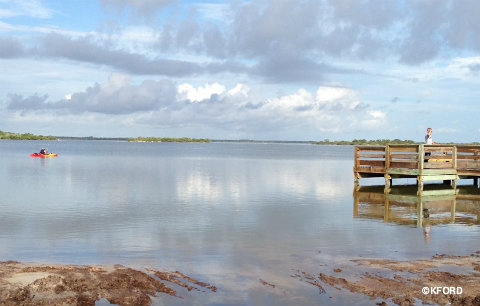 Typically, once SeaWorld's veterinary staff clears an animal for its return to a natural habitat, it's up to the FWC to schedule the time and place for the release. This time, the agency chose Eddy Creek, which is located in Mosquito Lagoon along the Canaveral National Seashore near Kennedy Space Center. It's part of the Merritt Island National Wildlife Refuge, where the manatees originally were rescued.
"Usually [they] try to find an area close to or in the same water system that [the animals] came from because it's a known area to them for food availability. It's just more familiar territory," said Ramos-Navarrette, who has worked at SeaWorld for 23 years.
The nearby Indian River Lagoon, which runs along 40 percent of Florida's east coast, has come under scientific scrutiny this year because a record number of manatees, dolphins and pelicans living there have been found dead — and no one knows why. In April, the National Oceanic and Atmospheric Administration designated the manatee deaths an Unusual Mortality Event, clearing the way for help from the federal government in determining the cause.
The puzzling and potentially dangerous phenomenon in the Indian River Lagoon shows just how important SeaWorld's mission can be for marine wildlife.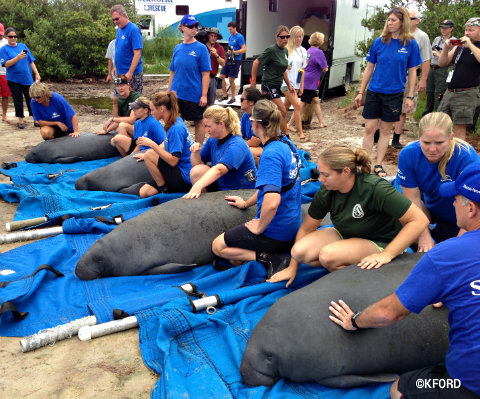 Like other animals SeaWorld has rescued, Pipsqueak, Nitty, Braille and Asaka have been implanted with chips so they can be identified if they have to be rescued again.
"If we see them again, it means it's because they're in trouble again, so we really don't want to see them again," said Ramos-Navarrette.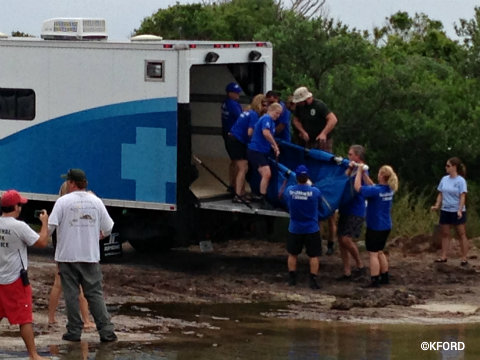 Before their release, the manatees traveled two-by-two in trucks from SeaWorld to Eddy River, and then each was carried to the shore on a stretcher manned by eight people. After some last measurements were taken, it was time for the final farewell. All four manatees were carried to the water simultaneously and allowed to swim out into the river. A couple stayed in the area for the next hour, surfacing occasionally, presumably reacquainting themselves with their former home.
Ramos-Navarrette said the release was bittersweet. "You've gotten this animal that was at death's doorstep healthy again and you send him back out. This is the good part of the job when we get to put them back out."
For my 8-year-old daughter, who plans to one day be a marine biologist (and dolphin trainer!) this was a once-in-a-lifetime opportunity to witness a release up close. She said, "I loved seeing the manatees up close, and I really wanted to pet one. It looked a lot like the 'Sea Rescue' show when they used the stretchers to take them to the water. I was surprised they didn't use their boat named Moose."
She wants other kids to know they can help protect marine animals by taking simple steps. "People shouldn't litter on the beaches and the ocean because the manatees and dolphins can get hurt. Manatees are friendly and fat. They need our help."