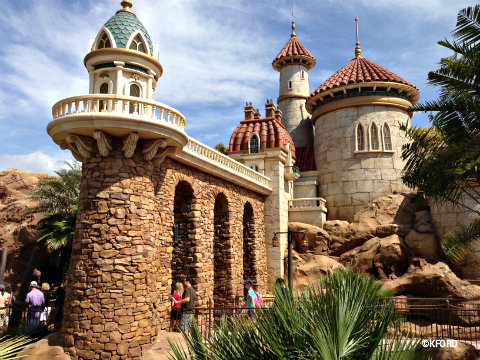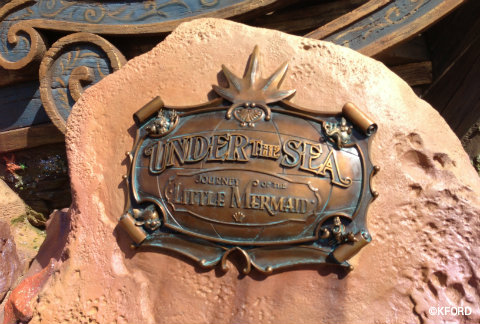 My family and I were excited to find out that New Fantasyland was open to guests this past weekend as part of a "dress rehearsal" for its soft opening next month. Having already experienced Enchanted Tales with Belle, our family headed farther into the Magic Kingdom's new section to ride Under the Sea: Journey of the Little Mermaid and the meet the star, Ariel, in her new grotto.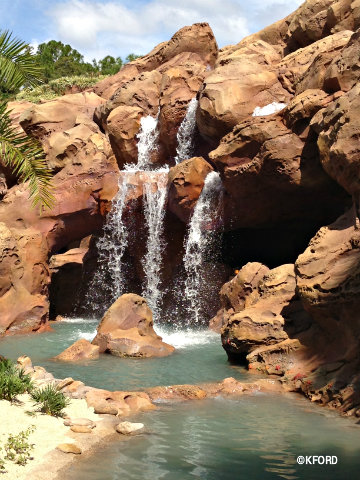 Those who have been to Disney California Adventure quickly will realize that the Florida version is almost identical to The Little Mermaid — Ariel's Undersea Adventure on the inside. But the queue here has been greatly enhanced and is much more interactive. I have never ridden the California ride, so I'll be giving you a look at this attraction through a fresh perspective.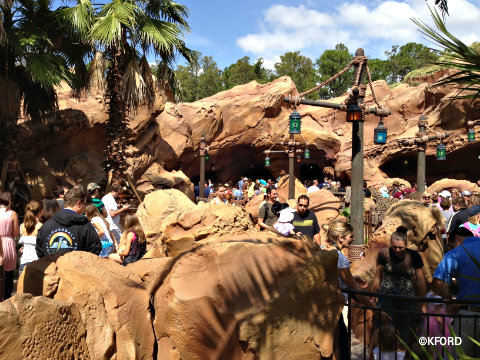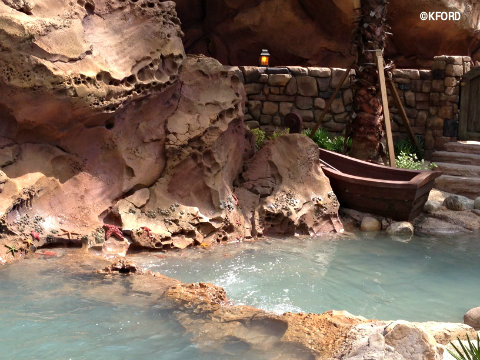 First, for repeat riders and those who don't care to experience the new queue, FastPasses are available for Journey of the Little Mermaid at the machines near Mickey's PhilharMagic. Fans of The Little Mermaid, though, will not want to miss the queue, at least the first time. The theming outside really immerses guests into Ariel's world — from Prince Eric's castle to waterfalls over craggy rocks with starfish and shells everywhere you look. Be sure to look for Prince Eric's boat and footprints in the sandy beach. It's beautiful, but be aware that it's hot in the Florida sun with little shade.
When the queue leads guests inside the oceanfront caverns, they can look forward not only to cooler temperatures, but also a fun game for all ages. Crabs are trying to sort out Ariel's collection of human objects. On multiple screens throughout the queue, a digital crab will bring out thingamabobs and show them to the guest. The crab will attempt to add each item to his pile because he doesn't know what goes together. The guest is asked to point to objects that don't match to help the crab correctly sort the whozits and whatzits that are part of Ariel's treasure trove.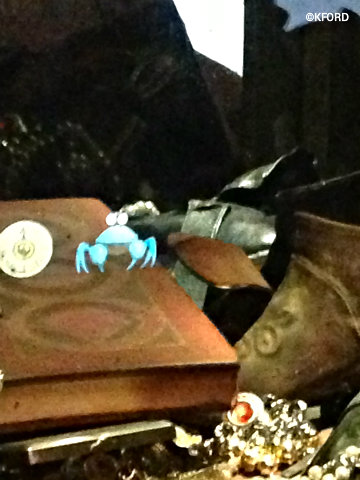 My elementary-school-age children definitely wanted to try this game, but it was frustrating when they pointed at the crab and he didn't react about half the time. I wondered if perhaps their height influenced the location of where they pointed, but a cast member I spoke with said the sensor is located overhead so that shouldn't be an issue. We did go through the queue twice to see if there was a learning curve with the game, but my kids had similar results each time. Perhaps that is something that will be addressed when the attraction is tweaked before its grand opening on Dec. 6.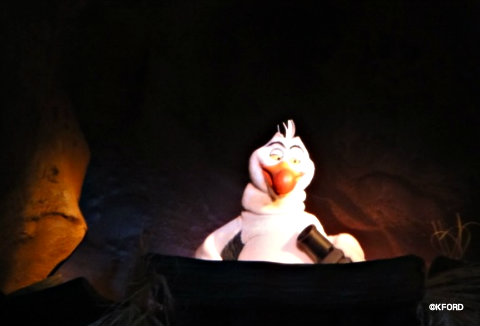 Another highlight of the queue is an animatronic Scuttle, who talks to the crowd and engages in digital games of his own. Throughout the queue, various nautical set pieces help tell the story familiar to anyone who has seen "The Little Mermaid."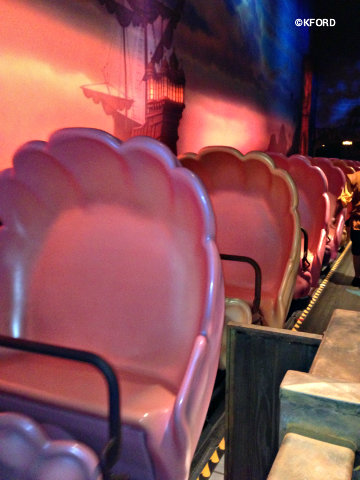 Guests board the ride in clamshells that feel much like the Doom Buggies and their track at Haunted Mansion, with the ride vehicles traveling in half-circles to see various scenes from Ariel's life and even going backward down a ramp. When the vehicles perform this maneuver, digital bubbles are projected on the clamshell in front of the guest. Hold your breath! Combined with sounds of the sea, it's a clear indication you are traveling beneath the sea to experience Ariel's world.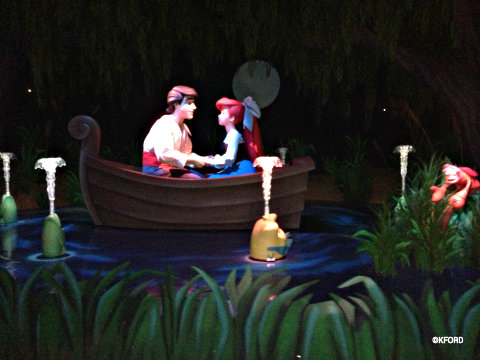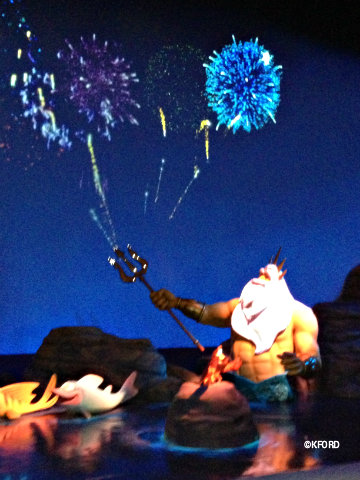 The Little Mermaid's landscape is full of color, movement and song, and guests will journey through favorite scenes with familiar friends from the classic story. There's no avoiding Ursula, but in the end, Ariel (of course) still lives happily ever after with Prince Eric. (Ursula's scene is a short part in the ride, so parents of young children probably won't need to be too worried about the fright factor.)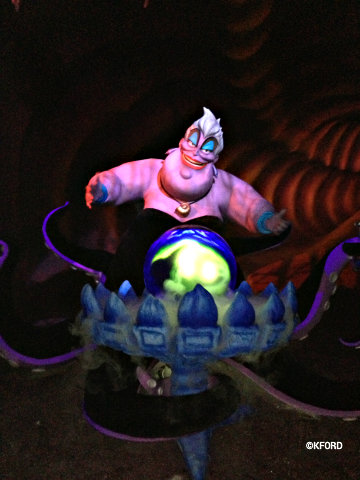 Ariel fans will find beautiful photo opportunities in the outdoor queue and at the attraction's entrance, but they can meet the actual princess in her new grotto adjacent to the ride. That wait, though also themed, is not interactive, so it feels like an eternity with a daughter excited to see her favorite Disney Princess and a 10-year-old son who wants nothing to do with something so "girly."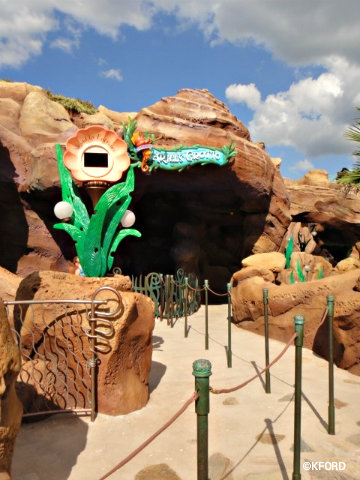 Still, the actual meet-and-greet was efficient, though we were not rushed once we were inside with the princess. Only two families are allowed in the room at a time — one is with Ariel and the other is next in line, getting ready. The entrance door is closed, which allows for a more private and quieter experience. Ariel is wearing her mermaid outfit again, now that her grotto has returned to Magic Kingdom. (She had been greeting guests in her human form in Adventureland during the construction of New Fantasyland.) There is a Disney PhotoPass photographer to capture the character interaction, and, as always, guests are allowed to use their own cameras, too.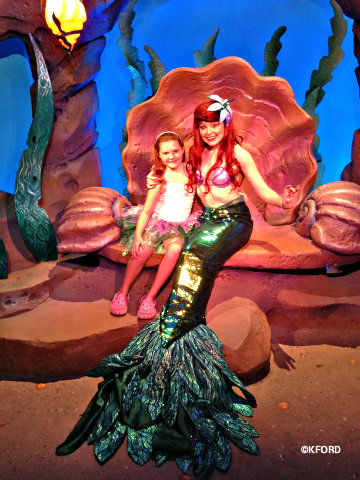 Under the Sea: Journey of the Little Mermaid and Ariel's Grotto are sure to be popular additions to Fantasyland. For fans of the classic Disney film, once they dive into this sea, they'll long to be, part of Ariel's world for many more visits.
Here's a peek inside the ride: