The recent rain in Central Florida finally helped me persuade my kids and their friends to check out VISION house, a new attraction in Epcot's Innoventions that opened on Earth Day this year. Like many younger guests, they didn't want to take time away from rides and favorite activities for a tour, but the wet weather forced our group to slow down a bit and try something new.
VISION house replaces the House of the Innoventions, both showplaces for new and updated products for the home. The concept behind VISION house is sustainable living through environmentally friendly building choices.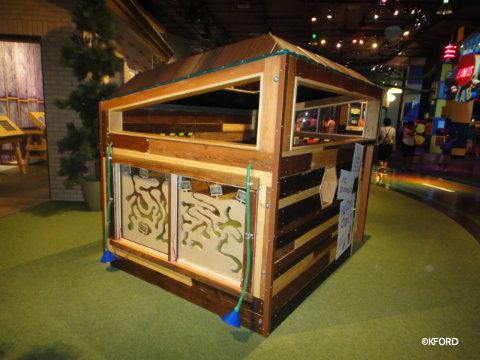 The experience begins outside the house, where there is a clubhouse for little kids to play while their parents are waiting for a tour. You also can walk around the side of the house and see different aspects, including the family's electric hybrid car parked outside.
The first thing we noticed when we entered the house was the openness and lack of barriers. Unlike with its predecessor, VISION house is set up so guests are welcome to touch the fixtures and finishes of the home. Our group of kids took that invitation seriously, trying out the beds while the hostess explained the rooms' features. Another difference is that the innovative home systems and products are available now; they're not concepts envisioned for the future.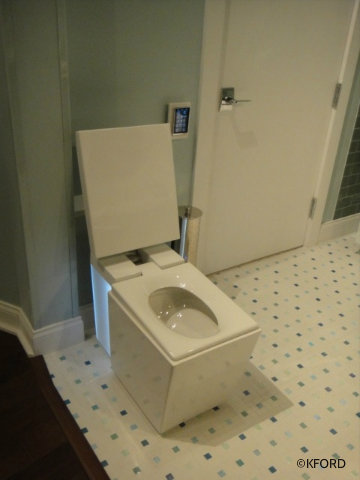 The five elementary school children in our group were most fascinated with the futuristic toilet in the master bathroom. They are of the age, of course, when bathroom humor runs rampant, especially among the boys. I have to agree with them, though, because the high-tech toilet from Kohler is pretty awesome. It has its own remote-control system, and users can warm their feet and seat, listen to music and raise the seat without touching it.
Overall, though, this attraction really is aimed at adults who, as homeowners, have a vested interest in the products or, perhaps, teens or college students studying home design or architecture. My kids didn't care that an electronic system can change the temperature of the house and its lights remotely, but my ears perked up at the possibility of saving on the electric bill.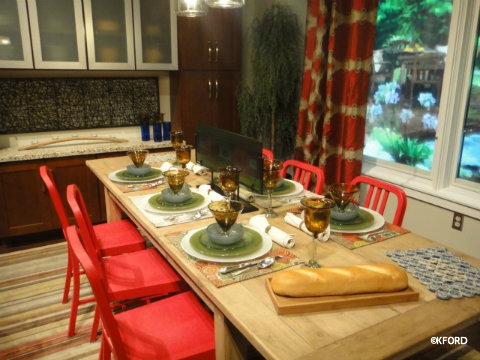 Still, even for those guests who would like to follow the practices of green building, the costs can be prohibitive. Both options — starting from scratch or retrofitting a home with many of these products — are expensive. I did take to heart the hostess's suggestion that recycling furniture by passing it down through the family "reduces strain on resources and is a great source of family memories." Like the Monteverdes, the fictional family who lives in the VISION house, the Fords eat at a kitchen table that came from my childhood home.
To read more about the opening of VISION house, see Deb's blog post.