What day is it…what time is it? I've really lost track – it
doesn't matter very much here – well, except for being late to
dinner, I suppose. 🙂 We had a time change last night and we're
on Alaska time now – an hour behind Pacific time. Extra hour of
sleep last night – yay! (Or our very first "Extra Magic Hour", as
Jason, our Assistant Cruise Director, told us this morning. 🙂 )
Oh, and by the way, it's Wednesday.
Since some of you have asked me, I'll give the nightly stateroom
report from yesterday: slightly creaky, with occasional rattles.
I must be getting used to it since I slept better.
Here's our towel animal from last night – I wonder if the tag is the
towel animal equivalent of an earring?
Today is cloudy and gray – it's actually gotten a little darker as
the day has gone on. Oh well, this is about what I expected, and
we had a bonus with such great weather on the repo cruise. It's
actually not as cold as I was expecting, though – at least not yet.
Speaking of cold…thank you to the elves who left two pairs of
gloves in the fish extender outside our door – I thought it was the
Mouse Fan Travel people, but they said no. Just about every time
we've gone outside today there's been something new in it – the
gloves, AllEars trading cards, a Mickey tissue holder, a cruise
itinerary. It's fun!
I'm looking at the "bridge report" – they have really raised the
temperature in the pools – 89 degrees! They were only 80 degrees on
the repo cruise. I've seen people in the hot tubs, but we'll see
how many are really interested in going into the pools on this trip.
The seas were only moderate this morning, but have picked up as the
day has gone on – now they are "rough" (8-12′ swells) and the ship
is really rolling a lot from side-to-side. It's hard to walk in a
straight line. The pools are closed, and are actually rather
entertaining to watch, so here I give you World of Color: Disney
Wonder. (I hope you're not all sick of the World of Color
thing!)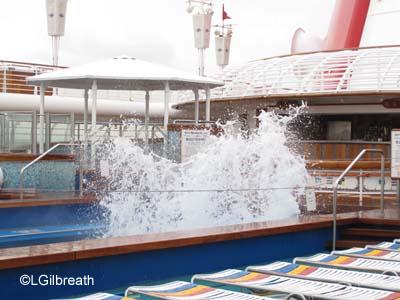 I started my day by walking about 3 miles around deck 4. Not too
many people out there today! I had a jacket, but after a couple of
laps I was warm enough that I didn't need it – as I said, it doesn't
really feel that cold out there.
We had an AllEars meet in Cove Cafe at 8:00 – Deb treated those of
us who were there to a warm (non-alcoholic) beverage of our choice.
So those of you who slept in missed out! 🙂 I tried the Cassis
(black currant) tea – it came in my own personal press pot, and was
very good.
Lee and I went to breakfast at Beach Blanket Buffet – it wasn't very
crowded at 8:40 in the morning. We found Gail and Julian and joined
them at their table. And then all four of us went to the Alaska
Park Ranger presentation in the Walt Disney Theater: Special
Places, Special Animals. The speaker is a former National
Forest Service ranger, who was the District Ranger for the Juneau
area before he retired. He had some interesting stories, and shared
a video on flying squirrels, which are found in the Tongass National
Forest (largest national forest in the world). He also told us
about a lone black wolf that lived in the Mendenhall valley in
Juneau for about 8 years. During that time the wolf (being a wolf)
made off with multiple small dogs, though it would occasionally
play with larger dogs. So his office had to issue multiple press
releases reminding people to keep their dogs on leash, watch out
for the wolf, etc. Well, apparently one time after this had happened,
there was an official-looking press release that was supposedly
issued by the wolf himself. He read us the real release, and then
the wolf's release – pretty funny. Some of my favorite lines from
the wolf's version:
REMEMBER:
DOGS ON LEASH: Keep pets on a leash or leave them home. It's the
law.
BE ALERT: I can be active day and night and can be anywhere. I'm
always watching you.
MAKE NOISE: Try not to startle me, make noise while barking.
Seriously, don't startle me, it ticks me off.
NEVER APPROACH: Give me a lot of space and do not approach me. I am
wild. Get it? I am WILD. I will eat you and your little dog too!
At the bottom of the real press release it says: The US Forest
Service is an equal opportunity employer. On the wolf's release it
states: The wolf is an equal opportunity predator. Love it!!!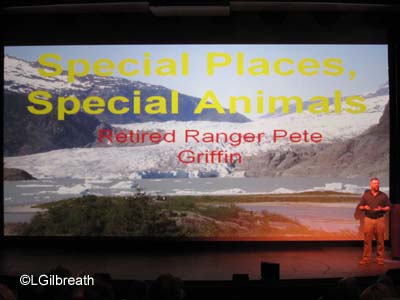 There were lots of people waiting in the pin line when we went into
the Walt Disney theater (we had to go through the line to get
there), but just like the repo cruise, there were still wristbands
left at the end. There's eight different pins – three with an edition
size of 2000 and five with an edition size of 1000, so that's quite
a few. There's still not much Alaska merchandise in the store,
though, but I expect as they continue to find it they'll put it out.
We had lunch at Triton's – it was pretty busy. We were seated at
12:15, and figured that would be enough time to get to the next
ranger presentation at 1:00, but I didn't even get my sandwich until
ten minutes to one. And it wasn't very good – it was supposed to be
a turkey and cheese panini, but although the bread was toasted, the
cheese and turkey were cold. And I'd also ordered it without the
thousand island dressing, but they put it on anyway.
There weren't as many people at this ranger presentation, which was
on subsistence. Apparently for many people in rural Alaska, a large
part of their food supply comes from the land (or ocean) – salmon,
berries, deer and moose.
I had a facial in the spa this afternoon, and that was very nice and
relaxing.
Tonight is Formal Night, but they canceled the Golden Mickeys show
due to "technical difficulties". Though we think the real reason is
the rolling of the ship makes it dangerous for the performers. They
have rescheduled it for tomorrow night instead.