Tracy Arm! Our first real day IN Alaska, though we didn't set
foot on land at all. It's been a very busy, but really wonderful,
day.
The day started off cloudy – with low clouds, so we couldn't see the
shore, but after about an hour we actually had some blue sky and
sunshine.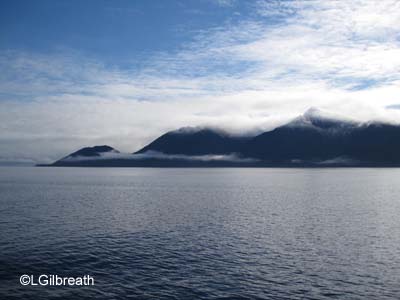 I had internet service this morning, so I uploaded the blog that I
couldn't finish last night. Lee was still sleeping so I also worked
on the food blog for a while.
At 8:00 we met some of our group on deck 4 outside Animator's Palate
for the "Walk to Raise Awareness of Breast Cancer". Several of our
group were wearing pink. Most of us did two laps, and then some of
them were going for breakfast at Beach Blanket. Lee and I did
another 4 laps after that. It really wasn't as cold as I thought it
might be – though I was still wearing a jacket and pants!
Our character breakfast was this morning at 9:45 in Parrot Cay.
Just about everyone in our group was there, and we had a lot of fun.
Mickey, Minnie, Goofy, Pluto and Chip and Dale came by to see us.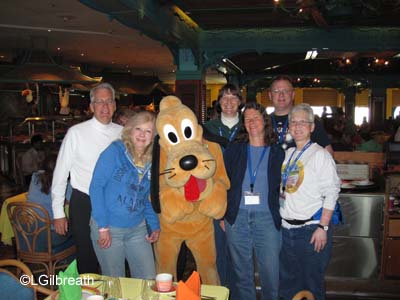 Our servers made funny hats for us out of napkins, too.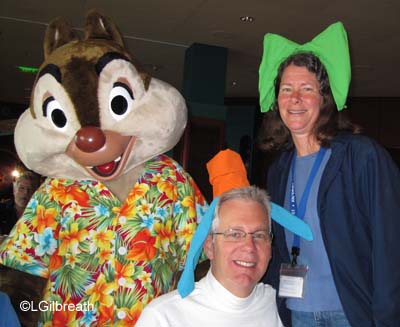 The captain announced that we were going to be able to go into Tracy
Arm a little earlier because the ship that was supposed to be there
ahead of us wasn't coming. We were the very first ship to go in
there this season. But we still weren't entering until 12:30. I
went to the gym – while I was there I saw a couple of whales!
The sea was totally flat, and very pretty. We had quite a bit more
sun and blue sky at that point, but as we moved closer to the fjord
the sky clouded over, and we actually had a small shower, but it
passed quickly. We really lucked out in that there was very little
wind. We set up "camp" at a table on deck 10, midship, starboard
side, and hung out there with Gary and Carol for most of the day.
(As you can see it eventually warmed up enough that Gary was in short
sleeves for a while! We really didn't need the heavy jackets and
gloves and hats and all of that today.)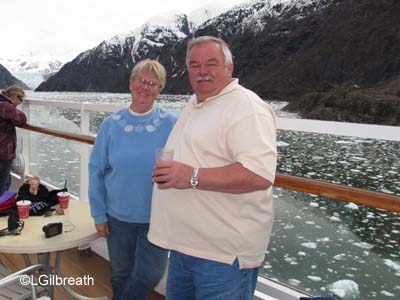 It was really an incredible day. I'm not sure what else to say, for
some of it you just had to be there. The views kept getting better
and better as we moved further into the fjord – and we kept seeing
more and more ice in the water. I think I'll just show some
pictures.
I brought the scarf that they gave us at the D23 Expo in 2009 when
they first announced that Disney Cruise Line would be going to
Alaska in 2011.
Tigger wore it after I got too warm and took it off. 🙂
Some of the icebergs had unusual shapes – this one looks like an
iguana, or maybe a platypus, or even an armadillo. What do you
think?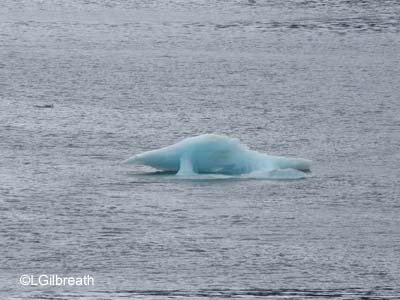 The characters were out on deck and dressed in special costumes –
the first time they had worn them!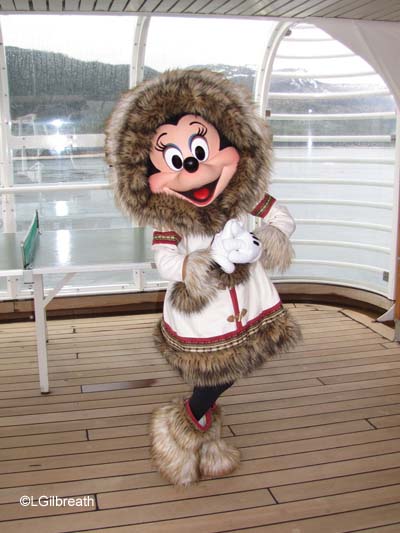 They had two barbecue areas set up – one on deck 9 forward, and the
other on deck 9 aft at the back of Beach Blanket Buffet. They were
serving steak, salmon, and halibut. Also baked potatoes and bread,
including pretzel bread (yum!).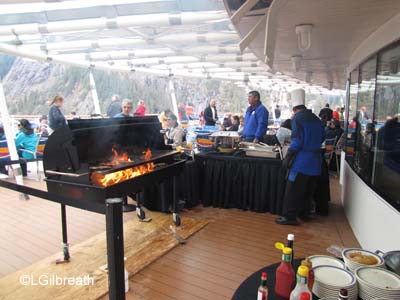 There were lots of waterfalls on both sides – this one was
especially tall.
We rounded a last corner and could see the north Sawyer Glacier.
By then it was mostly cloudy, but there was a little bit of sun on
the mountain behind it.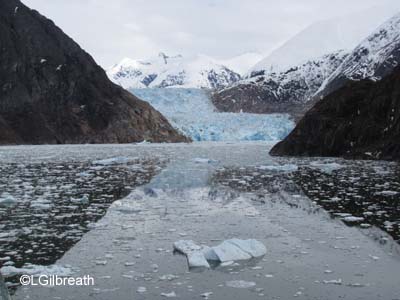 The view kept getting better as we got closer – and we wondered just
how close we were going to be able to get – the channel isn't that
wide, and we still needed to turn around at some point. This is
as close as we got, because there were lots of seals on the icebergs
in front of us, and the captain didn't want to disturb them. Because
of that we weren't able to go to the corner where we could see the
south glacier. And unfortunately we didn't see any glacier calving,
either.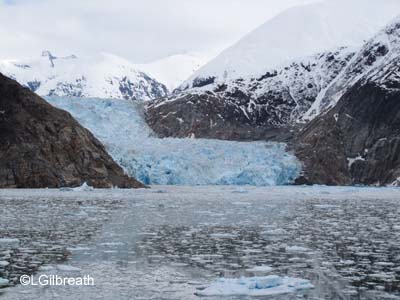 Here's a couple of seals that were alongside the ship after we
turned around. We also some mountain goats, but they were very far
away and hard to see. Lee has some photos, though.
A last look at Sawyer Glacier!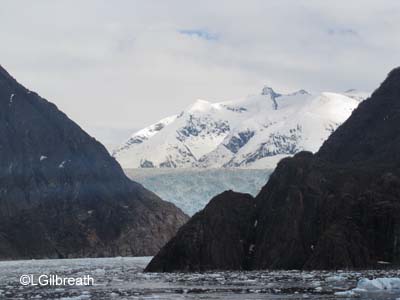 And here's the bow of the ship as we're headed back out.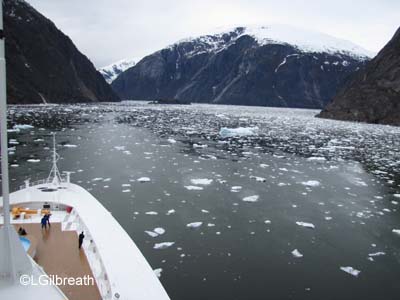 This evening we DID see the Golden Mickeys, though since we
weren't all in formal wear, the red carpet thing wasn't as
effective. I really enjoy the musical acts, but the whole "Ensign
Benson" thing is contrived and doesn't interest me. This show is
not the updated version that I saw on the Disney Dream, though it
has been updated to include Bob Iger and Anika Noni Rose. I prefer
the newer version, which got rid of one segment (Terk) that I really
didn't care for, and included the Little Mermaid and Tangled numbers.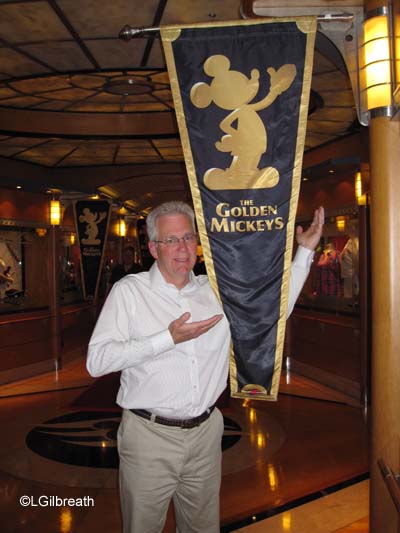 We made a quick stop in Treasure Ketch afterwards – they have
restocked some of the merchandise, at least pretty much everything
that is for the 2011 Alaska season – I think any "Inaugural Voyage"
stuff is gone. There seems to be two styles of adult t-shirts, and
three more that are women's shirts – one of those is a long-sleeve
front-zip sweat shirt. Adult smalls and mediums were most of what
was available tonight – good for me, but there was nothing available
for Lee.
There's three different kids shirts (one is the same as the red
adult shirt).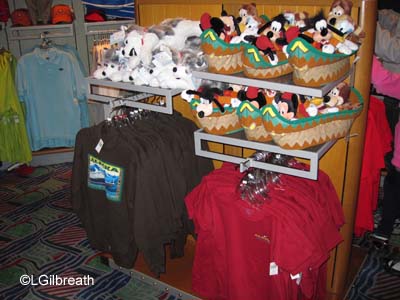 And then there's some miscellaneous things – a wooden Alaska
postcard, Alaska scrapbook kit, totem pole magnetic bottle opener,
books, shot glasses, a plate, and several plushes.
It's almost 8:00, and there's still quite a bit of daylight outside –
we are sailing in Stephans Passage, according to "The Bridge
Report". Sunset isn't until 8:47!
We arrive in Skagway at 7:00 tomorrow, and our tour starts at 8:25.
I anticipate a pretty long day tomorrow (all aboard in Skagway is
7:30 p.m.), so I probably won't have time to write much of a blog
entry, and will be playing catch-up for a while.
I'll post tonight's towel animal photo tomorrow.