The Alaska cruise has finally begun! We're all very excited to be
on board the ship and headed for Alaska.
We woke up to a beautiful morning in Vancouver, BC. Unexpectedly
beautiful – we were expecting cloudy skies and showers.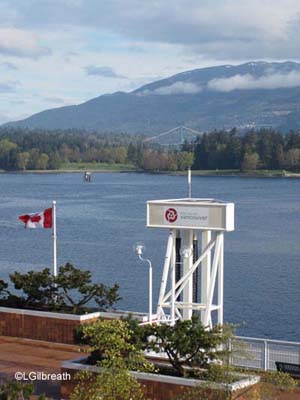 And it was also wonderful that we were NOT actually getting off the
ship yet, unlike most of our fellow passengers!
We went back to Triton's for breakfast – everyone else at our table
was doing something else for breakfast so we were the only ones.
Lee thought it was the best breakfast menu he'd seen all week. We
told Balwan and Tita we would see them later.
As back-to-back passengers we had the opportunity to stay on-board
longer, then exit through Customs and re-board earlier, but we
decided not to do that – that we'd head over to Stanley Park and
walk around instead. (That turned out to be the smart choice, but
more on that later.)
Not long after we exited the port we ran into two of the other
members of our AllEars group – Masayo and Gail. That was fun to see
them.
It was about 1.5 miles to the park walking along the waterfront,
and there was lots to see – several parks and some sculptures.
Vancouver is really a beautiful city.
The green area you see out beyond the boats is Stanley Park. It's
one of the largest urban parks in the world – even larger than
Central Park in New York City.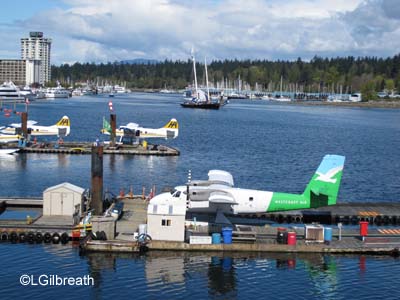 We stopped at the Visitor Information booth and got a map, and the
nice lady gave us some ideas of places we could walk to. We mostly
walked on the seawall, which is right along the water. It has
separate lanes for walkers/runners, in-line skaters, and bike riders!
The first "sight" was the Totem Pole park. It was really cool –
seven totem poles in one group, and a couple of totem "gateways"
and one totem off by itself.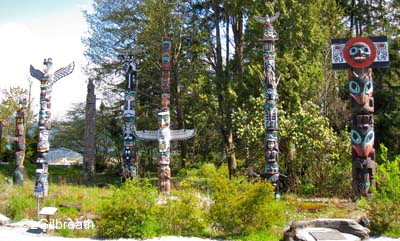 We went back to the seawall and around to Brockton Point, where we
could look back to the port and see the Wonder – some of it, at
least.
Further around was the Girl in a Wetsuit statue – which I
guess is Vancouver's version of the Little Mermaid statue in
Copenhagen. Hey, they both have fins!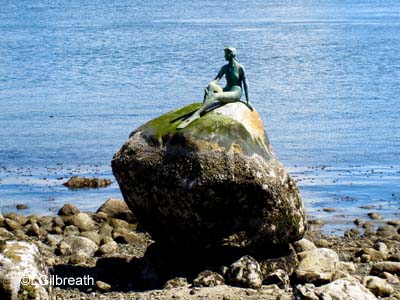 The nice lady at the information booth had told us about the garden,
and I wanted to see that. It wasn't Butchart Gardens, but it was
quite beautiful – many of the same kinds of flowering bulbs.
I thought this magnolia tree was magnificent.
On the way out of the park we went by the Lost Lagoon – World of Color:
Vancouver. 🙂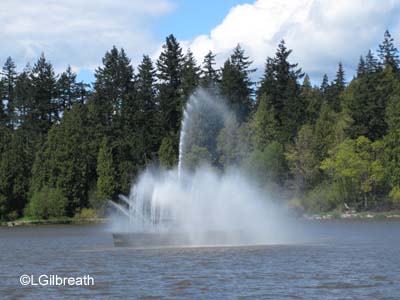 The port, Canada Place, was very close to the Olympic torch plaza.
I'm happy to report that our boarding experience in Vancouver was
NOTHING like our boarding experience in Los Angeles – we walked into
the check-in area about 1:40 and were on the ship less than 15
minutes later – we walked right up to both an immigration person and
a DCL check-in agent.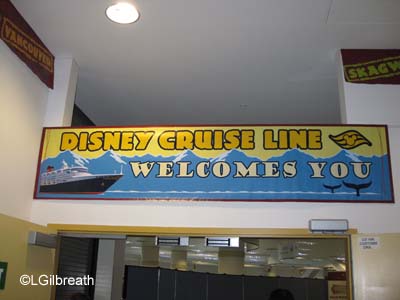 There was this really cool ice sculpture in the atrium – the lights
changed color, even.
We quickly left stuff in our stateroom (have I mentioned how great
it was that we didn't have to pack and unpack?) and went up to the
Cove Cafe, where the first our our AllEars Alaskan Adventure
meets was taking place. Beci and Michelle from Mousefan Travel had
already been busy leaving magnets on all of our doors, and Deb had
a special AllEars 15th anniversary fanny pack for us, filled with
lots of goodies. It was nice to meet some of the people in our
group – we'll see more of them tonight at dinner and as the week
progresses.
Deb and Beci had stayed on board, since we'd been told that as
back-to-back cruisers we could re-board before anyone else. But
no one really seemed to know what was going on, and instead of
re-boarding at 11:00, they didn't get back on the ship until noon –
when the first of the new passengers was allowed to board. In
the meantime they stood around a lot – when they weren't getting
moved aimlessly from place-to-place. I'm VERY glad we went out to
do some sightseeing instead!
We had a beautiful day for our Sailaway Party – it was actually kind
of warm up there in the sunshine. Disney gave us the special
"Inaugural Alaska" Mickey hands to wave, and we had fun with those.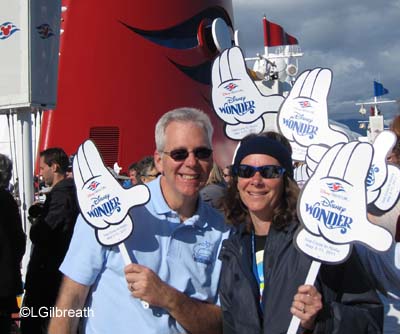 We left port about 5:15 – got buzzed by a seaplane, since we were in
their runway as we were turning around. 🙂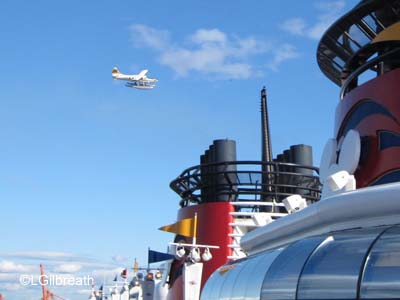 We're going out the way we came in, so we went by Stanley Park –
this is Brockton Point, where we had been almost exactly 6 hours
earlier.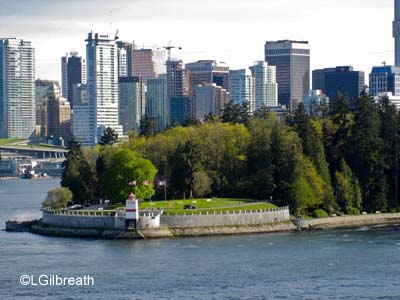 We're doubling back on what we did yesterday – we'll sail by Victoria
and into the Strait of Juan de Fuca to the Pacific again, and then
turn north and travel up the west side of Vancouver Island. It's
a day at sea tomorrow, and then on Thursday we'll tour Tracy Arm,
which is still pretty much a day at sea since there's no port
involved.
Lee stood in line at Treasure Ketch to see what they had for Alaska merchandise – but people grabbed all the t-shirts before he got in there. They have lots more, apparently, but need to find their stock. Most of the merchandise did not seem to be "Inaugural Alaska" merchandise, so there should be plenty of it.
Ok, so apparently the whole "staying in the same stateroom" thing did
not go completely smoothly – we ended up with the luggage that
belonged to the people originally scheduled to be in this room, and
also their port excursion tickets – I had to go to the Port
Adventures desk to get reprints of ours. I also can't sign up for
internet service, since it has the wrong information associated with
this stateroom (though if you are reading this, that means that problem
was resolved). We need to check with guest services to make sure
that our room charges are actually going to go against the correct
room – that could be very bad.
Fortunately the internet thing was resolved (Deb had problems too, and last I heard she still couldn't log on), so I've been able to upload this blog. We had a really fun dinner with our new tablemates and Balwan and Tita. I'll post a picture of Tigger and our first towel animal tomorrow.
At sea day tomorrow – woo hoo!