Victoria – this is the port I've been most looking forward to on
this cruise! The day dawned gray and rainy, though – funny, there
weren't nearly as many people out on deck for our arrival in port as
there were when we went into San Francisco! 🙂
We had another fireboat performing World of Color – Victoria. 🙂
Lee and I had separate excusions today – he was doing the Orca
Exploration Tour, and I was going to Butchart Gardens. He left 45
minutes earlier than I did, though. Unfortunately they didn't see
any whales or dolphins, but saw lots of seals and sea lions. It was
chilly and rainy for most of his tour, but he still had a good time.
(They provided parkas for the guests, which they needed.)
I had about a 40-minute bus ride to Butchart Gardens – our driver
was pretty entertaining, though I took a short nap. I'd last
visited Butchart Gardens in July 1980, so it had been quite a while!
And that was in the summer – I'd never seen it in the spring before.
I love flowers, so I was in heaven – the spring bulbs were blooming.
We don't get tulips and hyacinths and most of the others in San
Diego because it's too warm, so I really, really enjoyed them. I
could bore you with hundreds of flower photos, but I will restrain
myself! It was overcast but we didn't have any real rain – mostly
just some sprinkles early on, and then it quit entirely.
I'd forgotten how extensive the Sunken Garden (the former quarry)
is. The Canada pavilion at Epcot has a garden that is somewhat
remiscent of this, but of course not nearly so big!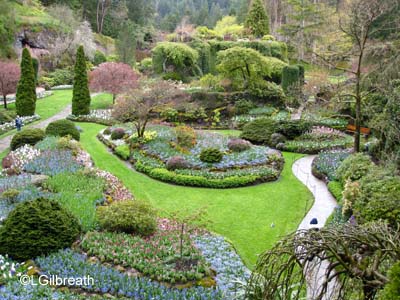 World of Color – Butchart Gardens. (These were actually
animated moving fountains.)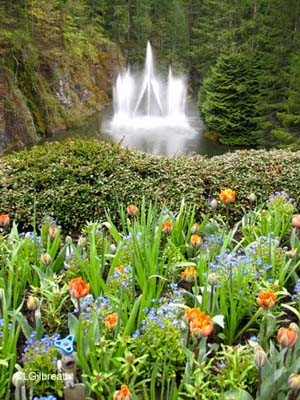 There's the Rose Carousel, which apparently is only a couple
of years old. It's got a lot of very interesting carousel animals!
This is the Italian Garden.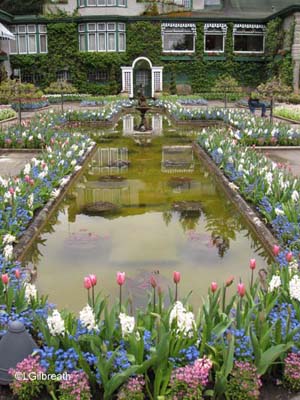 We only had two hours, which wasn't nearly enough time. I managed
to get through everything, but I was moving pretty fast. I really
needed another hour. But I enjoyed myself immensely.
On the way back our driver took us into downtown Victoria, and told
us he would stop in case any of us wanted to get off the tour and
walk around downtown. It was just past 3:30, and we didn't have to
be back on board until 6:00, so I opted to do that. He stopped
right in front of the Empress Hotel – I think most people got off
just to take photos and then got back on, but I went over and
wandered around the hotel a little bit. This photo was actually
taken about an hour later, when the weather had taken a decided
turn for the better!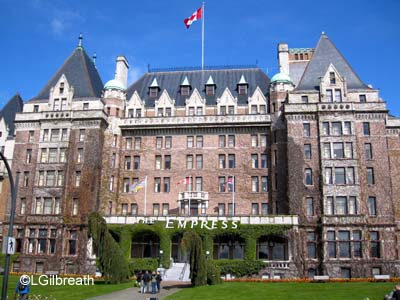 I went back towards downtown and went into Chinatown – this is the
Gate of Heavenly Harmony, or something like that.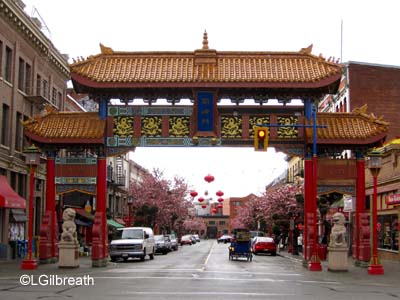 Our bus driver had said it was about a 20-minute walk back to the
port from the Empress – I think that he underestimated. It took me
about that long, and I walk a lot faster than most people do. I
couldn't see the ship until I was about 5 minutes away, so I was
starting to wonder, though I'd seen a couple of tour buses go by so
I was pretty sure I was on the right track. (This is the
legislative buildings – Victoria is the capitol of British
Columbia.)
Turns out I really didn't need to rush – I arrived back about 5:20
and there was a huge line to get back on board – it took about 35
minutes!
We pulled out of port about 6:40 – it had really turned into a
beautiful afternoon. But not too many people on deck – most were at
dinner or the show, I guess. I think it's hard to see in this
photo, but there was a full rainbow as we pulled out of port – that
was really a treat to see! I guess Victoria is the city at the end
of the rainbow.
We only have about 84 miles to go to get to Vancouver, so we're
moving v-e-r-y s-l-o-w-l-y.
We had everyone at our table for dinner tonight – it was a hoot and
a half. Balwan showed us another trick. We should have Balwan and
Tita as our servers on the next cruise, so we didn't have to say
goodbye to them.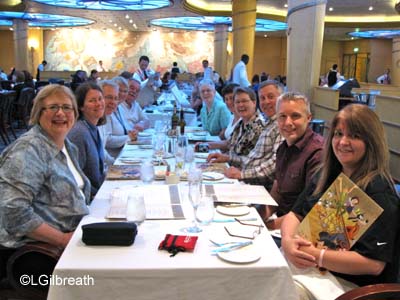 Our last towel animal from Angelina – even though we are staying in
same stateroom, she is moving to the port side, and won't be taking
care of us on the next cruise. She's been very sweet – I will miss
her.
It's so nice NOT to have to pack, and it's so wonderful that this is
NOT our final night on board!!!