I was either tired or I'm getting used to the creaking noises, since
I slept better last night. Seas didn't seem quite as rough, either.
It's another at sea day for us – we have a lot of miles to go to get
to Victoria, though. But we're moving fast (22+ knots), so the
captain says we should arrive just about on-time tomorrow.
We started off with a beautiful sunny day but the clouds have moved
in as the day has gone on. And it's cooler – only about 52, but
we're moving so fast that there's quite a breeze on deck, so the
wind chill makes it feel a lot colder.
Deb Wills sponsored a Walk the Deck to fight Breast Cancer
walk starting at 8:00. We had quite a good turnout, especially
considering the hour and the chill in the air.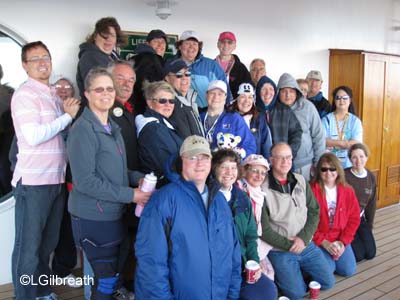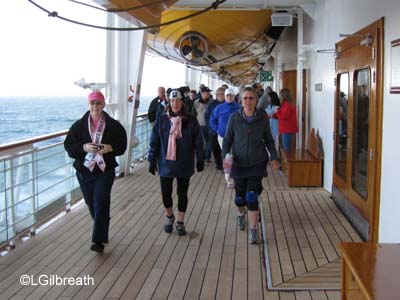 On the way back to our room we saw Pluto coming back up the stairs
from the character breakfast at Parrot Cay. He saw me with my
camera and started coming up the stairs on all fours. Very cute. 🙂
A group of 11 of us got to expererience brunch at Palo in the
private room. Lee and I had never had brunch at Palo before, since
we'd never been able to book it, so it was a real treat for us!
There were stations with a selection of antipasto, cheeses, breads,
seafood, breakfast pastries and of course desserts. For hot entrees
our server showed us the samples of the available selections and then
we ordered them made fresh. We also each had our choice of mimosa
or sparkling wine. It was really just wonderful, both the food, and
sharing it with a fun group of people.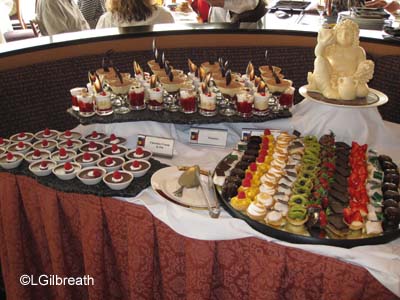 After brunch I went up to the gym to ride the exercise bike for a
while, and then walked another mile around the deck.
We've had a nice quiet lazy afternoon – i've been watching classic
Disney movies like Cinderella and Dumbo, and saw most of Toy Story,
and the end of The Rescuers.
We received a phone call with some good news – we are NOT going to
have to switch cabins for the Alaska cruise! So we can just leave
everything in our cabin in Vancouver. We still have to get off the
ship that morning to go through Customs, and they'll reboard us
early.
Tonight is the Captain's Gala, and it's semi-formal night. We got
dressed up and went to the Atrium to get some formal portraits
taken. But I don't actually have any pictures taken with our
camera.
As we walked by the woman who serves drinks in the Atrium we smelled
spices – turns out that she had mulled wine in addition to other
beverages. We tried it and it was quite good.
We spoke to one of the crew members, who is the head of Food and
Beverage on-board, and asked him what will be new for the Alaska
cruise. He noticed we were drinking the mulled wine and asked how
we liked it – this is the first time they have served it other than
at Christmas time. On the Alaska cruises they will have a warm
specialty drink every night. Instead of the Pirate Night menu
there will be a Taste of Alaska menu. The Pirate Night
dessert buffet will be in Beach Blanket Buffet, like it was last
night (too cold to do it on deck!). And on the day we cruise
Tracy Arm Fjord there will be a BBQ lunch available on deck 9 – that
sounded very good.
The dinner menu tonight was Captain's Gala, which is just about my
least favorite, I think. The "signature" dish is lobster, which
neither of us like. But Carol enjoyed it – Balwan expertly pulled
the shell off for her, though as you can see she was prepared just
in case he lost control of it. 🙂
Most of our table was dining at Palo, so it was just Carol and Gary
with Lee and me. We celebrated Gary's birthday, though – they
brought out some cheesecake for him that he shared with us.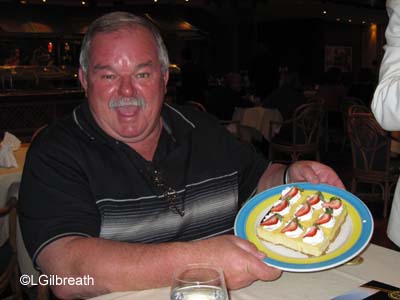 Tonight's towel animal is a dinosaur.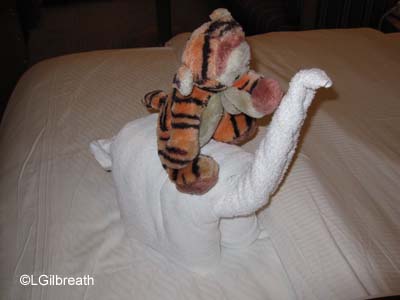 There's a chocolate buffet at 11:00 in Triton's – not sure if I will
make it until then or not. If I do I'll have photos tomorrow.