We both slept great without all of the creaking going on – and we
actually slept in and didn't get up until almost 8:30!!!
It was another absolutely gorgeous day in San Francisco – here's the
view from our stateroom verandah at about 8:45 this morning. And it
has ended up being a much warmer day – I was comfortable in a short
sleeve shirt most of the time, except where when we were right by
the water and the wind was blowing.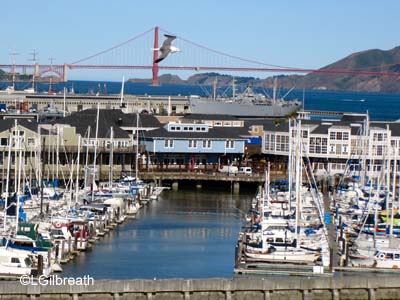 We had breakfast at Triton's, which was nice, and headed off the
ship about 10:20. I wanted to go to Pier 39 and see the sea lions,
but that was all we really had on our agenda.
San Francisco continues to remind me of Disney California Adventure-
here's a Boudin Bakery sign.
There's a beautiful 2-story carousel at Pier 39.
And we saw the sea lions basking in the sun. They were a lot of fun
to watch – some of them were frolicking in the water, or knocking
each other off the platforms. It was noisy, though – lots of
barking going on. 🙂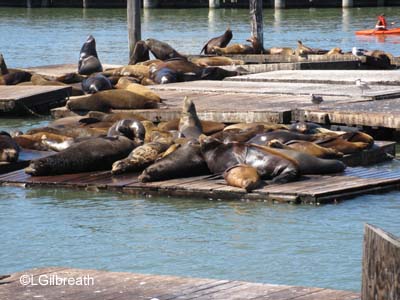 From Pier 39 we walked up to Pioneer Park, just below Coit Tower.
We had a very nice view of the Wonder from the park.
Then we climbed the stairs from the park up to the tower. Perched
so high up there you'd think there would be a great view, but the
trees have grown up around it and so you really can't see much,
though I suppose you can if you go up into the tower.
In the base of the tower are a lot of colorful murals like this one depicting scenes of people working in various industries.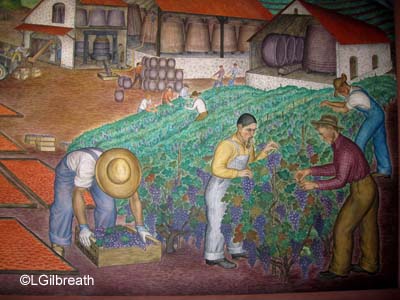 From the tower we walked over to Lombard Street, and went down the
hill, and then back up the other side, where the famous one-lane
twisty road is. There were lots of cars going down and lots of
pedestrians watching them.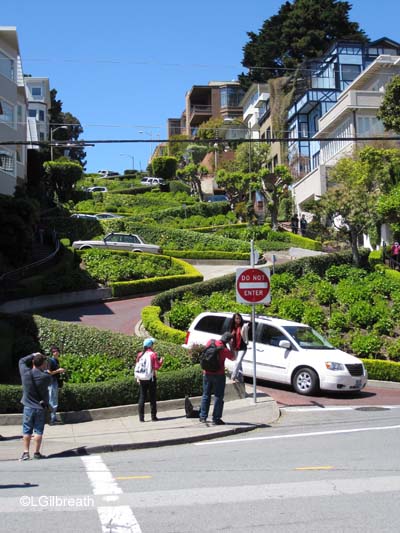 We had another long downhill on Hyde Street, and then went back to
Ghirardelli Square. It was just before 1:00 in the afternoon and
not crowded at all – a big difference from yesterday afternoon! We
ordered a Cable Car – chocolate, chocolate chip, and rocky road ice
cream with hot fudge, whipped cream, almonds, and a cherry. Yummy.
We went down to the bay and wandered by the water to the end of the
Municipal Pier – all of that area is part of the San Francisco
Maritime National Historic Park. We had this great view of two
sailboats racing each other past Alcatraz Island.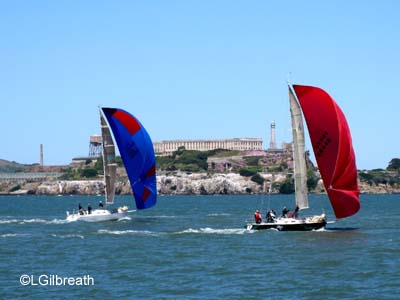 And looking back towards the city was a nice view of Ghirardelli Square.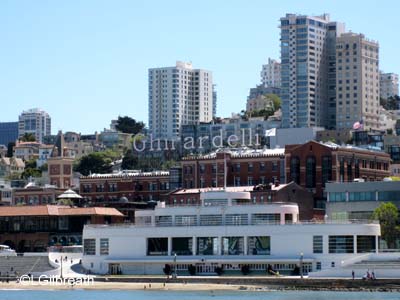 It was getting close to 2:00, and we were supposed to be back on
board by 3:00 so we headed back to the ship, though stopped at Pier
39 to get some sourdough bread at Boudin.
We've had two wonderful days here. We have been so fortunate to have such great weather – lots of people of told me that it's not usually like this. 🙂 It's been a very pedestrian-friendly city, too and we've enjoyed walking all over – even the hills. 🙂 I'm not sure how much walking we did yesterday and today, but probably around 5 miles each day. Gotta work off some of those fancy dinners somehow!!!
We pulled out of port about 4:15, and it was a very nice sail out of
the bay. The fireboat was back doing its best to portray all of the
fountains in World of Color again. 🙂
And it was fun to go under the Golden Gate Bridge again.
We had some time to relax back in our cabin before going to see Toy
Story: The Musical. That show is only on the Disney Wonder, and we
had not seen it before. It was nicely done. While relaxing in our
cabin we had actually seen the last 15 minutes or so of Toy Story,
and that helped a lot, since we'd forgotten a lot of the story.
At the end of the show, Christiaan, our cruise director, came out
and told us that because of a medical emergency we were sailing back
to San Francisco. So, at about 7:15 we sailed under the Golden Gate
Bridge again. We were docked for maybe 15 minutes, and were
underway again at about 8:15. But we already had a LONG way to go
to reach Victoria, and so a four hour delay is going to be hard to
make up. Even the original schedule had a fairly short day in
Victoria – arrive at 10:45 and depart at 6:00. So if we're four
hours late we'll probably be too late for most of our scheduled
excursions. We'll see how it goes – I know they will do their best
to make up the time.
It was Pirate Night, and we saw lots of people dressed in some
really elaborate pirate costumes! We didn't bring quite as much
pirate gear as we usually do, but I think we still looked pretty
good. There were quite a few photo ops available – we got out
picture taken with Pirate Stitch, so we'll see tomorrow how those
turned out.
Our dinner was at Animator's Palate – it was the usual show dinner
and not the Pirate Night menu, though. Balwan played a trick on
Lee. 🙂 And he showed us a couple of puzzles, too.
They did the pirate show and the fireworks (and these are the last
fireworks on the Wonder for several months, since they will not be
the on the Alaska cruises), but it was COLD up on deck. Lee stayed
for them but I didn't – I could kind of see them from our verandah,
but they were blocked by the overhang.
I really love tonight's towel animal – especially the monkey's
eyepatch!
Our cabin is back to creaking again…sigh.