Kind of a rough night – neither of us slept well. There's something
about the ceiling in our cabin and it creaks and rattles as the ship
moves. About 2:00 in the morning we started rolling – not sure if
the captain slowed down or if the seas got heavier, but we were
feeling a lot more motion – diagonal motion. It didn't bother me as
far as feeling sick went, but it made the creaking even worse – I
didn't get much sleep after that.
We'd set the alarm for 6:00 because we wanted to be out on deck when
we entered San Francisco Bay. A lot of other people had the same
idea, and there was no way for us to get to the front of the ship.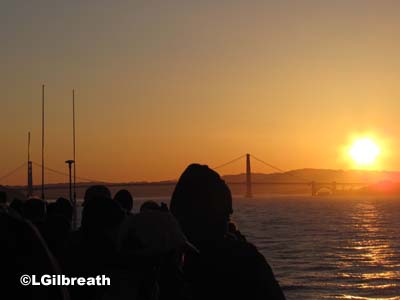 We eventually went to the back, figuring we'd have a good view of
the bridge after we went through it.
But there were some nice views as we approached and then went under
it, too!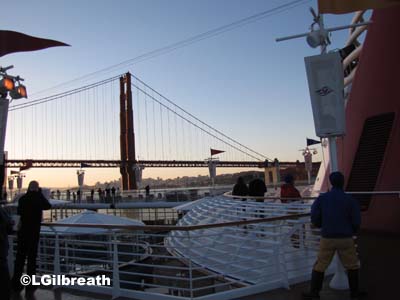 The Disney Wonder enters San Francisco Bay for the first time!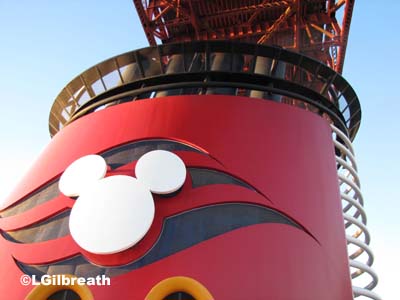 It was fun to see so many of the crew members up on deck taking
their own pictures – this is a first for most of them, too, and they
are as excited as any of the passengers.
It was a gorgeous morning – we really lucked out with the weather.
Only about 50 degrees, so chilly if you were in the wind, but we
were bundled up pretty warmly.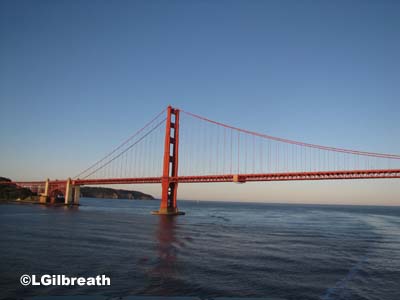 We sailed past Alcatraz Island.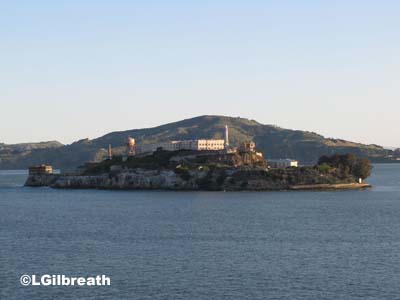 And this building looked quite familiar – there's a replica of it at
Disney California Adventure.
Another image reminiscent of DCA: World of Color – San
Francisco. 🙂 This fireboat entertained us for quite a while –
it went out in front of us, and behind us, and spun around. Very
cool.
This was our view during breakfast at Beach Blanket Buffet – not bad,
huh?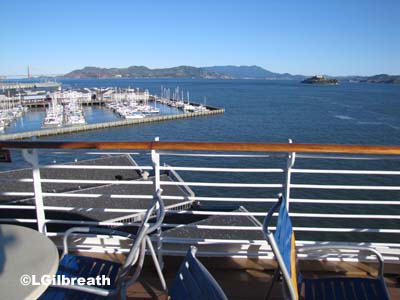 We are back from a great day in San Francisco! I can't believe how
gorgeous the weather was – so beautiful today. We left the ship
about 10:30 and took a town car to the Walt Disney Family
Museum. When planning the trip I'd decided against taking an
excursion from the ship because it didn't seem like they offered
enough time at the museum, so we were doing it on our own. We'd
planned to take a taxi, but there were none waiting, whereas there
were several towncars, and they were not much more expensive.
The museum is in the Presidio, an old Army area, which is now a
National Park, but many of the buildings have been renovated. Some
are leased as private residences, but others are owned by
businesses, like the Walt Disney Family Museum.
We had to do this obligatory photo in front of the museum. 🙂
Photos (no flash) were only permitted in the lobby entrance, before
we entered any of the museum galleries. But that's where the Oscar
statues were, as well as a lot of other awards given to Walt Disney.
And also some of the furnishing from Walt Disney's apartment at Disneyland.
When we bought our tickets ($20 each), they told us that one of the
ship's tours had just gone in, and recommended we go downstairs to
the theater where they were showing some of the Silly Symphony
cartoons, to give them a chance to get ahead of us. We watched
several – The Grasshopper and the Ants, Birds of a
Feather, and Music Land. The latter, involving a "Romeo
and Juliet" type story between Symphony Land and Jazz Land, I found
quite clever, but they all had moments that were fun and creative.
We took almost 2 1/2 hours to tour the museum, and we still didn't
experience everything. It's really very well done – there are
hundreds of family photos, movies, interviews, and quotes both from
and about Walt Disney. It's all presented effectively, too. There
are 10 different galleries, covering everything from Walt Disney's
family history and childhood to his early failure, move to
Hollywood, feature films, live action films, Disneyland, and his
death. One thing I really enjoyed was that in most of the rooms
there was a section that talked about what was happening in Walt's
family at that particular time – his parents, Lillian, his daughters
and grandchildren. There were lots of photos and a number of
letters he had written to his sister Ruth, among other things.
Also in each room there were usually several videos – most only
several minutes long – incorporated interviews with Walt Disney and
others on something they were doing – syncing sound with the first
Steamboat Willie cartoon, making Snow White or Fantasia, dealing
with the animators' strike, etc. One of my favorites was on making
Mary Poppins.
As you might imagine there was also a large gallery on Disneyland.
This one was interesting architecturally, too – after the first two
galleries we'd taken an elevator upstairs for most of the rest, but
the Disneyland gallery took us down a curving ramp back to the first
floor. Really cool, and very effective.
The final gallery covered Walt's illness and death. I had not
realized how fast the cancer took him – he found out in November and
died about 7 weeks later. That was a sad day – I was only 6, but I
remember when he died. So many things left undone.
We had lunch at the Cafe at the museum – it's rather expensive, but
since we were planning on doing more touring around the Presidio
area before we went back we needed something to eat! We both had
a spinach/orzo salad that was really good – it also had cheese and
sun-dried tomatoes. The cafe is run by Wolfgang Puck Catering.
The Presidio's new Visitor Center is just down the street from the
museum, and we wandered in there to get some suggestions on places
to visit on our way – we'd decided to walk back to the ship (about 4
miles) rather than take a taxi. The nice park ranger told us about
the Lucasfilm Ltd offices that are now tenants in the Presidio – and
Lee knew about the Yoda fountain that's there. It was a fairly
short walk.
The lobby area is open to the public and has lots of props on
exhibit like Han Solo's blaster, and light sabers belonging to Yoda,
Luke Skywalker and Darth Vader. They also had life-size costumed
models for Boba Fett and Darth Vader. It was cool!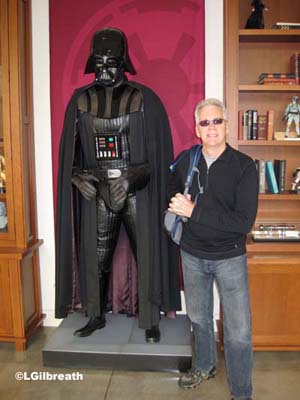 From there we walked down a trail called the Tennessee Hollow Trail
into the Wayburn Redwood Grove. The oldest trees are only about 60
years old, so they aren't that tall yet. There were lots of flowers
blooming too.
We ended up down by San Francisco Bay at Crissy Marsh. This area
has been restored after it was turned into a garbage dump for the
Presidio. There's a beautiful beach there with a great view of the
Golden Gate Bridge, though the light wasn't too good at that time of
day. We saw lots of people out flying kites, walking their dogs,
running, and riding their bikes.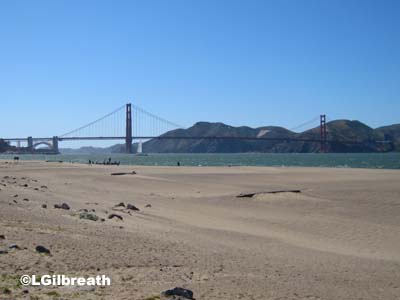 From there it was a short walk to the Palace of Fine Arts,
which we had seen this morning on our way into the port. It's much
more beautiful up close!
Part of the path around the water's edge was roped off, but we could
see why – a pair of swans have built their nest there! Apparently
there are six eggs in the nest.
Our next stop was at Ghirardelli Square. We'd thought about getting
ice cream, but it was really busy, so we just got some chocolate
bars instead.
It was almost 5:30, so we headed straight back to the ship instead
of going down to Fisherman's Wharf and Pier 39 and all of that –
figure we can do that tomorrow if we want to. It's really not far
from the ship at all.
We met Carol and Gary, two of our tablemates, in the cruise
terminal. They had done the ship excursion to the Walt Disney
Family Museum, and while they enjoyed it, they said they felt
rushed, and didn't have time to see everything they wanted. So I
feel we made a good call in doing it on our own!
Tigger got to get out and have fun today – in addition to visiting
the museum he got to meet Captain Mickey when we returned to the
ship!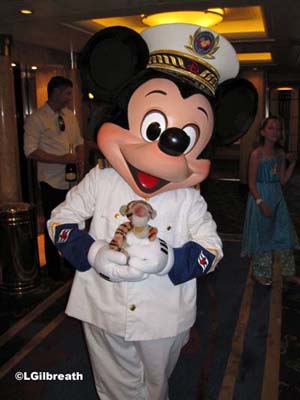 Dinner tonight was at Triton's – that's the first time that we've
ever been in there. It's nice, but I think I prefer Lumiere's on
the Magic.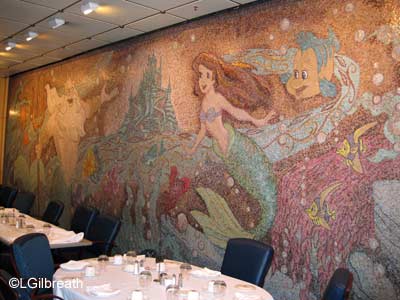 We had a good dinner – three of our table mates were elsewhere, so
there were only 8 of us tonight. This is our crack serving team
(they are awesome!) – Server Balwan from India, Assistant Server
Tita from Croatia, and Head Server Tektas from Turkey.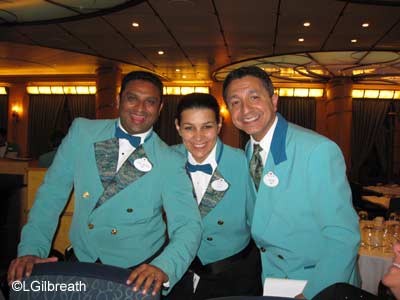 After dinner we returned to find a puppy watching TV with Tigger.
The puppy was smart enough to get control of the remote, though. 🙂
Lee and I went up on deck to see the lights of San Francisco at
night. The red you see in front is actually from the crew's pool
area on the Wonder.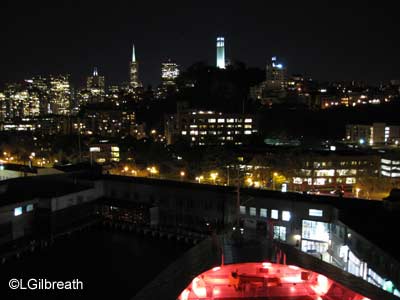 Since the ship won't be moving and creaking tonight I'm really
hoping to sleep a lot better! (Beci commented on the creaking, too,
so it's not just me.)
Just a reminder…if you submit a comment on the blog, please
remember to put the word "blog" in the appropriate box, otherwise it
goes to the "junk" folder. Thank you.