One of the best things about cruising is the At Sea days. Time to
kick back, relax, and enjoy everything there is to do on board ship.
Ok, so there's so much to do that it's really more of a chance to
enjoy a small fraction of what there is to do on board ship.
Have I mentioned how wonderful it is to still be in my own time zone???
It's so nice not to be fighting jet lag, and to go to bed and get up
pretty much on my usual schedule. Though we did sleep in until
almost 7:30 this morning. 🙂
I've already lost track of what day it is – it's Thursday, but that
doesn't really matter out here. 🙂
We have a beautiful sunny day today but it's not warm – only about
55 degrees today. So it's quite cool on deck, especially with the
wind. Lots of whitecaps on the ocean – it's classed as "rough"
seas (8-13′ swells), though ship motion isn't too bad.
We went to breakfast at Beach Blanket Buffet – pretty much the
typical breakfast fare. They opened at 7:30 and we got there about
7:45 – I was surprised at how many people were already up there
eating – it seemed rather early for people on vacation. Not too
many people interested in eating outside today, though!!!
There was a DVC Member presentation at 9:00, so we went to that –
usually they are fun with lots of prizes and stuff. This one had a
lot of people in attendance, so they didn't do the games and some of
the things they have done in the past – just drew names. We met Deb
Wills there, but none of us won anything. They gave us Blue Hawaii
drinks (in honor of the upcoming opening of Aulani, the first DVC
resort in Hawaii). Those were pretty strong! (The drinks really
were blue, though they look green in the photo.)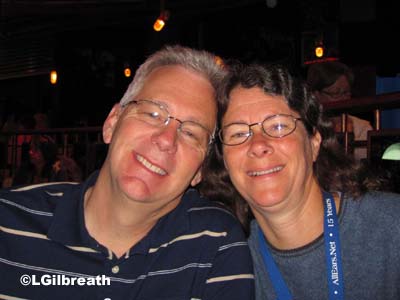 We looked in the shops (the Pacific Coast cruise t-shirts are already
sold out, except for kids sizes) and went to the Future Cruise desk
to book our next cruise (you get a discount and some other incentives
for booking on-board). Lots of other people had that idea, too,
so we had to wait. But we now have a 5-night cruise to Canada
booked for September 2012. It leaves from New York City and visits
St. John, New Brunswick and Halifax, Nova Scotia.
We both decided we needed some exercise – I went to the gym and
rode the exercise bike and then walked 4 laps around the deck (1.33
miles), and Lee ran and then went to the gym for a workout. The
ship's motion is much more pronounced up on deck 10 forward (where
the gym is). There were a few people walking on the treadmills but
not running on them – I think that would have been challenging!
I went to Parrot Cay for lunch – it was a buffet, though with some
different offerings than what they had yesterday. The potato
gnocchi and rosemary polenta were good, as was the minestrone soup.
After lunch I found Lee up in the Outlook Cafe above the Cove Cafe.
That's a very popular area, and with good reason – nice views of
the ocean from the windows, but it's enclosed so it's warm inside.
Today we can see the California coastline off the starboard side
of the ship (this photo was taken from our verandah, actually),
though it's very hazy.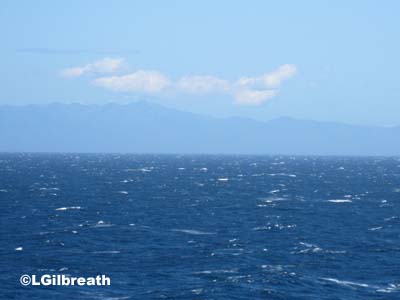 We're on deck 7, and on the very back of the ship on that deck is
a sun deck. It's very nice – quite protected from the wind and a
pretty comfortable temperature.
I was surprised to see this small plot of grass back there, but then
Lee reminded me that we'd seen a couple of Canine Companion dogs
while we were waiting to check-in yesterday, so the grass is for
their use.
So now we're spending a lazy afternoon – I've been watching the
stateroom channel that has the short Mickey/Donald/Goofy/Pluto
cartoons on it – some of those are pretty funny. Now I think it's
time to do some reading and take a nap!
Tonight we had dinner at Palo with Deb and Linda – it was a wonderful
dinner with great company. I'll have all the details in my food blog,
but here's a couple of pieces of info…Palo just got new dinnerware,
and we were the first ones to use them! They also have a fairly new
menu. We'll get that posted to AllEars when we get a chance.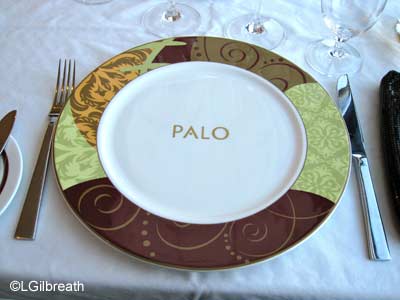 Some things we learned from one of the managers – there are around
2200 passengers on board the ship (I was very surprised at that
because it doesn't seem that crowded at all), with about 450 of us
continuing on the Alaska cruise. The capacity of the ship is 2750.
Here's a group picture of us with our yummy chocolate souffles!
Here's tonight's towel creation. 🙂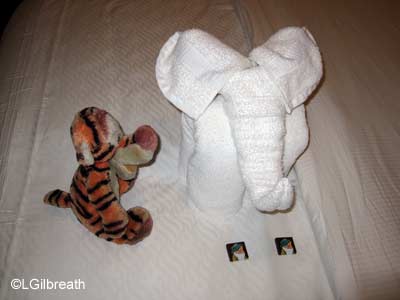 We plan to get up early enough tomorrow to see our arrival in San Francisco as we go under the Golden Gate Bridge, which should be around 6:15-6:30.