We all know that Song of the South and Splash Mountain were based on the characters of Joel Chandler Harris. But most of us don't know the background story that the Imagineers gave this fabled mountain.
Legend has it that deep in the "New-nited States of Georgia," live critters that walk and talk in the same manner as human folk. At the center of this magical land is Chick-A-Pin Hill and it's here that the Beaver Brothers had built their sturdy new dam. But unbeknownst to them, Rackety Raccoon had also constructed a juice producing still in the same area. And it seems that while Rackety was concocting a new, experimental brew, he used a few too many blueberries with disastrous results. When his still exploded, it took the Beaver Brothers' dam with it and water began to rush downhill and through the many caves, burrows, holes, and tunnels that crisscrossed the mountain. From that moment on, the local critters started calling their home Splash Mountain and the name stuck.
The lighthearted mood of the attraction is set near the entrance. Here we see a statue of the not-so-bright Br'er Fox and Br'er Bear looking for Br'er Rabbit who is hiding from them in plain sight atop Br'er Bear's club. Under the train trestle are the FastPass machines. These were once crates used to haul cargo on the nearby railroad. Also in this area is one of Br'er Rabbit's Laughing Places intended for critters under 40 inches tall.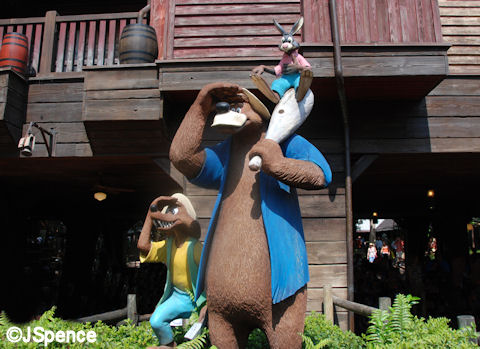 The story of Splash Mountain is set in the Deep South shortly after the American Civil War. The background music heard in the outdoor queue sets the mood for this bygone era by playing tunes such as "Polly Wolly Doodle" and "Froggy Comes A'Courtin'." These songs are played on era appropriate instruments like the harmonica, banjo, and mouth harp, all of which were popular in the 19th century. Much of the outdoor queue winds through a wooded area inhabited by many of the local critters. A number of their homes can be seen as you wander about.
The entrance to Splash Mountain is through an old barn used by the critters. Tacked onto the door is the front page of the critter's local newspaper, the Rabbit Tales, sounding a warning. Many farm implements can be found inside the barn, but it's obvious that the main purpose for this structure is to grind wheat and grain into flour. Also, once inside, the music changes to the tunes heard in the Song of the South movie.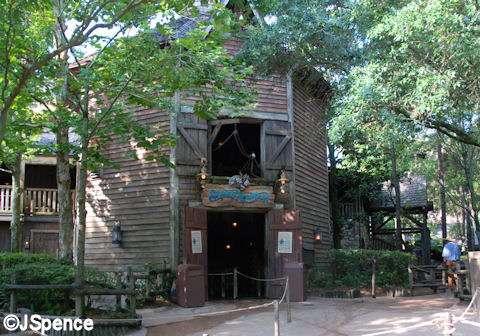 In Tall Tale Tunnel we discover clues about the adventure we're about to experience. Here we see a sampler with a wise message and portraits of some of the characters we're about to meet. This is also where we're introduced to Br'er Frog. Here we see his shadow cast against his cave home, spinning bodacious yarns about Br'er Rabbit.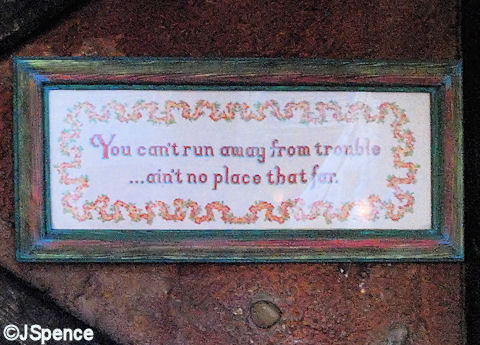 The main transportation in and around Splash Mountain is via logs, hollowed out by sharp toothed beavers. Our journey begins as we leave the loading dock and make a sudden right turn and begin a climb up a sharp incline. Along the way we see Br'er Frog again, this time in the flesh, lamenting that Br'er Rabbit is in for trouble if he doesn't mend his ways.
At the top of the incline we sail past Br'er Rabbit's home in the briar patch and head toward the Log Lifter. The Log Lifter is an ingenious device created by the Beaver Brothers to haul logs to the top of Chick-A-Pin Hill. It's also near the entrance to the Log Lifter that folks may get wet. In fact, if the timing is right, you'll get wetter here than on the big plunge later on. You see, as the logs slide down Chick-A-Pin Hill they create a tremendous splash that aims right for the Log Lifter.
At the top of this next incline we find a number of indications that critters inhabit the mountain. First we happen upon a charlatan's wagon selling Critter Elixir. This potent brew guarantees to cure fleas, flat feet, and fur balls. Next is a small garden tended to by some unseen creature. Carrots, turnips, lettuce and cabbage are all ripe for the picking. Further on we find a still, presumably not Rackety Raccoon's which blew up earlier. Also dotting the landscape are numerous critter homes.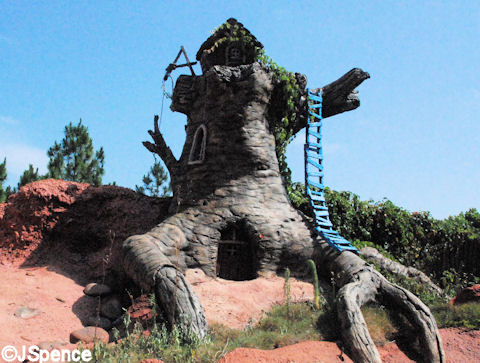 Around the next bend we discover the home of Br'er Bear, and just beyond, Slippin' Falls. It's here that our log takes a sudden dip and enters the interior of Splash Mountain and we come face to face with the critters themselves.
Inside the cave we're greeted by a number of geese and frogs, welcoming us to their home with a lively rendition of "How Do You Do?" Disney Legend Thurl Ravenscroft, who voice characters in the Haunted Mansion and Pirates of the Caribbean (among others), lends his voice to one of the croakers.
In the next scene we see Br'er Fox and Br'er Bear eavesdropping on Br'er Rabbit as he tells Mr. Bluebird he's packing up his things and leaving his troubles behind in the briar patch. The nefarious duo start to plot just how they will capture this happy-go-lucky fellow.
As we travel deeper into Splash Mountain, we come across Br'er Raccoon and Br'er Porkypine. They, along with the Baby Bunny twins try to warn Br'er Rabbit that while looking for new adventures he might find new troubles. In the distant background we see Br'er Fox and Br'er Bear chasing after Br'er Rabbit.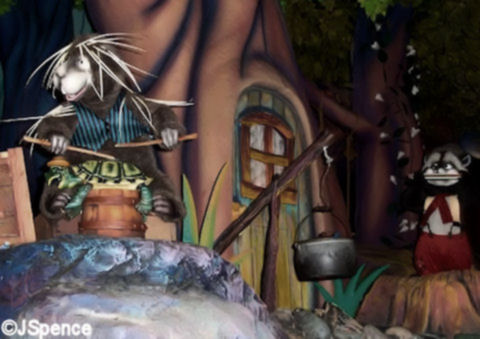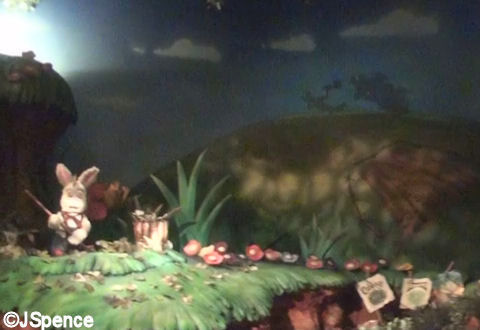 In an effort to snare Br'er Rabbit, Br'er Fox sets a trap. But the dim-witted Br'er Bear stumbles into it and is caught instead, infuriating his short-tempered cohort. Safe on the other side of the river, Br'er Rabbit laughs and taunts the two and tells them he has a special "laughing place" that only he knows about.
We run into Br'er Frog again, enjoying the Old Swimming Hole with his friend Br'er Gator. Beyond their fishin' spot are a number of critter homes and we can hear several of the inhabitants singing about Br'er Rabbit's laughing place.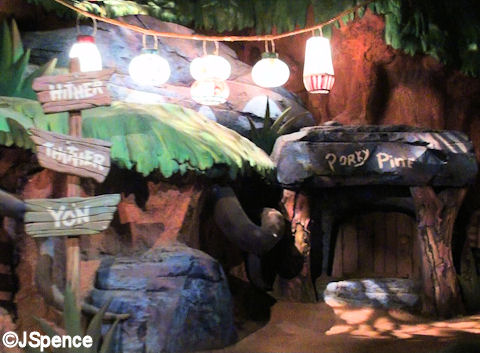 For you trivia buffs, the three possums hanging overhead in this area are named Pansy, Poppy, and Petunia.
Br'er Rabbit paints a sign saying, "To the Laughing Place" on an old tree branch. Believing what he reads, the doltish Br'er Bear plunges head first into an opening and stirs up a hive of bees. Moments later, a loud crack can be heard as the rotting tree trunk gives way and they fall into a cave below, taking us along with them.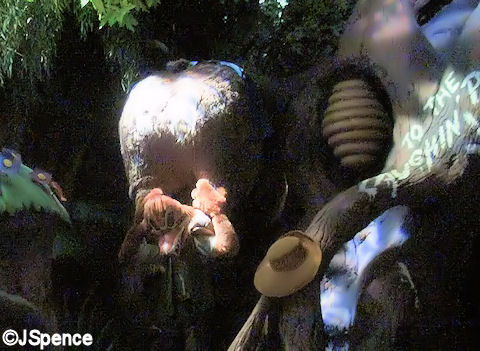 At the beginning of our adventure, the colors used in the attraction are bright and well saturated. But when we fall into the cave the colors become darker, signifying danger ahead for Br'er Rabbit and us.
As we enter the cave, we see a number of beehives hanging from the ceiling and their angry inhabitants buzzing around. Further on we find Br'er Bear has landed on his back and has a beehive stuck on his nose. Br'er Rabbit is also on his back, laughing hysterically. He says to Br'er Bear, "I didn't say this was you're laughing place. I said it was MY laughing place." But unbeknownst to Br'er Rabbit, Br'er Fox has snuck up behind him with a "beehive honey-trap surprise" of his own.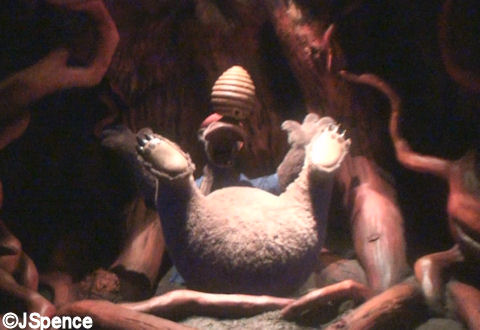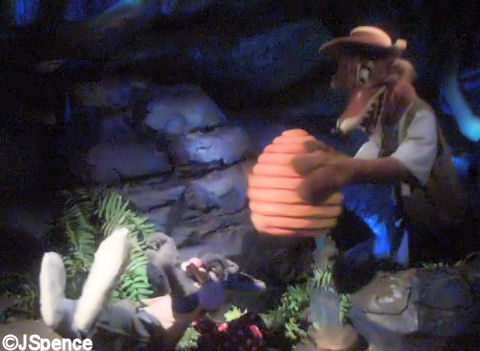 It turns out that Br'er Rabbit's laughing place is actually a flooded mine that is enjoyed by a number of critters. As we pass through this area, we see several of his friends having a rollicking good time.
A note of clarification. Many people think that the weasel that pokes his head out from the ceiling is saying "FSU" (Florida State University) as an inside joke the Imagineers added to the attraction. This is not true. The weasel is sneezing and says "Ah ah choo!"
Further into the cave we discover that Br'er Fox has finally succeeded in capturing Br'er Rabbit. He has encased our frightened hero in a beehive he secured earlier.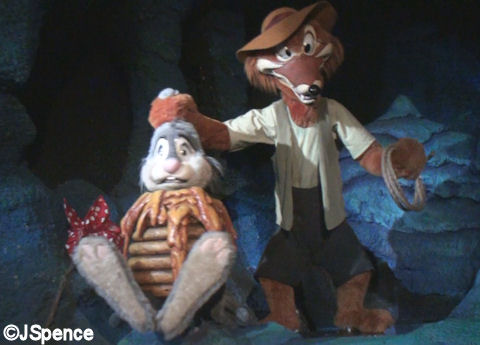 As we start our ascent out of the cave two buzzards pontificate on the sad fate about to befall Br'er Rabbit. Along the rocky walls, strange eyes peer out from the darkness.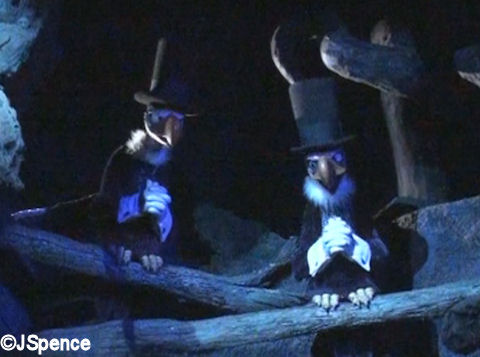 Near the top of the mine shaft we find Br'er Fox's lair and Br'er Rabbit tied to a spit, waiting to be roasted. In the background we hear Br'er Fox taunting him with a variety of threats. But the quick thinking Br'er Rabbit responds, "That's okay Br'er Fox. Hangs me if you gotta. But please, PLEASE don't fling me into that briar patch." Once again, the feebleminded Br'er Bear doesn't realize that he's being tricked and does just that -tosses Br'er Rabbit into the briar patch and the safety of his home. Of course, all of us in the log come along for the ride.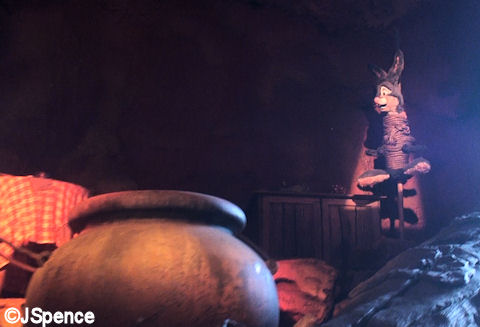 Realizing the error of his ways, Br'er Rabbit decides that home is the best place to be and his Splash Mountain friends all welcome him back with a rousing rendition of Zip-A-Dee-Doo-Dah. We also find that Br'er Bear never learns and has become entangled in the briar patch while looking for Br'er Rabbit. While Br'er Fox tries to disengage him from the thorns, Br'er Gator has chomped onto his tale.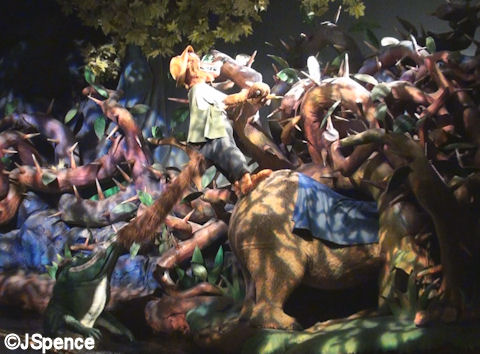 In the last scene we find Br'er Rabbit comfortably back at his house with his friend Mr. Bluebird. The two of them sing of their good fortune.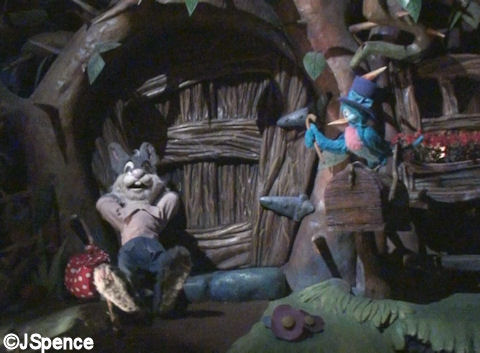 Like many other Disney attractions, your picture is taken on Splash Mountain. Be ready to smile as you careen over the top of Chick-A-Pin Hill. These photos are sold in the shop that you exit through after the ride. In addition, Disney has created two excellent spots for capturing friends and family as they plunge into the briar patch.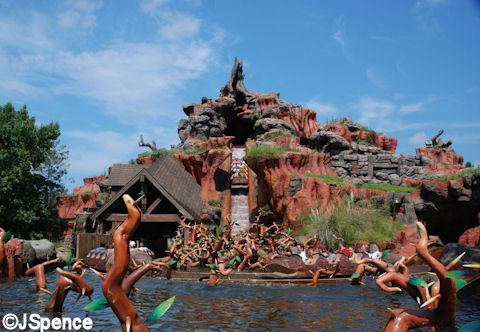 The plunge down Chick-A-Pin Hill is 52 ½ feet long on a 45 degree incline. Guests descend at a speed of approximately 40 miles per hour. The ride is approximately eleven minutes in duration. Riders must be at least 40 inches tall to ride. Expectant mothers and those with health problems should avoid this attraction.
I have created a video of this wonderful attraction from start to finish. For those of you who haven't yet worked up the courage to ride, this is a great way to experience Splash Mountain. Enjoy.