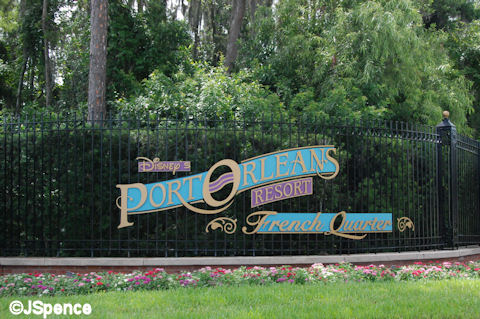 I recently wrote an article about Port Orleans – Riverside. Today I'm going to discuss its sister resort, Port Orleans – French Quarter.
In the beginning, the French Quarter was known only as Port Orleans. It did not become Port Orleans – French Quarter until it merged with nearby Dixie Landings in the spring of 2001. From this point on, I will refer to this resort only as French Quarter.
The theme of Disney's French Quarter is Laissez les bons temps rouler! or Let the good times roll. This resort takes its inspiration from the Jackson Square warehouse district of New Orleans in which Spanish and French colonialism played a part in its culture and design. This six-by-thirteen block area of New Orleans is famous for its balconies, wrought-iron railings, cobblestone streets, and courtyards. In this Florida recreation, it feels like Mardi Gras everyday yet tranquility can be found around each corner. Celebration and romance go hand-in-hand at the French Quarter.
Your stay begins under an elaborate, wrought-iron portico. Here, a lively greeter may welcome you to the resort with festive beads and commemorative coins. Nearby is the resort's one and only bus stop. Transportation to the theme parks and water parks leave from this location approximately every 15-20 minutes.
Inside the lobby of The Mint Building is a lovely fountain. A number of the resort's facilities radiate from this location. Our first stop is the Registration Desk. This area was themed after the inside of a commercial bank of the 1800s. The mural along the back wall displays the festivities of Mardi Gras. And the railing that lines the desk is a musical staff, complete with notes that represent the first verse of a tune synonymous with New Orleans, "When the Saints Go Marching In."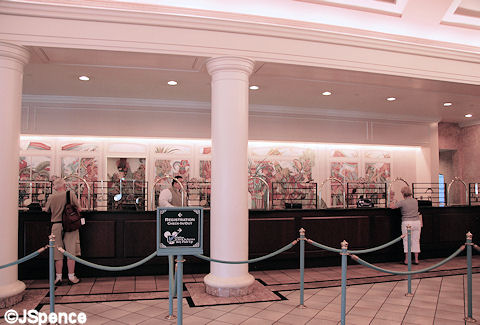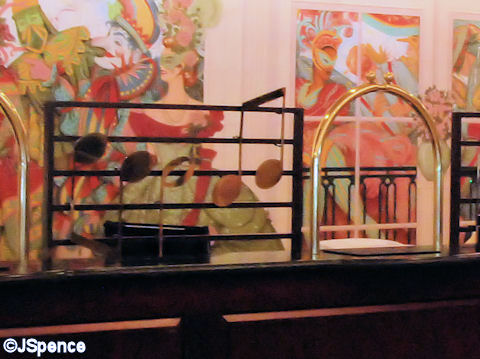 Check-in time is 3pm, however, if you arrive early, Bell Services can store your luggage until your room is ready. In addition, if you give the reservation clerk a cell phone number, you will be called when you're room is ready. Check-out time is 11am.
The backstory for The Mint Building goes something like this. Port Orleans was originally under the rule of the French, but was later transferred to Spanish ownership as war debt. When this happened, the French franc became worthless in this far off territory as the Spanish peseta was now the legal tender of the land. This brought commerce to a screeching halt. Realizing that something needed to be done, the new Spanish governor built a mint and granted an equal exchange of currency to all residents. In no time at all, trade began again and Port Orleans continued to prosper. When the Spanish territory was transferred back to the French in later years, the city was able to easily cope as The Mint was able to change its engraving plates and switched to the franc.
When Port Orleans began to celebrate Mardi Gras, The Mint began producing commemorative coins, which became an immediate hit. Both the local residents and visitors to the area valued these coins as keepsakes and a remembrance of the festive event.
Eventually the Louisiana Territory was sold to the United States in 1803. When this happened, The Mint became obsolete as a producer of currency. However, the Bank of Port Orleans remained successful and a necessary part of the city's growth. Samuel and Mary Chatelaine, the great grandchildren of The Mint's founder, bought the bank in 1886. They renamed it the Port Orleans Mint and continued the production of commemorative coins which are still given out to guests this very day. .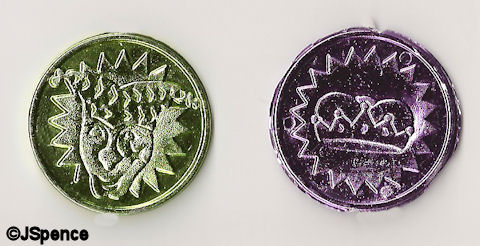 Across the way from the Registration Desk is the Concierge Desk. Here, helpful cast members can sell you tickets to the theme parks and water parks, make dining reservations, and secure Cirque du Soleil La Nouba tickets. In addition, they can answer just about any Disney question you may have.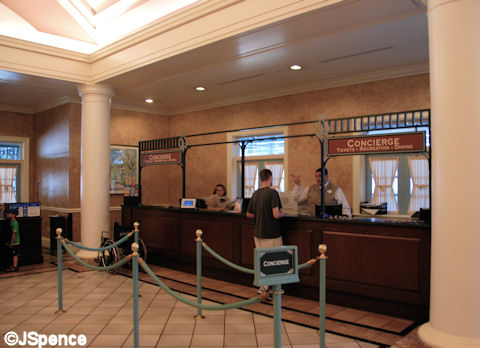 Also in this area is a great place for the kids to wait while mom and dad check in. Disney cartoons are played on the television and crayons and coloring sheets are available for the budding artist.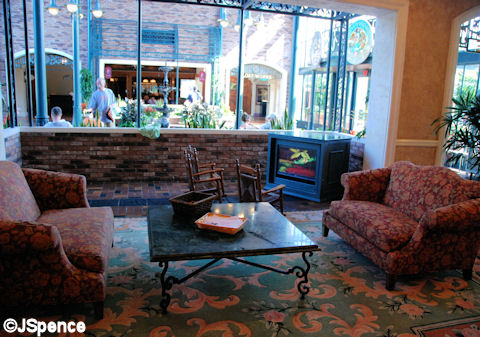 Adjoining the "bank" building is Jackson Square Gifts. This shop has two entrances, one off of the lobby and one onto The Courtyard. Open daily from 8am to 11pm, this emporium sells Disney souvenirs, snacks, newspapers, magazines, sundries, infant needs, and postage stamps. In addition there are a few items specifically themed to the French Quarter.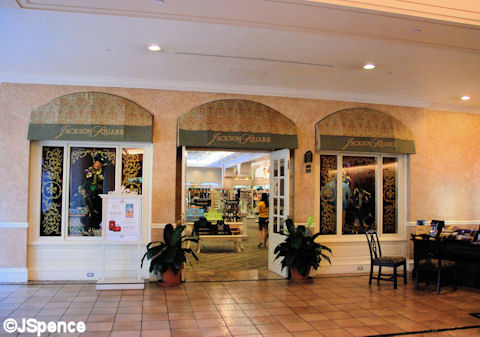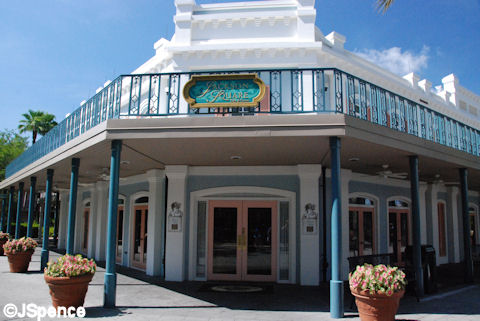 Next to Jackson Square Gifts is South Quarter Games. This electronic paradise features a wide variety of games for those of you with good eye-to-hand coordination. Don't worry, a change machine is on hand to convert those pesky paper bills into coin.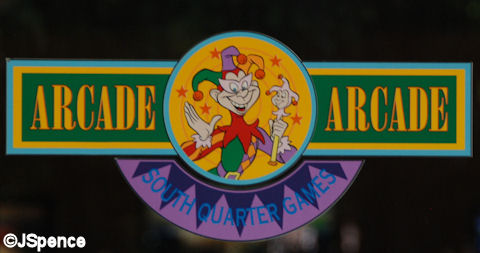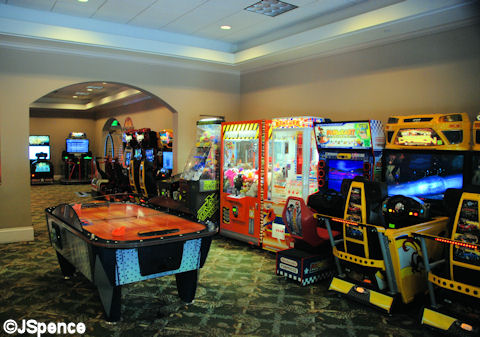 On the other side of the lobby is Scat Cat's Club. This cozy lounge is full of memorabilia of some of jazz's greatest musicians. Open daily from 4pm until midnight, this is the perfect spot to unwind with a cocktail or specialty drink after a long day in the parks. Live entertainment is featured Wednesday through Saturday.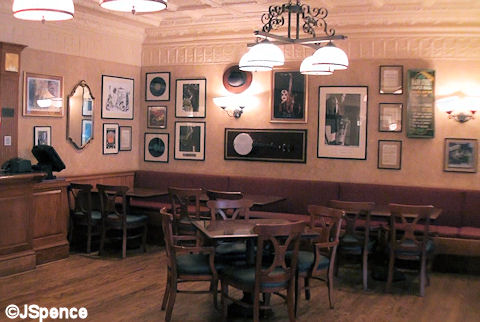 Hungry? Then head for Sassagoula Floatworks & Food Factory. This building is themed to look like a warehouse where props are stored and floats are constructed for Mardi Gras. Some of this paraphernalia was created by Blain Kern Artists, Inc. and others were actually purchased from warehouses in New Orleans. Just in case you're not sure, Mardi Gras ("Fat Tuesday") is the celebration that signals the beginning of the Lenten season. In New Orleans, the holiday is marked with parades, floats, masks, beads and the resort's motto Laissez les bons temps rouler! or Let the good times roll.
This counter-service restaurant is large and can seat 300 people. Breakfast can be particularly busy. If you want to avoid this daily crush of people, try and arrive before 8am. You might also want to grab some prepackaged goodies and drinks the night before and store them in your in-room refrigerator. To see the complete menu, click here (breakfast – lunch/dinner). Baked to order pizza for room delivery is available from 4pm to midnight.
Here are the restaurant's hours:
Bakery: 6am – Midnight
Breakfast: 6:00am – 11:30am
Lunch: 11:30am – 5:00pm
Dinner: 5:00pm – 10:00pm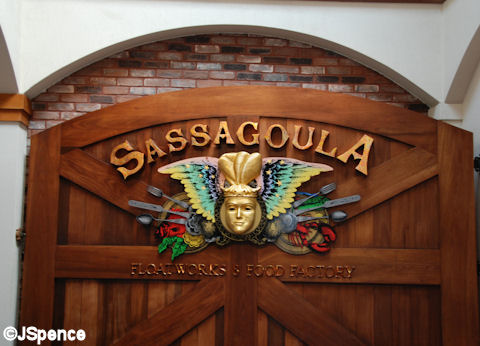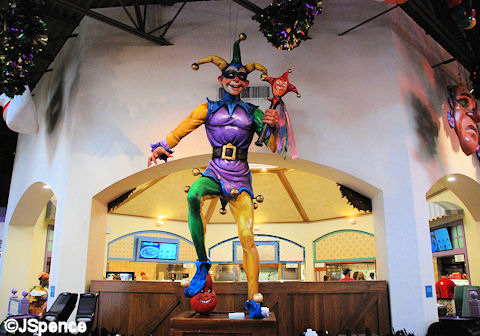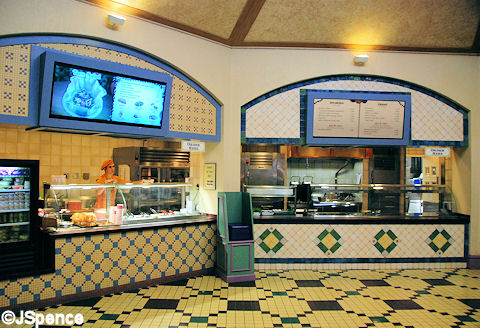 I have eaten at the Sassagoula Floatworks & Food Factory a number of times. I've always been pleased with my meal, but I find some of the overhead masks and props a little creepy. So for me, if the weather is nice, I much prefer to eat at one of the outside tables in and around The Courtyard.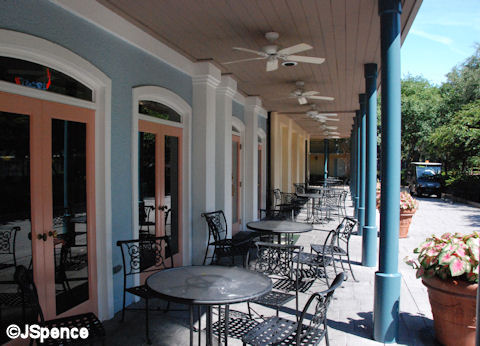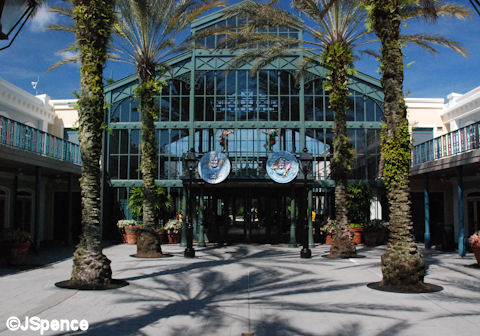 That's it for Part One. Check back tomorrow for Part Two.