As I so often do, I must start today's blog back at Disneyland. And to begin the story of Splash Mountain, I must first discuss the Carousel of Progress. By 1970, this transplant from the New York World's Fair was experiencing a decline in attendance. General Electric, the attraction's sponsor, felt that the majority of Disneyland's visitors had seen the show multiple times and asked Disney if they would be willing to move it to their new park being built in Florida so it could play to new audiences. So on September 9, 1973, Carousel of Progress gave its final California performance.
To celebrate America's Bicentennial, a new show was designed to fit into the existing Carousel Theater and on June 29, 1974, America Sings officially opened. Like Carousel of Progress, which chronicled the advancements in electricity over the decades, America Sings featured a cast of Audio-Animatronics animals and presented a history of music as you rotated from theater to theater and era to era.
In the early years, this show experienced limited popularity, but it was never as well received as its predecessor. And not long after the Bicentennial festivities died down, attendance began to wane. In addition, the show's "hip" finale had become dated in very short order as music styles are constantly changing. At just three years old, America Sings was already playing to half empty theaters, yet Disney still needed to recoup the money spent on this attraction. In the end, America Sings played for just shy of 14 years and closed on April 10, 1988.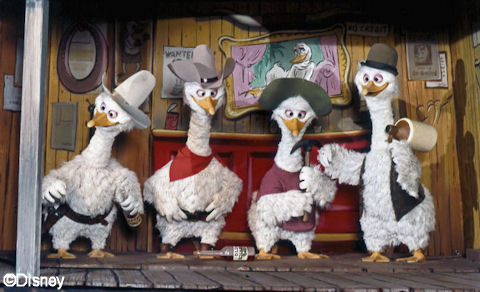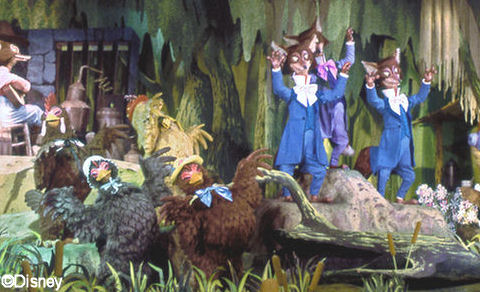 It's interesting to note that several months before America Sings closed, two of the Audio-Animatronics geese were removed from the attraction and their feathers and skin stripped from their frames, leaving a robotic skeleton. With new heads attached, these frames were placed in the queue for the soon to open Star Tours attraction at Disneyland as G2 droids. And to add to the irony, one of the geese/droids now sang a modified version of "I've Been Working on the Railroad" (which he sang in America Sings). The new song being titled "I've Been Working on the Same Droid."
During the summer of 1983, Imagineer Tony Baxter was trying to devise a way to draw guests into the often deserted Bear Country. You see, Country Bear Jamboree never achieved the same level of popularity at Disneyland that it enjoyed in the Magic Kingdom and this remote land was often void of guests. What this area needed was an "E" attraction.
At the same time, Dick Nunis, President of Walt Disney Attractions, was pressuring Imagineers to come up with some sort of a water-ride to help guests stay cool during the hot summer months. He argued that "All the other parks have a flume ride." To which the Imagineers countered, "That's exactly why Disneyland should not – we need to be unique."
One day, while making his hour-long drive to work, Tony Baxter was struck with an idea. Why not use the characters from "Song of the South" in some sort of a water ride. Br'er Fox, Br'er Bear, and Br'er Rabbit were well known to the general public yet this movie had not yet been developed into an attraction like so many of Disney's other films. When he arrived at his office Tony got together with coworkers Bruce Gordon and John Stone and started brainstorming. After several days of work, the three men came up with a fairly complete concept for an attraction to be called Zip-A-Dee River Run.
Further development moved swiftly and soon a model of the attraction and more detailed storyboards were complete. Now it was time to pitch the concept to newly installed CEO Michael Eisner and President Frank Wells. Overall, it was an easy sell, but Eisner didn't like the name Zip-A-Dee River Run. He suggested that the Imagineers add a mermaid to the attraction so they could tie it into the recent Disney hit "Splash" that had starred Daryl Hannah and Tom Hanks. The Imagineers convinced Eisner that this wasn't a good idea, but he was still insistent that the attraction's name be changed. He just didn't think Zip-A-Dee River Run would appeal to the teenage audience, the target group for this ride. When someone suggested they add the word "Mountain" after "Splash" everyone knew they had hit upon the perfect name as this would add a new peak to the Disney chain that already included the Matterhorn, Space Mountain, and Thunder Mountain.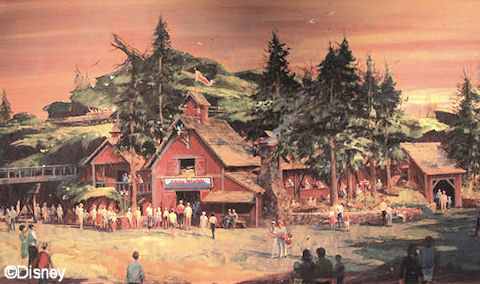 Splash Mountain marked the first time that an attraction based on an animated film would be built outside of Fantasyland. To that end, it was important that the exterior structure blend in with its surroundings such as the Haunted Mansion and Bear Country. Guests would only see the "cartoon world" inside the attraction's interior. In addition, the foundation for the ride was sunk deep in the ground so the mountain did not overpower its neighbors.
And with so many new animals taking up residence in Bear Country, this land was renamed Critter Country.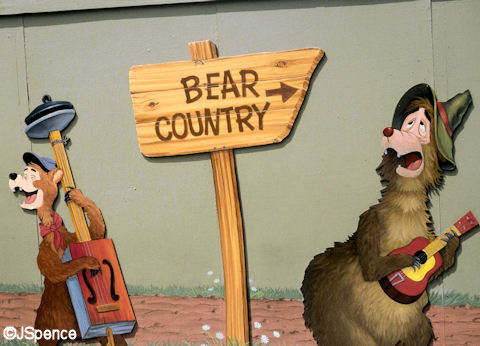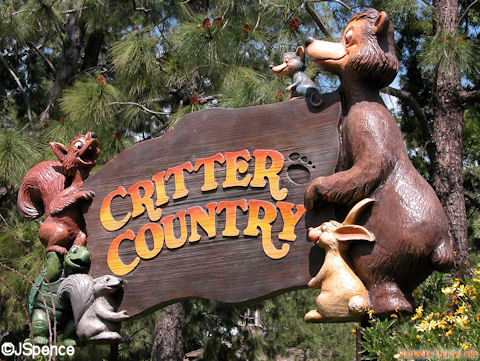 Splash Mountain opened on Disneyland's 34th birthday, July 17, 1989. It's estimated that the attraction cost $75M, an extraordinary amount of money for that time. Although a number of new Audio-Animatronics figures were created for the ride, the vast majority came from America Sings.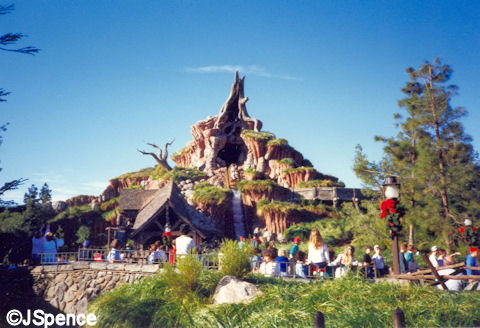 The "official" story of the creation of Splash Mountain maintains that the inclusion of the America Sings Audio-Animatronics figures was part of the initial plans. As the story goes, Marc Davis had created characters and designs for Song of the South that were never used in the film. Then, almost 30 years later, they were reborn in the America Sings attraction, a project Marc Davis also worked on. Moving the AA figures to the new Splash Mountain attraction would be a perfect fit as they were already themed appropriately. In addition, closing America Sings would free up the Carousel Theater for a new, more popular attraction in Tomorrowland. However, according to Alice Davis (Marc Davis' wife), it was the out of control budget, not some grand plan, that necessitated the scavenging of one attraction for another. Reusing the America Sings AA figures was a way to rein in costs. It is interesting to note, the Carousel Theater sat empty for ten years after America Sings closed. It finally reopened in 1998 with a West Coast version of Innoventions.
To give you an idea of how little some of the characters changed when they were moved from America Sings to Splash Mountain, take a look at the next two pictures. The first shot was taken in Act Two of America Sings (Headin' West segment) and features The Boothill Boys singing The End of Billy the Kid. The next picture was taken on Disneyland's Splash Mountain as you begin your assent up Chick-A-Pin Hill and shows the same two vultures dressed identically.
Attendance soared at Disneyland with the addition of Splash Mountain and soon after its opening, Michael Eisner okayed the construction of similar attractions at the Magic Kingdom in Florida and Tokyo Disneyland. However, these would not be carbon copies of the Disneyland version as the parks were too dissimilar.
At Tokyo Disneyland, the Imagineers created a brand new Critter Country for the park. Here it would be a sort of sub-land to Westernland. This would allow the attraction to fit in better with its surroundings. Although the exterior of this Splash Mountain would be similar to the one in California with its towering Chick-A-Pin Hill, the actual track layout would be somewhat different. Also, the loading and unloading of the logs would take place in two different locations (similar to the Haunted Mansion) and these activities would be located inside the mountain. In addition, the logs were reengineered to create less of a splash due to the harsher winters and cultural differences. The Tokyo version also contained a two-story, counter-service restaurant, Grandma Sara's Kitchen, deep within the mountain.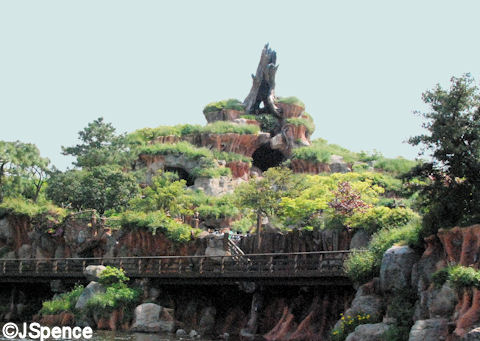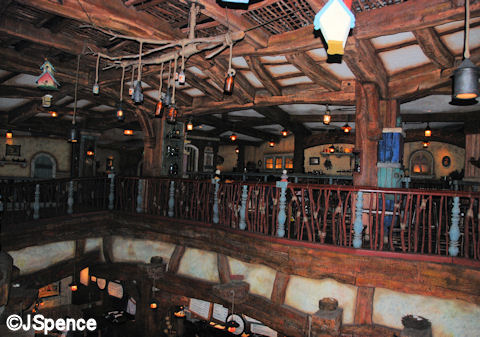 Bringing Splash Mountain to Florida would present other challenges as it too had no Bear/Critter Country, but in this case, no area to create a new land either. Here, Splash Mountain would need to be a part of Frontierland and the only available location was next to Thunder Mountain. This would require relocating the Frontierland Train Station. These next two pictures were taken in 1983. As you can see, the approach to Thunder Mountain was vastly different than it is today.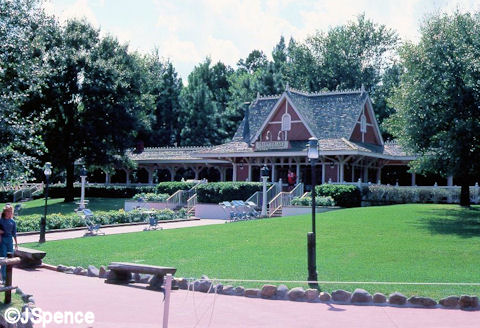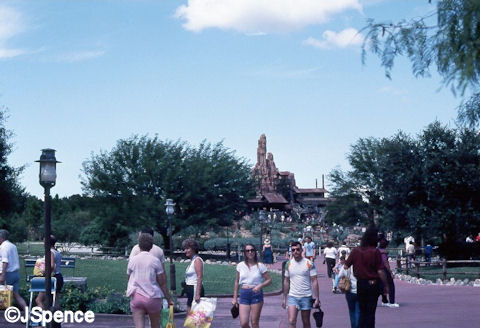 Another problem the Imagineers faced in Florida was how do you seamlessly blend the American Southwest represented by Thunder Mountain with the Old South of Splash Mountain? These areas are several thousand miles apart in the real world and their topography is vastly different. One way to achieve harmony was through the use of color. Splash Mountain at the Magic Kingdom would use deeper oranges and reds than its California counterpart in an effort to complement the nearby desert terrain. In addition, the newly moved train station would act as a transition between the two attractions as its architecture blends well with both.
Splash Mountain opened to the public three years to the day (July 17, 1992) after its California cousin. This eleven minute ride follows the misadventures of Br'er Rabbit with a thrilling plunge down a 52 1/2-foot waterfall.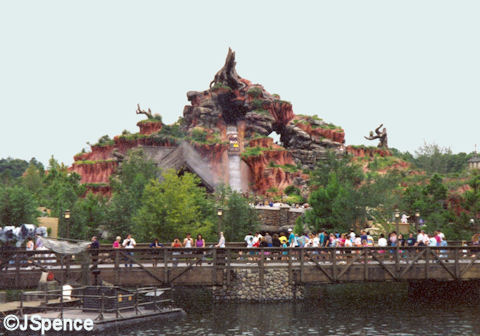 That's it for today. Check back tomorrow when I'll discuss the story of Splash Mountain and Br'er Rabbit, Br'er Fox, and Br'er Bear.