Beginning on June 27, guests with visual disabilities will be able to explore Walt Disney World theme parks in a whole new way. Using a Disney-designed Assistive Technology Device guests will now be able to explore the parks accompanied with an audio description of all the sights.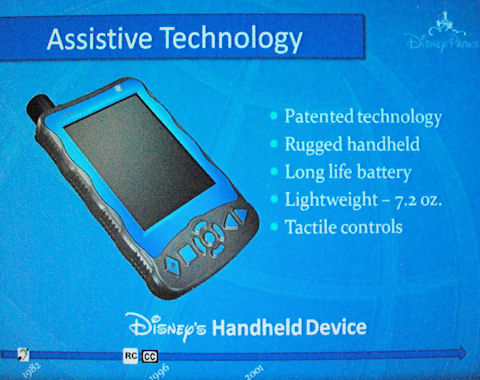 This easy-to-use device is obtained at any theme park guest relations window. It is offered at no cost with a refundable deposit. It comes with a headset and strap so you can hang it around your neck. Disney conducted a number of focus groups with organizations for the blind to help them create an easy to understand machine that can be mastered in a few minutes.
I spent an hour today with an Assistive Technology Device (ATD) at Disney's Hollywood Studios. As I walked from area to area, the ATD would come alive and vibrate as I passed hidden sensors. Then it would provide me with a fairly accurate description of my location. For example, it would announce, "You are on Pixar Place near the restrooms" or "You are in Animation Courtyard between Voyage of the Little Mermaid and Playhouse Disney." If at any time I needed a reminder of where I was at, I could push a button and the ATD would repeat the last announced location.
Another button provided me with a general description of my surroundings. When the recording finished, I was given the option to hear more information in six categories. These were (1) a more detailed description of the area, (2) nearby attractions (3) nearby restrooms, (4) nearby restaurants, (5) entertainment, and (6) shopping. From these, I could drill down for even more detailed information.
Another automatic feature of the ATD is Attraction Descriptions. When I boarded Toy Story Mania, the ATD started automatically and provided me with a detailed commentary of all the sights along the way. I never had to push any button.
To give you an idea of what I'm talking about, I've included a short audio clip from the Haunted Mansion. The first voice you hear is that of the Ghost Host. Following our disembodied spirit is the ATD voice describing a few of the sights.
The ATD can also be used by the hearing impaired. Although I did not get to try this feature, I was told it works in all attractions and the ride or show's dialog is automatically displayed on the screen. Check out the picture below for a general idea.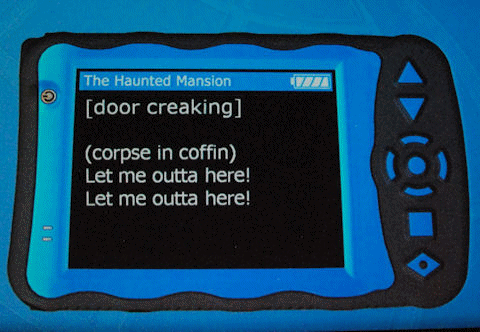 I spoke with Bob Minnick, Manager – Facility Safety and Accessibility. I asked him if the ATD could be easily updated as things are constantly changing at WDW. He told me that Disney partnered with Softeq who developed the software and the handheld device and WGBH who did work creating the descriptive audio and captioning text. I was assured that all Disney needed to do was provide a new script and an updated recording could be made an uploaded in very little time. When I asked if these devices would be available at the resorts, Bob told me that Disney's objective at the moment is to bring Disneyland online with the ATD. After that, they will assess the demand and need for further expansion.
Disney has patented and licensed this new technology and is eager to make it available beyond the theme parks. To that end, it's already being used at the Coca Cola Museum in Atlanta, The Hall at Patriot Place, and the Dallas Cowboys Stadium.
Walt wanted Disneyland to be enjoyed by everyone. Through the years, his company has strived to bring magic to all. Here are a few examples of how the Imagineers are constantly looking for ways to improve the guest experience.
In making a drinking fountain wheelchair accessible, it also makes them "kid friendly." And Braille maps can be found in all four theme parks.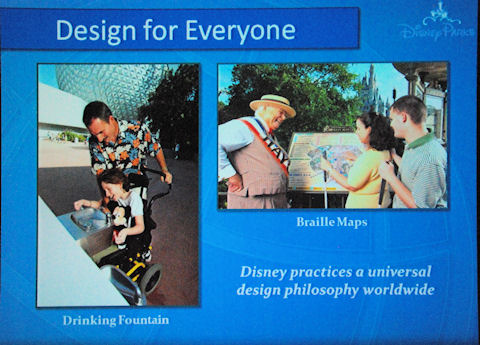 All Walt Disney World transportation is wheelchair accessible – all buses have hydraulic lifts and the docks all "float" so they are always level with the watercraft. The buses also have closed captioning, announcing destinations and other pertinent information.
A number of guest rooms are available with height appropriate vanities and easy access tubs and showers. Text telephones are obtainable for the deaf.
Swimming pools have sloped entrances so that aquatic wheelchairs can easily roll into the water. This shallow area also provides toddlers with an area to splash with safety.
At the golf courses, specially designed carts are available to allow just about anyone the ability to play a round.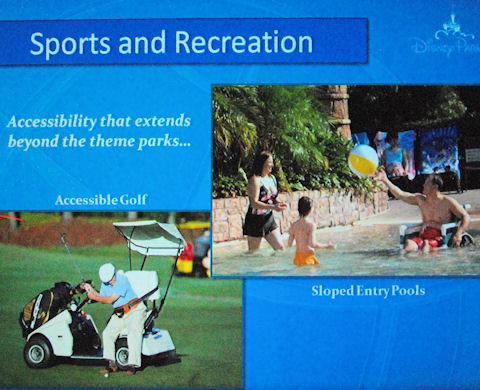 At Blizzard Beach, a special gondola can accommodate a wheelchair for a ride to the top of Mount Gushmore.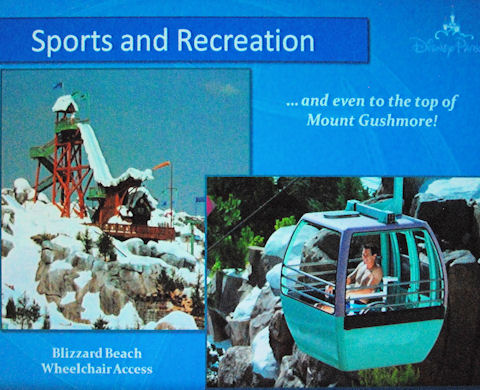 Special viewing areas have been set aside on a first come, first served basis along the parade routes. Even the Grand Marshal vehicles can accommodate a wheelchair so just about anyone can be included in the festivities.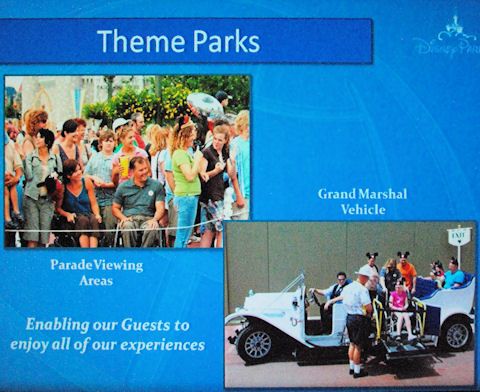 Disney is always looking for new ways to retrofit older attractions. A special Jungle Cruise boat was updated with a lift for wheelchairs. And newer attractions are also getting into the act. Since loading and unloading can take longer in these cases, Toy Story Mania was designed with an auxiliary loading area so folks can take all the time they need to get situated.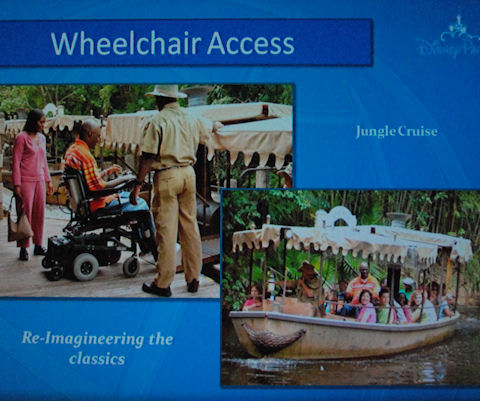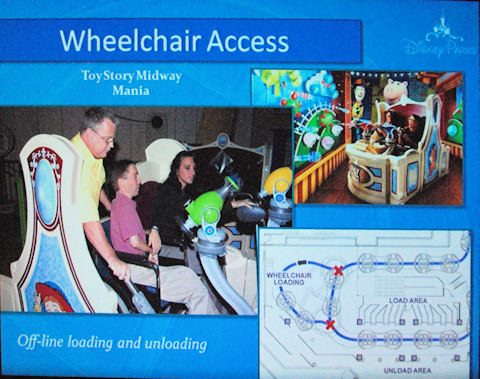 Many of the live shows offer sign language interpreters. These are presented on certain days and at certain hours. You need to check with Guest Relations for exact days and times.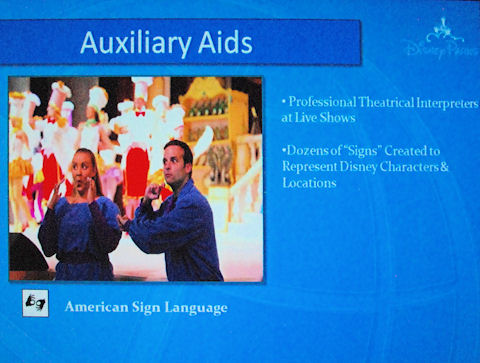 I have to admit, when I attended today's press event, my eyes became a little misty when I saw all that Disney is doing to bring the magic to everyone. I take so many things for granted and I was moved that Disney does not. They strive to include everyone they can.
For more information about touring the parks with special needs, check out the AllEars.Net section for guests with special needs:
as well as Disney's webpage: WALT DISNEY WORLD GUESTS WITH DISABILITIES