Toy Story 3 opened last weekend to general acclaim, winning an opening weekend box office of over $100 million–larger than any other Pixar movie to date. It also accomplished that even rarer feat, of being worthy of its hype.
The third installment of the Toy Story characters brings something of a bittersweet coda to the tale of Andy's Toys, but there is adventure and giggles enough on the way to balance it out. While there seems to be a larger reliance of action sequences than in the more character-driven preceding films, Pixar has hardly ever needed more than a few frames of a character's expression to show their state of mind. It's a wonderfully crafted film, and anyone who enjoyed the first two films would certainly enjoy the third.
At the El Capitan, following the 3-D presentation, viewers have the additional treat of enjoying the Toy Story 3 Fun Zone, which takes place at Hollywood High School, about one block in back of the theater.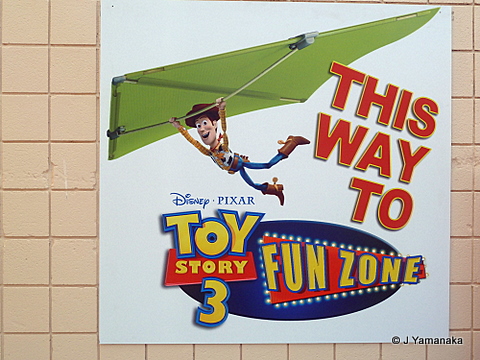 Audiences are escorted out of the side entrance, and various CMs and signage are evident, marking the way over to the Fun Zone.
Once at the Fun Zone, there are a plethora of amusements for the family.
Several themed carnival games are available. No extra charge, but no prizes, either.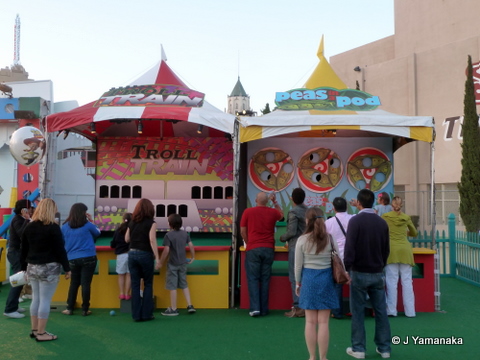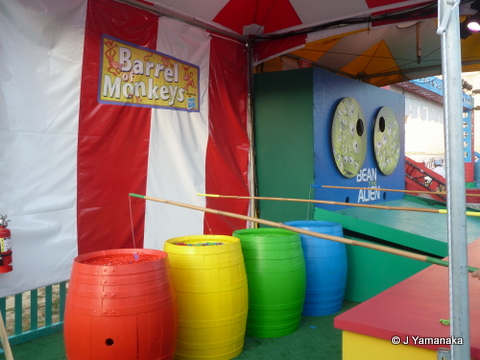 For the smaller fry, a bounce house and craft area were popular activities.
About 30 minutes after we all trekked over from the theater, they announced a small stage show: Dancing With the Toys. A female host narrated, as Woody, Buzz, and Jessie engaged in about five dance numbers set to the music from the film. While there wasn't a huge amount of seating, there was a fair amount of movement in and out of the area while the show progressed, that there were almost always some open seats (turns out, salsa dancing isn't quite as attention-grabbing for toddlers as say, Legos.)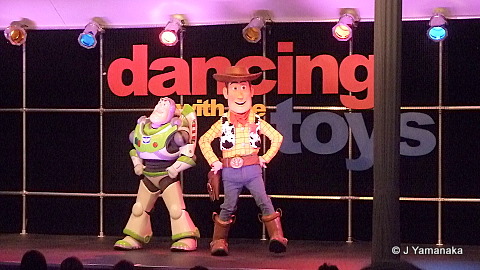 For the more energetic kids, there was a whole playground with mazes, slides, and hanging rings.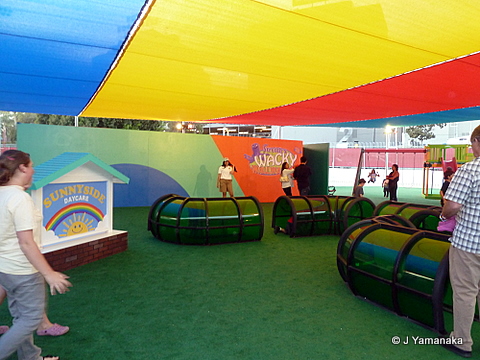 For the less-active, there were an abundance of photo opportunities, in addition to Woody and Buzz who were meeting-and-greeting at various places around the Zone. They also had a green-screen setup where you could have yourself digitally superimposed on a Toy Story background and download your photo for free for 24 hours.
Not enough? For the older kids, or pretty much anyone, there was a large set up of X-Boxes playing the new Toy Story video games, and a number of displays on the new board games, train sets, and collectable merchandise now out.
Because this is Disney after all, there is no shortages of things to spend your money on, either. Snacks are available at a small concession stand, and there is a separate tent filled with all the Toy Story merchandise you could want.
A separate "Lotso's Lounge" tent was closed off for the night I went, but is apparently available for birthday parties or other large gatherings.
Finally, the big eye-catching outdoors activites: A tricycle race, bungee-jumping apparatus, and ferris wheel.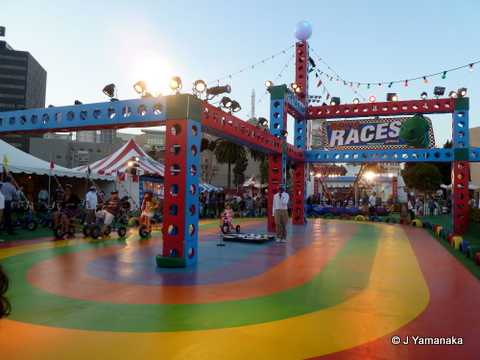 The tricycle race was the most rambunctious area–they have oversized tricycles as well, so the races aren't exclusively for the young of body.
The bungee-jumping and ferris wheel weren't operating on preview night, but looked as though they'd be appropriately fun.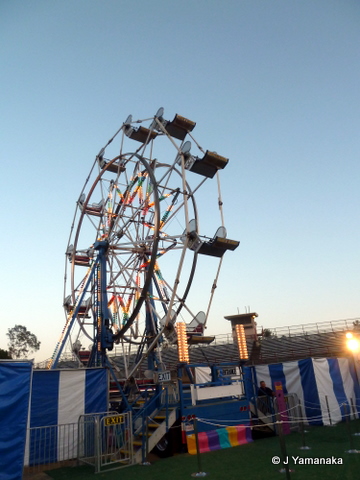 The Fun Zone lasted for about 2 hours after the movie, at which time they announced closing time and gently herded people out. On the whole, it had a lot (Lotso?) to offer families with younger members. For adults, it's a pleasant add-on to the El Capitan movie-going experience. Of note, while there was a great deal of supervision for people going over to the Fun Zone, there was pretty much none coming back, so caution while cutting across parking lots is probably advised.
It's interesting to consider that Toy Story 1 was Pixar's first film, and to imagine how the three films might mirror the different places the filmmakers were at, professionally and personally, while they made them–the anxiety of being new and overestimating their potential; the fears of obsolescence and lack of relevance; and finally, the acknowledgement that every story has an ending.
We are told, however, that plastic can last forever without biodegrading, so who knows? If the Toys can have that kind of staying power, why not Pixar?