One of my favorite restaurants at Walt Disney World for lunch is the Sand Trap located at the Osprey Ridge Golf Course. I would venture to say that the vast majority of you have never heard of this restaurant, and I'm not surprised. The intent of this establishment is to offer a bite to eat for the golfers of this course. Originally, this restaurant served two golf courses, but the Eagle Pines Golf Course was closed sometime ago when the acreage was sold to the Four Seasons Resort that is being built on this land. In essence, this deprived the Sand Trap Restaurant of half of its customers and Disney has recently made some adjustments to compensate for this lack of business.
First, the menu has been simplified. Most cooked/hot items have been eliminated. All china and glassware have been replaced with paper and plastic products. In addition, this is no longer a table service restaurant – but it's not quite a counter service restaurant either. The new format requires that you order your drinks and food at the bar. At that time, you will be given your drinks which you will carry back to the table of your choice. From that point on, service will be like any other table service restaurant in that the bartender will bring the food to your table and take care of your refills.
Please remember to tip accordingly as the bartender is the only person taking care of the entire establishment.
I was actually concerned when I learned that the Sand Trap was changing, but when I ate there yesterday, my fears were laid to rest. This is still a wonderful place to escape the crowds, noise, and general hubbub that is associated with most of Disney World. When dining here, you feel miles away from everything – and the view is most lovely.
Although the menu is not quite as extensive as it once was, it still offers a nice variety – enough to satisfy most lunchtime diners. I ordered the Stack Sandwich which comes with salami, smoked provolone cheese, lettuce and tomato served on Ciabatta bread accompanied with homemade potato chips. My friend Donald ordered the hot dog (see below). We were both very pleased with our meal. The manager showed us pictures of the Caesar Salad and Cobb Salad and both looked worthy of any Disney restaurant – except they are now served in plastic bowls.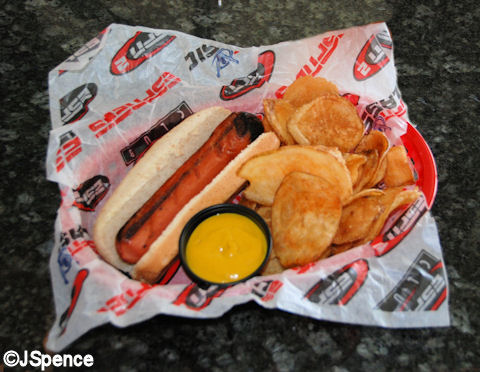 The Sand Trap is open for lunch daily from 10:30am to 5pm. The bar remains open longer depending on the golf reservations for that day. There is no designated Disney transportation to this location so a car is helpful. The restaurant is located at the north end of property near Fort Wilderness.