A new exhibit has opened in the Morocco Pavilion at Epcot. Located in the first building on the left as you enter the country, this new display is titled, Moroccan Style: The Art of Personal Adornment.
As you might guess from the title, the exhibit features clothing and jewelry from this North African country. When you enter the museum, you are greeted by a large display of an ornately costumed gentleman and his steed.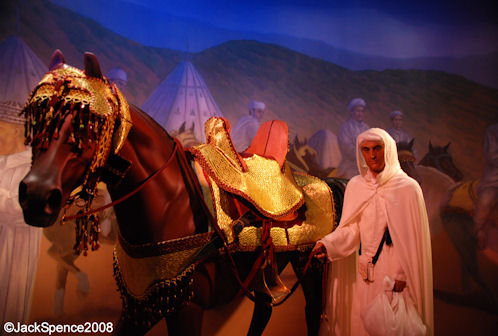 The costume in the center right of the display case (below) is worn by the Garrab, or Water Seller. This peddler is often found in the marketplace. He wears a leather pouch and a number of metal cups around his chest and sells water by the cupful to shoppers and merchants.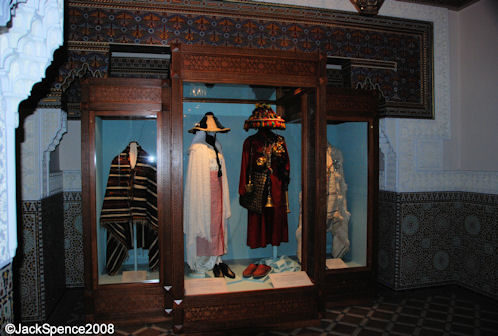 This next display features jewelry used to ward of evil and protect the wearer. Khamsa, the hand with five fingers, is a popular Moroccan icon. The symbol represents Fatima, a daughter of the Prophet Mohammed. Muslims consider her to be the ideal mother, wife and daughter. It is believed that by incorporating Khamsa into different forms of jewelry, the wearer can invoke Fatima's protection.
The leaves of the Henna plant are ground to make a dye used in the creation of temporary tattoos. The night before a marriage, the elder women of the village spend the evening with the bride and her party. They paint the young brides hands and feet with this dye while imparting gems of wisdom about married life. According to tradition, the bride is to do no work until the tattoos have faded completely.
The jewelry of both the men and women of Morocco carry on a rich tradition. Individuals and groups express their identity and culture by the selections they make in personal adornment.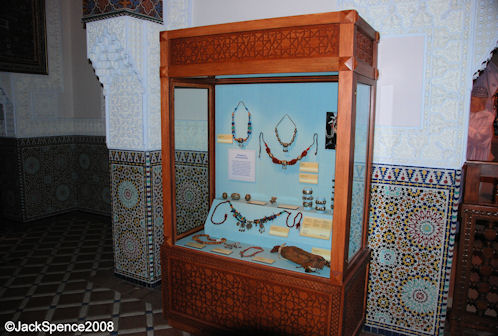 This new museum is small. Small enough to be manageable while visiting enormous Epcot. I would encourage you to give this exhibit more than just a cursory glance. It's worth your time to spend a few moments reading the descriptive plaques. You'll be glad you did.