When the Disney/MGM Studios (now Disney's Hollywood Studios) opened, it featured a wonderful animation tour. Guests started the tour by viewing a short film, narrated by Walter Cronkite and with Robin Williams voicing one of the lost boys from Neverland. Together, they explained how an animated movie was created from concept to celluloid. After the film, you strolled by a working studio and could watch animators work while a prerecorded narrative explained what activity was taking place in each area. At the conclusion of the walking tour, you saw a second movie featuring clips from dozens of Disney animated classics. This film brought a tear to your eye and a smile to your face. This attraction was a true gem.
But as computers took over more and more of the animation process, this tour became increasingly out of date. Several attempts were made to keep the attraction current, but when Disney decided to remove all animation from Florida and consolidate it in California, this tour couldn't survive as is.
Today's attraction is called "The Magic of Disney Animation." The tour begins with an entertaining film starring Mushu from Mulan. Here, the mischievous dragon learns how a sidekick is selected for a movie. In addition, a few other animation techniques are explained. But over all, this film is more fluff than informative.
After the movie, you proceed to a computer game play room that is designed more for children than adults. There are also a couple of meet-and-greet areas where you can get your picture taken with Disney characters.
And finally, there is the Animation Academy tucked away in a corner. I'm writing this blog today because I think this wonderful segment of the attraction is overlooked by the vast majority of guests who take this tour. And for me, it's the best part.
Located near the exit of the computer game room, the Animation Academy has a small waiting area. Classes are conducted every 30 minutes on the hour and half hour. While in the waiting room, be sure to watch the "computer sketch boards" mounted on the wall. Every couple of minutes, a new drawing is started and a character begins to take shape. Try to be the first in your group to determine what character is being drawn.
When the doors open, you proceed into the Animation Academy and find a seat at one of the Mickey Mouse desks. Each position is equipped with a sheet of drawing paper and a pencil – and NO erasers. As the doors close, a Disney animator/artist introduces himself and begins the class.
With the exception of Mickey Mouse, the same character is never drawn twice in a row. And if a drawing of Mickey is repeated, it will be a slightly different pose. Sometimes the animator will select the character to be drawn and sometimes he will open it up to the class to choose. Some of the other choices are Donald, Daisy, Minnie, and Pooh.
You start drawing all characters the same way, by creating a circle. The animator uses an overhead projector so you can see exactly what you're supposed to be doing. After you've got your circle on paper, you add guide lines. Then, step by step you are walked through the process of creating a Disney character. And before you know it, Mickey is jumping to life from your piece of paper – well, maybe not.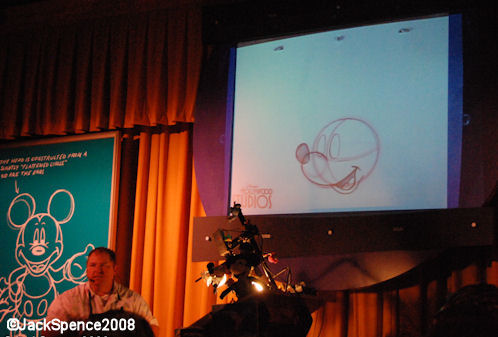 Obviously, some guests have more talent than others. But if you look around the room, you can see that everyone does a decent job at creating the character du jour. And even if your drawing isn't perfect, it's usually pretty obvious who you were trying to recreate.
Each class is approximately 20 minutes. You're not rushed, but the animator keeps the pace going in order to finish in time for the next class. When you're done with your drawing, it's yours to keep. Sometimes the animator will provide rubber bands so you can roll up your drawing for easier carrying.
I won't say these "works of art" are suitable for framing, but they're certainly suitable for the refrigerator door. Here's mine. Not great, but I'm not ashamed to post it online for thousands to see.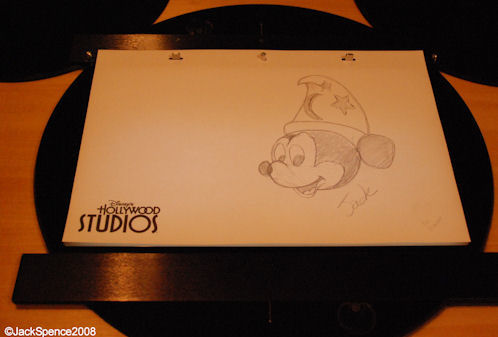 If you enjoyed the experience, there's nothing stopping you from exiting the class and getting back in line for the next show. In most cases, there will be room for you.
I believe that everyone should experience "The Magic of Disney Animation" at least once, but it is not necessary to experience the entire attraction in order to attend the Animation Academy. I asked a cast member if it was okay to enter this area via the "Animation Gallery" shop. I was told that it was. I also checked for myself and there are no "exit only" signs if you enter through the shop so you aren't breaking any rules by coming in the back door.