Jeanine Yamanaka toured the newly reopened Sleeping Beauty Castle Walk-through and shares this description and photos.
The Sleeping Beauty Castle Walk-Through, dormant since October 7, 2001, has reopened at Disneyland with some shiny new effects, and artwork more in keeping with the Eyvind Earle style of the movie.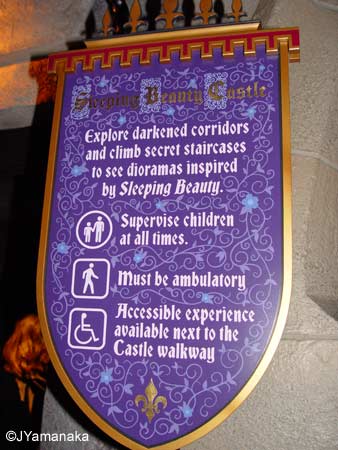 For those who remember the old walk-through, some things are fairly familiar, such as the storybook pages that narrate you through the Sleeping Beauty tale.
These pages are essentially unchanged from the previous versions, although nice and vivid with newness.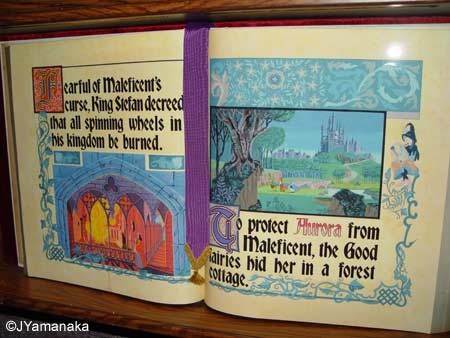 The bulk of the walk-through is basically passing through dimly-lit corridors and staircases to reach 10 different tableaus illustrating various scenes from the movie. While the last version had three-dimensional dolls enacting the parts (a little like Barbie Aurora!) this retooling opts for a more animation-cel-like appearance.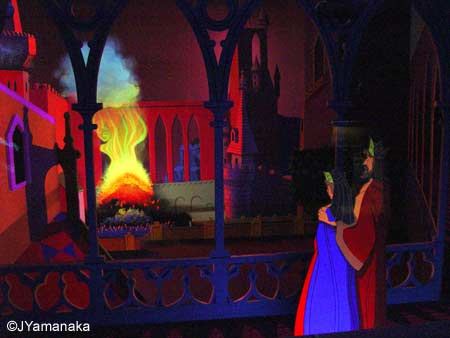 The movement in most of the windows is largely due to an effect which seems similar to the Pepper's Ghost illusion used in the Haunted Mansion. Photos are a little tricky with the combination of the darkness and the reflective glass and the 100 people in back of you waiting impatiently to see what's going on.
The passageways are pretty narrow and twisty, so people unable to navigate them or the couple of stairways are apparently able to view the whole thing from a special room on the ground floor of the Castle.
A significant amount of excavation was done in restoring the attraction, which had been revised in the 1970's to include more movement and dimensionality, but which lacked the characteristic Earle "look" that permeated the film.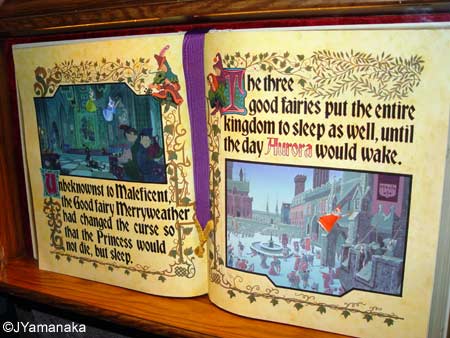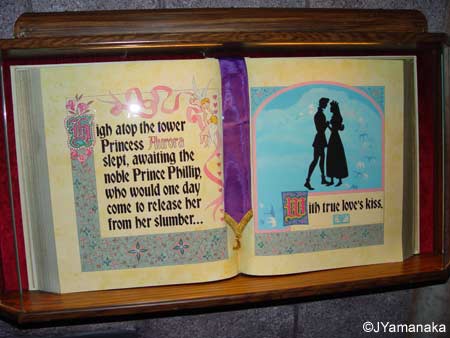 One of the things found during the refurbishment was the original Corridor of Goons effect. Previously, for a short time, there were doors where you could look through the keyholes and see Maleficent's henchmen – henchthings – marching around. Unfortunately, the amount of time it encouraged people to spend there created a logjam that slowed down traffic through the attraction enough where the whole thing was eventually boarded over.
In the new attraction, however, you may see something of them once more.
This diorama has an impressive metamorphosis effect that takes a little while to cycle through-in general, each window requires stopping and watching for awhile to see all the changes that occur.
But it all ends happily ever after…Or does it? A last intimation that the reports of Maleficent's death have been greatly exaggerated, may leave you with a mild "sense of foreboding".
The attraction, while certainly not an "E" ticket, or even a "C" ticket, is very well done and worth a look, even just for the fun of clambering around inside the Castle. Lines stretched around the side and almost to the front of the Castle on opening day, but moved fairly steadily. Once inside, it took approximately 30 minutes to complete.