Now that the holidays are back at Disneyland there are many holiday activities available to guests at Disneyland Park – not so many at Disney's California Adventure, unfortunately. So I'll start with DCA first.
At the park entrance the "CALIFORNIA" letters have their seasonal candy cane stripes. And figures of Mickey and Goofy adorn the first and last letters, respectively. It's a very popular photo opportunity.
No Santa's Beach Blast in Sunshine Plaza this year, but the characters in their holiday attire make frequent appearances there during the day.
Other photo ops include the oversized ornaments and other decorations in Flik's Fun Fair, and the glittering Christmas tree just outside Paradise Pier.
Over in Disneyland…
The huge Christmas tree dominates Town Square, and wreaths and garlands decorate all of Main Street. This is the best place to find the Disney characters in their holiday outfits, though you'll also find some of them back in Toontown, and the Pooh characters are usually back in Critter Country.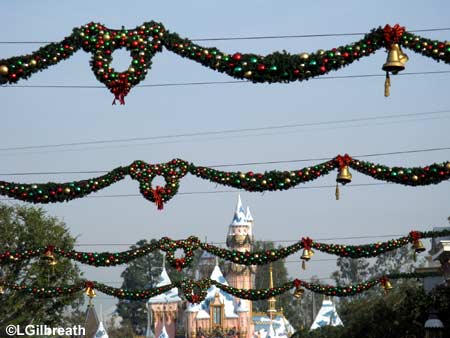 There is a nightly tree lighting ceremony, usually at 5:00.
Sleeping Beauty Castle wears icicles and a dusting of snow during the day, and comes alive with a glittering covering of ice at night. There are at least two brief castle lighting shows where the lights are turned off and then gradually come on in shimmering animation – these are typically at 5:30 and 7:30.
Santa's Reindeer Roundup has returned to Big Thunder Ranch, and there are a variety of activities for kids there. Craft tables are set up where kids can color using the crayons and coloring pages provided (no charge). Or, at Mrs Claus' Cookie Kitchen, boxed cookie kits, complete with frosting and decorations are available for $6. There are Christmas trees, snowmen and gingerbread me available.
Entertainment, such as a magician, takes place on the stage about every hour. The audience is encouraged to participate.
The corral is home to Santa's reindeer – all eight of them. Guests may not go inside their corral, but from the outside can take photos and watch the reindeer peacefully eating their hay.
Visits with Santa Claus are available in the cabin next to the reindeer corral – the line to see him is usually fairly lengthy, though.
New Orleans Square is festively decorated for the holidays, with lots of beads and lights and other glittery stuff. The major holiday attraction in that area, of course, is Haunted Mansion Holiday – this is the 8th year that Jack Skellington and the Nightmare Before Christmas gang have brought their own kind of magic and mayhem to the Haunted Mansion. It's one of my favorites every year!
Over in Toontown the Disney characters have seemingly gone all out to decorate their homes. The decorations there feature lots of bright kid-friendly colors. I have seen Santa Goofy greeting guests in the gazebo.
Perhaps one of Disneyland's most beloved holiday traditions is the holiday edition of "it's a small world". After taking a ride through there getting a glimpse of the holiday traditions celebrated by children in some of the rest of the world, I'm not sure how you can't be smiling at the end. The attraction just reopened at the end of November after an extensive rehab, and it looks better than ever. There are a few new things inside, though as far as the holiday decorations go one of the biggest changes I saw was outside, where the topiaries now feature colored lights at night in addition to the white ones.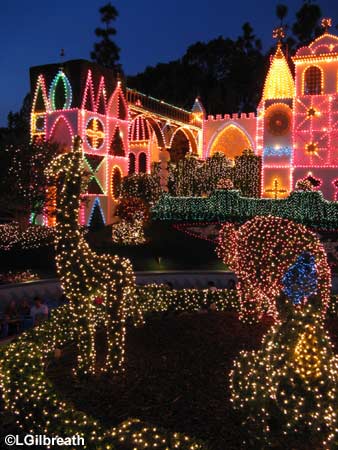 At night the "it's a small world" facade is lit up with thousands of colored lights – all of the lights come on nightly in a special lighting moment that takes place around 5:00. About 20 minutes later, and every 15 minutes after that, there's a special light show, where holiday-themed projections, choreographed to holiday music, are projected on the facade in a short show.
And of course there's the A Christmas Fantasy parade, shown twice daily. The first parade runs from "it's a small world" to Town Square, the second one does the reverse. Where else can you see a toy soldier marching band, dancing reindeer, and skating snowflakes – not to mention Santa Claus himself! There's a new version of the Toy Factory float this year.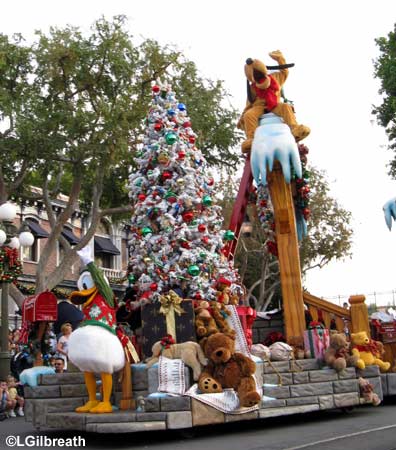 To finish out the day Disneyland offers the nightly Believe…in Holiday Magic fireworks show. The show can be viewed from Main Street, New Orleans Square, and the "it's a small world" mall, and at the end "snow" falls in all of those areas. It's really quite lovely!
If all that isn't enough, there's also holiday shopping (hats, shirts, Christmas tree ornaments, etc.) or trying out the variety of holiday treats (peppermint or eggnog fudge, tamales, various krispie treats and cookies, and so on). Yum!