So here I am, back at WDW for the holidays (which is my very favorite time of year to be here!). I'll be blogging about the various Mousefest and RADP Meet events that I'm attending, and whatever holiday stuff I do.
Lee stayed home this time (he needed some quality time with the cats 🙂 ), so it's just me – well, me and all of my RADP and AllEars friends!
I landed in Orlando at 4:15, and I was in my studio at Boardwalk Villas by 5:25. Not bad, huh?
I called my friends Ilene and Paul (if you recall, Paul is the Tables in Wonderland guy from our October trip). Tonight was their last night here, so it was the only chance we had to get together. They were in Epcot, so I quickly got myself together and met them at the International Gateway.
From there we grabbed a quick bite to eat at Sunshine Seasons in The Land and then monorailed over to the Grand Floridian.
My friend Kenny is in a bell choir, and they had two performances at the Grand Floridian tonight, so that's what I wanted to do, and fortunately Paul and Ilene liked the bell choir idea, too. We arrived about 10 minutes into the first set, but saw all of the second set. They had some instruments other than bells, and they also made different sounds on the bells by tapping on them or striking them gently on the table. Really interesting, and we enjoyed it.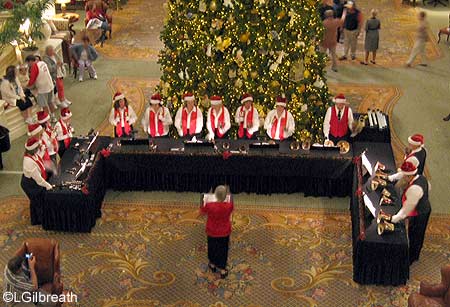 Kenny had his own set of groupies – there was a group of us from RADP (the rec.arts.disney.parks newsgroup) that came to watch him. He avoided looking up at us, though. 🙂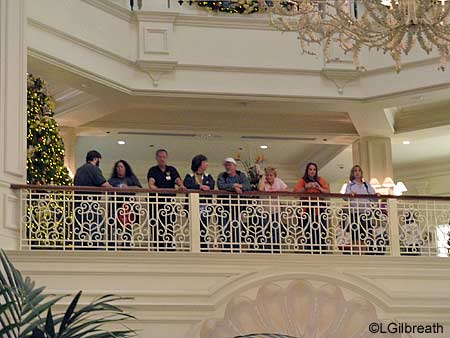 Here's a short video I shot of the choir playing Silent Night.
The Grand Floridian is beautifully decorated for the holidays, as usual, and we wandered around a bit between shows.
Ilene pointed out to me that this is the 10th year that they have done the huge gingerbread house – there's also a sign to that effect on the house. It certainly smells good enough to eat! (But I don't recommend the gingerbread from there – I've tried it two different times and it was awful!!!)
It had been a long day for Paul and Ilene so I said goodbye to them – but I'm still on west coast time, so it was only 5:30 for me.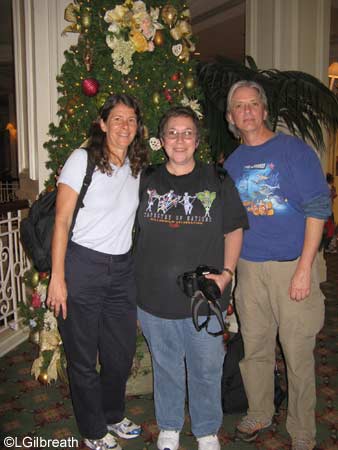 Deb Koma (one of Kenny's groupies!) and I decided to go to Epcot to see Illuminations, and took the monorail back over to Epcot. Since it starts at 9:30 this time of year we had plenty of time to get there and get all the way back to one of my favorite spots in front of Germany with about 5 minutes to spare.
So, you know the boring part of Illuminations, where the globe comes out and spins and shows all of the pictures of animals and people and balloons and art, etc? Well, the globe came out…but there were NO lights on it at all!!! And that part of Illuminations is even MORE boring when you can't see the globe. It came on very briefly, but then went dark again. At least we could see the Magic Kingdom's fireworks off in the distance during that part so there was something to look at…but we both felt badly for the people who had never seen the show before.
The very best part about Illuminations at this time of year is the special holiday finale. All I can say is "WOW!!!" I've seen it a number of times now, and it still blows me away every time – they shoot off SO many shells!!! One of the launchers that shoots off the perimeter fireworks was just a few feet to the right of us, and that was quite a surprise the several times it went off during the regular show and the finale.
It was a great way to end the evening. Deb and I said goodbye as she headed to the Beach Club and I went the other way to the Boardwalk – but I'll see her again tomorrow. Or later today, technically, since it's after midnight (still only 9:30 on the west coast!).
I stopped in the Boardwalk lobby to enjoy some of the holiday decorations – I think they have changed the trees and garlands since I was last here during the holidays, though they still feature all of those old-fashioned glass ornaments that I like so much.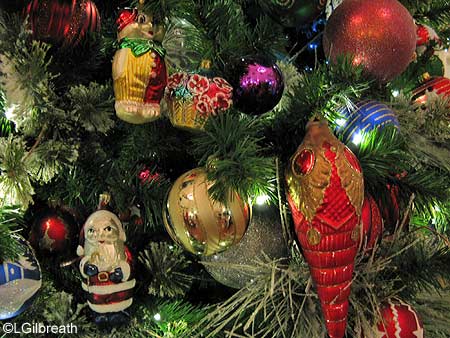 Stay tuned…there's lots more to come over the next few days! Animal Kingdom tomorrow…or later today, actually. 🙂