In my last blog, I mentioned that I thought the Mary Blair tiles on the Grand Canyon Concourse of the Contemporary Resort should be replaced with something more fitting of the new décor. I knew when I wrote this, I was going to receive emails of disagreement. And I was right. Many of you feel strongly about this. Words like blasphemous and sacrilege were used in connection with my idea.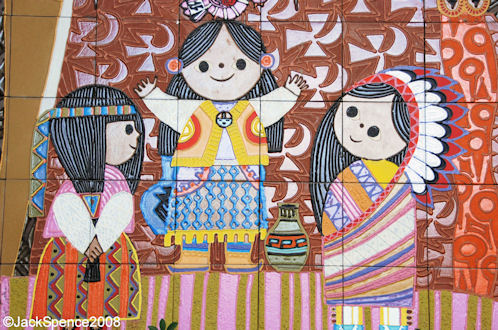 Many of you said that these tiles are a part of Disney history and they shouldn't be discarded so quickly, but instead, treasured and loved. After all, this mural was created by Disney Legend Mary Blair – the same legend who was responsible for much of "it's a small world."
Before I go any further, I want to say that I understand, and respect the opinions of those of you who disagree with me. And you might even be right! Maybe these tiles should be considered sacred. Ultimately, it will be the Imagineers who decide, but here are some of my thoughts on the issue.
Disney must walk a very delicate tightrope when updating their parks and resorts. Trying to decide what is an untouchable piece of Disney history and what's expendable is a most difficult task. And whatever they decide, someone's not going to be happy.
I remember when Disney decided to remove "Mr. Toad's Wild Ride" from the Magic Kingdom, all heck broke loose with many Disney fans. Countless people said they were removing a classic — an attraction they had grown up with. In the end, Winnie the Pooh is ten times more popular than the tired Toad attraction had become. But for those of you who loved Toad, this offers little comfort.
I know I was outraged when Disney removed the "Mickey Mouse Review" and sent it to Tokyo Disneyland. I thought this was a truly unique and fantastic attraction. Earlier this year, I was able to experience this show again while visiting Japan. You know what? By today's standards, it's slow and plodding – actually boring. And I wasn't the only one who thought so. Tokyo Disneyland was very busy while I was visiting, yet the attraction never had a line and the theater was less than a third full when I saw the show.
Last week the Oriental Land Company announced they were replacing the "Mickey Mouse Review" with "Mickey's PhilharMagic." I'm sure that many Japanese will be upset with this decision. After all, they've been seeing this show for 25 years — they grew up with it. But the fact is, "PhilharMagic" will help boost attendance and will be far more popular than the "Mickey Mouse Review" of late.
And aren't you glad that "If You Had Wings" and "Dreamflight" were eventually replaced with "Buzz Lightyear's Space Ranger Spin?" Today's teenagers (and many adults) would feel like they were being tortured if they had to experience those very dated attractions.
Walt Disney said, "Disneyland will never be completed. It will continue to grow as long as there is imagination left in the world." This statement, of course, applies to all Disney parks. Growth and change are seldom easy, but they're necessary to keep the guests coming back.
I grew up going to Disneyland. I've seen this park evolve dramatically over the last fifty years. Did you know that brassieres were once sold on Main Street and there was a "Bathroom of the Future" in Tomorrowland? Thank goodness those gems are gone.
I know you can make the argument that I'm talking about "attractions" here and the Mary Blair tiles are a piece of art. But Disney has already made the decision to remove other pieces of her work. Take a gander at these before and after pictures of Tomorrowland in Disneyland. In my opinion, the new artwork is much more fitting of the new Tomorrowland theme. Mary Blair's artwork, as nice as it was, is no longer appropriate.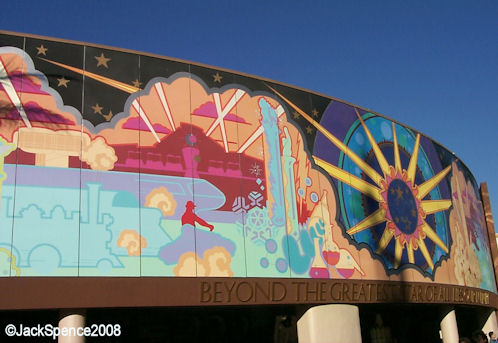 And Disney needs to update their resorts every bit as much as they do their theme parks. Here's what a Contemporary room looked like in 1971. Would you really want to stay in a room like this today? Maybe you would, but most people would not.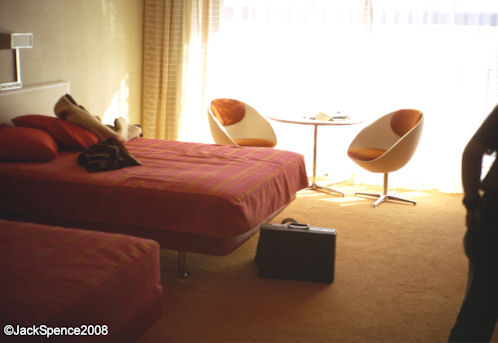 As I said at the beginning of this blog, I understand and respect the point of view that some things should be considered a part of Disney history and should be left untouched. But personally, I don't think the Mary Blair mural falls into that category and I still think it should be replaced. Change is necessary. If Disney didn't constantly update merchandise, menus, resorts, and rides, guests would stop coming.
But for all of you who think the mural should remain, I suspect you're going to get your way. First, I know of no plan to replace these tiles. I was just voicing my opinion, not repeating any rumor I've heard. And second, money is VERY tight at the moment. There is no financial benefit in removing the tiles. There's no payback. So I believe you're going to be able to enjoy them for many years to come.
Just for the record, I believe the Mary Blair tiles should be replaced with another tile mural. I think a 5-6 story tall Mickey Mouse on the south side of the elevators and Donald, Minnie, and Goofy gracing the other three sides would look fantastic.