Last summer, at Fred Block's Magic Meets in Pennsylvania, the Felty family won an auction item in Lou Mongello's Dream Team Auction. The auction item was: time with me! Of course, I was honored.
A few weeks ago, I met up with the Felty clan at Walt Disney World for an afternoon Hidden Mickey tour.
They'd chosen the Magic Kingdom, and we rendezvoused at the Liberty Bell in Liberty Square at 11 am. The group included Jim and (his wife) Krista Felty, Jim's dad John Felty, Sr. and Jim's niece Triscia Felty. The day was perfect for touring, with a pleasant temperature and light crowds. From left to right is Krista, Jim, Triscia and John, Sr.
We decided to ride Pirates of the Caribbean first and check out the Davy Jones' hat image (posted on a previous blog). I think the group was more positive than negative about the image as a Hidden Mickey, although I'm still not completely convinced.
On the way over to the Haunted Mansion, we checked out a few cool Hidden Mickeys, such as the hoofprint image in the cement near the Yankee Trader Shop. As you can see, the image isn't perfect as a classic Mickey, but I believe that it's purposeful and close enough.
As we trekked among the lands of the MK, we ambled onto attractions with minimal waits and stopped by more Hidden Mickey images.
In Fantasyland, inside the large tree in Pooh's Playful Spot, I pointed out the submarine in the wood, a tribute to the previous submarine ride in that location.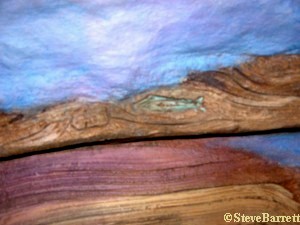 In Tomorrowland, we squinted to see the faint classic Mickey in the cement near Astro Orbiter. This image is fading with time, and it's not easy to track down. Triscia searched for it again later in the week, and she found it. That makes me a proud teacher!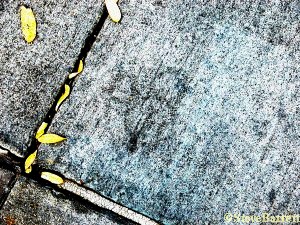 Before we knew it, the tour was over. The Feltys had to leave the Magic Kingdom for a dinner reservation at Le Cellier in Epcot.

It was a wonderful touring day that I will long remember, and I hope the Feltys will, too.

Read more about Steve's Hidden Mickey finds on AllEarsNet.com
Steve maintains a Catalog of Hidden Mickeys on the Hidden Mickeys Guide.