Come along with me in my quest for my third Donald Duck half-marathon medal in as many years.
It seems that with each year comes more challenges. This year the triple threat challenge of a cold, a crankee knee, and a winter that wouldn't let me train, places my streak in jeopardy.
On top of that the threat of rain really makes for an "interesting" day.
So here we go.
Wednesday, January 9th
I thought I'd try something different and instead of taking the first flight out I took a late afternoon flight to WDW.
The difference was I obviously got a good night's sleep, not worrying about oversleeping.
Also, the plane was not full"¦maybe at 90%.
MCO was not crowded when I landed.
The line to register at Pop Century was not long at all.
Overall it was a decent experience and I had no urge to hit the parks when I arrived"¦well it was about 9 P.M. anyway.
So will I adopt this method from now on? Not sure. It will depend upon the time of year. I think during the summer I will always opt for the early flight.
I checked in to Pop Century. This is my 19th visit to Pop Century. I have yet to be in the same room twice but the room I am in on this trip is just two doors down from my Hurricane Charley Room of 2004.
Before going to bed I watched the weather"¦looks like it will be WET on Friday night and Saturday morning"¦hoo boy.
Thursday, January 10th
I enjoyed breakfast with Lou, Deanna, Marion, and Nicholas Mongello at Cape May Café.
Of course you would hope that Marion and Nicholas would look at "Uncle Mike's" camera and smile. No. Here these two cuties are smiling with Goofy and looking at Daddy's camera.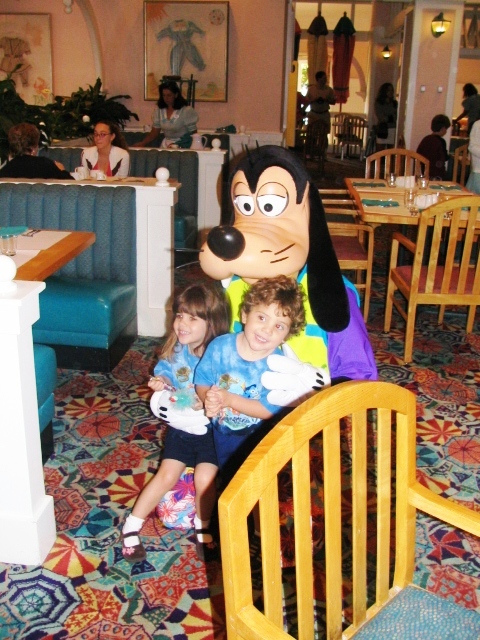 Well, at least Minnie is looking at me.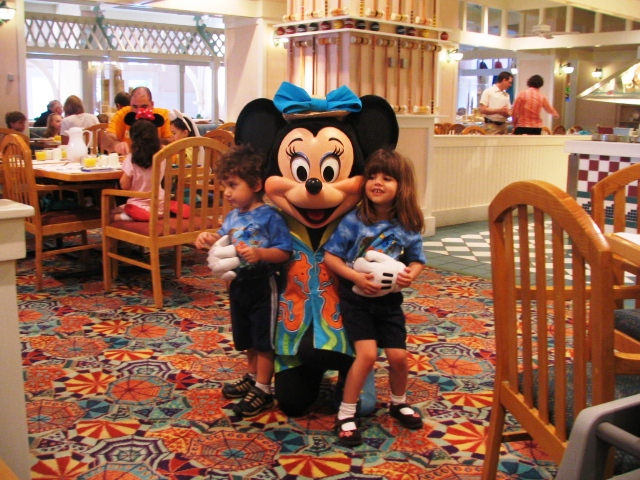 We talked about Saturday's race and planned to meet at the Expo on Friday, when it would be less crowded simply because the 5K participants HAVE to go on Thursday and most of the half and full marathoners will also go on Thursday.
After breakfast the Mongello gang headed for Magic Kingdom and I headed to Epcot.
Ahhh, a tent"¦getting ready for the marathon I see.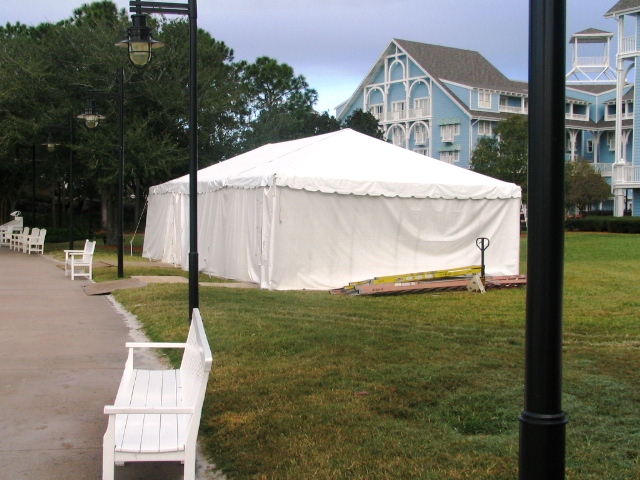 It was very early and hardly anyone was at this point in EPCOT.
How often do you see this?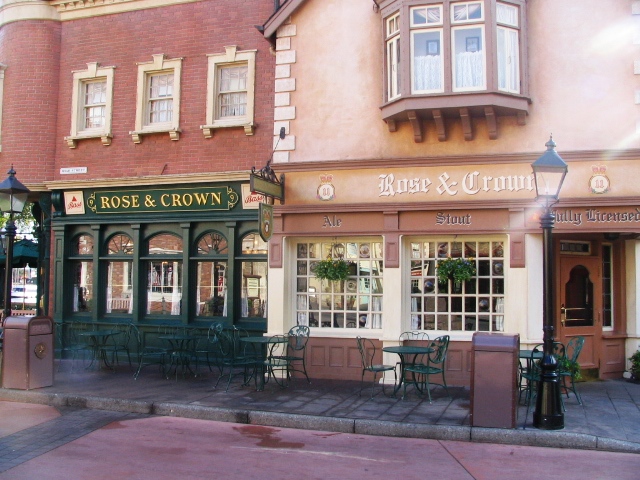 It is so nice, even for just a short time, to feel like you have EPCOT to yourself.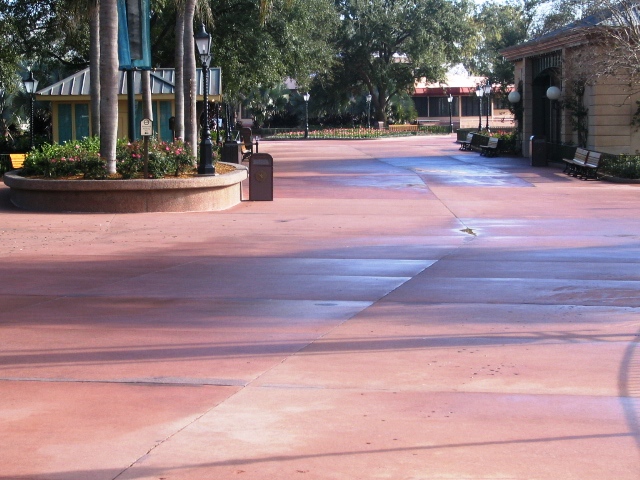 The only remains of Christmas decorations in Epcot are these two pieces of The Lights of Winter.
Here's a closer look at the Lights of Winter.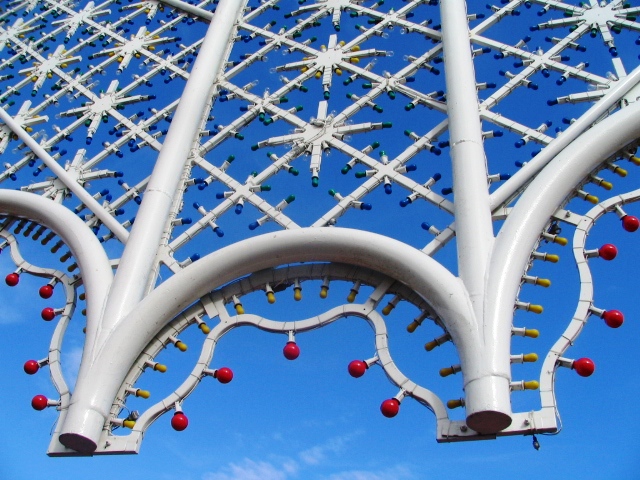 I ran into some friends from the UK and we decided to take in Soarin'. The queue was for 30 minutes and this was my chance to check out the interactive kiosks.
The first game had those in line swatting beachballs.
The second game had us guiding this bird through a forest"¦please excuse the picture"¦it was extremely difficult to get a good photo"¦.but this will give you the idea of what this is all about.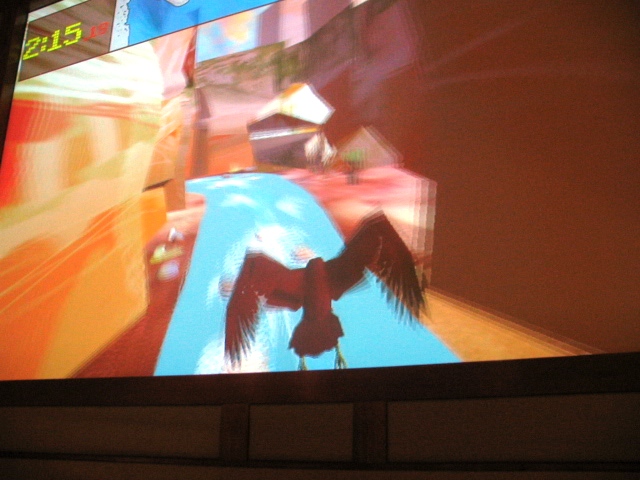 We got the bird to change directions by working as a team and doing this"¦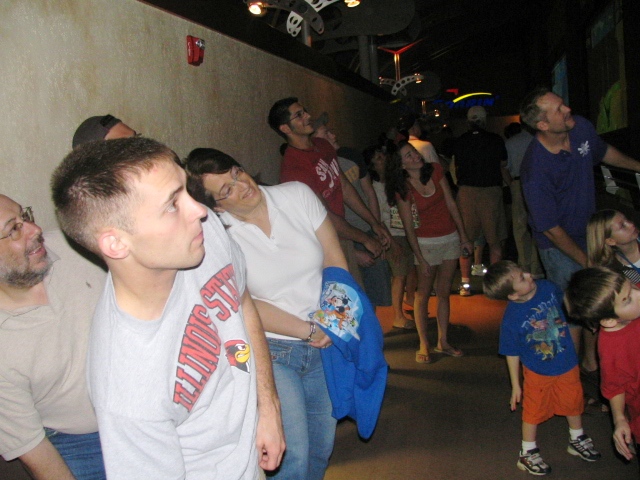 The kiosks do a good job of entertaining guests while they wait.
I managed to convince the loading CM into letting us sit top center for the attraction. I never get tired of Soarin'.
From there I bid my friends goodbye for now"¦I would see them for dinner at Boma.
I scurried to Norway to meet Brian Bennett for lunch.
Now usually we say, "No picture with the princess!" but Brian said to me"¦,"Ahhh Mike you may want to make an exception here."
Like they say, a picture is worth a thousand words.
I don't have my scanner with me so this is a photograph of a picture. I apologize for the quality but I just HAD to share.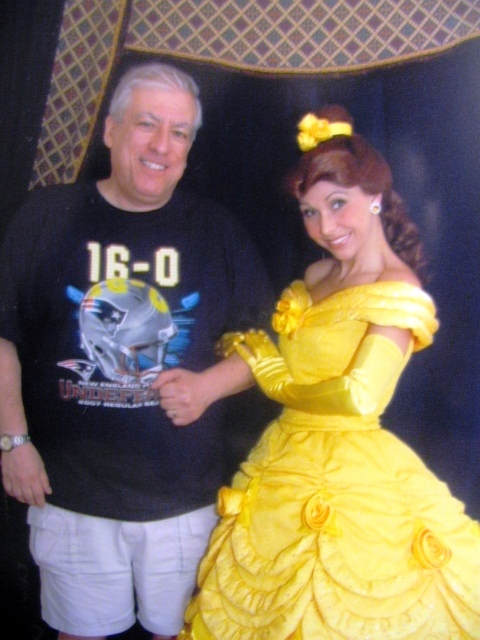 Yes, I am wearing a 16-0 New England Patriots shirt.
GO PATS!
So Brian and I are having lunch and each princess came over to our table to chat. We rated the princesses according to image and character and I felt that Jasmine was the best and for that she gets a spot on this blog"¦
After lunch Brian had to head home so we bd farewell until next time.
I went over to the American Adventure and tried to take a photo of the 15 star flag that flies about the pavilion.
It was windy so capturing the flag so you could see all 15 stars was next to impossible.
I went into the pavilion and found my friend Eldon.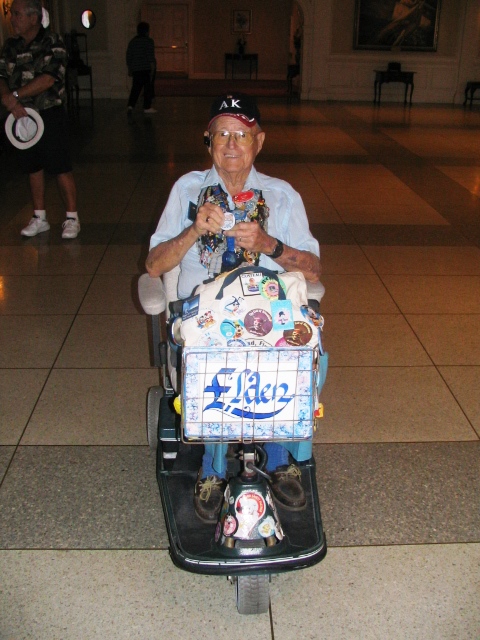 Eldon is in his 80's and owns about 800 pins. He brings some to the parks and usually has about five pounds of them wrapped around his neck.
He, like me, loves The Voices of Liberty and was there to listen to them.
By the way, the next time you enter the American Adventure, go to the left side of the rotunda and look for the painting with the plane.
Stand to the right of this painting and focus on the front of the plane"¦the nose of the plane.
Keeping your eye on the nose walk from right to left.
No I'm not going to tell you what happens"¦just try it next time you are at this pavilion.
I stayed to listen to the Voices of Liberty before being joined by a friend from Canada.
Let me say right here that perhaps there is no place on Earth for me that can compare to the American Adventure rotunda to listen to these talented people.
when they dedicated "God Bless America" to the troops I found myself wiping tears from my eyes and a few of the singers who see me many times there noticed and sort of nodded their heads. As a matter of fact the woman leading this group came up to me afterwards and putting her hand on my shoulder asked me how I was doing.
I have coached a few young men who have lost their lives recently in Iraq and I was thinking of them and their families…and it was a dificult moment.
Okay, enough of that.
I chatted with my buddy Benjamin from Canada for a while and then I ran into a few more friends and I realized it had taken me five and a half hours to go from Akershus back to The Beach Club where I had parked my car some 10 hours earlier.
I hurried over to the Animal Kingdom Lodge to meet some friends for dinner and when I got into the lobby I spotted a CM friend of mine working the desk.
I had to congratulate her on her recent wedding. I mean, how many people get married on Halloween and then take in a Mickey's Not So Scary Halloween Party? On HALLOWEEN?
Here's Natalie"¦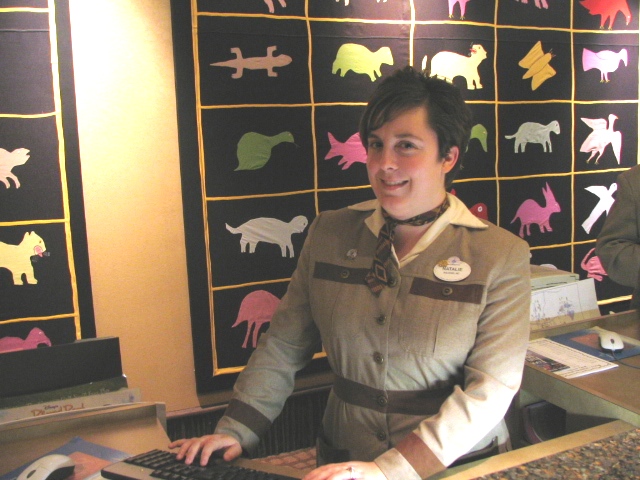 …who is awesome and always has a smile and ready to help those who are lucky to stay at Disney's Bnimal Kingdom Lodge Concierge Level.
Boma was fun. There were 12 of us. I was the only one at the table who was NOT from the United Kingdom.
I convinced everyone to try the frunch…I had two glasses of this nectar. I wonder if someday there will be a Frunch Whip…like a Dole Whip.
I actually ate a bit more than usual because my plan was to stock up on the carbs tonight and let them sort of setle in my system for fuel for Saturday morning. I planned to eat light on Friday.
After dinner we hung out in the lobby and talked about what we had done that day. we also went looking for hidden Mickeys before I said, "Well folks i need to turn in early."
I cam back to the room about 9:15 and wrote this blog.
More to come.