Friday, January 11th
Knowing I had to get up real early Saturday morning I decided to get up real early this morning.
I got up and headed to Disney's Animal Kingdom to root for some friends running the 5K Race. It was a fairly chilly morning but one which I was hoping for when it was my turn to cross the Start for my challenge.
I ran into a friend, David Barrett from the United Kingdom, and the two of us cheered our friends.
Approxiamately 4500 runners lined up for this race. The race is especially appealing to those who are fans of Disney's Animal Kingdom theme park as the majority of the course flows through the park
The race went off and in the early dawn hours the 2008 Walt Disney World Marathon Weekend had officially begun as the runners sprinted towards the entrance to Disney's Animal Kingdom park.
Just look at the smiles on these runners. It's true..this IS a Fun Run!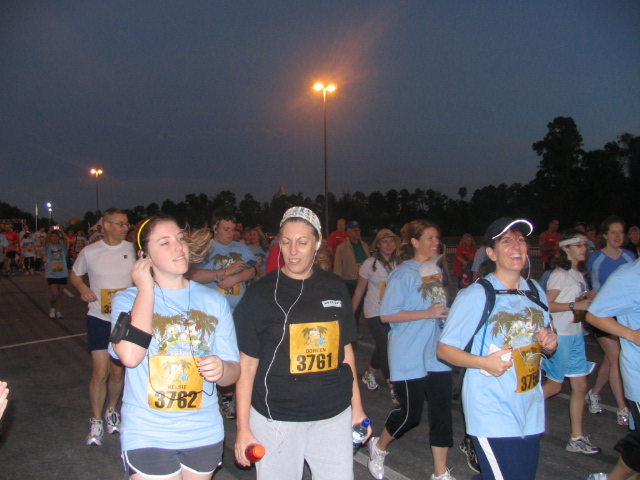 Rafiki was in the house for those who wantred a photo with him.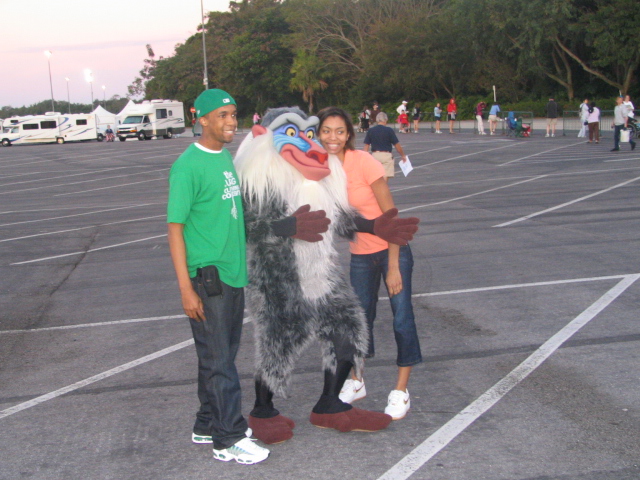 Patience is a virtue and we waited patiently for our friends to finish and eventually they came around the corner. Congrats to Sheryl, Margaret, Betsy Anne and Izzy.
After hugs and congratulatrions it was time for me to determine my schedule for the rest of the day.
I decided to spend the rest of the morning and the early afternoon at Disney's Hollywood Studios. This was an easy decision. The Studios is the smallest, most compact theme park and thus would be easiest on the legs. I also think it has the most benches per linear foot which is also appealing to anyone who is planning to run an extended distance race the following day.
Did I also mention shade? It's important not to let the sun drain your energy.
So I spent a few hours in this park.
I watched a little of the High School Musical 2 show.
I then took in a performance of Beauty and the Beast.
Then watched some of my favorite Streetmosphere"¦oops"¦I mean Citizens of Hollywood"¦do their thing. Here is pose #327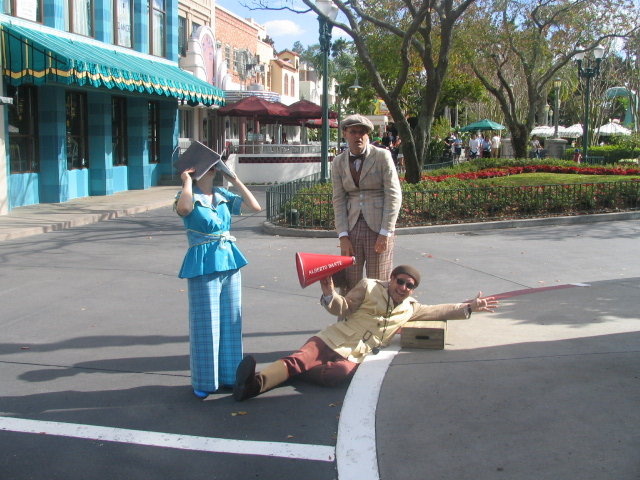 I had an Asian salad at the Commissary and then headed to Muppetvision 3-D.
I never noticed this cutout of Sweetums"¦see the paddle ball?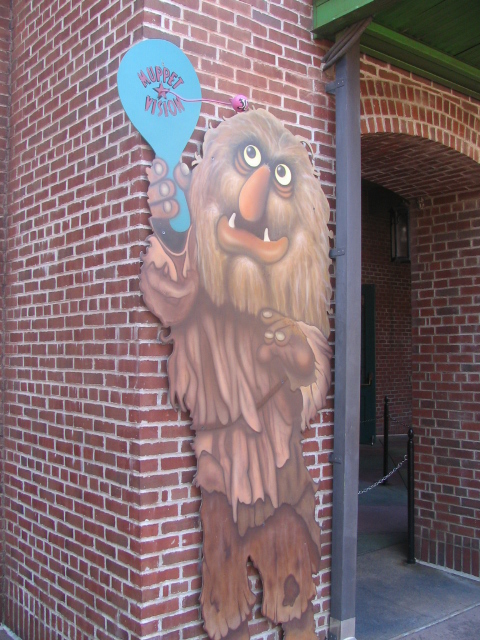 I sat in the pre-show area for a long time just taking in the atmosphere and the jokes. Eventually I went in and enjoyed Muppetvision-3D.
When I came out of the theater I noticed work being done on what used to be the theater that was home to the Hunchback of Notre Dame stage show. Apparently that theater was being retrofitted to house several different events.
It was time to meet Lou and Deanna Mongello at the World of Sports to pick up our race packets.
On the way out of the studios I stopped at Sid C's. There was a quiz on the chalkboard. I was in a hurry so I did not go in and give all the answers for a certificate. A few guests from the United Kingdom were having a problem with two of the questions so I gave them the answers"¦then I was off to World of Sports.
Do you know the answers?
I met Lou and Deanna at WoS and we were pretty surprised at the crowd we found there. This was the first time I had picked up my packet on a Friday and although it was much less crowded than previous Thursdays it was still wall to wall people.
The lines to pick up the race packets were pretty long.
We picked up our packets and then went downstairs to get our goody bags and shirts and check the Expo. The Expo can be very helpful in that runners can purchase various things to help them in the race"¦wicking socks"¦nutrition gels"¦headbands"¦sunglasses"¦throwaway running suits if rain is an issue, assorted ointments, and other running gear.
We left the WoS and bid each other a good night"¦we had specific plans for that evening and tried to coordinate meeting the next morning"¦actually middle of the night"¦at EPCOT.
I headed for the Polynesian Resort and Ohana for a pleasant meal with about a dozen friends"¦six of whom were also doing the half on Saturday. This evening was devoted mostly to protein. I ate a light meal and then bid everyone a good night and headed for my room.
At my room I selected my running shorts"¦I brought several pair down because of the question of the weather, decided on my running shirt, and socks, and put my number on my shirt.
I set my room clock radio and cell phone for 2 A.M.
I also arranged for a wakeup call at 2 A.M.
My head hit the pillow at 9:30″¦trying to fall asleep the night before running the WDW Half-Marathon is about as difficult as it was falling asleep on Christmas Eve as a child.
Next Entry: Race Day