I made a quick commando-type trip to Disneyland/DCA on Friday – my
objective was to take photos of as many menus as I could since I haven't
updated them for AllEars in a while. (And if anyone out there is
interested in helping with that in the future, please let me know!) I'm used to sticker shock when it comes to food prices at Disneyland, but I'd just like to say that I find the breakfast menu at Storyteller's Cafe to be ridiculously overpriced. $17.59 for a Mickey waffle????
But back to my day…I took my GPS runner's watch with me, since I was interested in seeing how far I walked – I
hit all three hotels, Downtown Disney, and both parks, and covered 6.95
miles in 3 hours and 24 minutes. It was all the pictures that slowed me
down! 🙂
It was a beautiful, beautiful day – sunny and clear and in the mid-60s.
Which isn't warm by southern California standards, but I'm sure most of
the rest of the country would be really happy with those kind of
temperatures in mid-January! (And no, this picture is not upside-down!)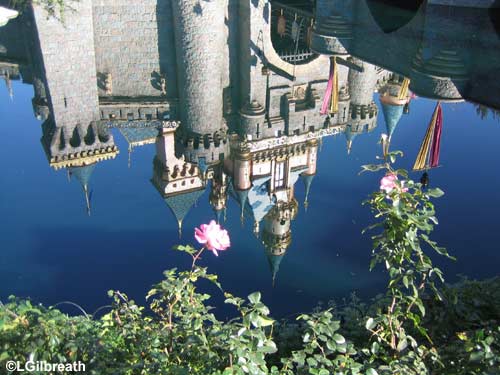 Despite the awesome weather the parks were quite uncrowded – the only
attraction that had much of a line was (what else?) Finding Nemo
Submarine Voyage – 55 minutes at 11:00 in the morning.
This is the final weekend for "it's a small world holiday" before the
attraction goes into a lengthy rehab – it'snot scheduled to re-open until
November. So I guess there's no reason to remove the holiday
decorations inside – it'll be holiday time again when it reopens. 🙂
Construction on Toy Story Mania at DCA continues – they are working on
the walkways in front of the attraction now so you can't walk all the
way around Paradise Bay – if you're at California Screamin' and want to
ride the Sun Wheel you have to walk all the way around the Bay. No official opening date for the attraction has been announced – still listed as "Coming in 2008".