Star Wars: A Galactic Spectacular Disney's Hollywood Studios
Star Wars: A Galactic Spectacular Highlights:
Firework, laser, and projection show at the Chinese Theater
Features Star Wars music and movie clips in this celebration of the iconic saga
Incorporates new clips as new Star Wars films and shows are released for a truly epic spectacular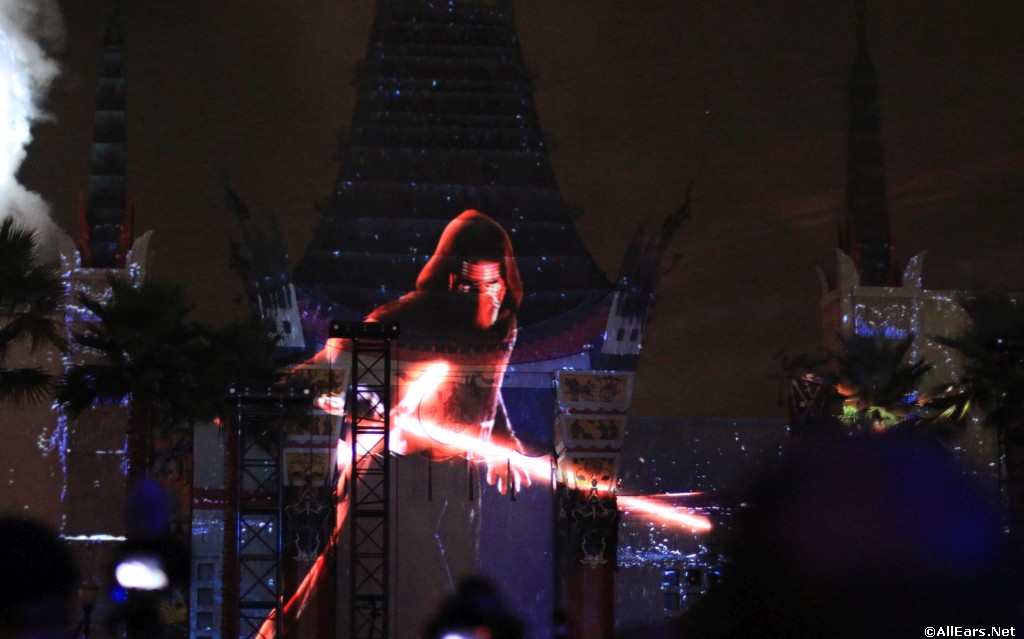 DETAILS
Star Wars: A Galactic Spectacular: As the next generation of the current Star Wars-inspired fireworks show, this blockbuster nightly show, unprecedented in Disney's Hollywood Studios history, lights up the sky with Star Wars-themed fireworks, lasers, light projections and other special effects combined with Star Wars-themed music and iconic characters and scenes from throughout the saga. The show incorporates scenes from all of the films in the Star Wars series, including all 9 episodes, Solo, and Rogue One.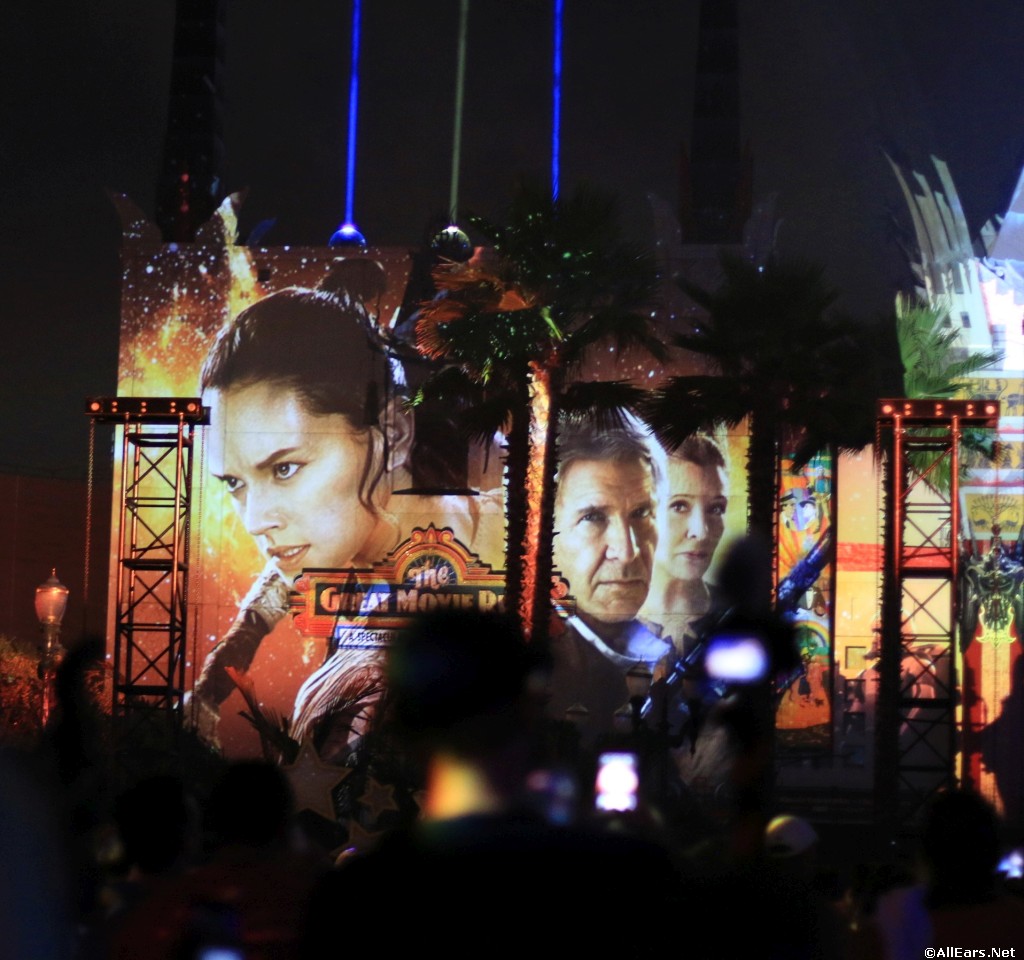 Through these state-of-the-art special effects that project onto the nearby Chinese Theatre and other surrounding buildings, guests gaze at the twin suns of Tatooine, push through a field of battle droids, navigate through an asteroid field, soar down the trench of the Death Star and deliver the final blow to destroy Starkiller Base. The show, which unfolds through a series of acts, is punctuated by a tower of fire and spotlight beams, creating a massive lightsaber in the sky.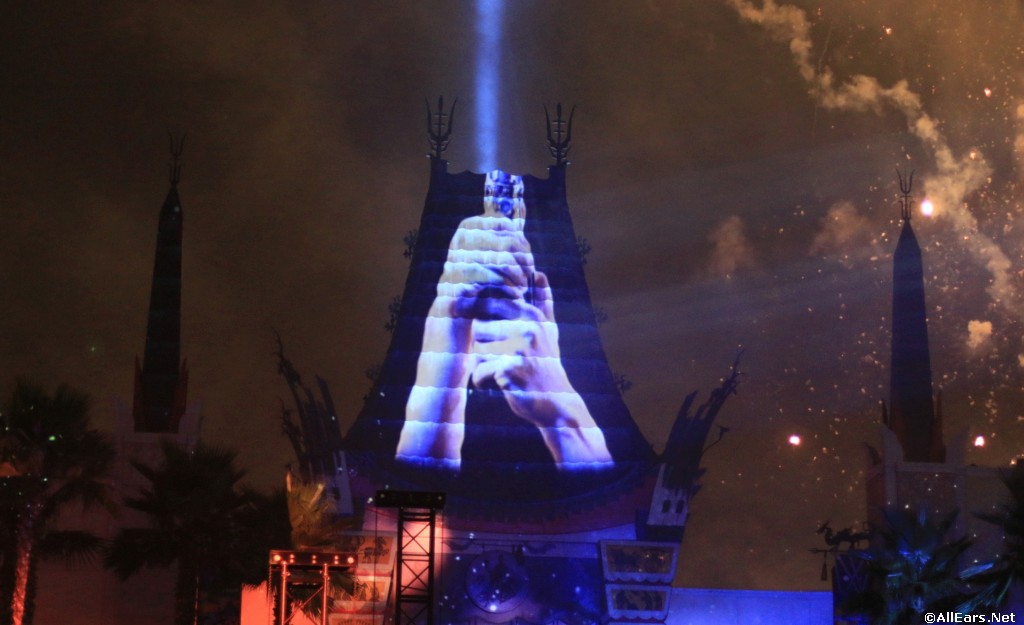 SHOW LOGISTICS:
The show is typically performed nightly. Check your My Disney Experience App or Times Guide for showtimes.
Star Wars: A Galactic Spectacular is projected on the Chinese Theater and the adjacent buildings, and the fireworks are behind it.
IMPORTANT: In order to fully see the fireworks and projections you need to be in front of the two projection towers on Hollywood Blvd. If you are behind these towers you will have a difficult time seeing any fireworks or the wider projections.
To learn more about the Galactic Dessert Party, which includes cocktails, desserts, and reserved viewing head here!
Show history:
To create this new nighttime experience, Imagineers went back to the beginning. WDI Show Director Michael Roddy explains, "Star Wars, in 1977, premiered at the Chinese Theatre [in Hollywood, California]. That was our hook—we have a Chinese Theatre." Through projections on the Chinese Theatre and surrounding buildings, the story is brought to life all around you over the course of the show. "This is a celebration of the emotions of Star Wars, what it was like to see those ships and those visuals and to hear those iconic lines for the first time," he says like the true fan he is.
"Star Wars: A Galactic Spectacular is different because it's not just a fireworks show, it's not just a projection show, it's not a laser show—it's all of those things combined with John Williams' amazing music and custom content from ILM [Industrial Light & Magic] and the amazing stories from the Star Wars world all put together," Roddy says. And the show uses projections, practical lasers, pyro effects, and flame effects to create the feeling that you've gone beyond watching something on a screen. It as if you've stepped inside the screen as TIE fighters chase X-wing fighters right before your eyes, and John Williams' iconic score soars to a crescendo in 7.1 surround sound. As Roddy says, "It literally is the next evolution of fireworks."
SHOW PHOTOS