Disney's Hollywood Studios Archives Streets of America Disney's Hollywood Studios
Streets of America closed on April 2, 2016
Introduction | Attraction | Kids and Characters | Dining | Shopping | Interesting Facts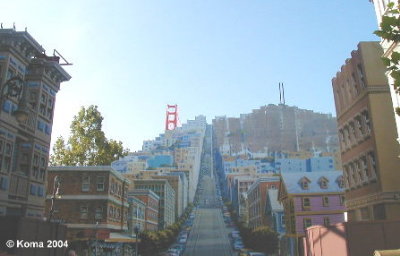 INTRODUCTION
The newly christened Streets of America (formerly New York Street) is located behind Commissary Lane and toward the Backlot area of the the Disney's Hollywood Studios.
ATTRACTION
STREETS OF AMERICA: At the end of Commissary Lane, turn right onto the Streets of America, which create the illusion of New York City, San Francisco and other cities using forced perspective techniques. The buildings are all facades, but you'll spot a London street, and even a street right out of Chinatown. If you listen closely, you'll often hear the sound effects of a busy city in the background, too.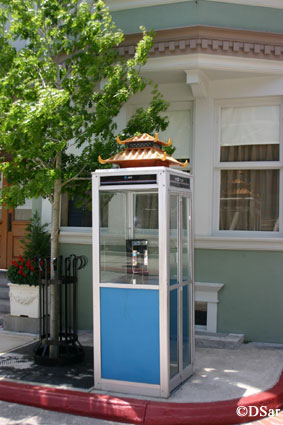 Elsewhere in the vicinity, kids can spend some time the size of ants winding their way through giant blades of grass in the Honey, I Shrunk The Kids Movie Set Adventure. Nearby, the Muppets star in Jim Henson's Muppet*Vision 3D, which combines Jim Henson's puppets and special effects with Disney's famous Audio-Animatronics. Finally, meet and greet your favorite Toy Story characters (Woody, Jessie, and the Green Army Men, among others) at the nearby Al's Toy Barn.
At the Christmas holiday season, the Streets of America will be decorated with thousands of Christmas lights and fantastic displays, as part of the Osborne Family Spectacle of Lights.
The band Mulch, Sweat and Shears often performs in this area. In addition, the High School Musical show is performed in this area when there are events being staged under the Sorcerer Mickey hat.
For more information on Disney's Hollywood Studios Live Entertainment, visit Steve Soares' WDW Entertainment Website.
KIDS AND CHARACTERS
Toy Story characters are found throughout the day at Al's Toy Barn.
Power Rangers, and, occasionally, Streetmosphere performers can be found in this area, also.
Check your daily Times Guide for times and locations.
Disney's Hollywood Studios Characters At A Glance
Character Meet and Greet FAQ!
DINING
You can grab cookies and other light snacks, as well as specialty coffees, at the Writer's Stop. Commissary Lane is nearby and features both the ABC Commissary counter service spot, and the Sci-Fi Dine-In Theater Restaurant. The Studio Catering Company, which has outdoor but covered seating, is the counter service restaurant servicing this area.
Disney's Hollywood Studios Restaurants At A Glance
Menus From Around the World
Vegetarian and Other Special Diets
SHOPPING
There are a number of shops worth visiting in the Streets of America area, including the Writer's Stop, which sells books, specialty coffees and goodies; the Stage 1 Company Store, the shop that MuppetVision exits into, which features great Muppets items; and Youse Guys Moichendise, which sells miscellaneous items.
Shopping in Disney's Hollywood Studios
INTERESTING FACTS
This area was formerly known as New York Street, for its depiction of that cosmopolitan city. It was renamed in 2004, with the addition of San Francisco street scenes.
There is an umbrella mounted to a street light in this area — an allusion to the film, Singin' in the Rain. If you stand on the metal plate at the base of the pole, you may be in for a surprise (if water restrictions are not in effect)!
If you have comments or tips to share with others about touring Disney's Hollywood Studios, please email us. Thank you.