This series of blogs focuses on my favorite things about Disney … those experiences that I find uplifting, enjoyable, memorable and worth more than one visit. These are my personal "must do's" whenever I walk through the main gate of a Disney park and into what Walt Disney himself called "this happy place."
__________________
Walt Disney World is a big place … about the same size as the city of San Francisco. Getting around such a vast expanse of property can be daunting.
Thankfully, there are many options for guests to get from their on-property resort to a theme park, a water park or the Disney Springs shopping/dining/entertainment district.
Bus transportation is probably the most popular, given the expanded bus depots that have sprouted up outside all four theme parks and at Disney Springs in recent years.
But buses' on-time records can be unreliable at times. And who among us enjoys standing shoulder-to-shoulder with fellow weary [and sweaty!] guests for 20 minutes or so on a jam-packed bus after spending all day in a park?
The WDW Monorail System is usually efficient, but unless you're staying at The Contemporary, Polynesian or Grand Floridian resorts or want to head to EPCOT, you'll have to use other means of transportation to get to your destination.
In 2019, WDW added its Skyliner gondola service to the transportation mix, but again, the stops are limited to EPCOT, Disney's Hollywood Studios and a handful of resorts in the area.
And for those folks who have a car and opt to drive to a park, there's the task of finding a parking spot for your vehicle, then hopping onto a tram for the bumpy ride to the main gate … and after several hours in the park, reversing that process with your now exhausted family in tow.
And, oh yeah, there's the exorbitant cost of parking said vehicle.
When all is said and done, boat transportation may well be the best way to get around much of Walt Disney World. To many guests, the slow and steady water taxis are the preferred method of transit inside much of WDW's vast property, where lakes, canals and tranquil waterways abound.
Over the years, as more parks and resorts have been added to the WDW landscape, so, too, have watercraft options.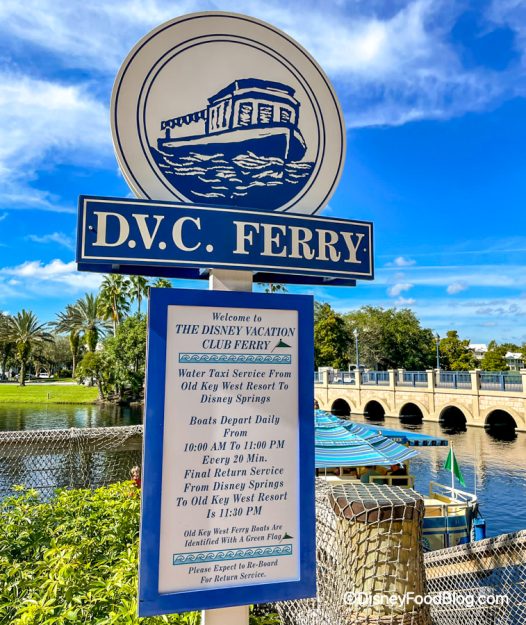 There are the water taxis that service Old Key West, Port Orleans' Riverside and French Quarter, Saratoga Springs and its Treehouse Villas, and Disney Springs.
There are larger, more streamlined boats, part of what is known as the FriendShip series, which transport guests comfortably to and from EPCOT to Disney's Hollywood Studios, with three stops along the way that will get you to the five EPCOT-area resorts – Disney's BoardWalk, Disney's Yacht Club, Disney's Beach Club and the Swan and Dolphin resorts.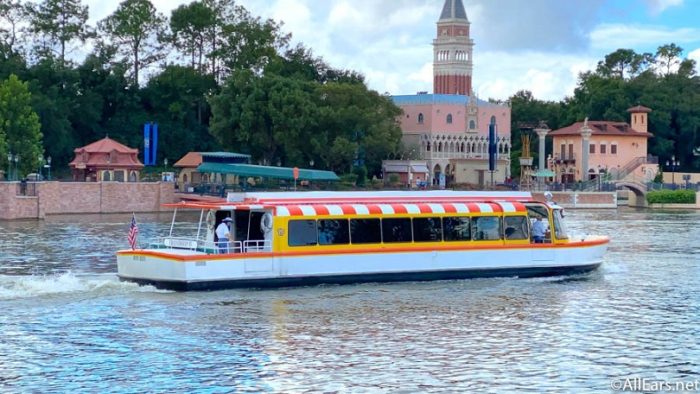 Similarly-styled boats inside EPCOT take guests from one side of the World Showcase lagoon to the other.
And on Seven Seas Lagoon and Bay Lake near the Magic Kingdom, numerous vessels – from "Staten Island-style" ferries to large wooden launches and Boston whalers, down to smaller, open-top pontoons – can be seen making waves.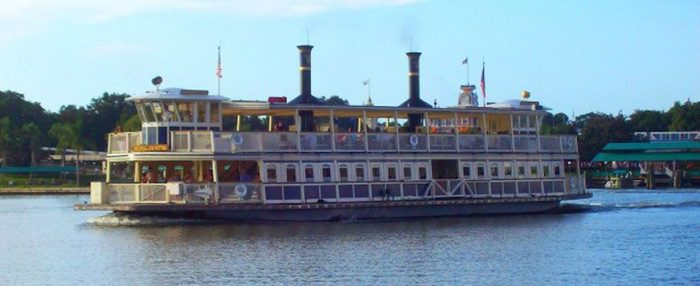 These aquatic transportation options almost always arrive on time and all that's required of you is to sit back, relax and enjoy the lush scenery and cool breezes.
That being said, my absolute favorite boat ride on Walt Disney World property is the Old Key West-to-Disney Springs route.
It begins at the large wooden dock, located just a few steps from Olivia's Restaurant. While you wait for the next boat to arrive, traditional music from the Conch Republic – steel drums clanging and Calypso rhythms swirling – serves as a pleasing backdrop to a wonderfully idyllic, sun-splashed setting.
To the right is a long bridge, where cars, buses and pedestrians cross over the waterway. To the left, Old Key West's iconic red and white lighthouse is visible through palm trees, while the delighted screams of children can be heard from the nearby Turtle Pond pool.
The boats depart daily from 10 a.m. to 11 p.m. They leave every 20 minutes, almost always on time. You can tell them apart from the other boats traveling from Port Orleans and inside Disney Springs by its green flag. The boats are covered and have ample bench seating.
When Walt Disney World was in its design stages back in the late 1960s, Disney Legend John Hench insisted that the canals and streams created during construction follow the natural contours of the land, in part for better water drainage during storms.
The canal used by the Old Key West boats follows a meandering course, which only adds to its allure.
After leaving the Old Key West dock, your boat glides slowly along a narrow waterway, past the main pool and playground to the left and the vacation villas off Peninsular Road to the right.
After a few minutes, the boat makes a sharp turn to the left and leaves Old Key West behind. From here, the boat goes under several wooden bridges used by golfers during their rounds on the Lake Buena Vista Golf Course.
You'll see some beautiful natural foliage along this route, as well as some large birds standing on the banks, catching some rays. If you're lucky, you might spot a turtle sticking its head out of the water.
To the right along this section is a paved trail which allows ambitious guests to walk from Old Key West to Saratoga Springs … while more hardy guests can follow the trail all the way to Disney Springs.
Also along this section you'll see more of the Lake Buena Vista course, as well as glimpses of Saratoga Springs and the Treehouse Villas through the lush vegetation.
Once you've passed the Saratoga Springs boat dock to your left, your boat will hit "open waters" … also known as Lake Buena Vista.
While sailing across the large lake, you'll get great views of the eclectic Disney Springs and more of Saratoga Springs Resort and Spa.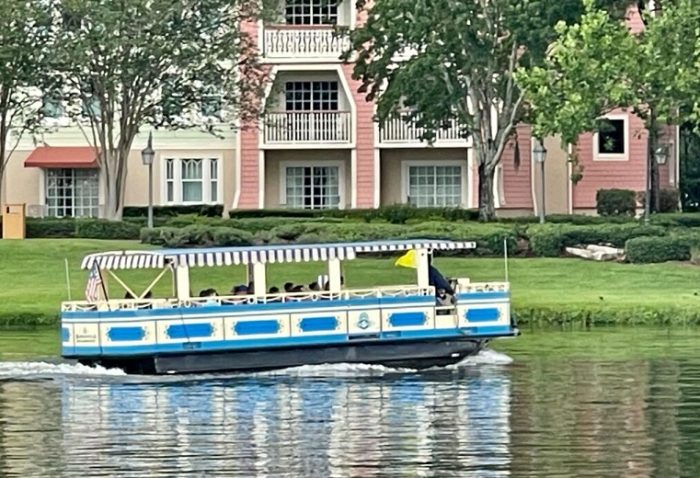 Before pulling up to the Marketplace Dock and departing for shopping or dining at Disney Springs, you might see flames shooting up from mountainous Rainforest Café … or an Amphicar or two floating around after being launched from The Boathouse … or the impressive Paddlefish riverboat/restaurant … or the colorful Aerophile balloon scanning the horizon from above.
That's just part of the attraction of the boat ride from the Old Key West Resort to Disney Springs. It isn't a high-speed roller coaster or a state-of-the-art computer-generated ride system.
What it is, is a quiet, efficient mode of transportation that gets you from Point A to Point B without much hassle and with a high degree of enjoyment and relaxation.
And it will always be one of my all-time favorite things to do while visiting Walt Disney World.
NEXT TIME: Deck the halls with Disney.
Chuck Schmidt is an award-winning journalist and retired Disney cast member who has covered all things Disney since 1984 in both print and on-line. He has authored or co-authored seven books on Disney, including his On the Disney Beat and The Beat Goes On for Theme Park Press. He also has written a regular blog for AllEars.Net, called Still Goofy About Disney, since 2015.