The 2022 EPCOT International Food and Wine Festival is almost here and we are so excited!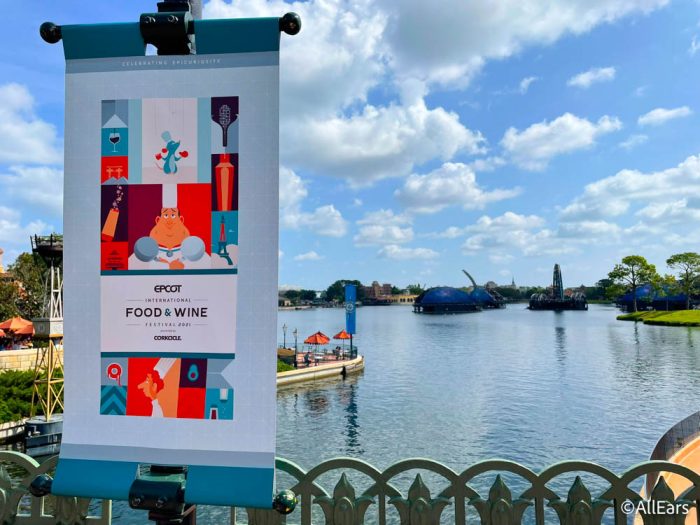 We've already gotten a look at the menus for all of the booths, and even started to see some menus (with prices!) pop up around World Showcase! We've also gotten a sneak peek at the merchandise for the festival, as well. The Food and Wine Festival is comprised of both new and returning food and drink items, and while we're excited to try some new things, we're also looking forward to being able to enjoy some of our favorites again. These are some of the things we're most looking forward to eating or drinking again soon!
Schinkennudeln — Germany
Schinkennudeln is pasta gratin with ham, onions, and cheese and is a part of Emile's Fromage Montage (a cheese crawl around the EPCOT Food and Wine Festival).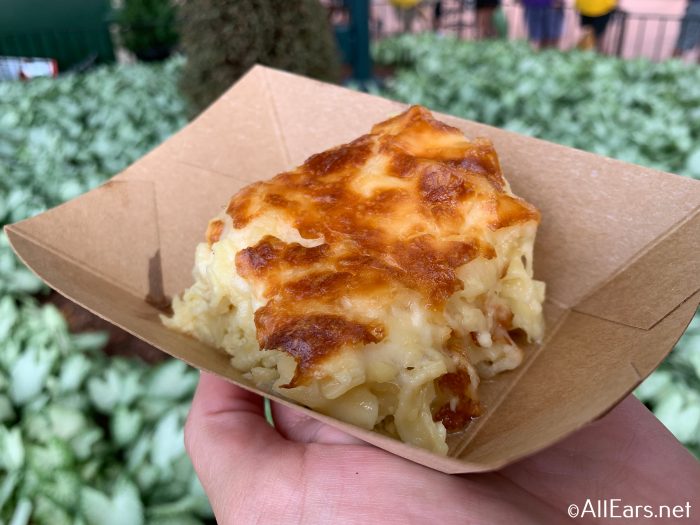 It's been apart of the festival for several years and is usually a solid option. The saltiness of the ham pairs nicely with the cheese, and we love how the cheese gets crispy on the top and the sides.
Canadian Cheddar and Bacon Soup — Canada
This one is a Food and Wine Festival classic! It's also apart of Emile's Fromage Montage and is exactly what it sounds like: cheddar cheese soup with bacon! It's served with a pretzel roll, as well. This soup is so good, we (and many more) will gladly stand in the 100 degree heat and eat it all.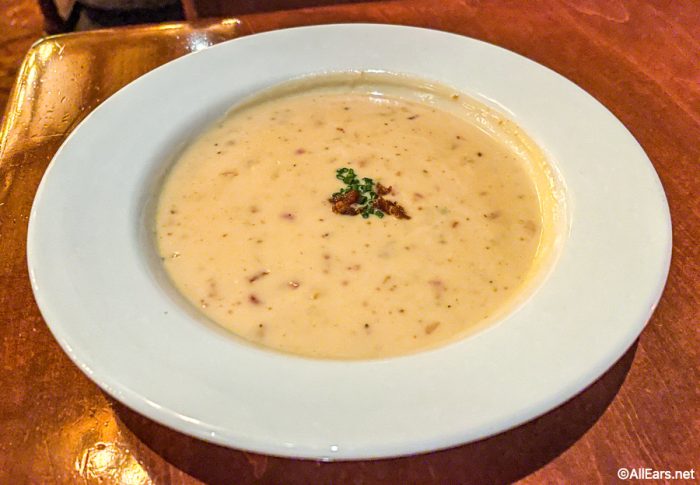 This soup is also on the menu at Le Cellier, if you get a craving for it when it's not Food and Wine Festival season.
Traditional Spicy Vietnamese Beef Pho — The Noodle Exchange
The Noodle Exchange is one of several booths that is not opening right away at the festival. It will be open on August 15th, and we're excited for when it does because that means we will be able to once again have the Traditional Spicy Vietnamese Beef Pho. It is served with shaved beef, mushrooms, and Thai basil and is Gluten-free!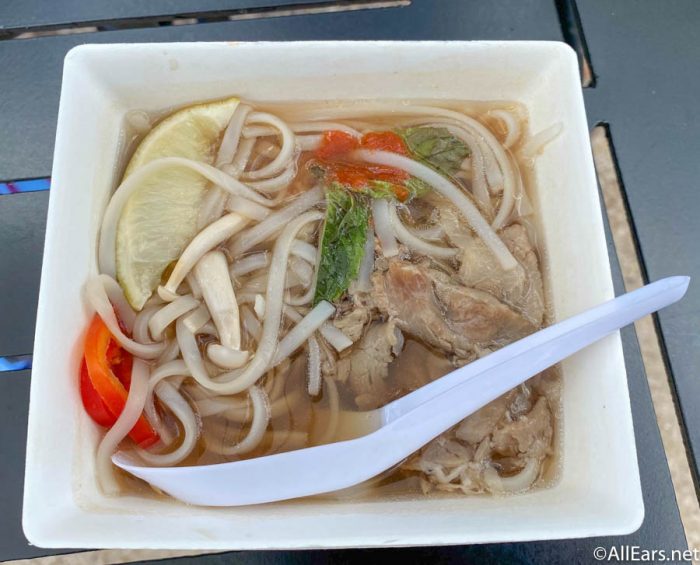 We liked this dish last year because even though it has "spicy" in the name, we didn't think it was very spicy at all, and while it was more on the basic side, everything worked well together.
Smoked Corned Beef — Flavors from Fire
The Smoked Corned Beef is served with crispy potatoes, cheese curds, pickled onions, and beer-cheese fondue. It's also apart of Emile's Fromage Montage (can you tell that we like cheese?).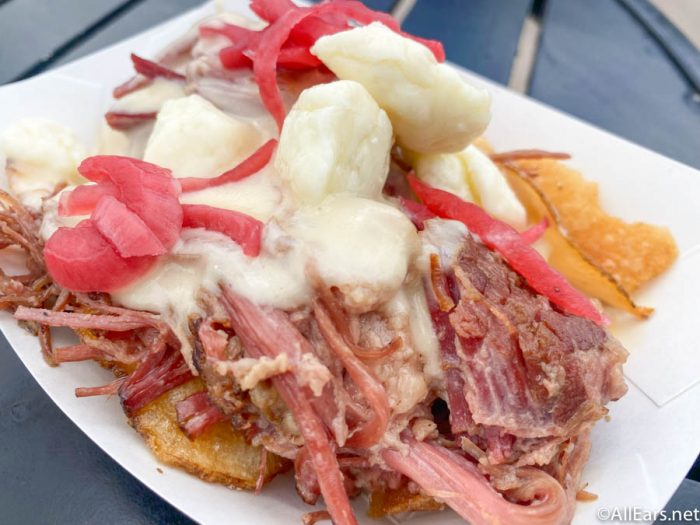 The salty beef pairs well with the creaminess of the cheese, and the pickled onions do a great job of breaking up all of the saltiness and overall just tying it all together. We're happy to see it back at this year's festival.
Griddled Cheese — Greece
The Griddled Cheese is Gluten and wheat friendly and it is served with pistachios and honey.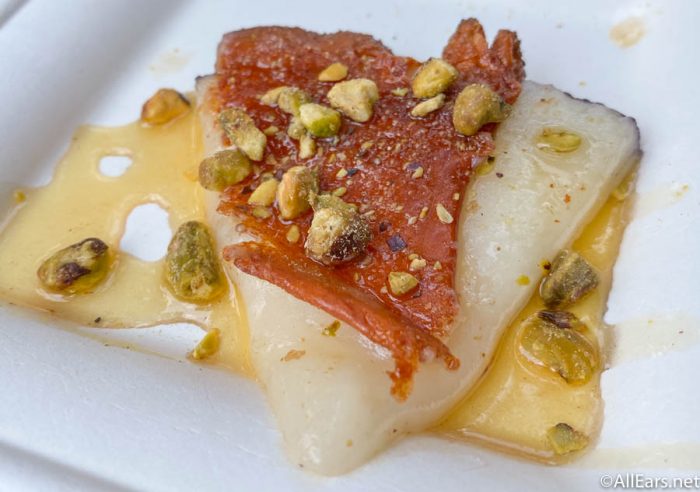 The cheese is creamy and we like the sweetness provided by the honey. Plus, the pistachios on top add a great flavor and nice crunch. Overall, everything worked together here nicely!
Braised Beef Poutine — Refreshment Port
The Braised Beef Poutine is french fries, Boursin garlic, and fine herbs cheese sause with cheese curds and gherkin relish.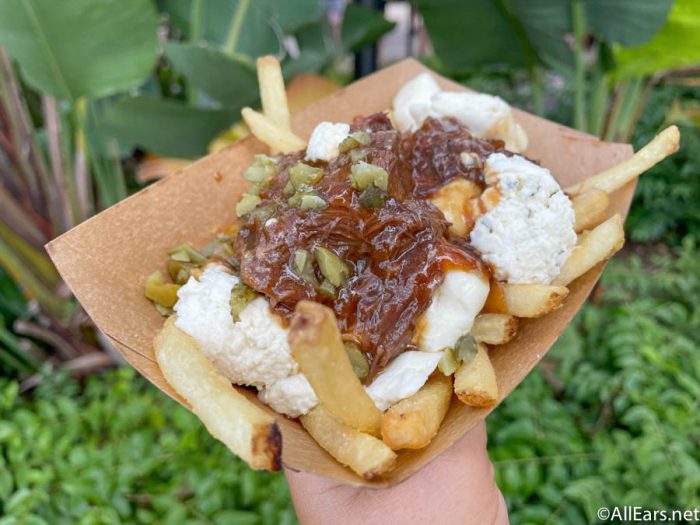 The Braised Beef Poutine was new to the festival last year, and we really enjoyed it! There's a lot going on in here, but everything comes together really nicely! We're big fans of the fine herbs cheese sauce because it adds a creaminess to the poutine that it would otherwise be lacking, plus, we almost never say no to more cheese.
Teriyaki Chicken Bun — Japan
The Teriyaki Chicken Bun is a steamed bun filled with chicken, vegetables, and teriyaki sauce.
This one is simple, but so delicious! The teriyaki chicken is ever-so-slightly sweet and the bun is overall pretty filling because of the protein from the chicken and the carbs from the bun. We think this would be a good option for kids at the festival, since it's not too out there and tends to be more approachable.
Kālua Pork Slider — Hawai'i
The Kālua Pork Slider is a small sandwich with pork and sweet-and-sour DOLE pineapple chutney and spicy mayonnaise.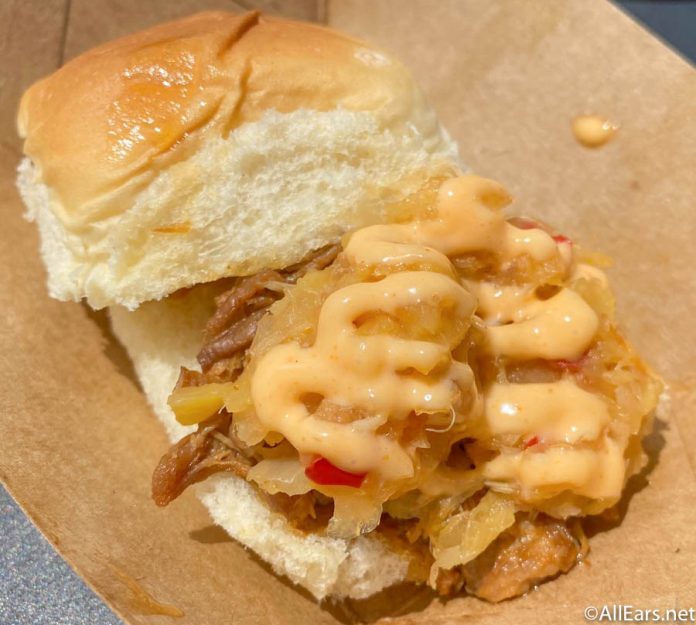 Hawai'i is another one of the booths that is not opening until August 15th, so we'll have to wait just a little bit longer before we can enjoy these sliders again. The spice from mayonnaise and the sweetness of the pineapple chutney really complement each other to make it a really solid festival choice.
Tropical Mimosa — Shimmering Sips
And what would our list be without at least one cocktail? The Tropical Mimosa (otherwise known as the POG juice mimosa) is sparkling wine and Minute Maid passion fruit, orange, and guava juices.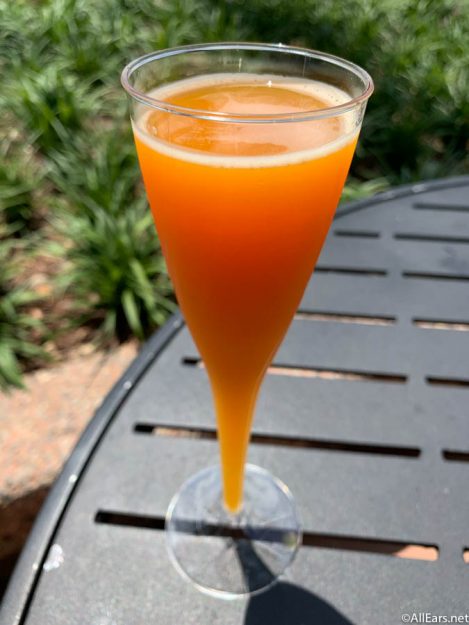 It tastes as delicious as it sounds and is very refreshing! We're looking forward to enjoying it again this year.
And those are just a few of the EPCOT Food and Wine Festival items we're most excited to enjoy again this year!
With the festival just around the corner, it's important to keep in mind that while this may be called the Food and Wine Festival, there's a lot more to do than just eat and drink. Guests will be able to take part in Remy's Ratatouille Hide and Squeak, which is a scavenger hunt around World Showcase where you'll search for hidden Remy statues.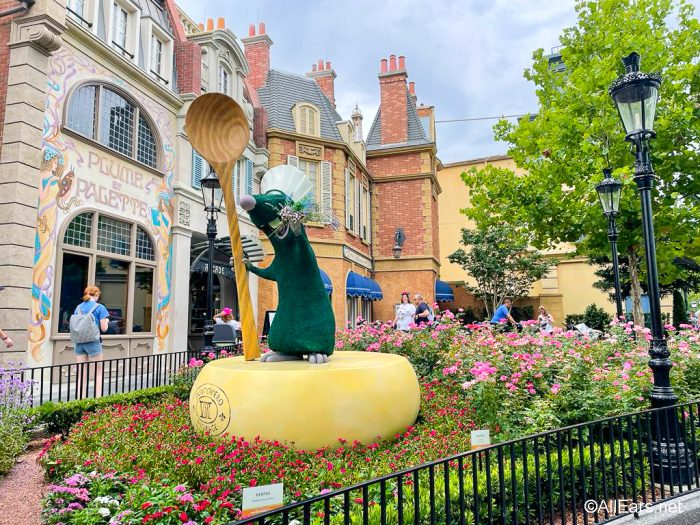 And for the first time, guests will be able to take part in Pluto's Pumpkin Pursuit in EPCOT, which is a Halloween scavenger hunt that begins on September 29th! Plus, there's the Eat to the Beat Concert Series where you'll be able to see live music acts on many days of the festival.
We'll be bringing you more Food and Wine Festival coverage, so make sure to stay tuned to AllEars for more!
Join the AllEars.net Newsletter to stay on top of ALL the breaking Disney News! You'll also get access to AllEars tips, reviews, trivia, and MORE! Click here to Subscribe!

What are you most excited to eat at this year's Food and Wine Festival? Let us know in the comments!