The new France Pavilion expansion area is set to fully open up for all guests in just a few short weeks on October 1st.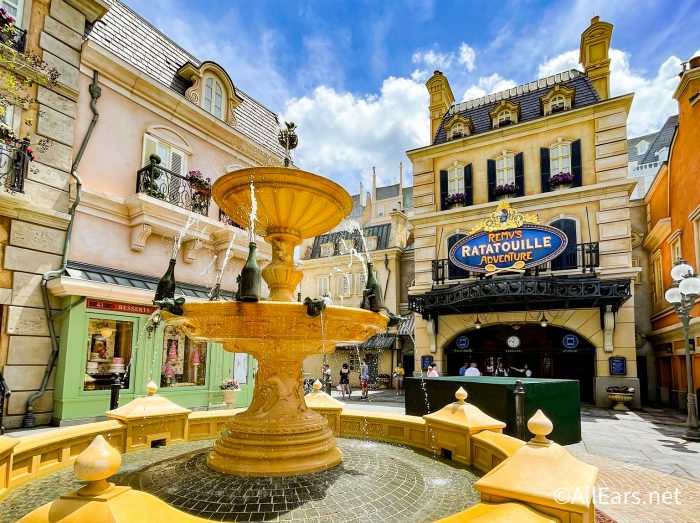 Once open, guests will be able to hop on Remy's Ratatouille Adventure (through the virtual queue), dine at a brand new restaurant, and more. And, if you're hoping to find a way to bring home a souvenir to remind you of your first time riding (or if you just love Remy), you're in luck! We've seen some merchandise already pop up, but today at a media preview event, we got to see even more that is coming soon!
At the France Pavilion in EPCOT's World Showcase, we found a stand of new merchandise, just for Remy's Ratatouille Adventure.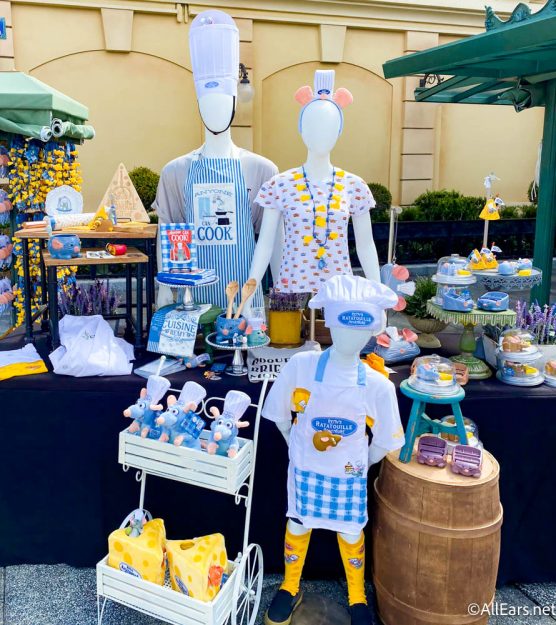 Let's start at the top with one of our favorite new items, the chef's hat! The hat has a chin strap so it'll stay on your head, which is important because inside Remy's helping you cook!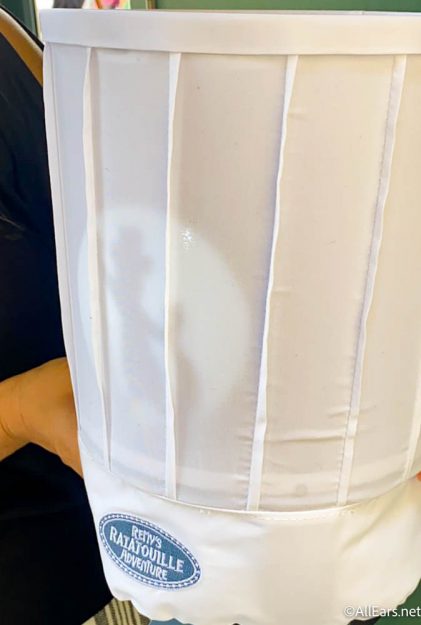 Can you see him pulling hair to direct your movement, like he did with Alfredo in Ratatouille?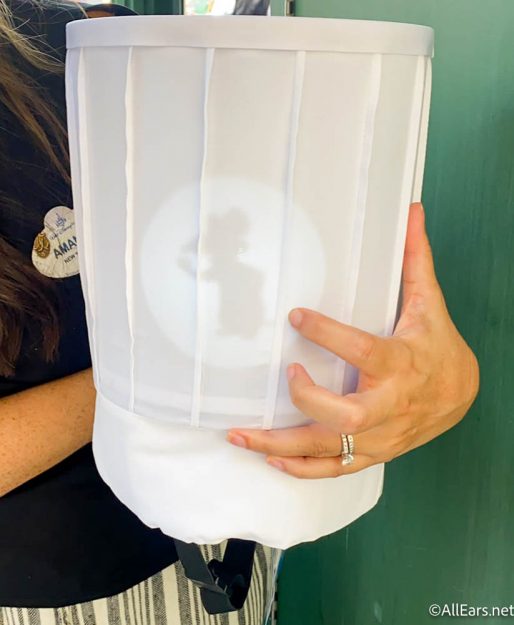 And that's not the only surprise — Remy can pop out of the top to check your work when you've finished cooking!
This may be our favorite new piece of Remy🐀 merchandise!! Remy is in your chef's hat, helping you cook! 🧑‍🍳🧀 #RemyatEPCOT #DisneyWorld50

Posted by AllEars.Net on Friday, September 3, 2021
Seriously, how cute is this? We definitely need one to wear while we're cooking at home.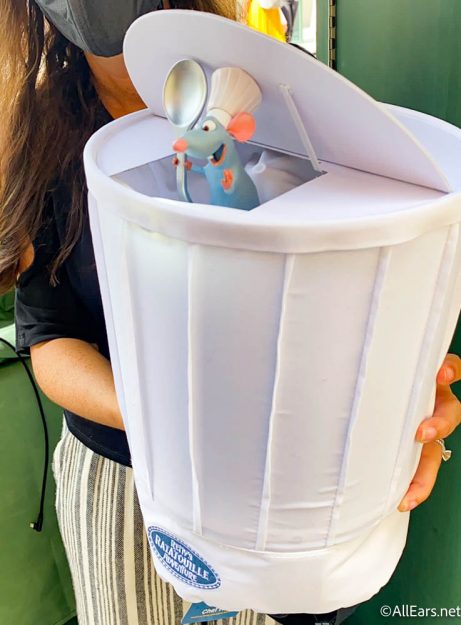 This chef's hat is $39.99, and it'll be available soon in Disney World! Once you've got the hat, you're ready to add more to your chef's outfit, like this Ratatouille-themed apron which costs $29.99.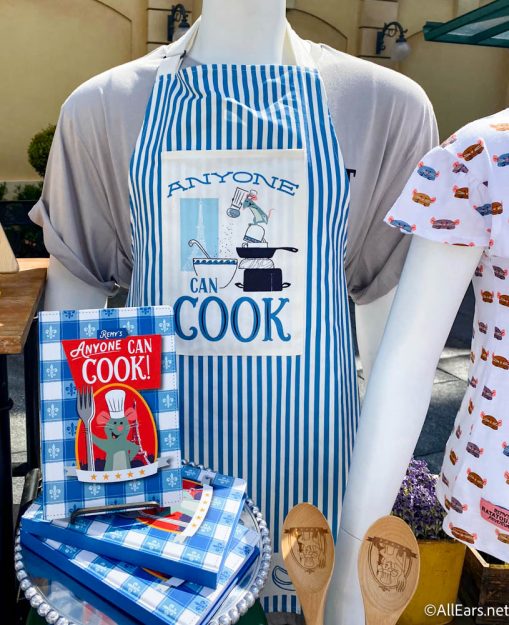 The apron has Gusteau's motto on the front: "Anyone Can Cook." And in case you need a little help with your cooking, there's also a cookbook for $19.99!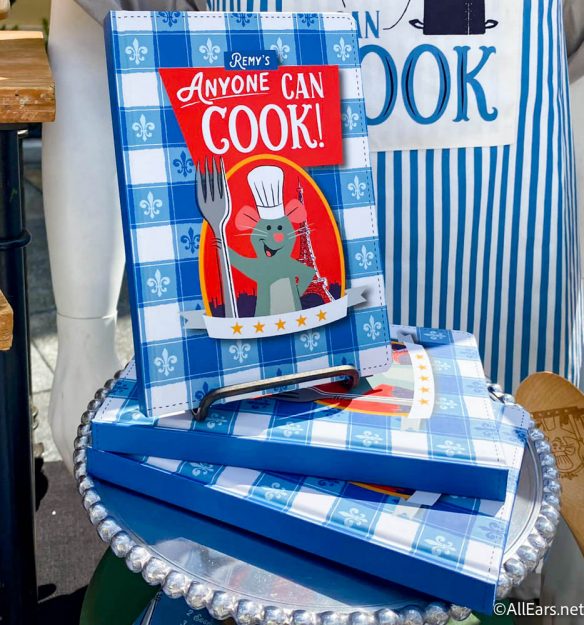 Once you have all your recipes planned out, you can use the Ratatouille notepad (which costs $12.99) to plan your grocery list.
And there are plenty more cute items for your kitchen, like wooden spoons (for $16.99), a mug with a spoon (for $22.99), a kitchen timer (for $16.99), and a wine bottle stopper (for $19.99)!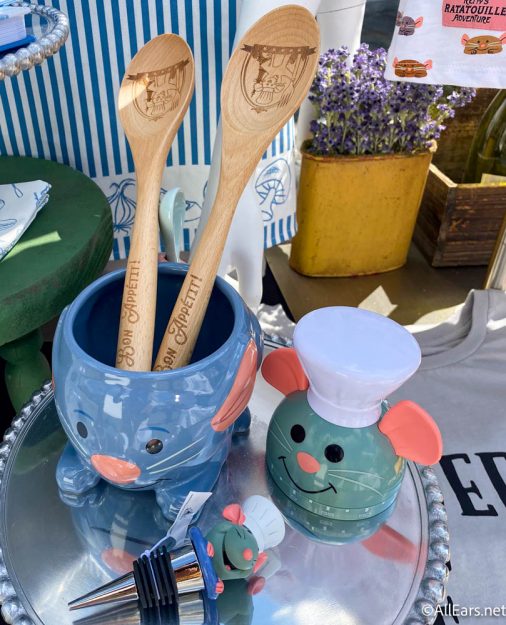 For those fancy wine and cheese parties, we also found cheese boards that cost $29.99 — including a tiny cheese board in the front for $14.99!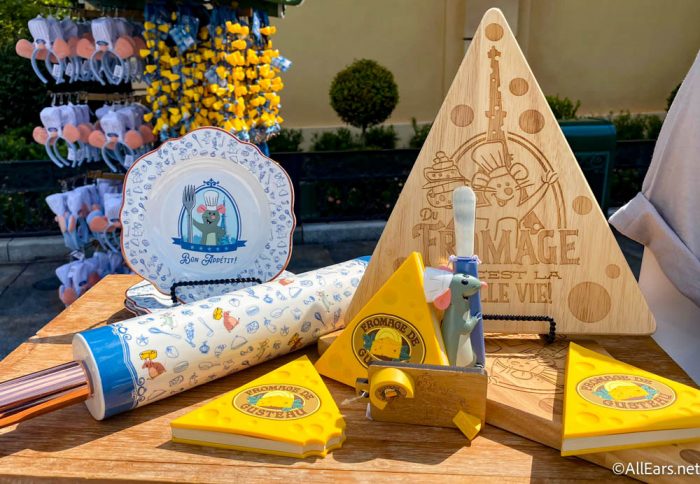 There were cheese notepads for $9.99, Ratatouille plates for $16.99, and a rolling pin for $29.99 that is decorated with Emile and various kitchen utensils. And don't forget the tea towels, which are decorated with Remy's ratatouille recipe! They cost $19.99.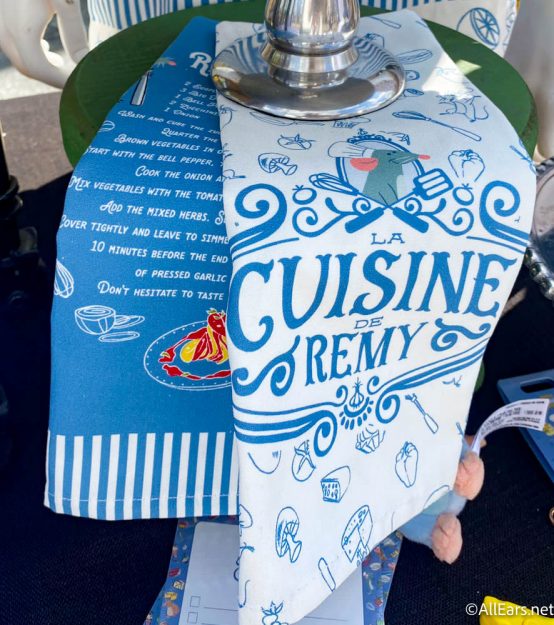 Once your kitchen is all decked out in Ratatouille-themed items, you can take a look at the other merchandise available, like this t-shirt and onesie with Remy and Emile! You can pick up the tee for $36.99 and the onesie for $19.99.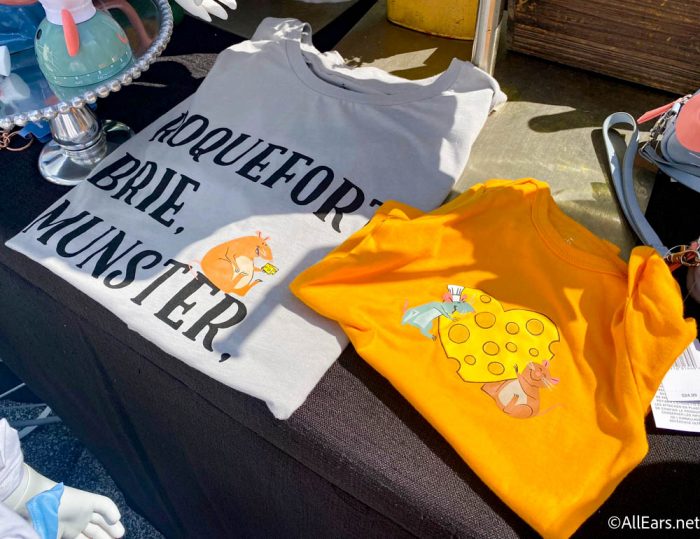 There's also a shirt with a pattern of the ride vehicles from Remy's Ratatouille Adventure on it for $24.99. And that cheesy necklace? It lights up!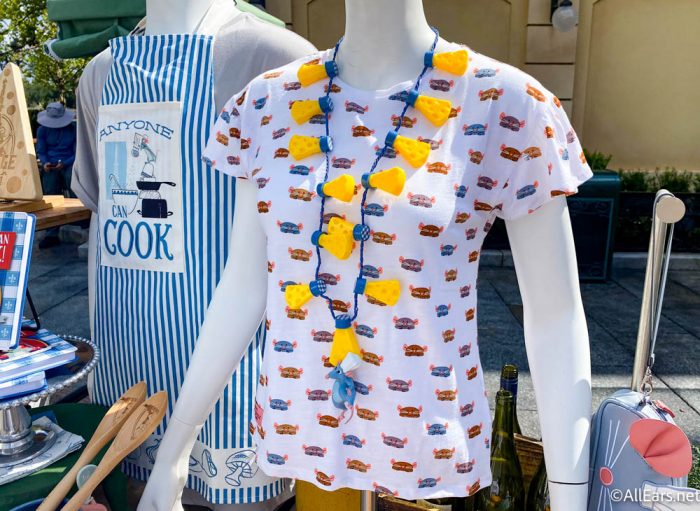 The necklace has light-up cheese wedges and a little Remy for $15.96.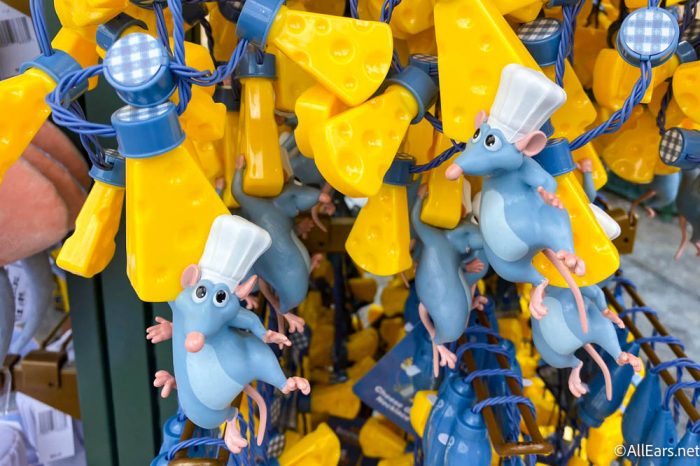 Speaking of Remys that you can wear, these remote-controlled Remy and Emile toys do more than just move along the floor…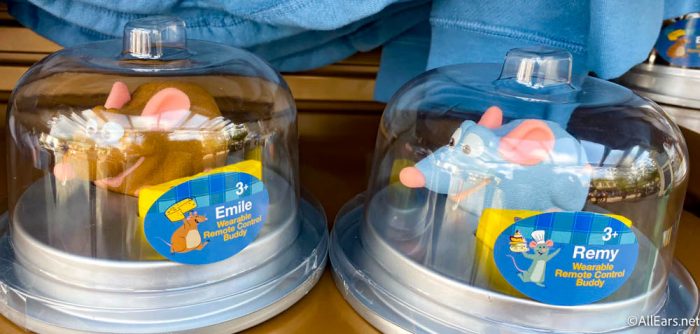 …they're wearable, too! They'll move around (powered with a cheese-shaped remote) on your clothes, so you can carry you little buddy around while you cook.
The remote-control toys were $34.99.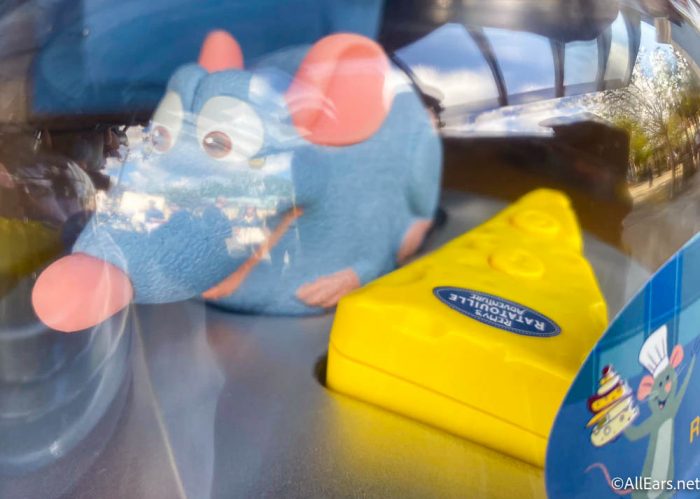 There were also toys shaped like the ride vehicles from Remy's Ratatouille Adventure! These were $14.99 each, and they came in different colors.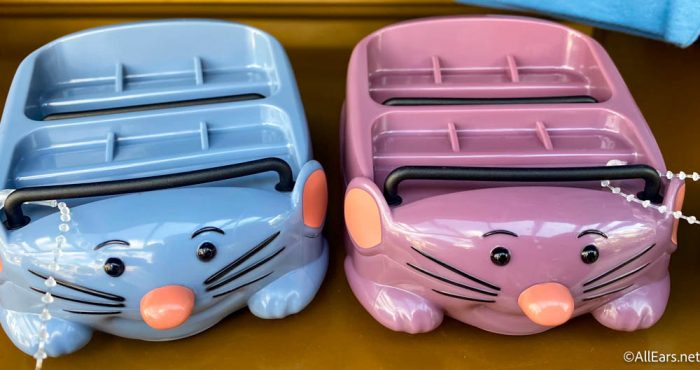 If you'd prefer a softer souvenir, we found Remy plushes and cheese plushes that have Remy and Emile inside!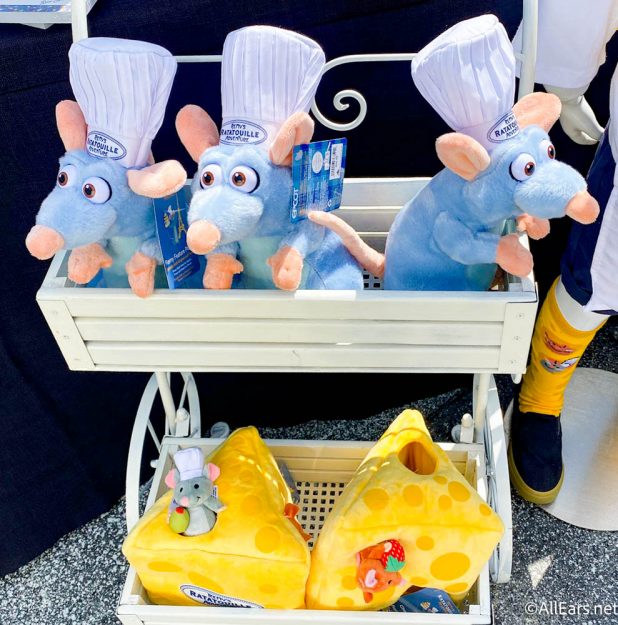 Remy is holding a little olive, and Emile has a strawberry! The cheese plush was $24.99.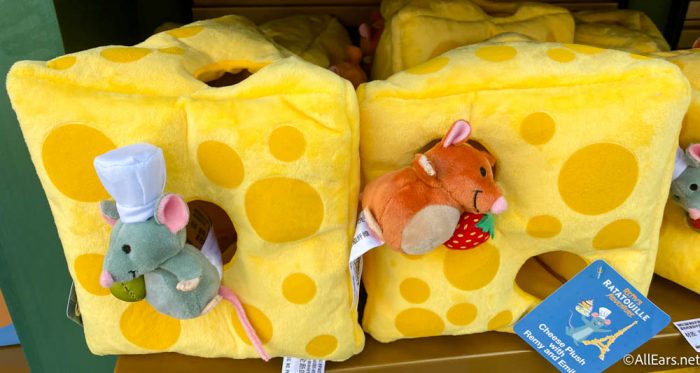 We found some cute accessories too, like a Remy-themed clutch purse…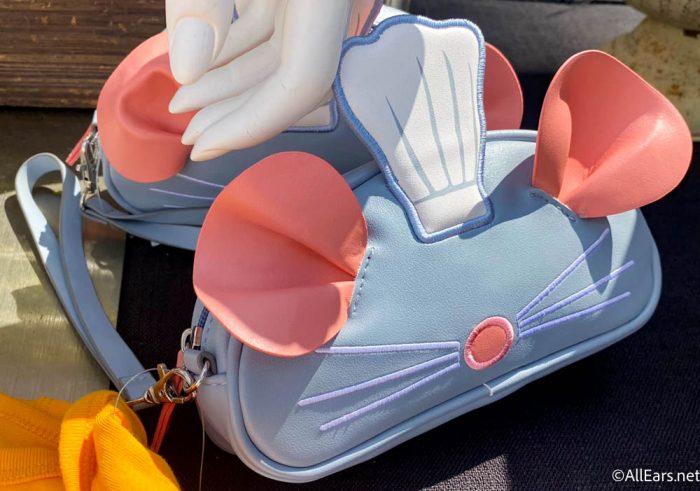 …and a keychain with a cheese wedge, the Eiffel tower, and a Remy's Ratatouille Adventure charm for $14.99.
There was also a cheese-wedge keychain with Emile poking out for $14.99 and Remy pins for $9.99.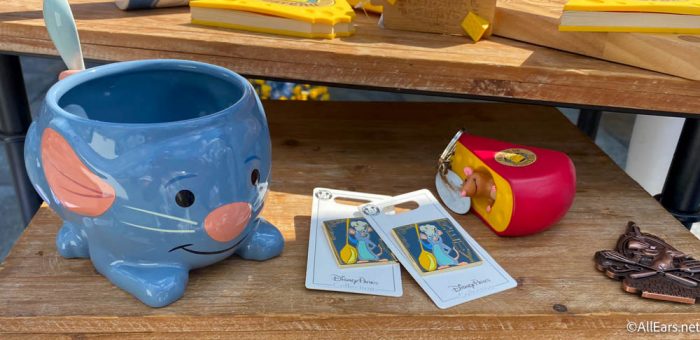 Finally, we found this Remy-themed zipper jacket. The hood has mouse ears and a little mouse face!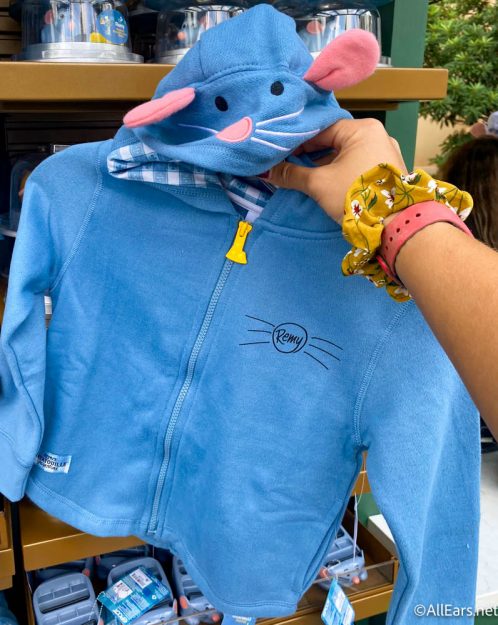 The kids' jacket was $39.99 and $54.99 in adult sizes (without the mouse details on the hood).
How CUTE is the merchandise for Remy's Ratatouille Adventure?! #RemyatEPCOT #DisneyWorld50 pic.twitter.com/n8CcyMHXAE

— AllEars.Net (@AllEarsNet) September 3, 2021
 Keep following AllEars, because we'll be bringing you even more news about Remy's Ratatouille Adventure today!
What new merchandise do YOU want to pick up? Let us know in the comments!
Join the AllEars.net Newsletter to stay on top of ALL the breaking Disney News! You'll also get access to AllEars tips, reviews, trivia, and MORE! Click here to Subscribe!

Disclosure: We were invited by Walt Disney World to attend a media event on Remy's Ratatouille Adventure. This did not affect our reporting of the event — our opinions are our own.