Epcot was in the midst of a massive and long-overdue overhaul earlier this year when the Covid-19 pandemic hit.
If nothing else, the delay in the opening of attractions such as Ratatouille and Guardians of the Galaxy and the overall upgrade of the park has afforded us the opportunity to pause and take a look back … back to when dozens of ideas for attractions were proposed, the vast majority of which never made it past the drawing board.
The delay also allows us to revisit a time when Epcot was just a concept and Disney's planners were grappling with just what to do with what would eventually become Walt Disney World's second theme park.
Epcot – which stands for Experimental Prototype Community of Tomorrow – was Walt Disney's brainchild.
Walt looked at the sorry state of many of America's cities and wanted to create a Utopian city of the future, a place where people could live, work and play under ideal conditions.
He selected virgin land in central Florida to mold what he called his "latest and greatest dream."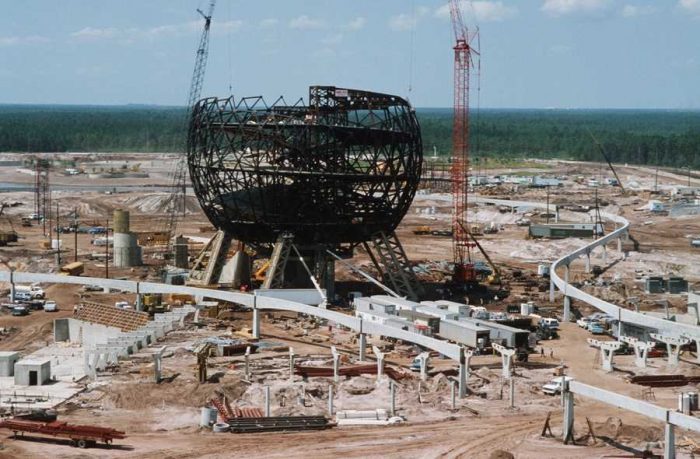 There would be plenty of green spaces under the Epcot dome. That's right: The atmosphere under the dome would be climate-controlled. Clean-running monorails and PeopleMovers would be the primary means of transportation within Epcot's boundaries.
Yes, there would be a Disneyland-style theme park within Epcot's confines, and there would be resort and recreational options aplenty. And new systems and technology would be on display.
And when new technological advances became available, they would be woven into the Epcot fabric.
It was a forward-thinking, ambitious plan, but after Walt Disney died in 1966, Epcot languished.
It wasn't until the mid-1970s when Card Walker, Disney's CEO at the time, took Epcot off the back burner. It was clear, however, that the idea of a "city of tomorrow" wasn't feasible, particularly without Walt's guiding hand.
The question became: What to do about Epcot?
Disney's key executives decided to seek outside help in determining Epcot's course and, under Marty Sklar's direction, Epcot advisory boards were established.
ADVISORY BOARDS HELPED SHAPE EPCOT'S COURSE
Sklar and his Imagineering team sought input from many of the nation's leading thinkers, movers and shakers in an attempt to crystalize a philosophy that not only embraced Walt's forward-thinking initiatives, but presented them in an entertaining, enjoyable fashion.
Years of behind-the-scenes wrangling led to the creation of a two-pronged experience within Epcot's gates:
Future World, where the latest technology would put on display; and World Showcase, where participating nations could show off their diversity, charm and mystique in what was described as a "permanent world's fair."
Once that design hurdle was crossed, it came time to decide what types of adventures would be placed inside Epcot.
When Epcot opened on Oct. 1, 1982, there were five main attractions in Future World:
Spaceship Earth, Universe of Energy, World of Motion, Journey Into Imagination and The Land. [Horizons and The Living Seas would be added in 1983 and 1984, respectively.]
Each Future World pavilion housed a unique ride-through attraction, providing guests with an entertaining look at topics such as the history of communication, the world's quest for energy sources and how transportation had evolved over the years.
We also learned how to stretch our imaginations and we found out about new and innovative ways to grow crops, thus learning how to more efficiently feed the world.
Located in the hub of Future World was Communicore, which featured a variety of displays, exhibits and shows to highlight innovations in a variety of disciplines [primitive cell phones, Fax machines and personal computers were on display].
On opening day, World Showcase was home to nine nations: China, Japan, Germany, France, Italy, Great Britain, Canada, Mexico and the United States. Norway and Morocco would be added a few years later.
The list of Epcot's never-realized attractions is almost as fascinating as what was actually built.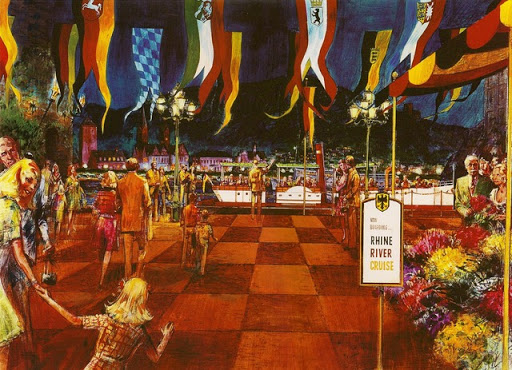 In Germany, for instance, a Rhine River-style cruise was on the drawing board.
The attraction was meant to highlight some of Germany's classic tourist sites and experiences, including Oktoberfest, the Black Forest, Heidelburg and the Ruhr Valley … all while sailing down a replica of the picturesque Rhine River.
Talks were underway for the Japan pavilion to house a high-speed roller coaster that would wind its way around and through a replica of Mount Fuji.
Problems arose when Kodak, the sponsor of the Journey Into Imagination pavilion, balked at the idea because Kodak's chief competitor at the time was Fujifilm.
PROPOSED BULLET TRAIN ATTRACTION
Also on the drawing board for Japan was an attraction where guests could ride a simulated bullet train.
Disney's planners grappled with what to do with the islands located in the middle of the World Showcase lagoon.
"There just weren't enough things for kids to do at World Showcase," said Tony Baxter, then Senior Vice President, Creative Development for Walt Disney Imagineering.
"So one of the proposals was to use the islands in the middle of the lagoon as kind of a kids' play area," much like Tom Sawyer Island in the Magic Kingdom.
That idea was scrapped, as was another to turn the islands into an adult entertainment district. "But," Baxter said, "that was very much the start of the Pleasure Island concept," Baxter said.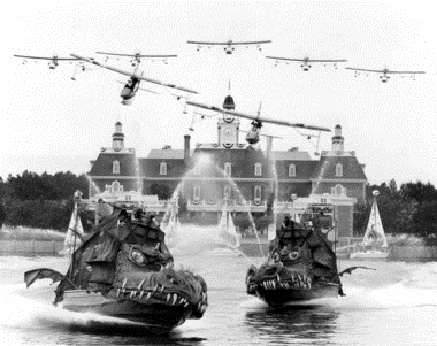 The lagoon did evolve into a showplace in its own right. In the early days of Epcot, a daytime show called Skyleidoscope, featuring dragon boats, rainbow-making flying machines and fireworks, was a popular midday diversion.
In 1999, the enormously popular "Illuminations" became a mainstay every evening, with spectacular music, lasers and fireworks leaving viewers spellbound. An hour before the 9 o'clock showtime, guests began rimming the mile-wide lagoon in search of the best viewing areas.
MOST WORLD SHOWCASE PAVILIONS BACKED BY COMPANIES
One little-known aspect of World Showcase is that most of the individual pavilions are not sponsored by host countries, as you might expect; they are financially supported by companies based within each country.
For example, Goebel and Arribas backed Germany, Kodak and Coca-Cola sponsored The American Adventure.
"That's why, except for Morocco, you don't see nation flags flying outside each World Showcase pavilion," Sklar said. Morocco, Sklar added, was financed solely by the country's king.
Several pavilions were in the works for World Showcase — including Israel, Spain, Iran, the Philippines and Equatorial Africa — but they never made it off the drawing board.
"We did a lot of stuff on spec," Sklar added. "We did plans for Costa Rica, and we did several different versions of a Denmark pavilion because we wanted to do a Matterhorn-type thrill ride there. But we couldn't sell them."
A Spain pavilion would have featured two elements: A film showing landmarks throughout the country, and a dark ride that depicted the country's heritage, its arts and culture.
A tapas restaurant, offering small plates of Spain's customary cuisine, would have been part of the experience.
Sklar referred to Equatorial Africa as "one of the great experiences."
Alex Haley, the author of "Roots," was the story person for the proposed pavilion.
"He was such a wonderful guy," Sklar said of Haley. "And Herb Ryman did some of the most astounding pieces of art for that project. But we couldn't get anybody to put up the money for it.
"We went all kinds of ways. When Disney owned the Tishman collection of African art, which subsequently Michael Eisner gave to the Museum of African Art at the Smithsonian, that was going to be the heart of the exhibit about Africa. We tried everything."
Tony Baxter added that "we envisioned an overlook of an African watering hole. The concept drawings made you feel like you were really there. It also would have had a raft ride with a message."
Indeed, one of the tenets of Imagineering is "we never give up on a good idea," Baxter added. The raft ride envisioned for Equatorial Africa resurfaced years later in Animal Kingdom as Kali River Rapids — a raft ride with an ecological message.
As far as an Israeli pavilion is concerned, Sklar said: "I was on a trip to Israel and Herb Ryman did a sketch of a street in Jerusalem that we were gonna do. We were gonna do an outdoor amphitheater like Caeserea. All those things would have been great."
Years later, Israel was featured in an exhibit at the Millennium Pavilion from 1999 to 2001. It featured a simulator-movie ride called Journey to Jerusalem, a virtual tour of historic holy sites within the city.
TRIPS TO IRAN AND THE PHILIPPINES FAILED
Disney executive Jack Lindquist made trips to Iran and the Philippines in failed attempts to get each country's commitment to support Epcot pavilions.
Persian history would have been the focus of the Iran pavilion, where guests would have been transported inside a replica of Golestan Palace. [Interestingly, a Persian-themed resort was in the stages way back when the Magic Kingdom was being designed in the late 1960s.]
Lindquist spent six long weeks in Tehran in 1979, waiting to meet with the Shah of Iran.
Although he finally did meet with him, the Shah was overthrown just a few weeks after Lindquist left the country.
And in the Philippines, Lindquist waited 10 days before meeting with Imelda Marcos, the wife of the president; again, the long wait was fruitless.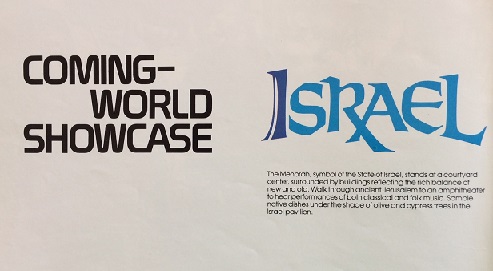 Disney's Imagineers have constantly worked at refining and "plussing" Epcot attractions.
In Innoventions [the former Communicore area], Motorola planned to sponsor an attraction featuring a dog.
The premise: The dog's master goes off on a business trip, leaving the dog – who happens to be wearing a speech translation device – home alone.
As soon as the master departs, the dog notices a calendar that highlights "Rover's Neuter Appointment." The dog calls the vet's office and, thanks to the translation device, is able to tell the receptionist to "cancel Rover's appointment immediately!"
A series of hilarious mishaps and hijinks would have ensued.
FIGMENT'S PROPOSED 'TRAIN OF THOUGHT'
Long-time fans of Figment will remember when the original Journey Into Imagination show was switched out [not to mention the protests that followed].
Several proposals were made for a replacement attraction, one of which featured Figment riding along with guests on his "Train of Thought."
The musical and magical-themed adventure was scuttled in favor of the Imagination experience featuring Dr. Nigel Channing.
Michael Eisner, Disney's CEO at the time, once proposed an Epcot pavilion about the world's religions. It was an interesting concept, but one that didn't get much traction.
A PAVILION ABOUT AMERICAN INDUSTRY?
Eisner also was reportedly interested in a pavilion about American industry, delving into the world of factories and how items are made. Again, that idea fizzled.
One pavilion concept proved to be too big for Epcot: For a time, an exhibit delving into the world of entertainment, with movies, television and radio highlighted, was on the drawing board.
But as the creative team got more involved in the project, it became obvious to them that the exhibit could be far more elaborate.
The original Epcot entertainment pavilion concept was ditched in favor of an entire new theme park, which opened in May of 1989 as the Disney/MGM Studios, now Disney's Hollywood Studios.
__________
Chuck Schmidt is an award-winning journalist who has covered all things Disney since 1984 in both print and on-line. He has authored or co-authored seven books on Disney, including his most recent, The Beat Goes On, for Theme Park Press. He also has written a twice-monthly blog for AllEars.Net, called Still Goofy About Disney, since 2015.