Disney's first trackless ride system was a huge success, despite the fact that it caused considerable weeping and gnashing of teeth.
If truth be told, some young guests actually LOST their teeth while taking part in the attraction, the still-popular Autopia cars in Disneyland.
Autopia, which opened with the rest of Disneyland on July 17, 1955, allowed youngsters to drive realistic-looking miniature autos on a winding, highway-like course … in essence, to feel the wind in their hair as they put pedal to the metal on the open road.
There were curbs on either side of the Autopia track, but drivers pretty much had free rein to bob, weave, dodge and slam into slower-moving cars … pretty much replicating a typical day on your average Los Angeles freeway.
Needless to say, the kids flocked to the Autopia queue. Those young guests were years away from obtaining an official driver's license, so anything close to getting behind the wheel of something resembling an actual car was enticing, to say the least.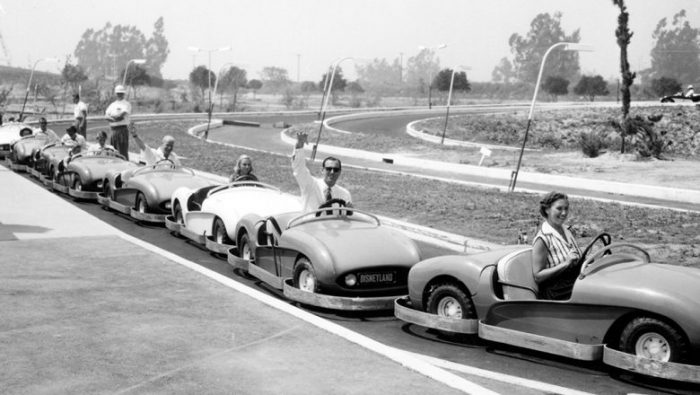 In reality, it was the steering wheels of the Autopia cars that proved to be the most problematic during the first few weeks of operation.
As Imagineering Legend Bob Gurr, the man who designed the Autopia cars, put it: "The original cars didn't have padded steering wheels. I took a couple of kids to First Aid [on opening day], one with his hand full of his own teeth!"
In fact, Gurr added, "Those steering wheels had hard rims which were extracting little teeth almost daily."
Alterations were made to the steering wheels to save kids' teeth, and in 1963, a center guide rail was added to the Autopia track, limiting each car's side-to-side movement [and stopping them from going on impromptu "off-road" adventures, which happened often].
Shifting gears [pun intended], we fast-forward to the next generation of trackless attractions, which are all the rage these days.
RIDE VEHICLES GUIDED BY COMPUTERS
Instead of relying on unpredictable young drivers, today's trackless vehicles are guided by computers, which allow these next-gen attractions to be kept very much under control even as they often appear to riders to be something akin to berserk billiard balls.
The Twilight Zone Tower of Terror in Disney's Hollywood Studios, which debuted in 1994, was among the first attractions to employ a trackless element.
After your ride vehicle shot up to the 13th floor of the Hollywood Tower Hotel, it exited from the shaft and glided along the flat surface, where the classic "Fifth Dimension" scene played out.
The vehicle then rolled along the floor to the drop shaft, where it began its random, free-falling sequence. Of course, that up-and-down-and-up-again segment of the attraction is by far the most memorable.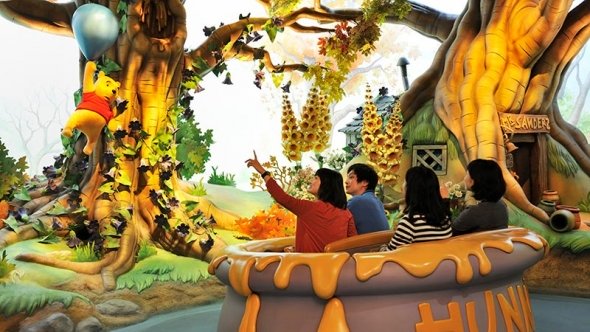 The first Disney-created trackless ride system for an entire attraction was devised for Pooh's Hunny Hut, which debuted in Tokyo Disneyland in September of 2000.
As with all trackless rides, the honey pot-shaped vehicles used in the Pooh attraction are free from restraining guide rails and don't travel on stationary tracks.
VEHICLES GO IN DIFFERENT DIRECTIONS
As such, they are able to move along a seemingly random course, with the ability to rotate, go in reverse and move from side-to-side.
In fact, the system, which employs an array of sensors, is so complex that groups of up to eight honey pots can be choreographed and appear as if they are "dancing" during portions of the experience.
[The ride vehicles in Mater's Junkyard Jamboree in California Adventure and Alien Swirling Saucers in Hollywood Studios also "dance" to music as well, but those vehicles are attached to large, rotating discs on the ground as they twirl.]
To achieve this complex ride system on the Pooh ride, sensors were embedded along the vehicle's path, with a local positioning system [or LPS] used to "manage" the sensors.
The vehicle is in constant contact with a master computer, which relays pertinent information to guide each honey pot through a variety of experiences in Hundred Acre Woods.
Mystic Manor, Hong Kong Disneyland's version of The Haunted Mansion, was the next trackless ride to be introduced in a Disney park in 2013.
The attraction differs from Pooh's Hunny Hut in that its automated guided vehicles go through their paces by partnering radio-frequency identification technology and Wi-Fi.
The Mystic Manor carriages travel in groups of four, with each group following a unique path influenced by its most recent loading position, which means your ride experience is unique to the carriage you end up boarding.
One year later, in the Walt Disney Studios Park in Disneyland Paris, Ratatouille: L'Aventure Totalement Toquee de Remy was introduced. It, too, featured Wi-Fi and RFID-based local positioning systems to guide its "ratmobiles" during a madcap journey through Gusteau's Bistro.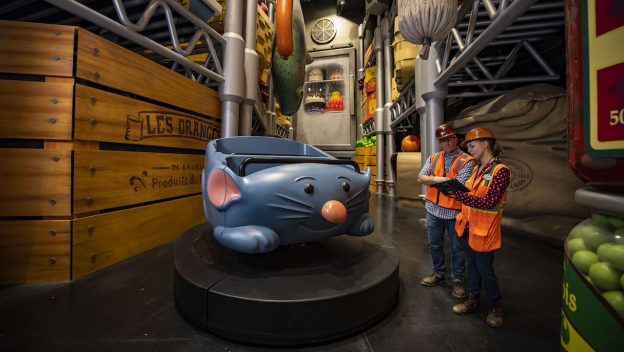 Guests are "shrunk" to the size of a rat as they board on the roof of the Parisian eatery. Each ride vehicle, which holds up to five guests, scurries through the restaurant's kitchen and dining area, with hilarious results.
Along the way, the ratmobiles are guided into a 3D-enhanced dome, which further embellishes the experience.
Remy's Ratatouille Adventure opened in EPCOT's France pavilion in Fall 2021.
SYNCHRONIZED 'DANCE' MOVES
Luigi's Rollickin' Roadsters joined the trackless fold in March of 2016 at Disney's California Adventure, taking the place of Luigi's Flying Tires.
The attraction is hosted by Luigi, who runs the Casa Della Tires shop in the Radiator Springs section of Carsland. Guests board one of 20 two-seated roadsters. When the Italian-themed music starts, the cars engage in a series of synchronized "dance" moves.
During Halloween, the attraction transforms into Luigi's Honkin' Haul-O-Ween, while during the Christmas season, it becomes Luigi's Joy to the Whirl.
At Disney's Hollywood Studios, two innovative trackless attractions have ramped up park attendance and popularity.
Star Wars: Rise of the Resistance burst on the scene Dec. 5, 2019, in Galaxy's Edge within Disney's Hollywood Studios [it opened on Jan. 17, 2020, in Disneyland].It is by far the most complex attraction in the Disney Parks' catalogue, featuring walk-through areas, a trackless dark ride, motion simulator and a drop ride system, where your vehicle goes from one floor to another.
Add to that, there are elaborate Audio-Animatronics, large sets [one room features life-size AT-AT Walkers, another a brigade of Storm Troopers], projection mapping and screen-based media.
ATTRACTION ENDS OUTSIDE
The attraction ends out of doors, under the cover of a large rock-like structure.
The most recent trackless ride attraction, Mickey and Minnie's Runaway Railway, debuted in Hollywood Studios on March 4, 2020.
When guests queue up at the train station for a trip to Runamuck Park, they notice tracks below as the train – a locomotive and with several railway cars in tow – pulls into the station.
As it does, smoke billows, bells clang, a whistle toots and the engine chugs to a halt. It has all the look and feel of an actual railroad experience.
In reality, the train consists of four individual ride vehicles which become separated about a minute into the ride … which is when the mayhem ensues.
The locomotive parts ways with the rest of the cars after Mickey accidentally hits a track switch. Those cars are left to fend for themselves during a series of whirlwind, cartoon-like scenes, ranging from a Wild West vista to a wind-blown, chaotic carnival.
A WATERFALL, A RUSH OF WATER … AND A CONGA LINE
In short order, there's a sequence where your vehicle appears to be cascading over a waterfall. Your vehicle is then swept away by a rush of water. A short time later, the train's four individual cars join an elaborate conga line, with Daisy Duck leading the choreography.
After several more chaotic scenes, the attraction climaxes with all of the train cars and the locomotive reuniting before chugging back to the station.
Mickey and Minnie's Runaway Railway was the recipient of a 2020 THEA Award for Outstanding Achievement: Attraction.
It's obvious that a trackless ride system allows Disney's Imagineers to be even more creative. With the restraints of a fixed track gone, that creativity now knows no bounds.
Chuck Schmidt is an award-winning journalist who has covered all things Disney since 1984 in both print and on-line. He has authored or co-authored seven books on Disney, including his most recent, "The Beat Goes On," for Theme Park Press. He also has written a twice-monthly blog for AllEars.Net, Still Goofy About Disney, since 2015.