Disney Legend Bob Gurr, a man who is revered in the world of theme park attraction design, calls himself a "failure at retirement."
To the uninitiated, Robert Henry Gurr is a theme park attractions guru.  During the early years at Disneyland, if it moved on wheels, it was likely that Gurr designed it.
Here's a snippet of his most famous creations, for Disney and others:
Disneyland's Autopia cars.
All of the Main Street vehicles.
Putting the first-ever tubular steel roller coaster inside a replica of Matterhorn Mountain.
The Submarine Voyage.
Parking lot trams.
The monorail.
Ford's Magic Skyway at the 1964-1965 New York World's Fair and its innovative ride system.
The Abraham Lincoln figure at the Fair and devising a parts system for future Audio-Animatronics figures.
Universal Studios' massive King Kong figure.
The stage design for Michael Jackson's Victory Tour.
Many of the dinosaurs featured in the Jurassic Park movie.
Even though he's refused any and all job requests since 2002, that doesn't mean Bob Gurr is whiling away his days in a rocking chair.
Trips to the South Seas islands, most notably Tahiti, and conducting his popular Waltland Bus Tours through Los Angeles usually occupied Gurr's days, pre-Covid-19.
Recently, however, he's gotten back to work, lending his expertise helping to build a better theme park scooter.
"I was finally convinced that I should help a successful Orlando scooter sales and rental company with their quest for a better theme park scooter design," Bob said recently.
"After spending a day at Walt Disney World test driving a scooter in the Magic Kingdom, I agreed that a better design is, indeed, needed. And if it's going to happen, I might as well be the sucker to try it."
His quest to a build a better scooter began innocently enough with in-depth sketches.
"That led to some physical wire frame 3D sketching on a real scooter chassis, where I wound up using QCAD, a nice 2D drafting app.
"Well, that led to the complex Solidworks 3D app. So now I had to learn two new CAD systems at age 88 [he turned 89 on Oct. 25], having not done any CAD work in 18 years! Yikes!
"So, long story short, all the major production engineering files are now in the hands of Eagle Products in Georgia for manufacturing, Johnson Plastics in Indiana for body panels, and the project center in Kissimmee, Florida.
"I'm still adding the final small bits and pieces to the artistic illustrations.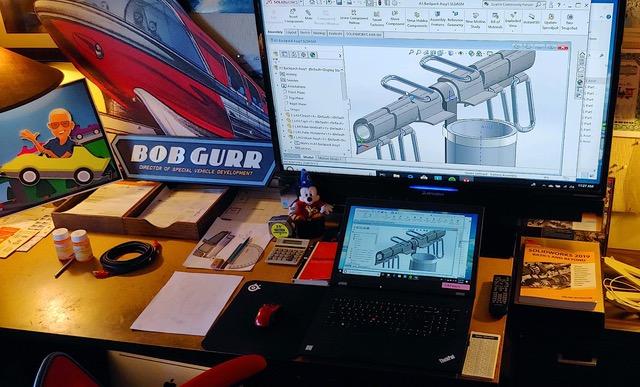 "Here's the super nice thing. The company bought me a $2,000 Lenovo PC laptop with a blindingly fast graphics card, and loaded it with a $4,000 Solidworks system. Now I had to learn Windows 10 on a PC. And I've been a Mac guy for 36 years … Yikes!
"Now you see why I've totally failed at retirement."
Interestingly, a local consultant who guided Gurr in learning Solidworks "was a new kid at Imagineering in 1976. Along with three other trainees, I was his mentor for five years … now he's my mentor! Double yikes."
The affable Gurr has taken to the ongoing Covid-19 crisis like all the other challenges he's faced throughout his legendary career in similar fashion: By hitting it head-on.
"Unlike so many others, my quarantined life is wonderful," he said from his home in California.
"I'm busy at not only CAD, but all the overdue home repairs and new installations. Plus, with Ernie my manager, there's been a big increase in autographed Bob Gurr-brand merchandise sales … more than before the pandemic started!"
By the end of a typically busy day, Gurr is ready to head off into the sunset … at the controls of his in-home flight simulator.
"I'm ready to pick a plane and fly to any place in the world on my Xplane flight simulator.
"For example, I'll take a Robinson R66 helicopter to Zermatt in Switzerland to fly over the real Matterhorn," says the guy who designed the Matterhorn Mountain bobsled attraction at Disneyland.
A failure at retirement? Hardly.