New York City. Late October, 1965.
The New York World's Fair has closed its gates after a successful two-year run.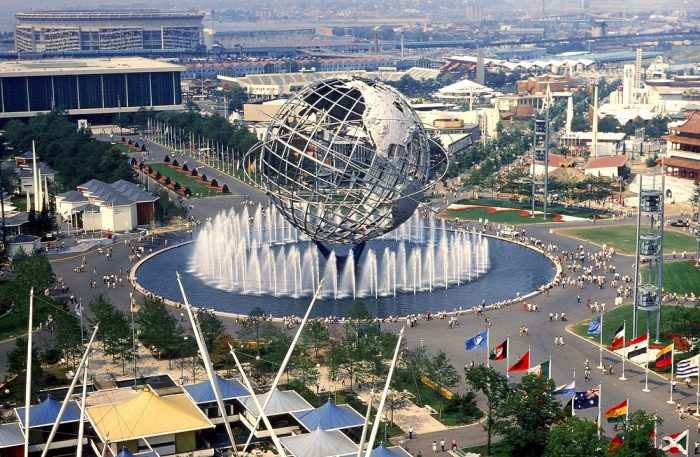 Heavy equipment sits at the ready, waiting for the OK to begin the arduous process of demolishing just about every building – most designed by world-famous architects – on the vast site in the New York City borough of Queens.
Crews are doing the exact opposite inside the four pavilions where shows created by Walt Disney Productions were featured – UNCEF/Pepsi Cola's it's a small world, General Electric's Carousel of Progress, Ford Motor Company's Magic Skyway and the Illinois state pavilion's Great Moments With Mr. Lincoln.
They are meticulously taking apart each attraction, set piece by set piece, doll by doll, grunting caveman by roaring dinosaur, and carefully loading them onto waiting trucks.
The attraction pieces and sets would be trucked across the country to Disneyland in Anaheim, Calif., where all or parts of each show will be reassembled inside new, permanent homes.
DISNEY BRAND WAS A HIT ON THE EAST COAST
One of Walt Disney's stated goals for participating in the World's Fair was to prove that his brand of entertainment, so popular on the West Coast, would be welcomed by a perceived "more sophisticated" East Coast audience.
Studies done at the time showed that just 6% of the folks who visited Disneyland were from east of the Mississippi River. That's a lot of untapped potential in the form of park attendees.
World's Fair success in hand, Walt reasoned that if he could make it there – in New York, New York – he could make it anywhere.
Once he had established that Disney entertainment was viable on the East Coast – overwhelmingly, as it turned out – Walt went about the arduous task of finding a suitable setting for a second Disney-themed "amusement enterprise."
Several sites east of the Mississippi were considered, among them St. Louis, Mo., as well as locales up and down the East Coast, from upstate New York to Miami.
Among the plots of land given some consideration: The site of the New York World's Fair.
That's correct. For a brief time, New York City was considered, if ever so briefly, as the site of Disney's proposed Walt Disney World.
Two hard, cold facts quickly nixed the idea, however: For one, the high price of the land. For another, the fact that Disney wanted to create a year-round recreational resort, which could never happen in the often cold and sometimes snowy New York metro area.
In the end, a swampy, mosquito- and alligator-infested slice of land twice the size of Manhattan in central Florida won out.
THE DISNEY-NEW YORK CITY CONNECTION
Even though the Walt Disney Company is based in California, New York and Disney have had a long association, one which continues to this day.
One could go as far as to say that New York City is the Walt Disney Company's second home.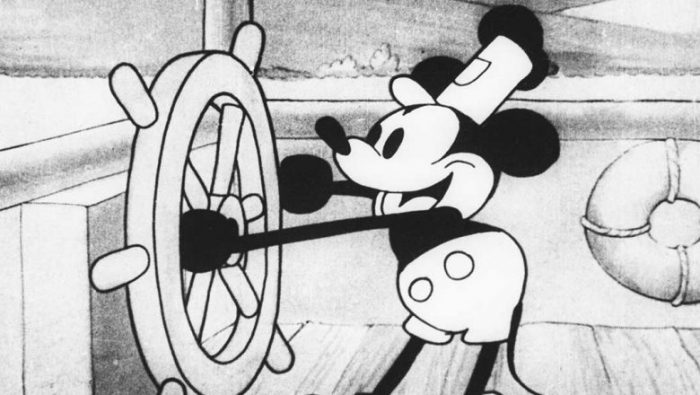 Much of the Walt Disney Company's success today can be traced to the scrawny shoulders of a cartoon mouse who was created in the late 1920s … Mickey Mouse, to be exact.
Well, it was in the Colony Theater in Manhattan on Nov. 18, 1928, where Steamboat Willie, the very first "talking" cartoon, debuted. It starred Mickey Mouse and his lady love, Minnie.
Prior to the film's debut, Walt Disney spent considerable time in New York City, working to solve the vexing problem of bringing sound to his soon-to-be classic animated short.
Steamboat Willie's success spawned a string of ground-breaking Disney animated hits years later, including Snow White and the Seven Dwarfs, Pinocchio, Fantasia, Dumbo and Bambi.
Disney would return to New York in the early 1950s, but this time it was Walt's brother Roy who did the honors. Roy's mission was to meet with several top New York City-based company executives in hopes of obtaining sponsorship for his brother's "latest and greatest dream" – Disneyland.
Roy, armed with sketches of the park drawn by Herb Ryman, succeeded in securing a $5 million loan from the American Broadcasting Company in exchange for producing a weekly television show, Walt Disney's Disneyland.
When Disneyland opened on July 17, 1955, it was ABC-TV doing the honors of broadcasting the event live to a national audience.
DISNEY AND RADIO CITY MUSIC HALL
The Walt Disney Company has had a long relationship with the fabled Radio City Music Hall, located near Rockefeller Center in the heart of Manhattan.
The theater, which opened in 1932, hosted an exclusive engagement of Snow White and the Seven Dwarfs in 1938, a few months after the film's theatrical release in Los Angeles.
Four decades later, in 1980, Radio City Music Hall played host to a live stage adaptation of Snow White called Snow White Live!
In 1985, Radio City Music Hall exclusively screened Return to Oz, the unofficial sequel to the 1939 MGM film The Wizard of Oz. Disney had purchased the rights to L. Frank Baum's Oz stories in 1954, but the company didn't tap into them until the early 1980s, with the release of Return to Oz.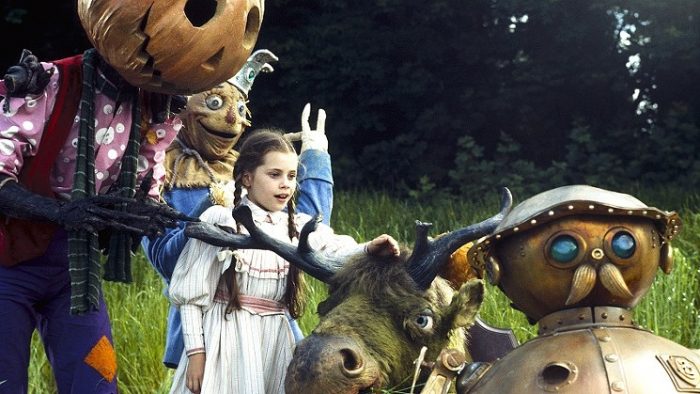 Although Return to Oz was a box office dud, it did seem to ignite a spark within Disney's entertainment ranks: Nine years after Return to Oz closed, Disney launched a full-fledged invasion of the Great White Way with the formation of Disney Theatrical Productions.
The concept was simple for those first few Disney/Broadway productions and it's become a tried-and-true formula ever since: Turn one of Disney's immensely popular animated feature films [all of which featured Grammy Award-caliber scores] into a live-action musical stage production.
Beauty and the Beast was the first Disney classic to hit the Broadway stage, opening in April of 1994. Although the play received mixed reviews, it was a monster success at the box office, spurring Disney to forge ahead with an ambitious Broadway presence.
There followed a string of mega-hit productions, from The Lion King in 1997 to the most-recent success, Frozen.
DISNEY'S TEMPORARY HEADQUARTERS IN NYC
During the late 1970s, Disney was forging ahead with plans to create Epcot. Key to bringing Epcot to fruition, however, was securing financial support from America's major companies.
As the late Marty Sklar, the former leader of Walt Disney Imagineering, once said: "Back then, Disney didn't have the money to finance such a massive project."
So Sklar and a small team made pitches to many of America's leading corporations, hoping to gain their sponsorship.
It was tough sledding at first, but after securing a commitment from General Motors, there was suddenly an overabundance of interest by companies who now were eager to become involved in the project.
Sklar worked out a deal with RCA to rent out space in a Manhattan recording studio, where many of the country's top company execs could see and hear Epcot presentations by on-site Disney staffers.
As a result, major companies such as Kraft, Exxon and Kodak ponied up the copious amounts of cash needed to bring Epcot to life.
LAUNCHING PARK INITIATIVES AT NYC EVENTS
Disney's park publicity departments have used New York City as a backdrop for several press events which served to launch major initiatives in its theme parks.
Remember the Let the Memories Begin park promo? How about Limited Time Magic? The announcement of Disney's California Adventure Park?
All were announced at press events in Manhattan.
In 2006, prior to the opening of Expedition Everest at Disney's Animal Kingdom, the PR folks came up with the idea of draping a giant tarp featuring a photo of Mount Everest on the side of a Manhattan skyscraper.
It was a simple, yet effective message.
DISNEY FANTASY WAS CHRISTENED IN NEW YORK
Perhaps the most prominent Disney/New York City collaboration came in late February of 2012. That's when the Disney Fantasy cruise liner glided into New York Harbor for its christening.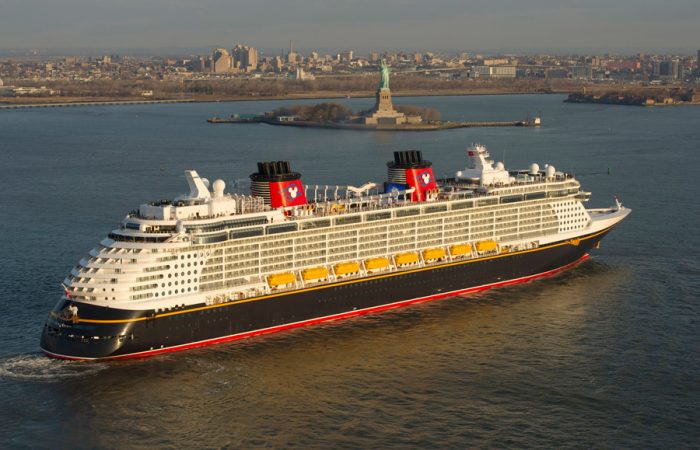 The Fantasy, the fourth ship in Disney Cruise Line's fleet, sailed across the Atlantic from Papenburg, Germany, where it had been assembled at the Meyer Werft Shipyard.
Its first stop was Pier 88 at the Manhattan Cruise Terminal, where it docked alongside the Intrepid Sea, Air and Space Museum.
On the chilly evening of Feb. 28, the ship was christened during a production that was worthy of a Broadway extravaganza.
Multi-talented performer Neil Patrick Harris served at the night's master of ceremonies in the Fantasy's opulent Walt Disney Theatre.
The actual christening ceremony took place in the ship's spacious grand atrium, as well as outside the ship.
Five-time Grammy Award-winning singer Mariah Carey was introduced as the Fantasy's "godmother," while Nick Cannon, her husband at the time, joined Minnie Mouse outside the ship to break the ceremonial bottle of champagne on the hull.
New York City is home to the American Broadcast Company [ABC], which was purchased by Disney in 1996.
Several of ABC's long-running shows, including Good Morning America and The View, are broadcast from The Big Apple.
And last, but not least: The Disney Store has had a presence in Manhattan since the brand's inception in the late 1980s. The store is located at 1540 Broadway, near Times Square.