The holidays have kicked off at Universal Orlando (and we've had SEVERAL Hot Butterbeers to commemorate the occasion!).
While we've been exploring the amazing Macy's Balloons, eating a ridiculous amount of snacks (worth it), and embarking on a Holiday Tree Hunt, we are back again for another round of Christmas entertainment in the parks! But, this time we're going on a VIP tour that's fit for the most festive fans!
Universal Orlando announced that it would be holding a new holiday tour this year for guests to participate in! And, of course, we decided to give ourselves an early Christmas gift as we set out on the tour today! So, we're taking you with us to check out our full experience to get you in the holiday spirit.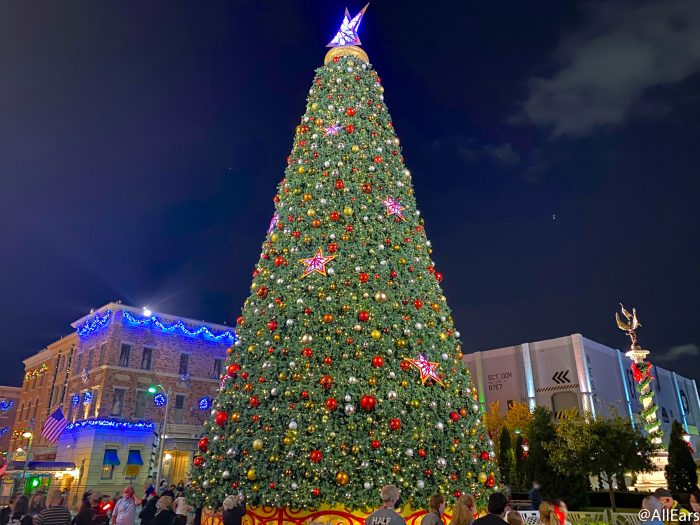 The 2-park tour is 3 hours long as your guide takes you to different stops in Universal Studios Florida and Universal's Islands of Adventure. When you arrive, they will scan your ticket to make sure that you have a park-to-park ticket before giving you your Holiday VIP Tour wristband.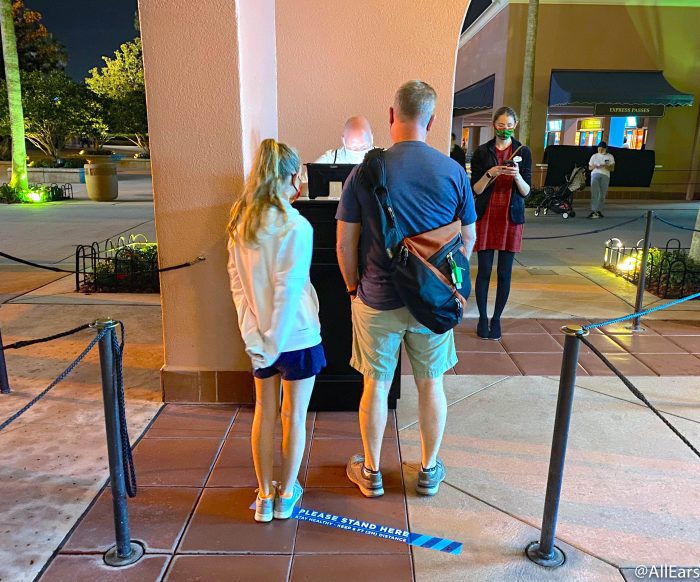 Once you're inside, you'll be put into a group where someone will escort you to your guide. The groups are each at 12 people maximum in order to allow for distancing.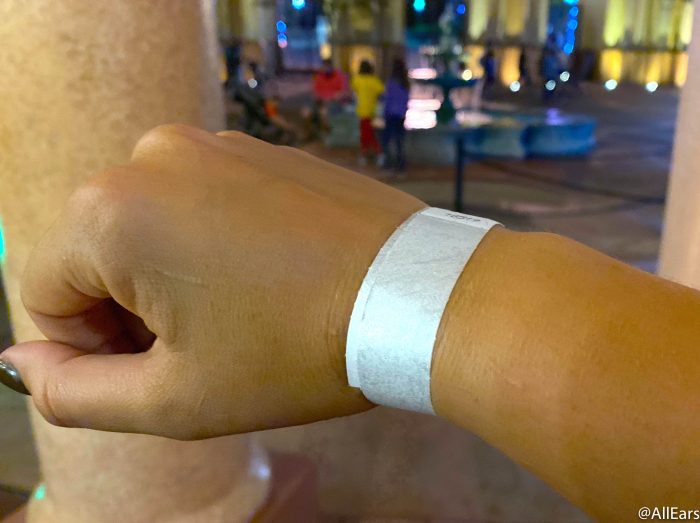 There were 4 big rules during our Holiday VIP Tour. Since the tour was 3 hours long, there was A LOT to do in that timeframe, so our guide kindly asked us to make sure we followed along and were on time throughout . Guests were expected to social distance from other parties while walking through the area. Our guide asked about any food allergies as well since the VIP Tour would be stopping at a private cookies and hot cocoa bar. And, lastly, we were reminded that we couldn't take pictures in the backstage area. The tour was set to go between both parks with entrances near Rip Ride Rockit and Seuss Landing.
After all those details, we were off to our first stop of the night. Similar to the way the RIP Tours work during Halloween Horror Nights, the order of events switch up depending on where other groups are located. So, your Holiday VIP Tour may have a different line-up than ours did!
Circus McGurkus Cafe Stoo-pendous
Our first stop was Circus McGurkus Cafe Stoo-pendous, where we got to take a few pictures with The Grinch himself for the holidays!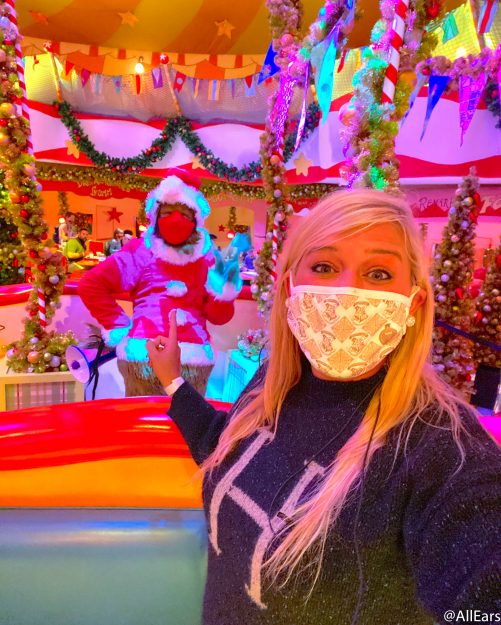 Guests were given 30 minutes at the cafe to enjoy all-you-can-eat treats and drinks and take as many photos with the Grinch as you'd like!
While guests were taking photos, nobody was able to touch their phones and the Grinch stayed 6 feet away at all times (which was pretty in character anyway).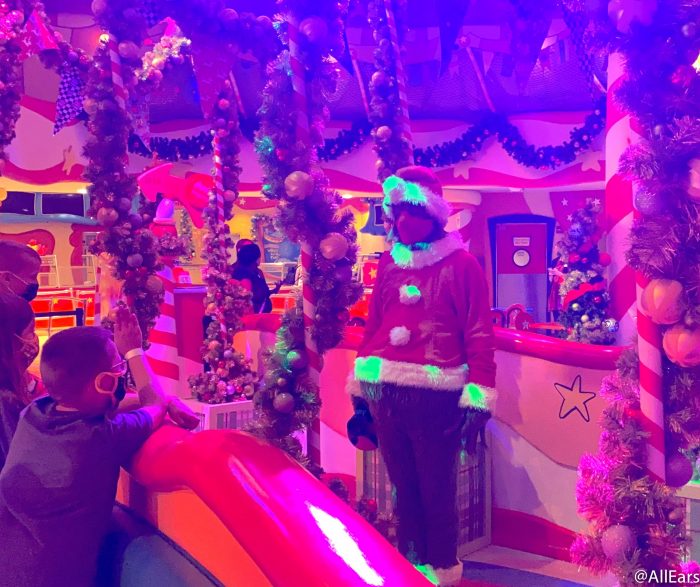 When it was our turn to talk to him, he made sure to wallow in self pity before interacting with us.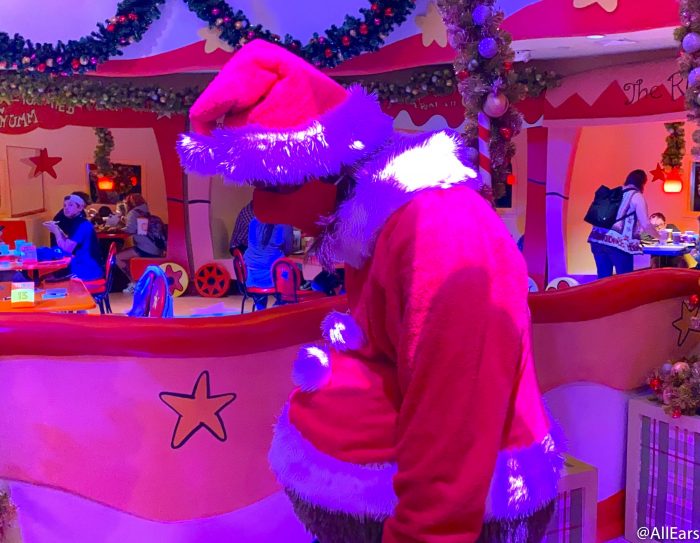 He also told us that he hoped we had a tolerable New Year, which is probably the nicest thing we might ever hear him say!
We also asked him if he would pose for us, and he gave us a fabulous mini photoshoot! How…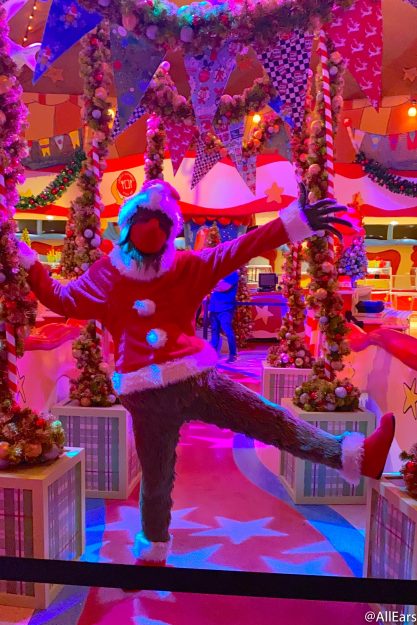 …can…
…you…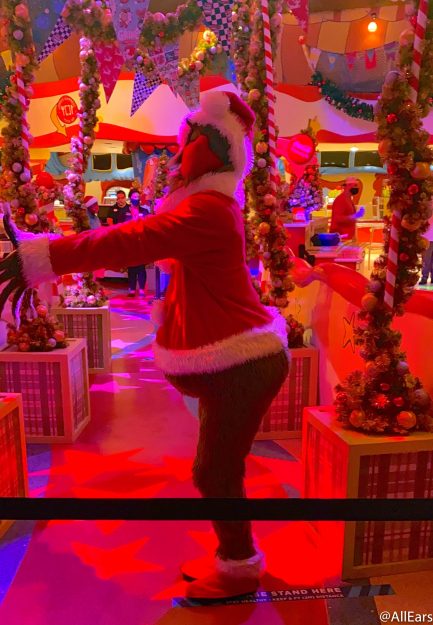 …not…
…LOVE…
…HIM?!
Molly is at @UniversalORL tonight and asked the Grinch to pose – he did 9 different poses 🤣 pic.twitter.com/V0v9L75Ltk

— AllEars.Net (@AllEarsNet) November 23, 2020
After that iconic interaction, we indulged in the complimentary Hot Cocoa Bar during our tour.
There were three cookie options with two sugar cookies — a decorated snowman and Christmas tree — and a gingerbread man…
…to go along with the hot cocoa bar with toppings (or water, if you wanted it)!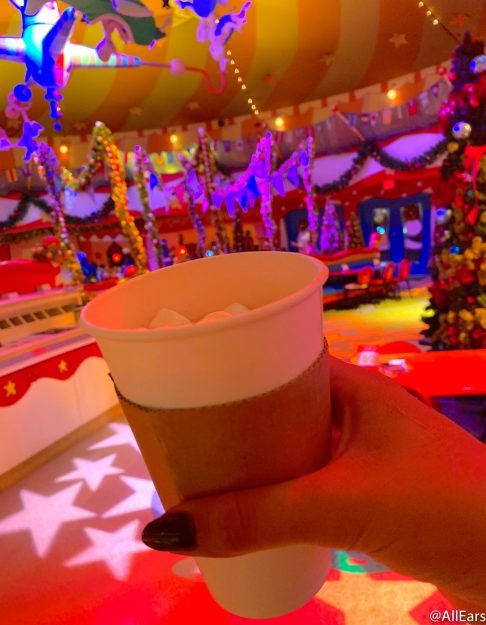 The toppings included peppermint and cinnamon syrups, marshmallows, chocolate shavings, and candy canes.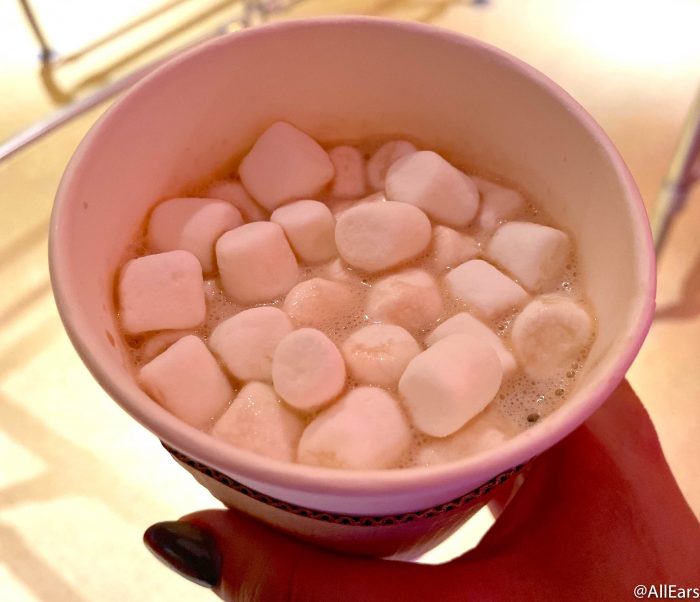 Each party was given a table to enjoy their treats, where complimentary postcards were laid out…
…with Harry Potter themed images on the front!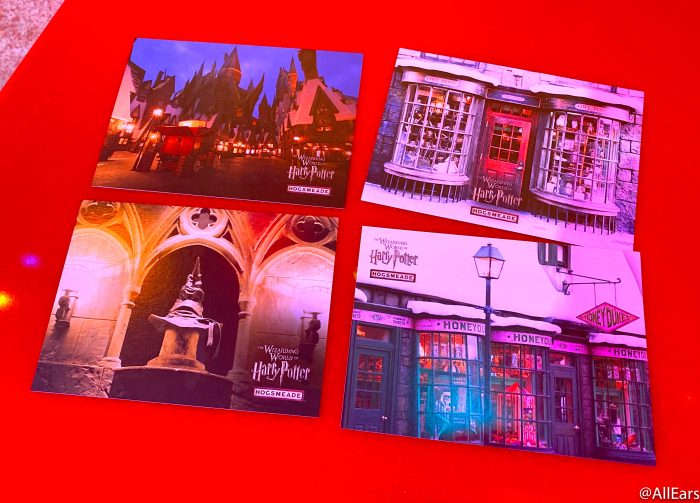 Plus, guests could even write a message on the back and mail it to themselves from inside Universal! More on this later…
Holiday Tribute Store
The next stop on our tour was front line access to the Tribute Store! Our guide told us that the store took 6 days, working 24 hours a day in order to flip it from Halloween to Christmas themed.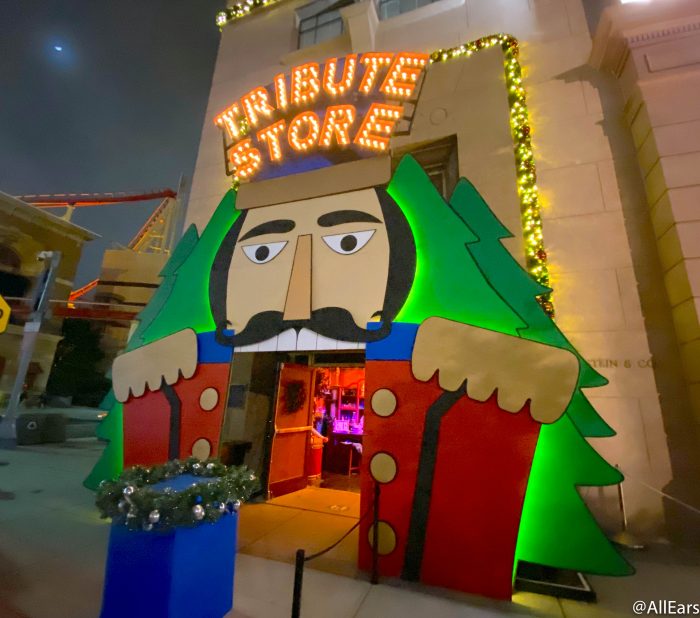 We also got a few more details about each of the four rooms' themes (German Christmas Market, Grinch, Harry Potter, and Earl the Squirrel) …
…where we were even shown a tiny Earl the Squirrel with a face mask in the big tree right outside!
Guests were given 35 minutes to enjoy the store and purchase any treats or merchandise they would like to before meeting up again.
Universal's Holiday Experience
After the Tribute Store, we made our way over to Universal's Holiday Experience.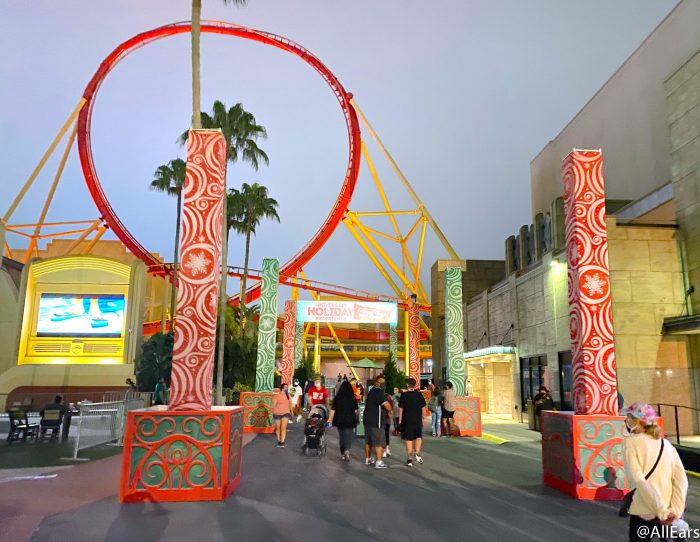 Our guide told us that the Tribute Store and Universal's Holiday Experience have both already gotten waits up to an hour sometimes. Plus, Universal expects to see them get even higher as the holidays near.
We were also told that the first balloon during the 1927 Macy's Day Parade was named Felix and filled with air. In 1928, they filled him with helium instead, where they let him go at the end of the parade since they weren't sure what to do with it.
They started to put return labels on the balloons and offered a $100 reward to the people who found them and returned them. The balloons at Universal were made by Ravens, who also make the ones for the Macy's Parades.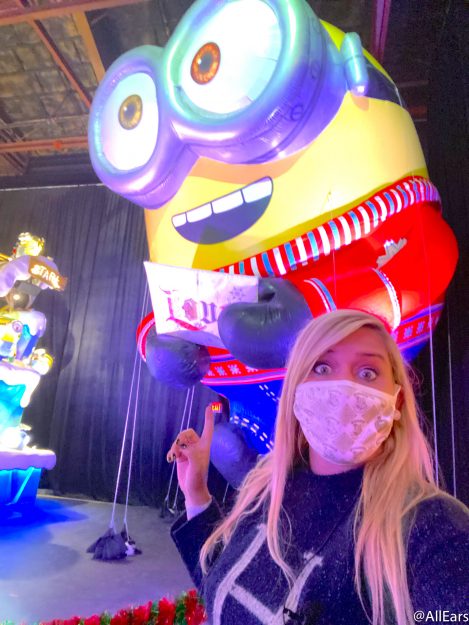 While they used to get actual Macy's balloons, they started getting custom ones in 2017 as Universal wanted to start their parades earlier.
While we're missing the parade this year, it's really cool to get up close and personal with these giant balloons — it's amazing how big they really are when you stand right next to them!
Since we had previously gone to Universal's Holiday Experience, we were expecting to see the characters out and about like they were previously. However, they were nowhere to be found, so our tour guide let us know that there was possibly a staffing conflict that evening. So, if you want to see the characters with the balloons, you might want to come earlier to see the Madagascar Penguins, Puss in Boots, and Lucy or Gru from Despicable Me (they rotate with one another).
However, Santa Claus was still ready to greet guests and find out what they would like for Christmas!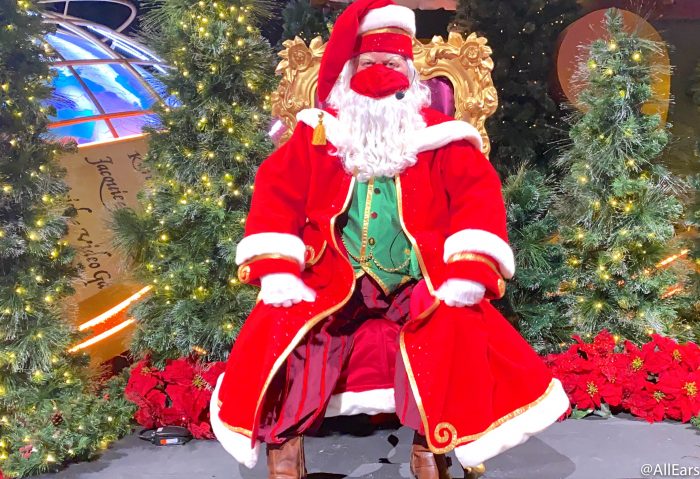 He was just as jolly and sweet as ever during our visit!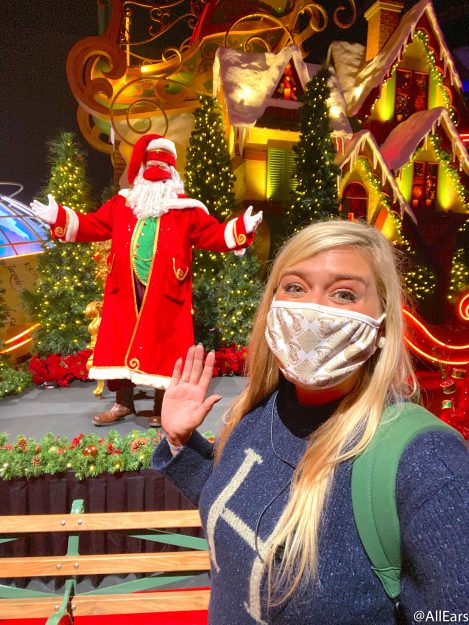 After our stop at Universal's Holiday Experience, we traveled backstage again to return to Islands of Adventure for our final stop of the evening. Our guide let us know that we could mail our postcards once we arrived (and it's SUPER fun to send yourself a postcard or two straight from Hogwarts).
"The Magic of Christmas at Hogwarts Castle"
As the evening came to an end, we headed to an exclusive viewing location to watch "The Magic of Christmas at Hogwarts Castle" in Hogsmeade. We were told that the only people in the park would be the Holiday VIP Tours at that time.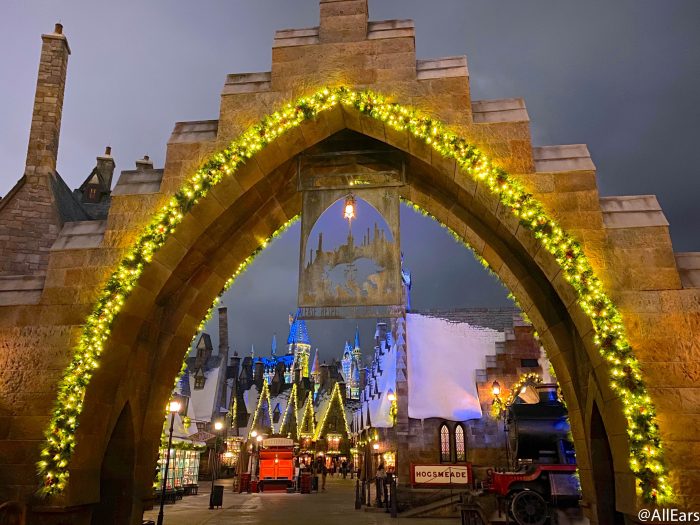 We were given a meeting spot to meet back up in 30 minutes so we had time to explore shops and do some magic! Of course, we had our wands all ready to go!
While we made a chocolate frog appear at Honeydukes…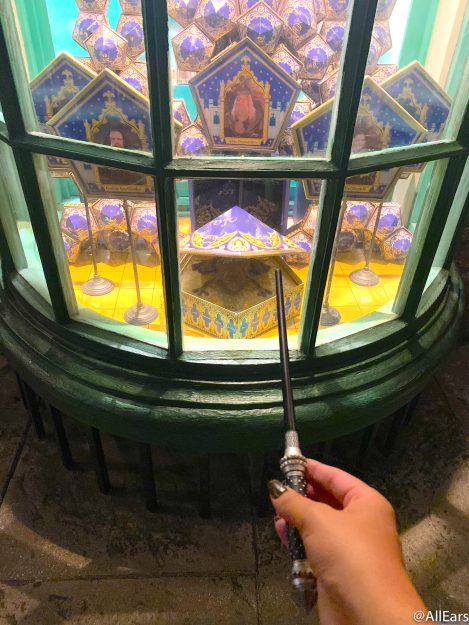 …we also sent off our pre-stamped postcards at the Owlery! It's so fun that it's stamped from "Hogwarts!" This was a nice touch on the tour.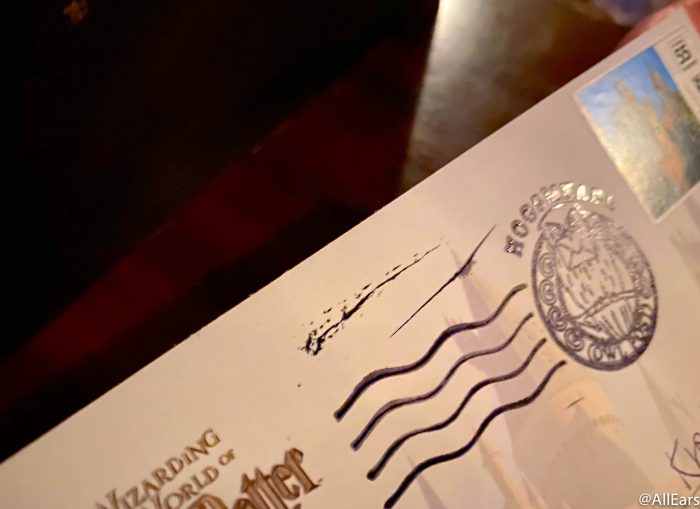 While we were at the Owlery, we were also able to redeem our gift ticket to receive our prize…
…which was a GORGEOUS metal Harry Potter Ornament that regularly retails for $18.99 in the parks.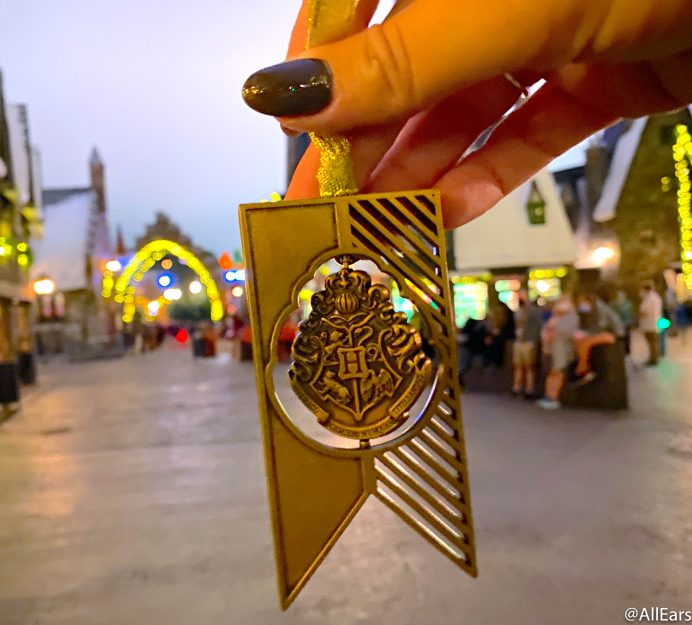 Before we got ready to watch the show, we admired the Hogwarts Express…
…as we made our way over to the assigned sections for each group that were in place to watch the show take place on the castle.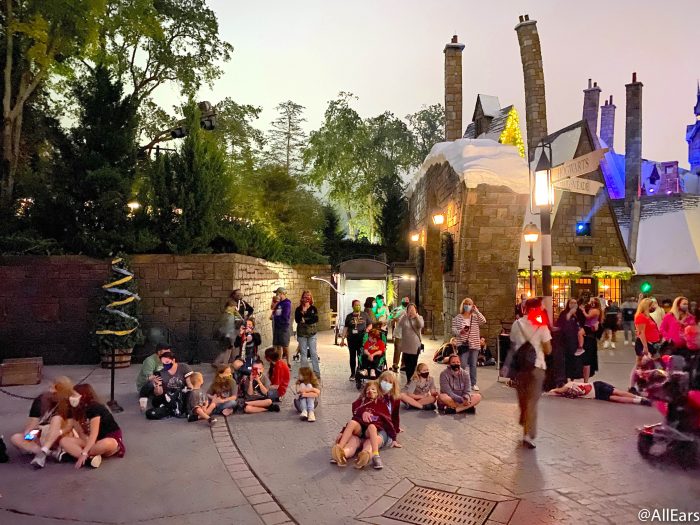 If you haven't watched "The Magic of Christmas at Hogwarts Castle," the show lasts about 7 to 8 minutes. Projections like the ghosts caroling, the flying car Fred and George advertising the Weasleys' Wizard Wheezes, the Yule Ball, and the castle getting decorated make everything feel super festive.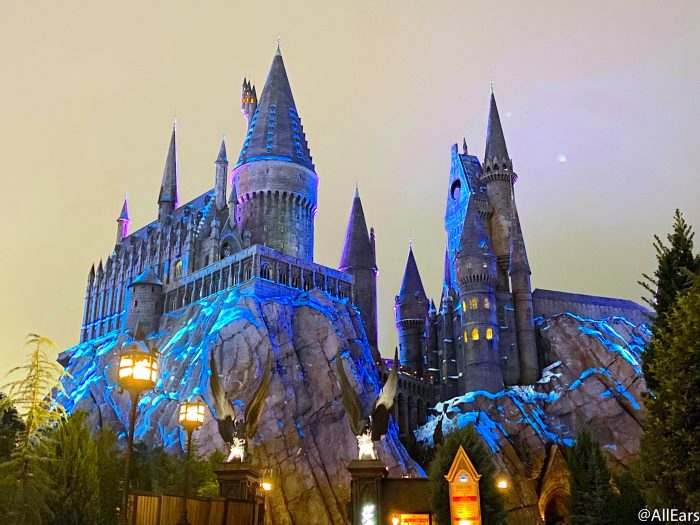 And remember — going on this tour is the ONLY way to see the Hogwarts projection show this year!
Overall
For the amount we got to do, see, and eat in a three-hour time frame, we definitely thought that the Holiday VIP Tour was worth the $60 (pre-discount) price tag! We especially enjoyed watching the show in Hogsmeade as it was a treat to only be there with 150 guests or less instead of giant crowds like previous years.
The postcards and ornament were a nice final touch to the evening, along with the ability to wander through Hogsmeade for a bit at night with very few people around.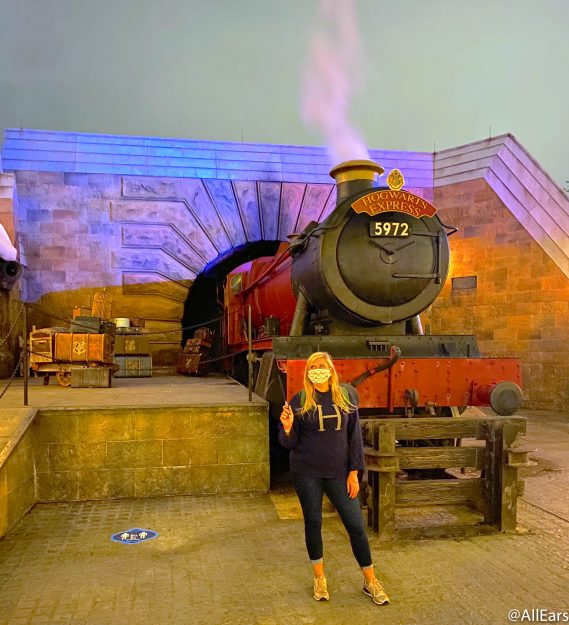 We also LOVED meeting the Grinch since it's the only way to meet him in the parks without him taking your photos. The interactions were a lot longer since you could have more one-on-one time with him. The VIP access was a plus since you were able to avoid lines, which would be an even bigger benefit and time saver with busier days closer to Christmas.
Night! 🧙🏼‍♀️ @UniversalORL pic.twitter.com/VCn7CG6LHY

— AllEars.Net (@AllEarsNet) November 23, 2020
Our guide was also amazing and never rushed us, while still keeping us on schedule. She had a blast interacting with guests of all ages, while also giving us fun trivia facts about the parks! If you're looking for something unique to do in Universal Orlando this holiday season, we highly recommend trying the Holiday VIP Tour for yourself. And, we'll be sure to give you a look at everything else you can find in Universal Orlando throughout the holiday season!
Will you be heading to Universal Orlando for the holidays? Let us know in the comments below!