If you've been to Disney World or you follow along on AllEars' daily Disney adventures, you know the World can get CROWDED.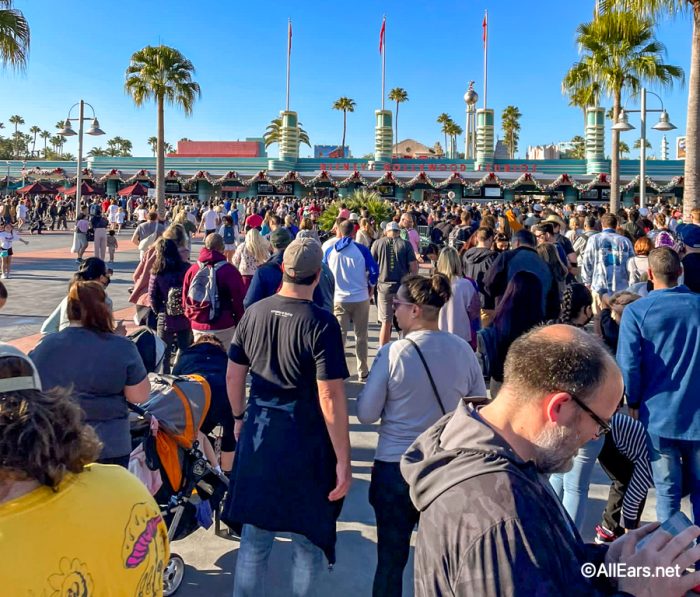 Whether you're trying to enter the parks, strolling down Main Street, U.S.A., rushing to your favorite attraction, or just walking around, you will likely be surrounded by a LOT of people.
If you find yourself needing an escape from the throngs, take our advice and head to one of these HIDDEN areas in Disney World!
We spend a ton of time in the Disney World parks, so we've discovered a lot of the secret areas where you can find relief from all the crowds. But you probably won't just stumble upon these spots during your normal Disney day — you've got to know about them to find them!
Let's take a look at some hidden spots in each of the Disney World parks.
Hidden Spots in Magic Kingdom
Magic Kingdom is one of the top offenders when it comes to overwhelming crowds. That morning walk down Main Street, U.S.A., is not always as magical as we want it to be if we're being jostled by a big crowd.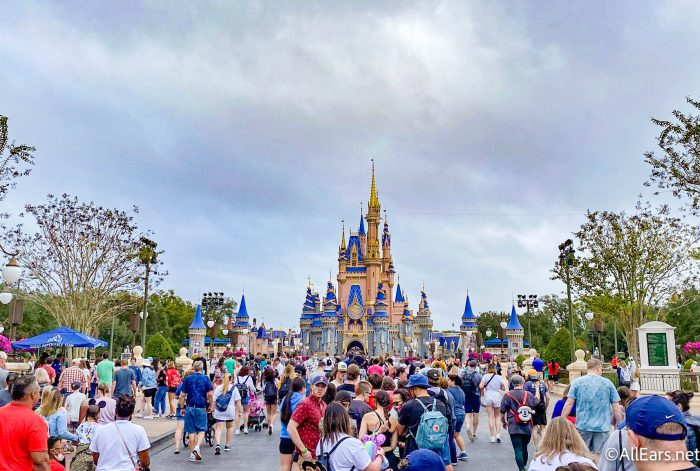 But never fear: we've got some great secluded spots for you to catch your breath and enjoy a few minutes of peace.
Tom Sawyer Island
Tom Sawyer Island is actually an attraction, although it's sort of its own Magic Kingdom land as well. You get to the island by riding on a log raft, and you'll return to Magic Kingdom in the same way.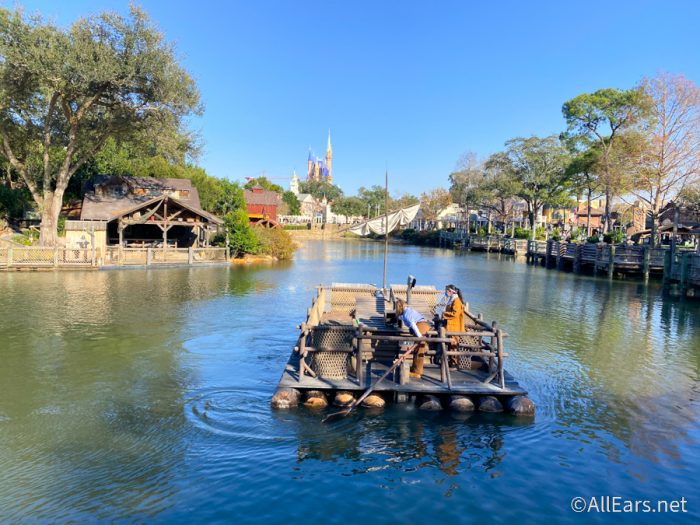 But once you're on the island, you may never want to leave the peaceful spot. You can explore the area on dirt paths and bridges and look for secret caves along the way.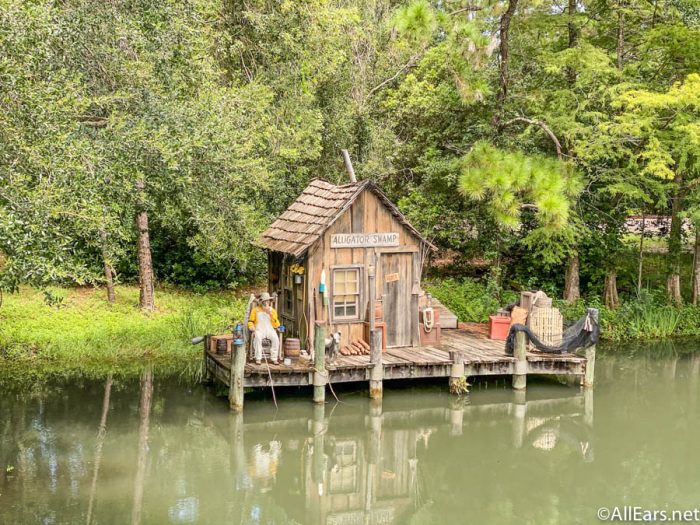 Or if you're in need of a real break from the action, you might just find a bench or a rocking chair to relax and maybe even catch a quick nap.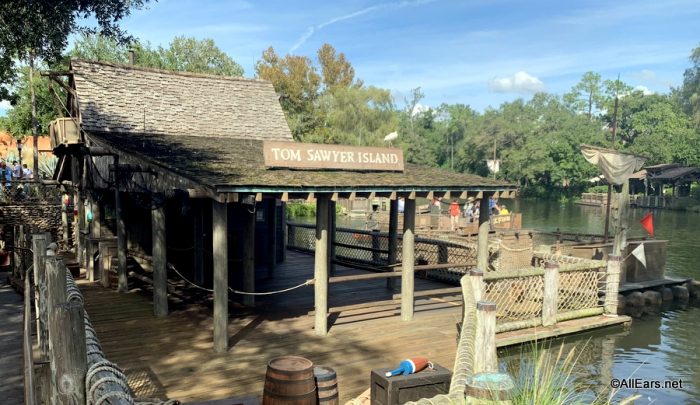 With tall trees and plenty of room, this island provides a great (and slightly cooler) escape from the wild crowds of Magic Kingdom.
Seating Area in Storybook Circus
Storybook Circus might not seem like the best quiet spot, with bright colors and lively music, but we actually found one of our favorite hideaways in this area of Magic Kingdom. If you head to Pete's Silly Sideshow, you'll find a shaded outdoor seating area just off to the side.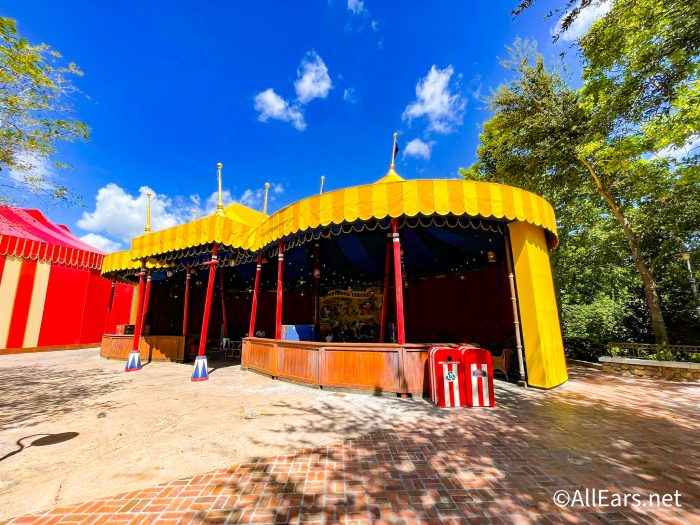 This little spot has an eclectic assemblage of benches, chairs, and tables, so you can bring a snack or even your lunch here to enjoy some quiet time.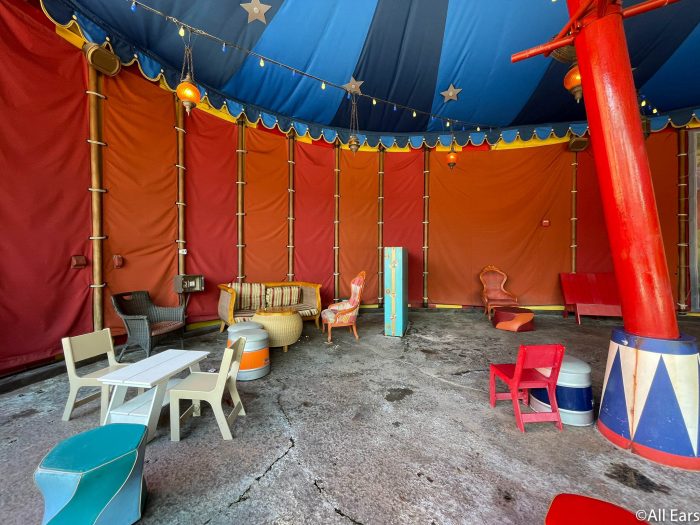 And one of the best parts? There's even a little charging station! For those without portable chargers, this can be a life-saver.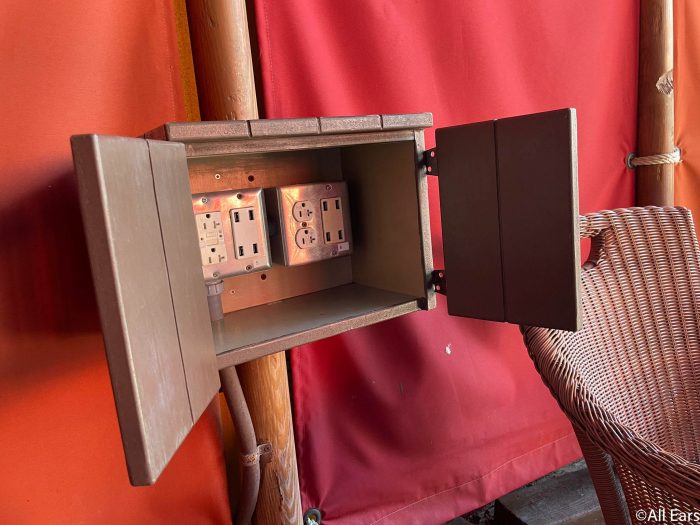 If your phone tends to run out of gas halfway through your park day, you can stop here to recharge (both literally and figuratively).
Center Street in Magic Kingdom
Main Street, U.S.A., is pretty much always a busy, crowded area, but there's a small side street that few people venture into, making it a great escape if you need a breather from those crowds.
If you're walking on Main Street, U.S.A., find the Crystal Arts shop. Center Street (yes, it has a name!) is located right beside it!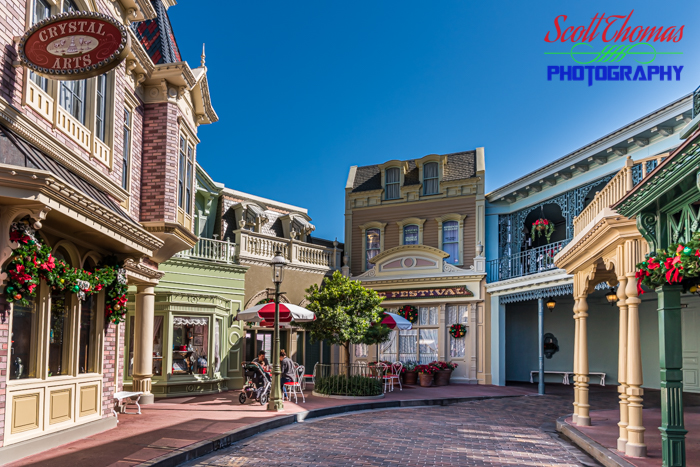 You can head down it to find Uptown Jewelers and a couple of other shops, or just take some time to people-watch and relax.
Tomorrowland Terrace
The Tomorrowland Terrace restaurant is still not open in Magic Kingdom, but you can head into the outdoor dining area to find plenty of seating in the shade.
Although not all of the dining area is open all the time, you can usually at least find a cool place to stand and get away from the bustle outside.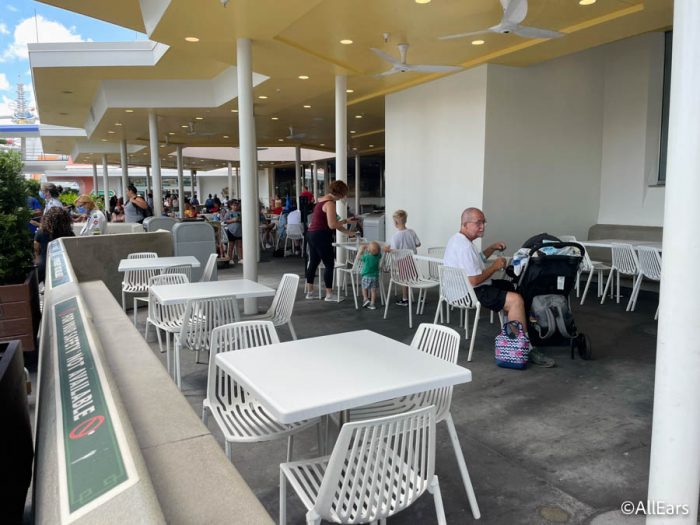 And you can't beat the views of the Cinderella Castle that you'll find from this spot as well!
Hidden Spots in Disney's Animal Kingdom
In our humble opinion, Animal Kingdom is a pretty zen park altogether. When we're looking for peaceful spots in Disney World, a lot of them can be found in this park. There is just a ton of gorgeous landscaping, soothing sounds from nature, and lovely shade.
That doesn't mean Animal Kingdom doesn't have its fair share of the crowds, though. After the rush to Flight of Passage in the morning or an afternoon spent waiting in line for the Festival of the Lion King, you might need one of our favorite quiet spots for a quick break.
Between Pandora and Africa
The pathway from Pandora to Africa is one of our favorite places to walk in Animal Kingdom.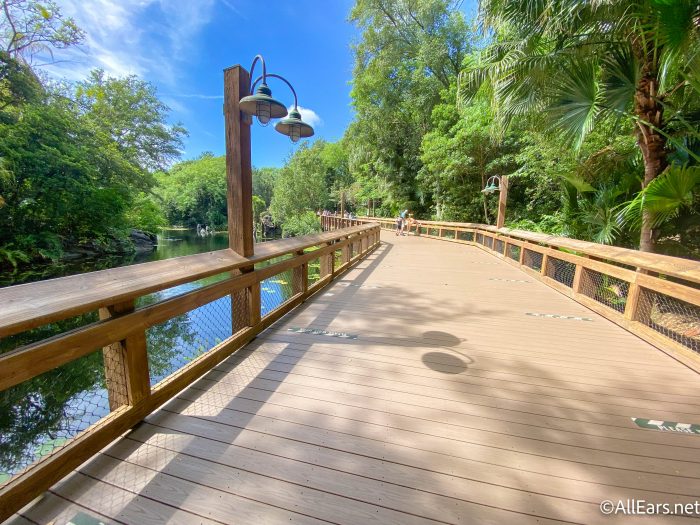 You'll stroll along a long bridge to get between the lands, and there's some shade on one side and a view of the Discovery River on the other.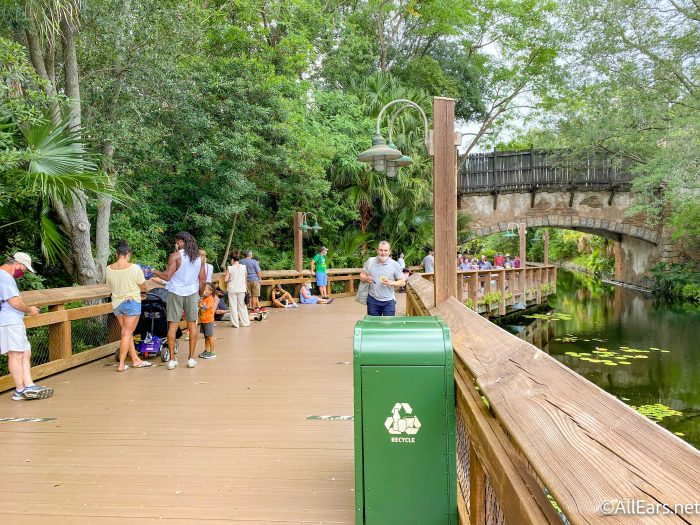 You might even get to see some characters along the way, as boats will occasionally float by with friends like Mickey, Minnie, Rafiki, and others.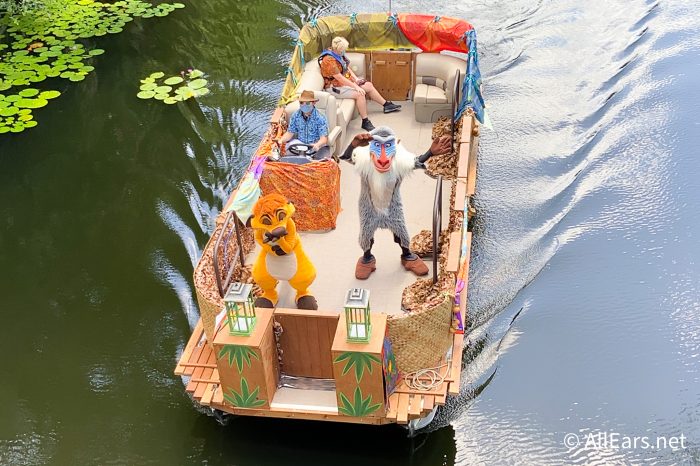 There isn't any seating available, but this is a great place to casually stroll through some lovely scenery as you meander over to your next destination.
Tree of Life Garden
Head to Discovery Island for the next peaceful spot: the Tree of Life Gardens.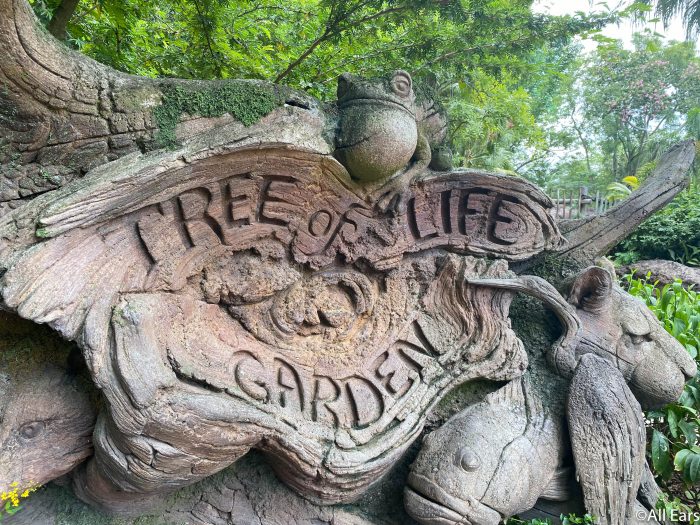 These gardens have walkways through some beautiful stone carvings and shaded areas, and you might pass by a few animal exhibits during your visit as well.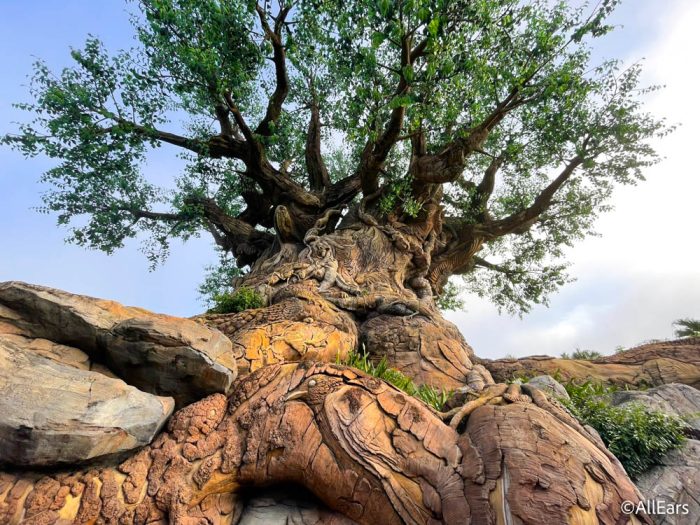 There is some limited seating in the form of benches along the way, so if you're lucky enough to find an empty chair, you can relax for a while and enjoy the scenery.
This is also a great spot for kids, since they can explore the peaceful area while the adults take a much-needed break.
Animal Trails
Some of the most underrated parts of Animal Kingdom are the animal trails. The Maharajah Jungle Trek has exhibits holding animals like a Komodo Dragon, Gibbons, and (the star of this trail) a tiger family.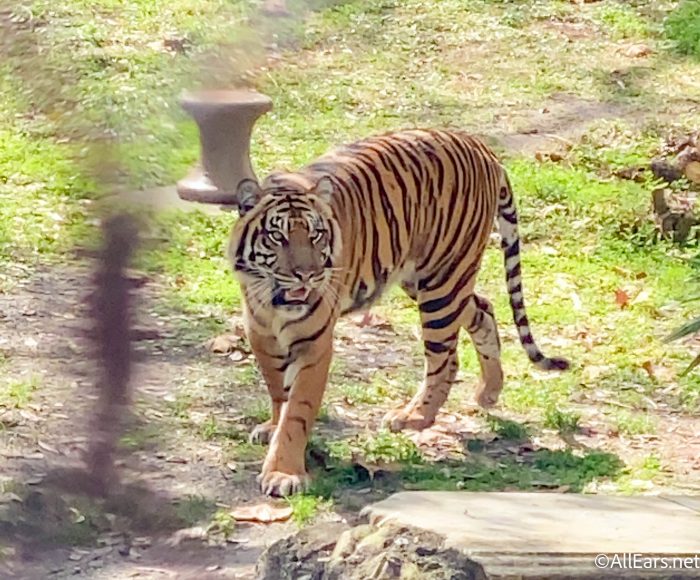 Seeing the animals is a huge bonus, but this is also a great spot to find shade, quiet, and a relaxing moment.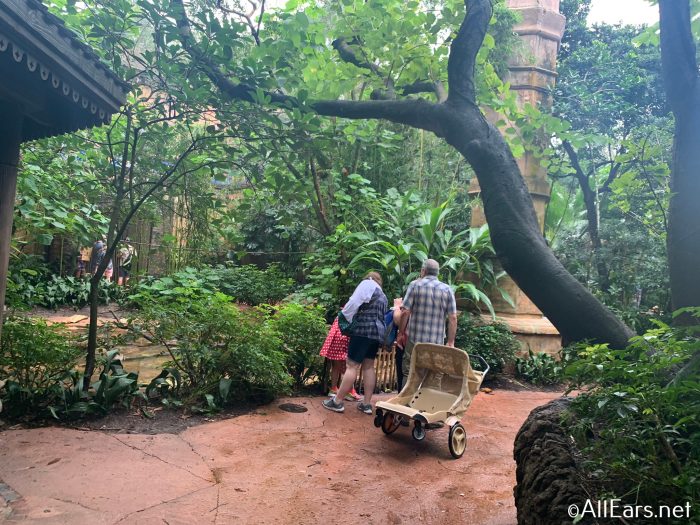 The Gorilla Falls trail features — you guessed it — a Gorilla troupe.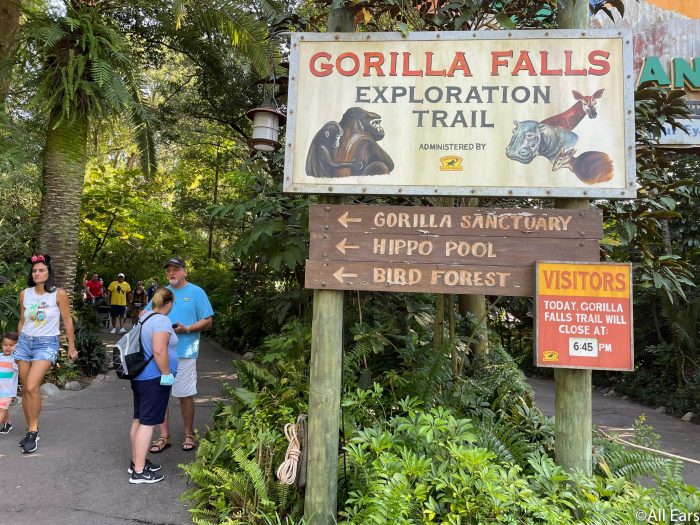 You'll pass several other animals along the way, and once you find the Gorilla exhibit, you might be lucky enough to see the newest addition to the family: baby Ada. Even if Ada isn't out, she's got plenty of family members who like to wander around and play in their large enclosure.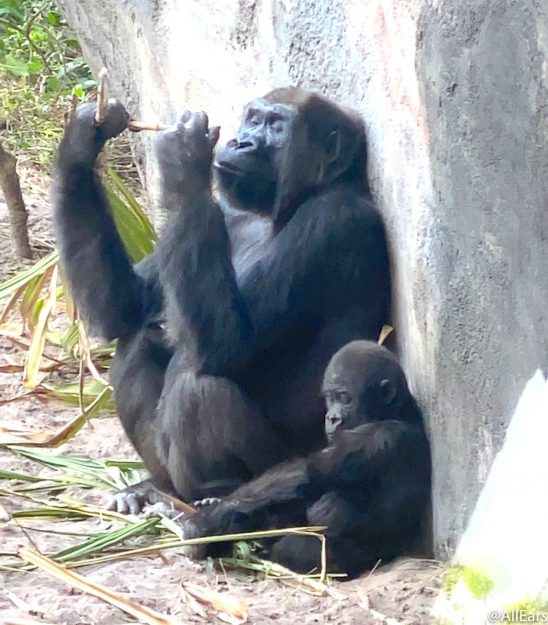 There's a suspension bridge that's super fun for little kids to walk across, and you'll usually find this trail less crowded than most of Animal Kingdom.
Hidden Spots in EPCOT
EPCOT is honestly a treasure trove of beautiful, secret spots. The World Showcase is FULL of them! Most guests stick to the main promenade and only venture into the countries' pavilions if they're looking for a snack or attraction. But you can find something even more valuable inside some of these pavilions: peace and quiet. Here are a few of our favorite spots in this park.
Shanghai Disneyland Exhibit
In the China pavilion, you can head into the Shanghai Disneyland Exhibit (located in the House of the Whispering Willows Gallery) to find an air-conditioned oasis of quiet.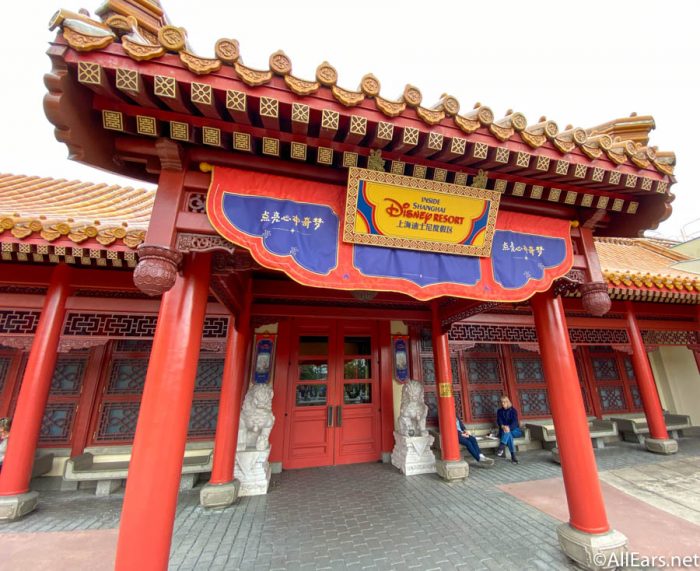 This spot has a lot of interesting artifacts and information about Shanghai Disneyland, but it's most valuable feature is definitely the peaceful atmosphere.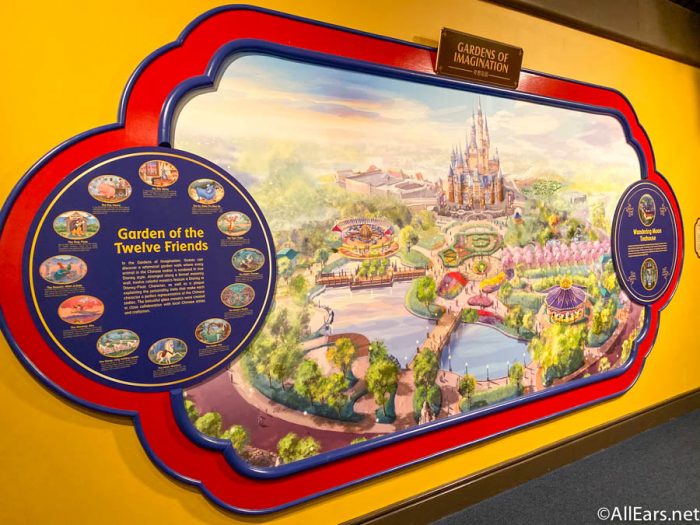 You can wander through the exhibit and take a cool break from the sweltering heat that sometimes makes the World Showcase a bit of a nightmare. And you'll get to learn all about another beautiful Disney park while you're at it!
Fez House in Morocco Pavilion
One of the most gorgeous parts of the Morocco pavilion is hiding in plain sight. If you enter the pavilion and turn to your left, you'll find a doorway leading into a separate area.
Trust us — you want to go through that doorway. This area is called the Fez House, and it's a beautifully decorated recreation of an authentic Moroccan home.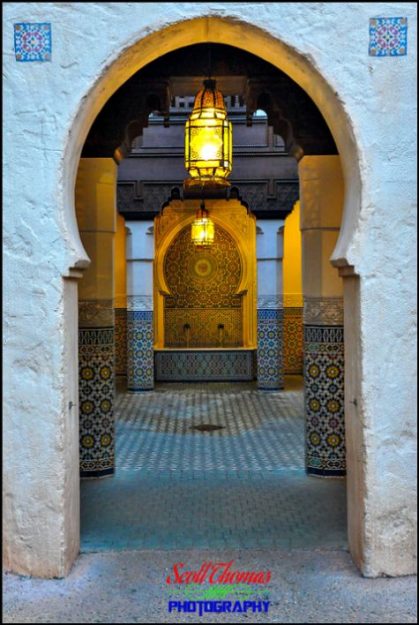 The area is wonderfully quiet, and if the fountains are running then you'll get a lovely background noise from them.
Back Area of Morocco Pavilion
The Morocco pavilion is so peaceful that we have ANOTHER quiet spot that we love here.
If you head deep into the pavilion, you'll find a quiet area in the back that has tables, chairs, and some beautiful decorations.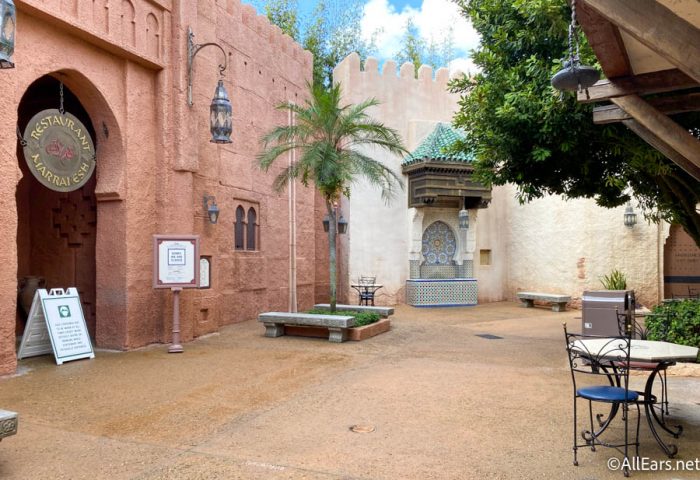 There aren't usually many people back here, so it's a great place to bring your lunch and enjoy a peaceful meal.
Back Area of Canada Pavilion
Whether you're starting in Canada or wrapping up your World Showcase walk, you might want a little breather from the crowds on the promenade. Head up the stairs from the main walkway to find the gift shop…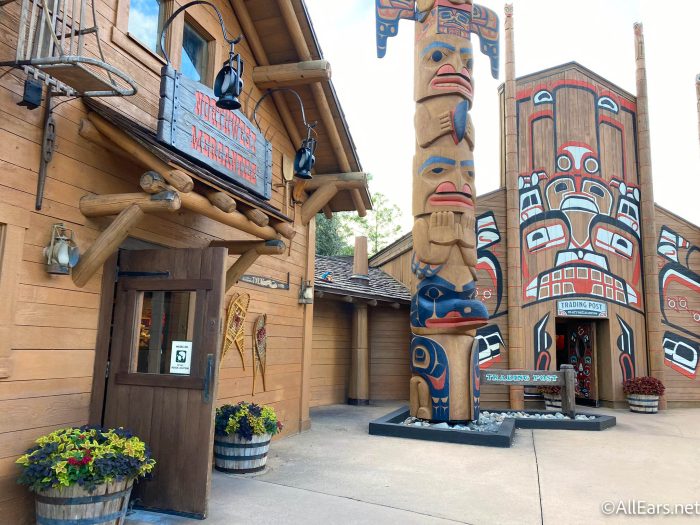 …and then follow another staircase to a secluded area behind that.
This spot has a couple of benches next to a huge waterfall that provides great background noise and drowns out the crowds.
You can also head down to the paths below to see the waterfall up close and visit the Canada Far & Wide attraction.
Hidden Spots in Disney's Hollywood Studios
This park is one of the toughest when it comes to escaping the crowds. There just aren't very many secluded areas, and the crowds here are REAL. With several big-ticket attractions and some incredibly themed lands inside, it's no wonder that a lot of people want to visit Hollywood Studios.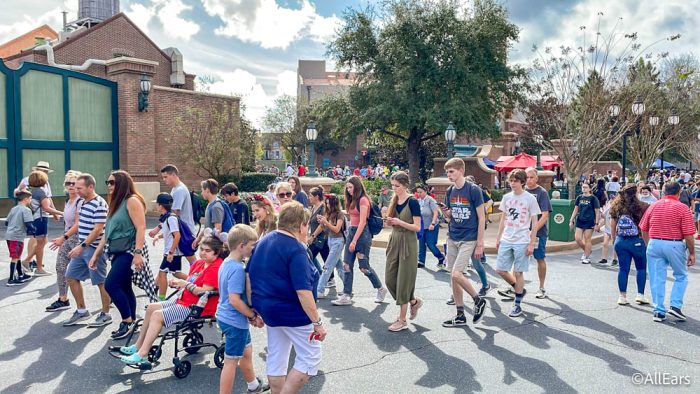 But don't worry! We still managed to find a couple of escapes for you, and after waiting in a long, crowded line for Rise of the Resistance, you're gonna need them.
Muppets Area
Most people only venture into the Muppets area to grab a snack at PizzeRizzo or see the Muppet*Vision 3D show.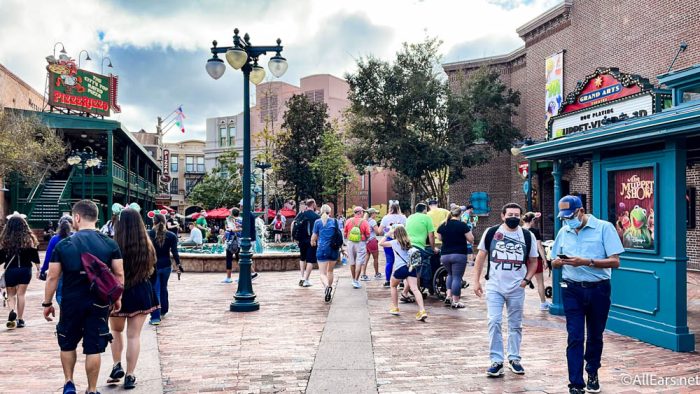 But if you go a little further into this section, you'll find a quieter street with a couple of benches that's perfect for a relaxing break.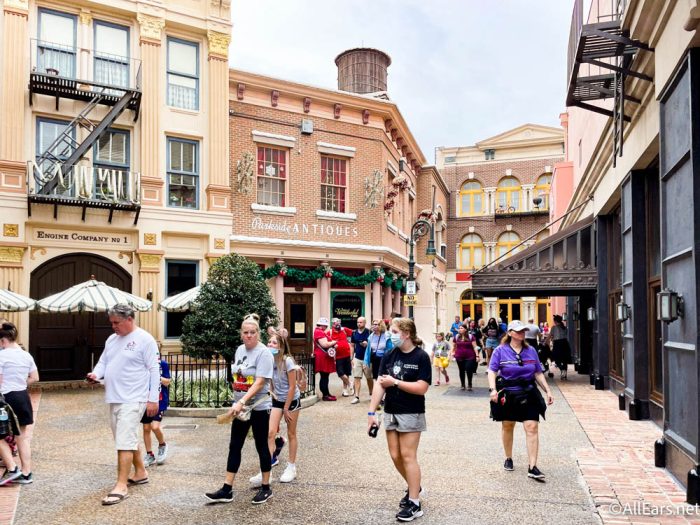 Oh, and pro tip — don't actually eat at Pizzerizzo. They've got some enticing-sounding food like pizza and subs, but you can find better theme park snacks at Ronto Roasters or Woody's Lunch Box.
Walt Disney Presents
This spot is not really hidden, since you'll pass it to get to Toy Story Land from the main hub area.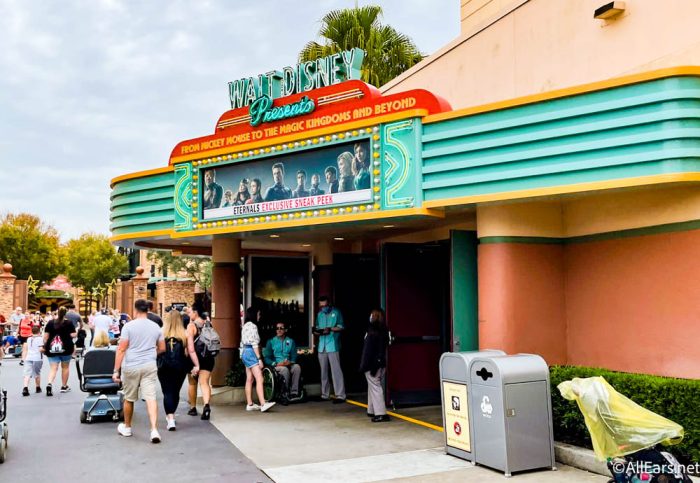 But most people never wander inside! Inside, you'll find exhibits about Disney's latest projects, including some about new movies or the Disney Wish cruise ship.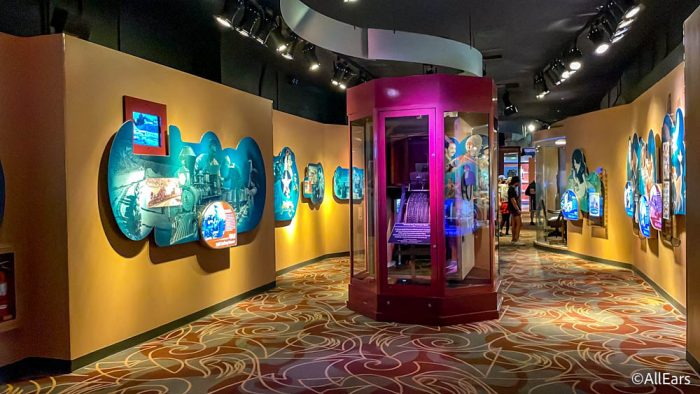 It's air-conditioned and not usually crowded at all, so you'll be able to enjoy a nice break from all the people and take a minute to cool off before hitting the next ride.
Other Hidden Spots in Disney World
We've covered the parks, but there are a couple of other great spots in Disney World that you might miss if you're not careful. Since these aren't inside the theme parks, they're even harder to stumble across in your normal day!
Disney's Wilderness Lodge has some amazing fireplaces in the lobby and in other areas.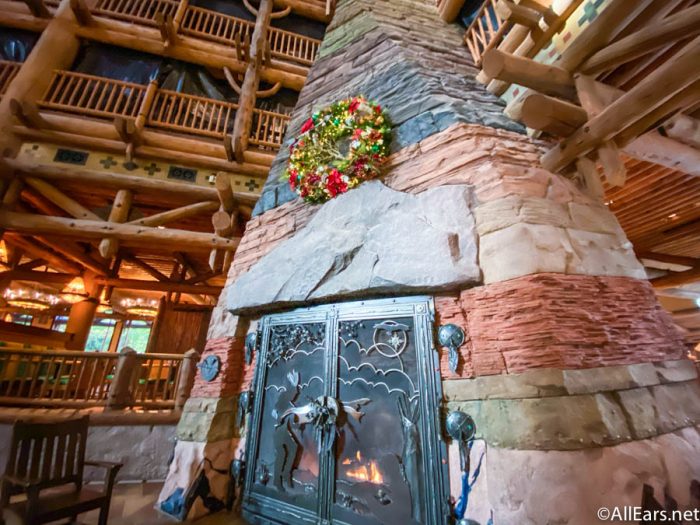 One of our favorites is right above the main entrance, on the second floor.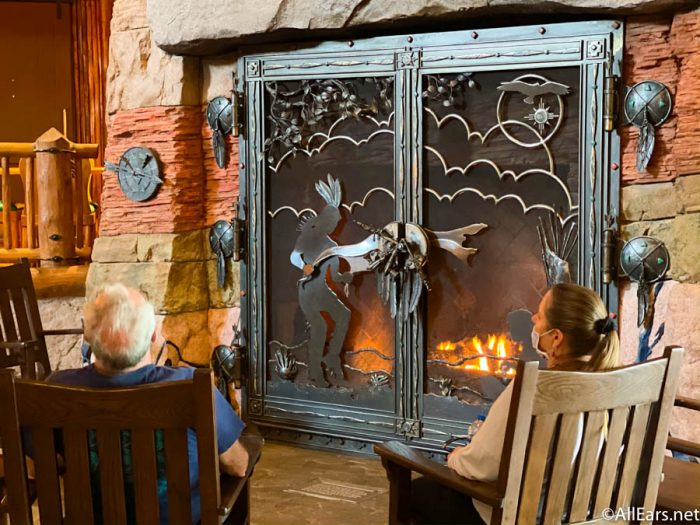 This spot has some seating around the fire, and it's a very cozy place to rest up, whether you're staying at this hotel or just passing by.
Although you might want to use the Monorail to get to the Magic Kingdom quickly from the Grand Floridian or Polynesian, if you've got some time and want a relaxing trip, you can take the walking paths instead.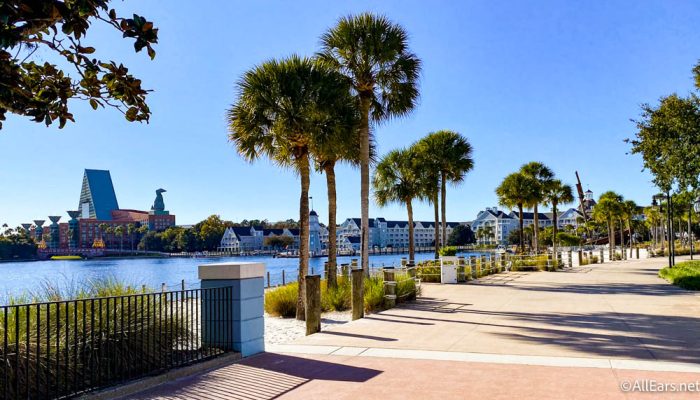 These paths are usually pretty quiet, and you'll get to see some beautiful landscaping along the way.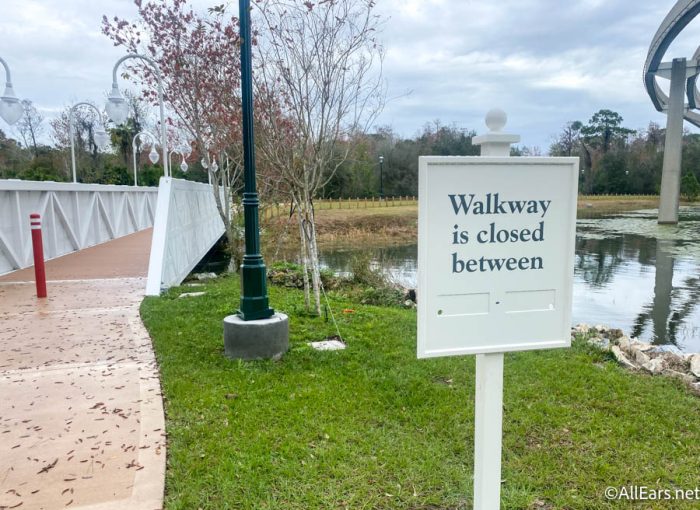 You'll also be near the water, so that might help to keep you a little cooler during your trip!
That's it for our list of some of our favorite hidden spots in Disney World! Hopefully they'll help you escape the crowds and find some peace and quiet during your next vacation. Keep following AllEars for more tips and tricks as you plan.
What's your favorite quiet spot in Disney World? Let us know in the comments.