Walt Disney World is FULL of different restaurants, some of which are absolutely incredible… while others aren't so much.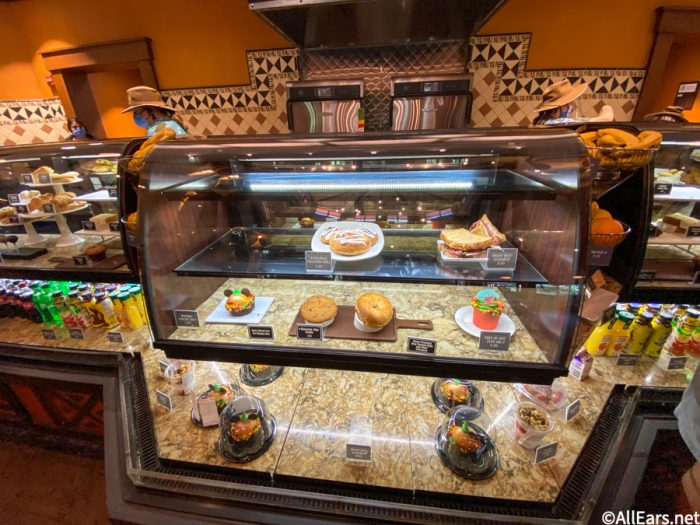 But even Disney World's worst restaurants have a few dishes that some AllEars readers in our reader reviews have said are quite yummy! Whether you're headed to Tony's Town Square or Yak & Yeti Local Food Cafe, here are the things you may want to consider ordering at some of Disney World's "worst" restaurants.
For each Disney World theme park and Disney Springs, we looked at the 2-3 restaurants that All Ears readers have rated the lowest and went through YOUR reader reviews to find what items you've said you liked best. Let's see what our readers have had to say.
Magic Kingdom
At Magic Kingdom, the restaurants that are rated the lowest according to our reader reviews are technically Tomorrowland Terrace, Tortuga Tavern, and Diamond Horseshoe. But since all of these are temporarily unavailable and/or mostly seasonal (and since Tomorrowland Terrace will actually be reopening with a whole new menu), we skipped ahead to the next lowest rated restaurants on the list.
Score: 6.33/10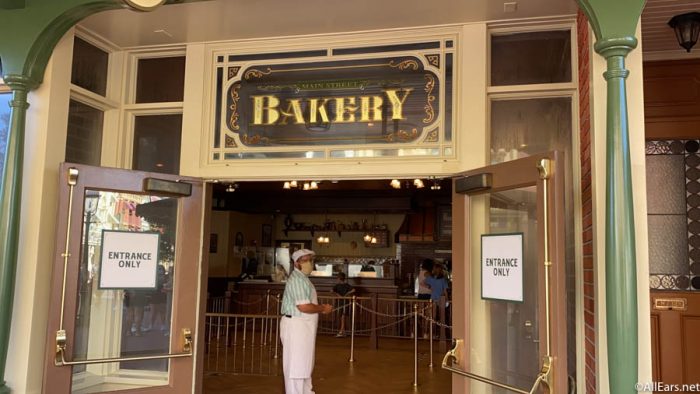 "We got the cake pops, a sugar cookie, and a few danishes/ croissants. Everything tasted good and if you have several dining credits left over at the end of your vacation, you can grab all these as snacks or trade one dining credit into 3 snacks PLUS, even grab a few cold sandwiches or the ride home!"
"We love frappucinos and enjoyed these morning and evening during our fortnight stay.  This is definitely the busiest outlet at Walt Disney World, however, the line does move at a reasonable speed."
"We all just love the sandwiches, priced at roughly 5 dollars each. I even go so far as to bring in a large bag of chips to share. And with Starbucks locations at each of the main parks plus Disney Springs, it's a win."
"A great place to stop for an afternoon pick me up. We shared a cinnamon roll between three people. My son practically devoured the whole thing while we were doctoring up our coffee! Oh well, next time we will order two!"
Score: 6.84/10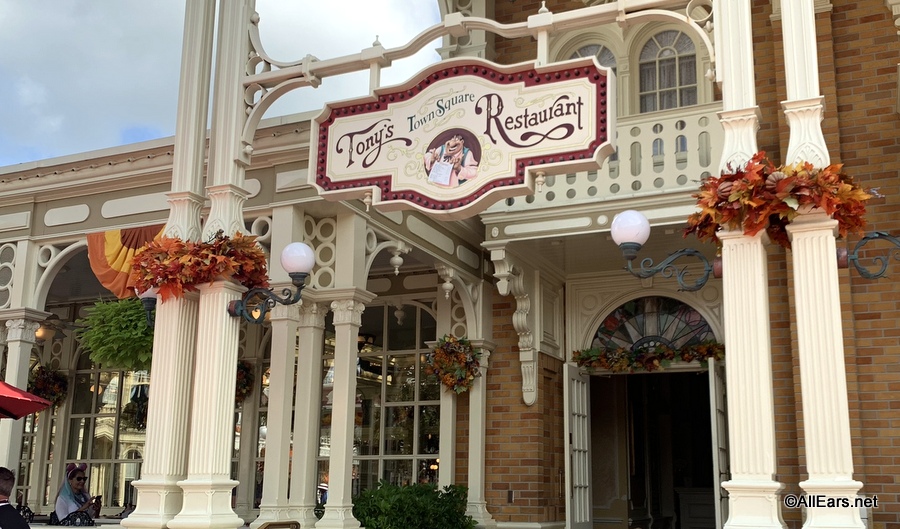 "it's the cutest with all the lady and the tramp photos everywhere. it smells amazing in there. i had the spaghetti and chicken parmigiana, it was absolutely delicious and i had the whole thing."
"I believe this is the best restaurant within the Magic Kingdom. [I've] been here twice and each time had the steak medallions with the bacon marmalade sauce. [It's] absolutely incredible, as is the service, which is pretty expected throughout property."
"My family thought we would try Tony's for lunch since my DD loves Lady and the Tramp. This place is a dining gem. My wife and had the mozzarella tomato salad and we thought it was excellent…My DS ordered the shrimp scampi and said it would have been better with a little more garlic. However, he said it was a winner that he would order again. My wife and I both had the chicken parm. We agreed that this was one of the best renditions of this Italian classic that we have ever had. The chicken was very moist and the sauce had to be from a secret recipe. During our meal we tried the cappuccinos and in our opinion, they were as good as it gets."
Score: 6.93/10
"I know many people avoid Cosmic Rays, however this is always a must for my family & I when we want something easy for lunch. We typically get the chicken nuggets & french fries here and they never disappoint! 
"We were all in the mood for a burger and we were in Tomorrowland – so Cosmic Rays it was! We waited in line for only 5 minutes, ordered 4 Angus Bacon cheeseburgers, 3 with fries…All the burgers were hot and fresh. We added yummy stuff from the topping bar and consumed our lunch while listening to the Alien."
"I love Cosmic Rays Starlight Cafe! I think it is a wonderful place to eat with fun entertainment (Sonny Eclipse!!!) and good food! I had the chili dog (which was fantastic!) and fries which were OK…Also, there is a wide variety of food on the menu but the chili dog is my fav. Only con it's a little hard to find a seat but not too bad."
Rating: 6.90

/ 10
Recommended By: 79

%
Menus:

Lunch/Dinner

Services:

Quick Service
EPCOT
Score: 6.00/10
"Despite our many trips over the years and my husbands LOVE of Chinese food, we have never tried this place before! We happened to be here when we got a bit hungry so we decided to get a couple of things to share between the 4 of us. My husband and daughter split an order of the potstickers and really enjoyed them. My son and I opted for the Orange chicken with the steamed rice. It was surprisingly good! My husband and daughter decided to get in on our plate (against our wishes 😉 ) and they really enjoyed it as well! This will be on our stop for a meal next trip."
"We ate here 1/31. 2 orange chickens and 1 order of egg rolls. We used the do. The egg roll are a snack credit. You get two in an order. They [were] long and thin. They were good. She made sure to tell me there was pork in them. The orange chicken comes with white rice. Definitely can taste the orange and plenty of sauce to mix with rice."
"We have had the orange chicken, beef noodles and Sichuan chicken all 3 are really good." (Note: the beef is now served with rice, and the Szechuan Chicken is no longer on the menu.)
Score: 6.67/10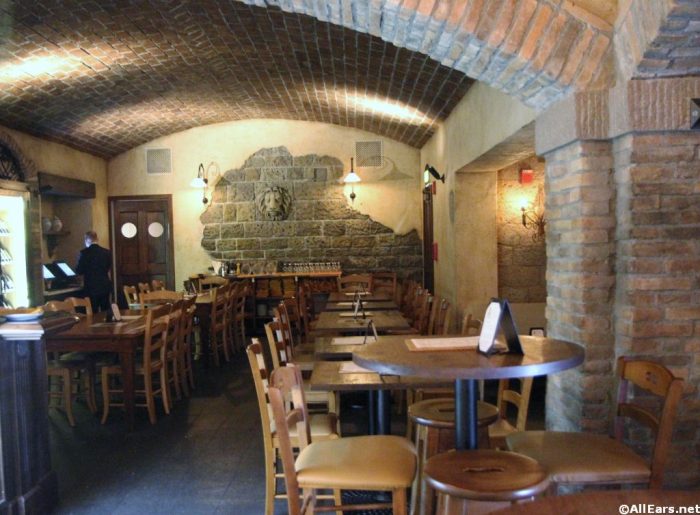 "I stopped here for a light dinner and I enjoyed it so much. The small plate of pomodoro pasta was actually quite generous and satisfying. It's been a couple years since I've eaten here and I've already made up my mind I'll eat here again on my next visit. So good."
"We were here in mid August, and have been here now a few times. LOVE IT! Our daughters had just turned 21 prior to our trip, so this was their first time getting to order wine in a place like this. We ended up ordering a platter with cheese and prosciutto, and a few pasta plates. Everything was amazing…the wines we all ordered were wonderful. It is expensive here, without a doubt…but a great experience that we will definitely repeat."
"Have tried Tutto Gusto during the day and at dinner time recently. Loved the small plates concept — makes this the perfect spot for lingering over a glass or two of wine while nibbling on some savory treats. Loved the mozzarella and tomato panini!"
Score: 7.00/10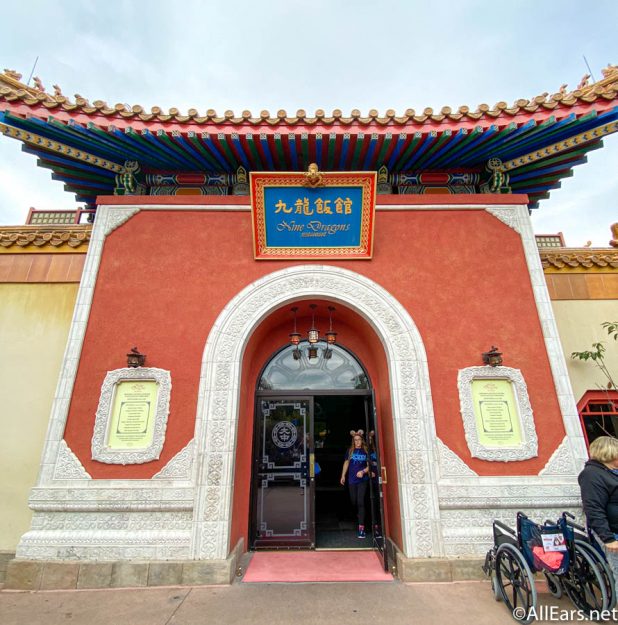 Note: This restaurant is temporarily unavailable at the moment.
"This is my favorite restaurant at Epcot – which is saying something…They offer a typical Chinese menu. Everything I have ever tried has been delicious and the servings are generous. My favorite item on their menu is the Kung Pao Chicken. You can order it spicy or extra spicy. I love the extra spicy, but if it is your first time ordering it, I would recommend going with the spicy – as those dried chili peppers can get intense!"
"I had the five spice fish which was freshly prepared, so there was a bit of a wait. The portion was a good size and came with steamed rice. I Loved it! The Jasmine Iced Tea was delicious. The service was attentive and professional. Can't wait to go back."
"The food was delicious. I had the Honey Sesame Chicken and my husband selected Kung Pao Chicken. We both left there very satisfied and impressed with quality of service."
"My wife had the Iced Chai Tea, which she loved. I had the raspberry iced tea and was very good. We split the vegetable spring rolls appetizer, which was 2 rolls total. They were very good. We split the Honey Sesame Chicken, which was excellent and didn't taste like any of our local Chinese restaurants. I have stayed away as the posts had said that is wasn't any different from their home offerings. We enjoyed our visit and would be back."
Disney's Hollywood Studios
Rating: 6.23/10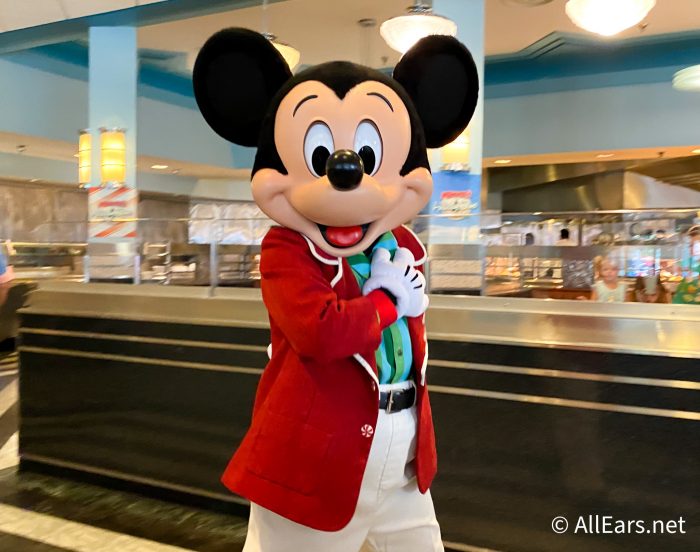 The food at Hollywood & Vine used to be buffet-style, but it has now changed to a family-style meal and the menu has been greatly revamped! So although there was a positive reader review about the buffet choices from before these changes, we instead want to point out our own thoughts on the new menu. During our recent visits to this spot, during Halloween and Christmastime, we've truly enjoyed the Garlic and Cracked Black Pepper Prime Rib of Beef and Pork Osso Bucco. If you're only familiar with this spot's old menu, you should definitely look at its new offerings and see if there's something there that you'd enjoy.
Score: 6.50/10
Note: This spot is temporarily unavailable at the moment.
"I had the Fairfax salad…The salad was very good…This food was a much better option than burgers or pizzas. Fortunately, we ate early because the line moves slowly. I'm sure it gets backed up easily. We definitely will eat here again!"
Score: 6.75/10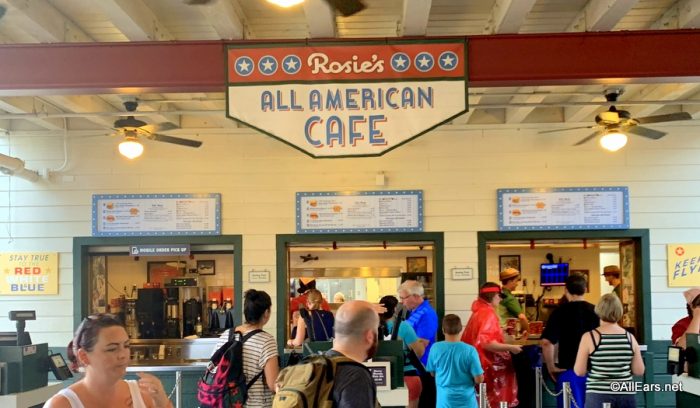 As is often the case in Disney World, the menu at Rosie's All-American Cafe has changed quite a bit over the years. Some of the positive reviews referenced items that are no longer on the menu, so instead we wanted to point out quickly that Rosie's has started serving a new breakfast menu with some tasty items we previously had at another spot in Hollywood Studios. 
Score: 6.78/10
Note: Woody's Lunch Box is set to reopen on November 25th!
"This is such a good restaurant I love being able to sit down and have a nice grilled cheese and tomato soup and their pop tart things are delicious! The seating is so cool and kids thought is was fun to sit on cheese and eat a grilled cheese."
"I had never been to Woody's Lunchbox until my last trip – and I was really glad I had given it a chance! I got a grilled cheese & tater tots and it was the best grilled cheese I've ever had! A particular stand out for me at this location was the 'Adult Lemonade' which is a cherry lemonade with vodka. That was my favorite drink I had the entire trip & will definitely be getting this exact meal again on my next trip!"
"We got breakfast her[e] and tried the Candied Bacon and "nutella" lunchbox tart. Super tasty!"
Score: 7/10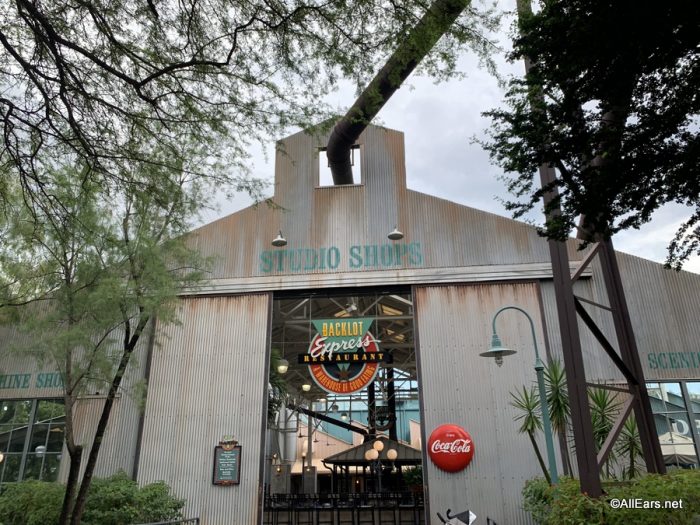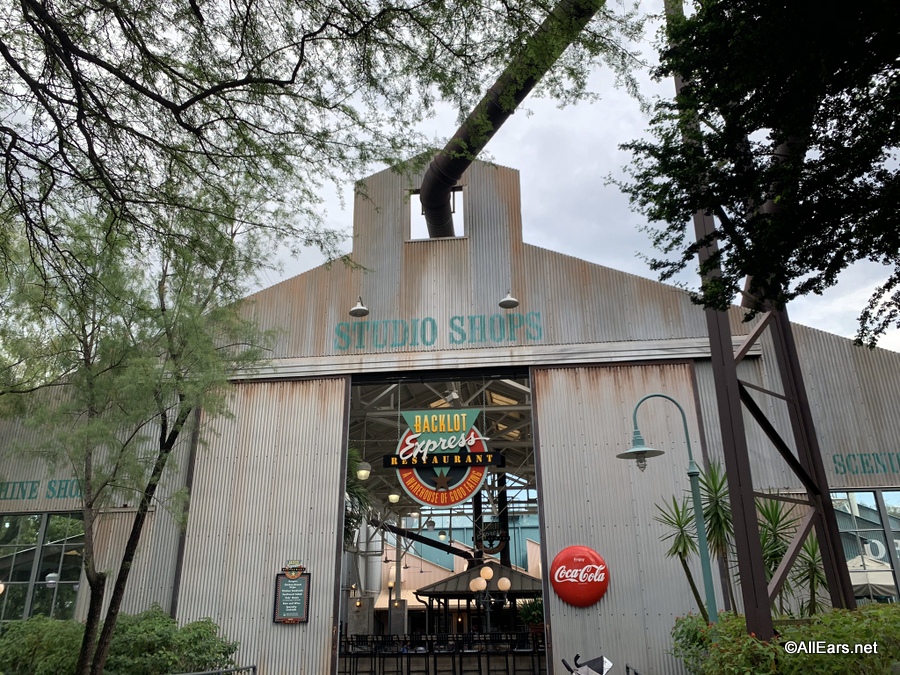 "I hit this in mid-afternoon between meals, so it was relatively quiet and not too busy. My burger was large and very good! Enough to share if I hadn't been so hungry. Other meals we've gotten there have been satisfying as well."
"Nice area with enough seating outside to make it a decent enough stop for lunch. Had the Cuban sandwich meal along with the wookie oatmeal cookie, and the seasonal salted caramel frozen hot chocolate…" Pros: "The burgers and other sandwiches, while typical for theme park fare, were actually better than I expected and I very much enjoyed it. The frozen hot chocolate was MMMMMMMM!"
"The salad and hummus platter is delicious…" Pros: "Vegan option was tasty, so much space and seating"
Disney's Animal Kingdom
Score: 6.29/10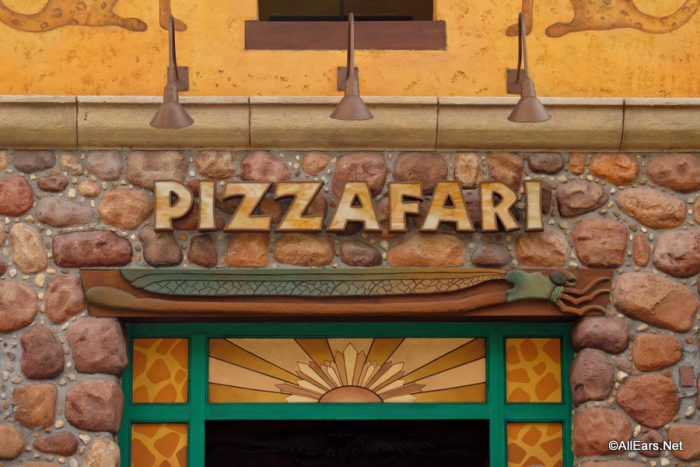 Note: This restaurant is temporarily unavailable at the moment.
"My family ate here on April 1 for lunch. We got in and ordered rather quickly…My youngest DS had a cheese pizza and ate everything but the crust, which he never eats anyway. I had a veggie pizza. It was good."
"we go here all the time for the shrimp flatbread pizza, yum"
"We ate here 9/10/2018 to try the new family style dining option…The salads were good, could have used a bit more dressing to my liking, but my hubby liked his just fine. Then we were brought our entrees, which were a pepperoni pizza (I think it had eight slices if I remember correctly), a dish of baked ziti and a dish of chicken fettucini alfredo, and a plate of mini cannoli. Everything was delicious, and more than enough food for two. We happily ate until we were full, then packed up the rest to take back to our studio for another meal later in the week."
"One of the better quick-service dining places in WDW, and a staple for those who like actual pizza and not the flatbreads they're replacing them with in other parks. The pizza is always good, as are the salads. Plenty to eat and reasonable prices."
Score: 6.7/10
"Went here on latest trip, and it exceeded expectations. The bowls, especially chicken rice bowls, are delicious! Harambe is quick and the prices are very fair. Food is similar to what you'd get at a chipotle and kind of like a less expensive, more limited version of Satu'li Canteen. Personally, definitely coming back, but it depends on your taste and your family's preference."
Score: 7.53/10
"Excellent treat-I'll have this mini mango pie again. Tasty, refreshing, yummy!"
"I had ordered the honey chicken. Looked and smelled so good. I was with a party of 12 and 9 of them were on a ride…Told one of them to hold the food and not to eat it. When I came back they had eaten the whole thing. It must have been good cause they didn't save me anything not even the rice."
"I ordered the pork egg rolls and chicken fried rice while my daughter had the basket of fries. We both liked what we ordered."
Disney Springs
Sore: 5.33/10
"I had the classic burger, which was 8 oz., on a soft potato roll with grilled onions and cheddar cheese. Cooked to a perfect medium, I really enjoyed it. Came with fries (or a salad), which were plentiful and hot and crispy. My lunch partner had the shaved brussels sprouts salad, which was outstanding. I'l try that next time, and there WILL be a next time."
"The steak was good, the mac and cheese was good, the desserts were good…"
Score: 5.54/10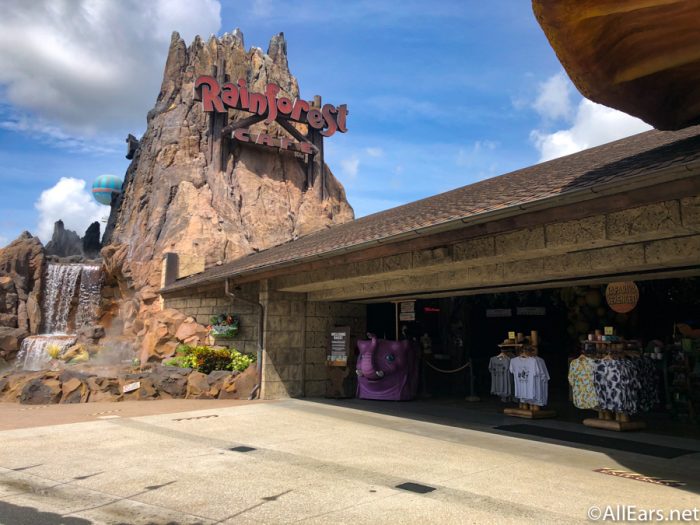 "I REALLY wanted to eat here as we have done it before a few times a few years ago and it was a SUPERB dining choice with super-fresh seafood and 4 star quality entr[e]e selections…We ordered mixed drinks in souveni[]r glasses and they were absolutely delicious and very well made…Our son ordered the bacon cheeseburger and it is VERY thick and big. He could not eat very much of it so I took it home. Tastes FABULOUS! My husband had the Prime Rib steak which comes with butter on top. If you're allergic, ask them to leave it off or take a pill. Overall, this is a GREAT place with an animatronic Rainforest-themed animal show that comes to live every 20 minutes and the food is to DIE for."
"We really enjoyed our lunch here on our last day at Disney…We ordered Rainforest burgers and a Turkey Club with a Chocolate Volcano for dessert — enough for the 4 of us to share! Everything was delicious."
Score: 5.91/10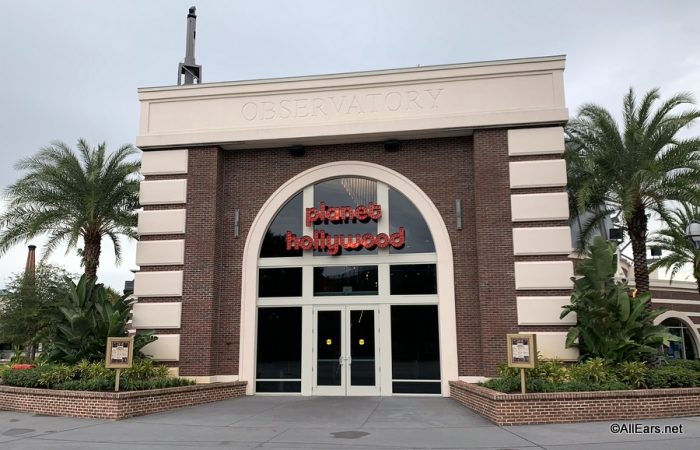 "I was before and after the revamp and holy cow the change was amazing, I liked the new theme a lot, the food was amazing (the freak shakes were totally good)…"
"We have eaten at the old PH and wanted to try the new one even though some of the reviews were not glowing. Wow….are we glad we did. The food was excellent (try the chicken and gravy), service was warm and welcoming and the atmosphere – great."
"I had the LA Lasagna it was outstanding. My daughter had the Mayor of Flavortown (burger) which she enjoyed. We had the World Famous Chicken Crunch as an appetizer." Pros: "Quality of food"
"The ribs are delicious, but they don't offer a half-rack. The fries are overly-spiced. The salmon also is really good. Be sure to ask what the special seasonal draft beers are, since they were from local craft breweries the[] night we were there."
Well, that's what AllEars readers had to say in terms of the best food options at the worst Disney World restaurants. Want to leave your own review of one of these spots or any of the other ones around Disney World? Head to our All Ears review page and tell us your thoughts!
Join the AllEars.net Newsletter to stay on top of ALL the breaking Disney News! You'll also get access to AllEars tips, reviews, trivia, and MORE! Click here to Subscribe!