It seems that many of us are in a similar boat: at home, missing all of our favorite places, and wondering what to cook next. As we work together to keep our families, friends, and neighbors safe by further flattening the curve, here are some recipes to bring a little bit of Disney Magic into your homes.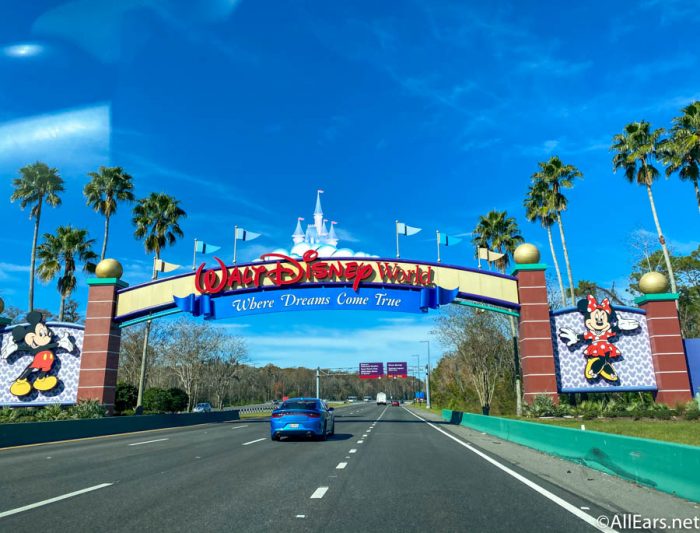 There are plenty to choose from here, and make sure you explore further, as we've got an index chock-full of Disney recipes for you to check out!
Here are
15 Disney recipes to make when you have no idea what to cook!
Soups
Sometimes our souls crave the simple sumptuousness of savory soup. We'll start our list with a few, as they're fairly easy to do and can go a long way toward satisfying both your hunger and your longing for a taste of Disney.
Tomato Basil Cream Soup from Disney's Grand Floridian Resort & Spa 
We'll start off with a mouth-watering Tomato Basil Soup, which can be found at Disney's Grand Floridian Resort & Spa. Creamy and delicious, it's not only a long-time favorite of ours but is quite easy to make!
Recipe:
Yield: 4 servings
Ingredients:
8 each plum tomatoes, chopped
1 small onion, chopped
2 cloves garlic, minced
1 stalk celery, chopped
1 medium carrot, chopped
1 teaspoon dry oregano
1 teaspoon dry basil
1 teaspoon dry thyme
1/4 cup white wine
3 cups heavy cream
Method of Preparation:
Sauté first 8 ingredients in a medium-size saucepot for about 8 minutes. Deglaze with white wine. Simmer for 5 more minutes. Add cream and simmer for 20-30 minutes. Remove from heat. Puree mixture with an emulsion blender or in a food processor. Strain through fine strain. Season with salt and pepper. 
Creamy Lobster Bisque from EPCOT 
Dive into the Lobster Bisque from Epcot's Coral Reef Restaurant. Hearty, creamy, and chock full of tender lobster meat, it's sure to satisfy your craving for some soup.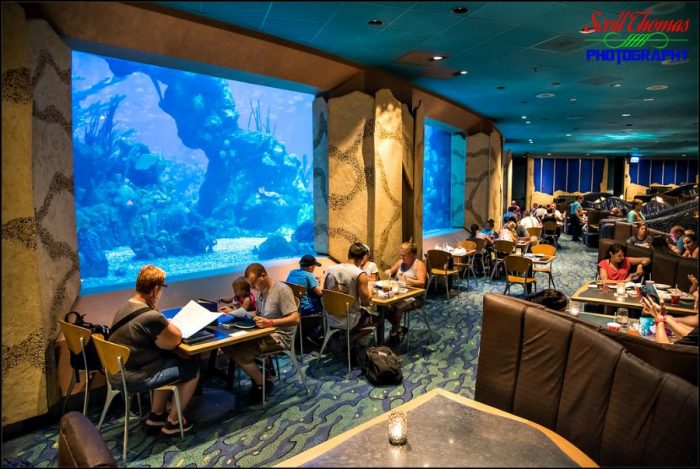 Recipe:
Yield: 4 servings
Ingredients:
4 cups milk
1/2 cup butter
1 TB paprika
1/2 cup flour
1 1/2 cups lobster stock
1/4 cup sherry
1/4 cup lobster or chicken base
1 pinch cayenne pepper
1/4 cup lobster meat (diced)
1 TB brandy
1/2 cup heavy cream
1 pinch chervil or parsley (dried)
Method of Preparation:
1. In a medium pot, bring milk to a slight simmer; do not allow to boil.
2. In small saute pan, melt butter and then add paprika, and flour and mix well.
3. Bake roux mixture in a 350 degree oven for approximately one hour.
4. Heat lobster stock and sherry, then add base, cayenne pepper, to the lobster stock mixture.
5. Then add the heated milk to this mixture.
6. Add roux.
7. Mix until well incorporated and thickened.
8. Let simmer for approximately 45 minutes to one hour to cook out the roux.
9. To finish the soup, flame lobster meat in brandy, add heavy cream and allow it to simmer.
10. Add mixture to soup and whisk in.
11. Finish with fresh chervil or parsley.
12. Dry herbs may be used, but add sooner.
Cheddar Cheese Soup from EPCOT
Few soups in "the World" make us salivate quite like the Cheddar Cheese Soup found at Le Cellier, in Epcot's Canada Pavilion. Laden with bacon, beer, and cheese, this soup is silky, smooth, and delectably delicious.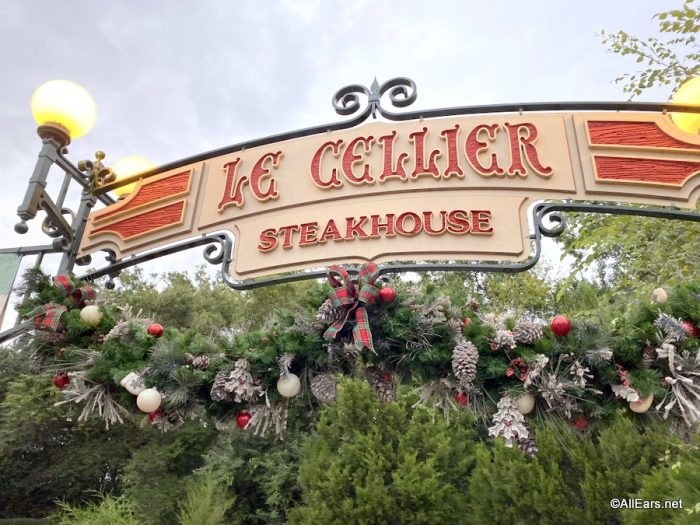 Recipe:
Yield: 6 servings
Ingredients:
 1/4 lb. smoked bacon finely chopped
 1 medium red onion cut into 1/4 in. pieces
 1/2 cup finely sliced celery
 1/2 cup finely chopped carrots
 3 TB all-purpose flour
 3 cups whole milk
 2 cups chicken stock
 12 oz. grated white cheddar, Canadian Black Diamond
 3 dashes Tabasco
 1/2 tsp. Worcestershire sauce
 1/2 cup Moosehead Canadian Ale, room temperature
 salt and pepper to taste
 1 TB thinly sliced chives
Method of Preparation:
 1. Cook the bacon in a large heavy-bottomed, non-reactive soup pot over medium heat until wilted but not browned.
2. Add onions, celery and carrots and cook until the onion is translucent and bacon has crisped.
3. Sprinkle in flour and stir constantly for 2 minutes. Stir in milk and stock, a little at a time, blending well to ensure there are no lumps. Bring to a boil, then cover and simmer for 15 minutes.
4. Remove from heat and whisk in cheese, Tabasco, Worcestershire and ale. Season with salt and pepper to taste.
Serve with your favorite bread and top with chopped chives.
Entrees
Soups make for great starters, but let's get to the real deal now! Below you will find various entree dishes from some of our favorite places in Walt Disney World Resort property. From bbq ribs to chicken parmigiana, we are sharing recipes that will bring a smile to everyone in your 'Ohana.
Island Barbecue Pork Ribs from Disney's Polynesian Village Resort
Cooking at home, you won't be able to see the fire spinning and hula dancing, but you can still enjoy some Island Barbecue Pork Ribs. This tasty central feature from the Spirit of Aloha Dinner Show at Disney's Polynesian Village Resort is sure to be a showstopper for your next family feast!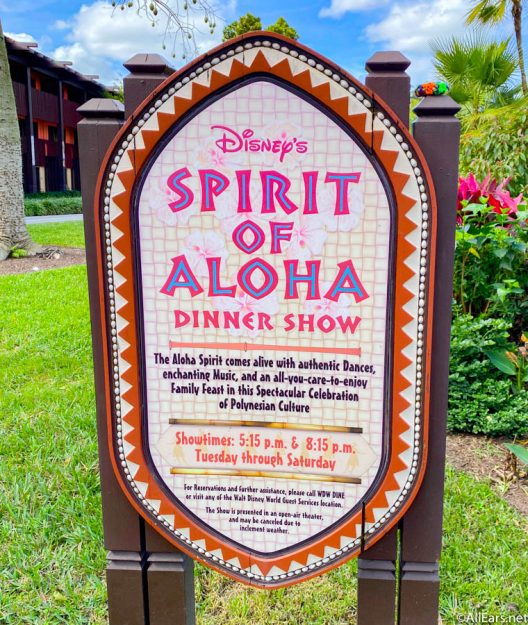 Recipe:
Yield: 4-6 servings
Ingredients:
Select 2 each slabs of Raw Pork Spare Ribs (total – 4 lbs.)
Dry Seasoning:
1 cup Kosher Salt
1 tsp Celery Salt
2 tbsp Mesquite Seasoning
1 tbsp Onion Powder
1 tbsp Garlic Powder
3 tbsp Sugar
1 tsp Ground Black Pepper
Sauce:
1 cup Tomato paste
1 tbsp Corn Syrup
1 tbsp Molasses
1 tbsp Dijon Mustard
2 tbsp Honey
1 cup Pineapple Juice
2 tbsp Rice Wine Vinegar
1 tsp Granulated Garlic
1 tbsp Onion Powder
1 tbsp Caramel
1/4 tsp Smoked Liquid
Barbecue Sauce Preparation
1. In a mixing bowl combine all ingredients and mix well
2. Keep refrigerated
Method of Preparation:
1. Mix all dry ingredients and season lightly the pork rib slabs on both sides; let marinate for 12 hours.
2. Cook the seasoned pork ribs at 325°F for 1 hour.
3. Cut slabs of ribs while hot into individual pieces (one bone each) and place in baking dish.
4. Heat the barbecue sauce to a simmer and pour over the entire pork ribs.
5. Cover the dish with aluminum foil and place it in a warm oven at 200° for 30-45 minutes
Stir-Fried Noodles from Disney's Polynesian Village Resort 
Say "aloha!" to the Stir-Fried Noodles from 'Ohana at Disney's Polynesian Village Resort. This dish is simple to make yet tasty. We can't seem to help but smile as it transports us to Disney's Polynesian Village and its tranquil grounds, lush landscapes, and exotic cuisine.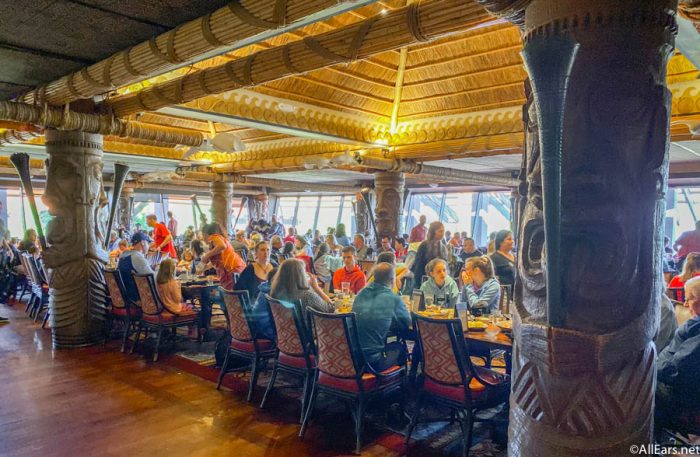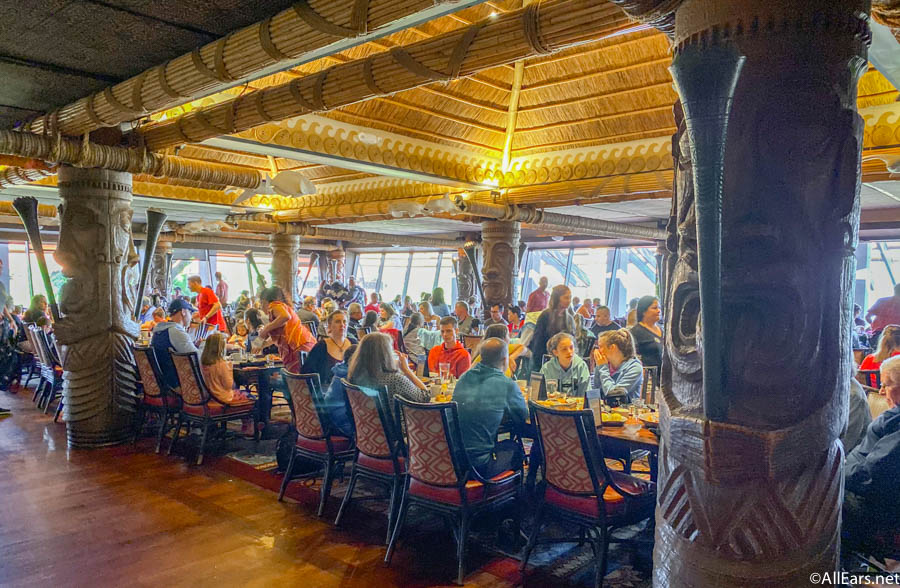 Recipe:
Yield: 4 servings
Ingredients:
 1 tablespoon canola oil
 1 teaspoon each, puréed: garlic and ginger
 1/4 cup each, julienned: red pepper and pineapple
 2 cups cooked udon noodles
 Salt and pepper to taste
 1 teaspoon chopped roasted peanuts
Peanut sauce:
 2 cloves garlic, peeled
 2-inch piece ginger, peeled
 1/2 cup peanut butter
 1/4 cup each: soy sauce, sugar and water
 1/8 cup diced Spanish onion
 1 tablespoon chopped peanuts
Method of Preparation:
 1. For sauce, put ingredients in pan. Bring to boil, stirring. Turn heat to simmer, stirring occasionally. Simmer 10 minutes. Remove from heat, pour in blender. Pulse until smooth.
2. For noodles, heat canola oil in wok. Add garlic, ginger, red pepper and pineapple. Stir-fry until red peppers are tender but still firm. Season with salt and pepper. Add noodles. Stir-fry until noodles are heated. Add 1/2 cup peanut sauce to glaze ingredients. Garnish with nuts
Settle in for some comfort food from 'across the pond' with the Cottage Pie from the Rose & Crown Dining Room in Epcot's United Kingdom Pavilion. With only eight ingredients and simple steps, this hearty dish will come together quickly and easily.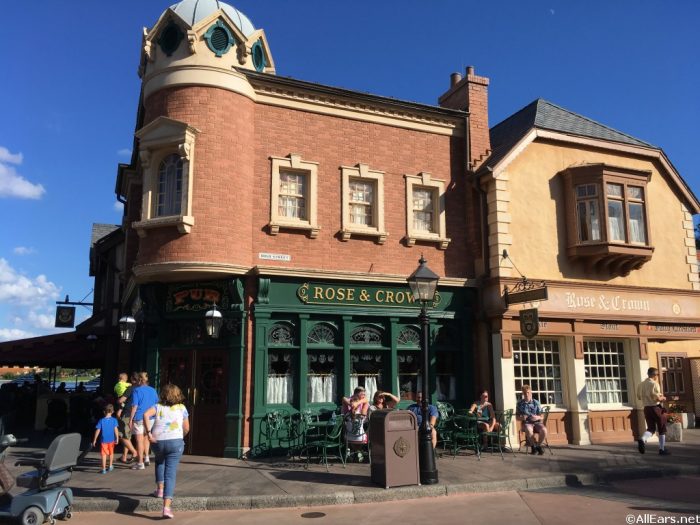 Recipe:
Yield: 4 Servings
 Ingredients:
 1/4 cup butter
 1 cup diced onion
 1 1/2 pounds lean ground beef
 Salt and freshly ground pepper to taste
 1/4 teaspoon ground savory
 1 cup brown gravy
 2 cups mashed potatoes
 Additional butter
Method of Preparation:
 1. Heat 1/4 cup butter in a 9-inch skillet. Add onion and cook until lightly browned, stirring.
2. Add beef, salt, pepper and savory and continue cooking 5 minutes longer. Stir in gravy and heat until bubbling.
3. Spoon into a buttered 8-cup flat casserole dish. Top meat mixture with mashed potatoes. Dot with pieces of butter.
4. Bake at 400°F for 15 to 20 minutes or until potatoes are lightly browned.
Take a trip to Germany with this Biergarten Restaurant crowd-pleaser. The Schnitzel with tomato and mushroom sauce always keeps us going back to the buffet over and over again, and we are thrilled to share this fan-favorite recipe with you!
Recipe:
Yield: 4 Servings
 Ingredients:
 4 3 oz. portions of Veal, Chicken, or Pork Cutlets
 Salt and Black Pepper to taste
 2 Eggs
 1/2 cup Bread Crumbs
Sauce:
4 oz. Demi-glaze (dry package classic sauce mix, look for brands such as Knorr)
 1 cup diced onion
 1/2 cup large diced plum tomatoes
 1 tsp. minced garlic
 2 fresh rosemary sprigs
 4 cups water
 1 cup sliced mushrooms
 1/2 cup small diced plum tomatoes
 Salt and Pepper to taste
 1 tbsp. freshly chopped parsley
Method of Preparation:
Pound desired meat cutlet to tenderize. Rub in salt and pepper. Beat egg and dip each cutlet in the egg then the bread crumbs. Saute until golden brown. Keep warm.
 For the sauce, prepare the demi-glaze as directed on the package. Set aside. In a saucepan, saute the onion. Add large diced tomatoes, garlic, and rosemary and continue to saute until the onions are golden brown. Pour water to another saucepan and add the prepared demi-glaze sauce mix. Bring to a boil, stirring constantly. Reduce the heat and simmer 3-5 minutes, stirring occasionally until it thickens. Add the sauteed vegetable mixture to the demi-glaze and let simmer 8-10 minutes. Strain. Saute the mushrooms in a skillet. Add small diced tomatoes and cook until there is a little liquid left in the skillet. Season with salt and black pepper. Add the chopped parsley. Mix with the demi-glaze sauce.
To serve, place prepared cutlet on plate and spoon tomato and mushroom sauce over cutlet.
Chicken Parmigiana from Magic Kingdom 
Treat yourself and your family to one of Disney's Magic Kingdom Park's iconic classics. Indulge in the Chicken Parmigiana from Tony's Town Square Restaurant. This crispy, cheesy, and sauce laden dish will delight the entire family.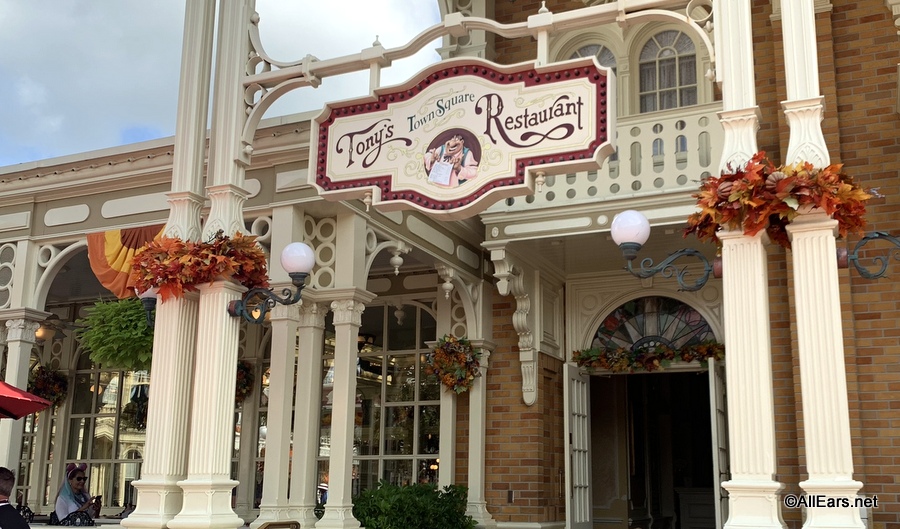 Recipe:
Yield: 1 Serving
Ingredients:
1 Chicken Breast
3 ounces Breading (recipe below)
3 ounces Mozzarella
8 ounces Marinara
2 ounces Parmesan Cheese
6 ounces Pasta
1 Egg
3 ounces Flour
Breading:
1 pound Bread Crumbs
1 ounce Garlic, Granulated
2 ounces Romano Cheese
2 ounces Salt and Pepper
Method of Preparation: 
Take the chicken and place in flour, and then put the chicken into the beaten egg. After chicken is coated in egg mixture place in the breading and cover completely. In a pan over medium heat, add oil and pan fry the chicken. When the chicken is done place on paper towel. Place some of the marinara on top of the chicken and then top with the mozzarella cheese and melt in the oven. Place cooked hot pasta in a bowl then place the rest of the sauce on top and then top with chicken.
This luscious recipe is really 2-in-1, as you will need to create the Pomodoro Sauce in order to complete the Bolognese Sauce. Both are culinary treats to treasure from Tutto Italia in Epcot and we have included recipes for both! These are wonderful to prepare in advance and have on hand in your fridge for quick and simple pasta meals.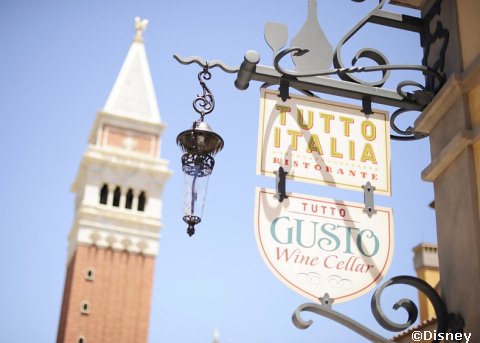 Recipe:
Yield: 2 Quarts
Ingredients:
 1 Each Yellow Onion, fine diced
 3 Ribs Celery, fine diced
 1 Each Carrots, fine diced
 3 Cloves Garlic, chopped
 1/2 Cup Extra Virgin Olive Oil
 1 Tablespoon Dried Thyme Leaves
 2 Each Bay Leaves
 1 Pound Ground Beef
 2 Cup Tutto Italia Pomodoro Sauce(see recipe below)
 1/2 Cup White Wine
 1/2 Cup Heavy Cream
 2 Tablespoons Kosher Salt
 2 teaspoons Ground Black pepper
Method of Preparation:
In a heavy-bottomed saucepot, over medium heat, cook carrots, onions, celery, and garlic till onions are clear and soft. Add the ground beef and cook all the way through, making sure to break it up as much as possible. Add the dried herbs, Pomodoro sauce, wine, cream, salt, and pepper. Bring to a boil, and then lower heat to a simmer. Cook for at least 1 hour, stirring occasionally. Serve.
Tutto Italia Pomodoro Sauce for Bolognese Sauce
Recipe:
Yield: 2 quarts
Ingredients:
 4 1 # Cans Imported Plum Tomatoes in Tomato Sauce
 1 large Yellow Onion, diced
 2 Cloves Garlic, chopped
 1/2 Cup Extra Virgin Olive Oil
 2 Tablespoons Kosher Salt
 2 teaspoons Ground White Pepper
 6 Leaves Fresh Basil Leaves, chopped
Method of Preparation: 
Crush the tomatoes by hand in a large bowl, by squeezing them. Cook the onions in the olive oil until clear over medium heat in a heavy-bottomed 12-quart saucepan. Add the garlic and cook till just fragrant. Add the crushed tomatoes, salt, and pepper. Bring to a boil, and then lower heat to a simmer. Cook for at least 1 hour, stirring occasionally. Add basil leaves, and remove from heat. Serve.
General Tso's Chicken from Epcot
Crispy yet moist morsels of batter-fried chicken, tossed in a sauce that's slightly sweet, a touch spicy, and super savory. That's what we think of when we think General Tso's Chicken, and nobody does it better than the Nine Dragons Restaurant at Epcot's China Pavilion. Since you can't dine at your favorite World Showcase Chinese restaurant, you can make this classic at home!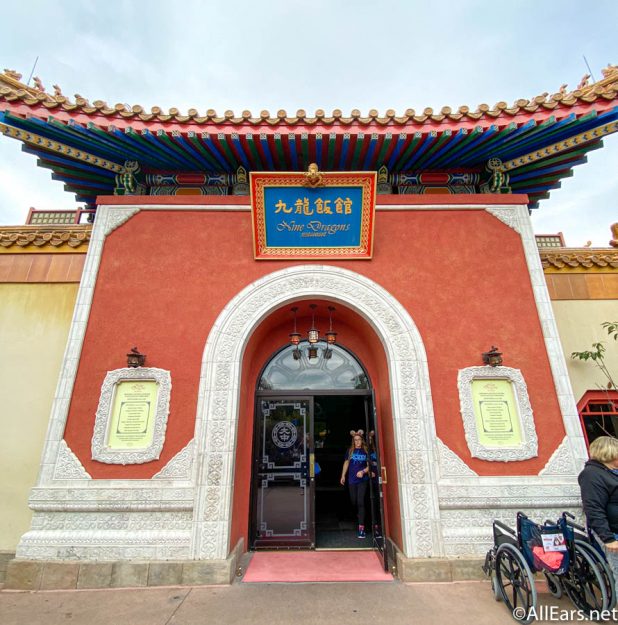 Recipe:
Yield: 1-2 servings
Ingredients:
10 to 12 ounces chicken breasts cut into cubes
Marinade:
1 teaspoon chicken base (not bouillon; the paste-like mixture is available in gourmet stores and large supermarkets)
 Dash of white pepper
 Salt to taste
 Sugar to taste
 1/2 teaspoon cooking wine
 1/2 teaspoon sesame oil
Batter:
 3/4 cup all-purpose flour
 1/4 cup cornstarch
 1 heaping teaspoon baking powder
 1/2 of a beaten egg
 2 tablespoons oil
 2/3 cup Water
 Pinch of salt
Sauce:
 1 tablespoon soy sauce
 2 teaspoon ketchup
 5 tablespoon white vinegar
 5 tablespoon sugar
 1/8 Tablespoon black pepper
 1/8 Tablespoon chicken base
 Corn Starch to taste
 Vegetable oil to taste
Method of Preparation:
1. Combine marinade ingredients and let cubed chicken soak in liquid for 30 minutes.
2. Combine batter ingredients. Set aside
3. Combine Sauce ingredients. Set aside.
4. Heat cooking oil for frying, about 320 degrees F. Using tongs, dips marinated chicken into batter and deep fry until golden. Drain well.
5. Heat sauce in a large wok. Turn off heat. Add chicken pieces and toss to coat. Place chicken on a serving platter to serve
The Lentil Salad from Restaurant Marrakesh in Epcot's Morocco Pavilion may only have six primary ingredients, but it's still packed full of fantastic flavor. This salad makes for a great starter or side dish to accompany many other meals!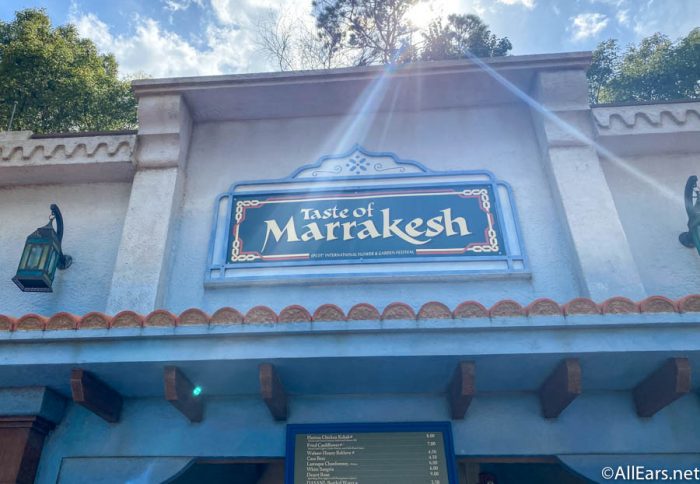 Recipe:
Yield: 4 Servings
Ingredients:
12 ounces lentils
3 ounces mayonnaise
1 ounce chopped green bell pepper
1 ounce chopped red bell pepper
1 ounce chopped red onions
1 teaspoon lemon juice
Salt and pepper
Method of Preparation:
Boil lentils (do not overcook), wash, drain and let cool. Add all ingredients and mix well. Serve chilled
Cous Cous Salad from Disney's Animal Kingdom Lodge 
Hearty and delicious, this Tunisian Cous Cous Salad with Chili Cilantro Vinaigrette makes for a great meal all by itself. We are all missing places like Boma – Flavors of Africa at Disney's Animal Kingdom Lodge, and it's lovely to bring those magical flavors into our home kitchens.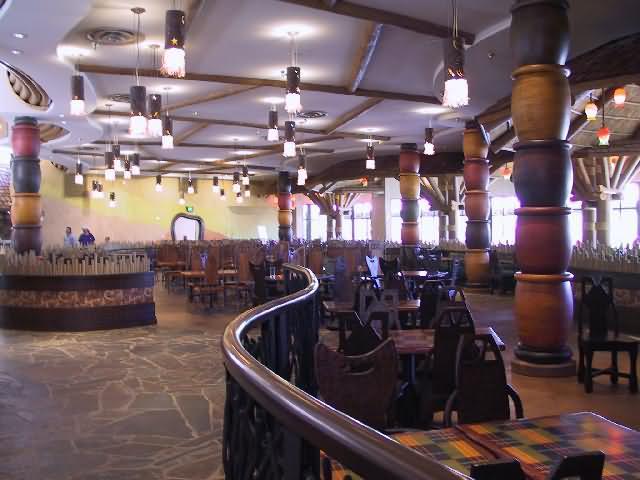 Recipe:
Yield: 6 servings
Ingredients:
1 pound Couscous, cooked
1 pint Water 
1 cup Soy Sauce
1 teaspoon Ground Ginger
½ cup Sugar
1 pound Mushrooms, sliced and roasted
1 pound Chicken Breast strips
1 each Red Pepper, seeded, diced, and roasted
1 each Medium Onion, diced and roasted
1 cup Diced Tomato
1 pound Whole Kernel Corn, frozen and roasted
1 ounce Olive Oil
1 cup Cilantro, chopped
Chili Cilantro Dressing (see recipe below)
Method of Preparation:
Soy stock: In a medium-sized stockpot, heat the soy sauce, sugar, ginger and water and bring to a boil. Then set aside. In a large bowl or pan, place cous cous and stir in the soy stock and fully incorporate it. Then cover and let stand for 5 minutes. Remove lid and break apart the mixture with a fork, creating fluffy kennels of cous cous. Adjust the seasoning with salt and pepper.
On a sheet pan or roasting pan, place the mushrooms, onions, and chicken and roast in the oven at 350º with olive oil. Cook until mushrooms are golden and the chicken is fully cooked. Add bell peppers and corn kernels and continue to roast and stir for 10 minutes. Remove mixture from the oven. Taste and season with salt and pepper.
Combine the cous cous, the vegetable-chicken mixture, and chopped cilantro and fully mix.
Add chili cilantro dressing to the mixture, stir and adjust the seasoning. Reserve or serve.
Chili Cilantro Vinaigrette for Couscous Recipe
Yield: 8 servings
Ingredients:
2 each Jalapeno Chili Pepper
½ cup Honey
1 cup Rice Vinegar
1 cup Safflower Oil/Vegetable Oil
¼ cup Lime Juice, fresh squeezed
Method of Preparation:
Blend all the ingredients until smooth. Make sure there are no large pieces of jalapeño.
Desserts
By now, we trust that you've created a filling and magical meal, but what meal is complete without dessert? Here are recipes for three of our favorite desserts in Walt Disney World that we hope you'll enjoy as much as we do!
Tie-Dye Cheesecake from Disney's Pop Century Resort
The Tie-Dye Cheesecake from Everything POP at Disney's Pop Century Resort has been a Disney staple for 10+ years. It features an airy, colorful cheesecake atop a red velvet cake "crust." We recently listed it as one of the best snacks available at the Walt Disney World Resort hotels. It is decadently delicious, and we are so excited to share the recipe with you!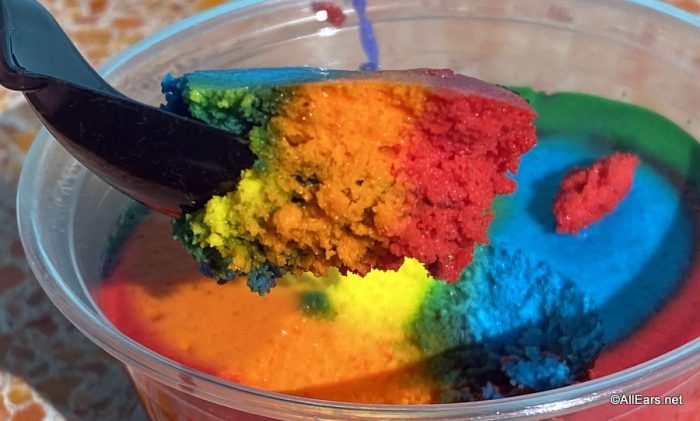 Red Velvet Cake:
1/4 cup butter, softened
3/4 cups sugar
 1 egg
 1 tablespoons cocoa
 1-ounce red food coloring
 1/2 teaspoon vanilla
 1/2 teaspoon salt
 1/2 cup buttermilk
 1 cups flour
 1/2 tablespoon vinegar
 1/2 teaspoon baking soda
Preheat oven to 350 deg F. Grease the bottom and sides of a 9″ springform pan.
Cream the butter, sugar and eggs. Make a paste of cocoa and food coloring. Add the paste to the creamed mixture. Mix salt and vanilla in buttermilk and add alternately with the flour. Mix soda and vinegar separately, add last, folding in. Do not beat after adding soda mixture. Pour batter into prepared pan. Bake at 350 for 30 minutes or until tester comes out clean. Cool cake in pan.
Lower oven temperature to 325 degree F.
Cheesecake Filling:
1 1/2 lb. Cream Cheese
1 1/3 C. Sugar
5 Large Eggs
16 oz. Sour Cream
1/4 C. Flour
2 tsp. Vanilla
2 tsp. Lemon Juice
*All above ingredients should be at room temperature before you begin.
Method of Preparation:
Start by beating the cream cheese until light and fluffy. Keep the mixer on a low setting throughout the beating and mixing process. Add the sugar a little at a time and continue beating until creamy. Add one egg at a time and beat after each egg. When eggs have been mixed into the cream cheese add flour, vanilla and lemon juice, mix well. Add the sour cream last and beat well.
Divide the batter into 6 bowls and color each one:
purple

red

yellow

light blue

green

orange
Drop large spoonfuls of the colored batters randomly atop the red velvet cake in the springform pan. Swirl each layer slightly. Place on the top rack in the middle of a 325 degree preheated oven for one hour and 15 minutes. When time is up, prop open oven door and leave in oven for one hour. After one hour, remove from oven. Let cool enough before the cheesecake is put into the refrigerator for 24 hours.
Disney Beignets from Disney's Port Orleans 
Beignets from Disney's Port Orleans Resort – French Quarter are one of our favorite sweet treats on property. These pillowy, warm clouds of fried dough and powdered sugar are easy to make and so yummy! This recipe will yield two dozen small beignets or ten large beignets. If you have a Mickey-shaped cutter, you can take this dessert to a genuinely magical level!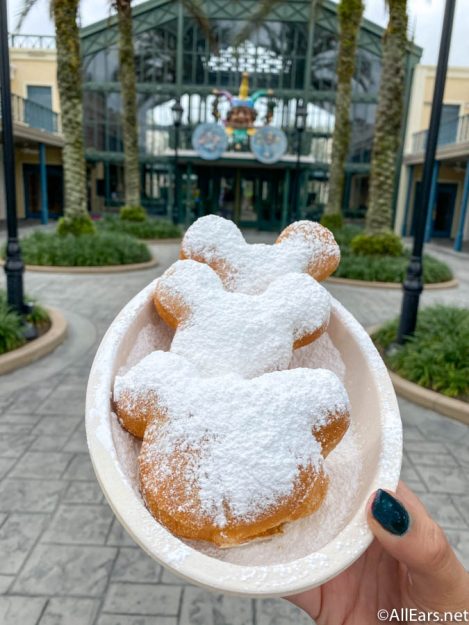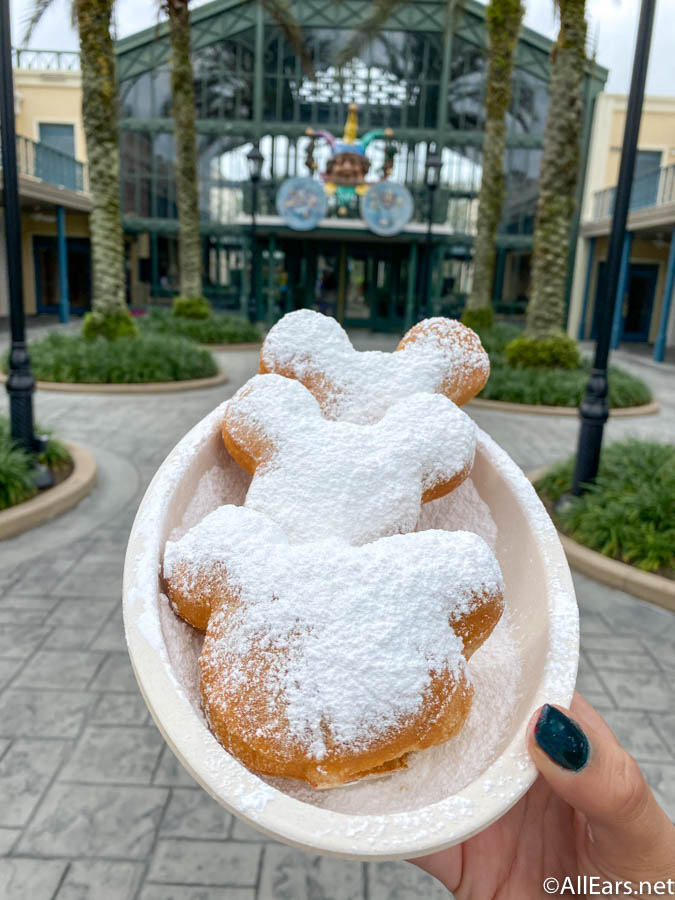 Recipe:
Yield: 2 Dozen Small Beignets
Ingredients:
1/2 teaspoon dry yeast
1/4 cup warm water (105º)
1/4 cup sugar
2 tablespoons vegetable shortening
1/2 teaspoon salt
1/2 cup heavy cream
1 egg
4 cups all-purpose flour
1/2 cup boiling water
Vegetable oil for frying
Powdered sugar
Method of Preparation:
1. Sprinkle yeast over warm water in a small bowl, stirring to dissolve. Let stand for 5 minutes.
2. Combine sugar, shortening, salt, heavy cream, egg, flour and boiling water in a large bowl; stir in yeast mixture. With the dough hook attachment of an electric mixer on medium speed, mix the dough just until combined and smooth. Let dough rest for 30 minutes.
3. Roll to 1/4-inch thickness and cut individual beignets into 2 x 3-inch pieces. Cover with a towel and let dough rise until doubled in size in a warm, draft-free area, about 1 to 1 1/2 hours.
4. Pour enough oil into a deep-sided pot until it reaches 2 inches up sides; heat oil over medium heat to 350ºF.
5. Lightly press beignets to flatten slightly.
6. Add a few beignets to oil; fry until golden brown on both sides, turning once.
7. Remove from hot oil with a slotted spoon and place on a baking sheet lined with paper towels.
8. Dust with a generous amount of confectioners' sugar before serving.
NOTE: Dough keeps well in the refrigerator for several days. Cover the bowl with plastic wrap and punch down occasionally.
Grapefruit Cake from Disney's Hollywood Studios
One of the most legendary desserts on our list is the Grapefruit Cake from Hollywood Brown Derby. It's no wonder this delicious treat is as popular as it is. It is light, yet decadent and the perfect combination of tart and sweet. Even guests who are not fans of grapefruit find this cake irresistible!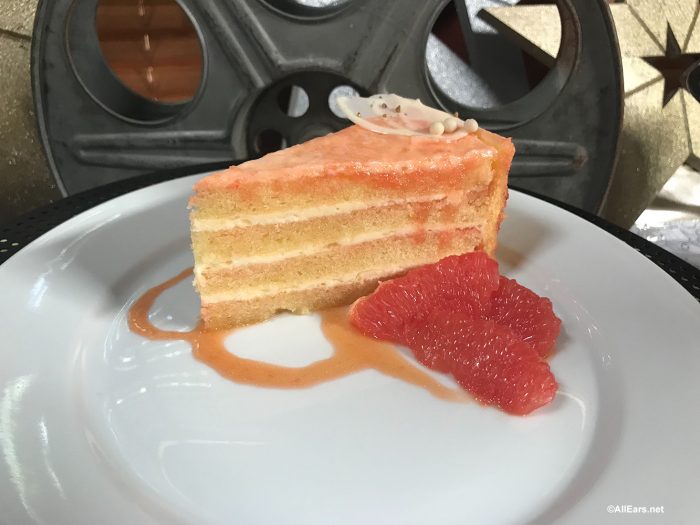 Recipe:
Yield: 4 to 6 portions
Ingredients:
1 1/2 cups sifted cake flour
3/4 cup sugar
1 1/2 teaspoons baking powder
1/2 teaspoon salt
1/4 cup water
1/4 cup vegetable oil
3 eggs (separated)
3 tablespoons grapefruit juice
1/2 teaspoon grated lemon rind
1/4 teaspoon cream of tartar
 Method of Preparation:
1. Preheat oven to 350º F. Sift together flour, sugar, baking powder, and salt into mixing bowl. Make a well in center of dry ingredients.
2. Add water, oil, egg yolks, grapefruit juice, and lemon rind. Beat until smooth.
3. Beat egg whites and cream of tartar separately, until whites are stiff but not dry.
4. Gradually fold egg whites into the cake batter, folding gently with a rubber spatula until just blended. Do not stir the mixture.
5. Pour into an ungreased 10-inch cake pan. Bake at 350º degrees for 25 to 30 minutes, or until cake springs back when lightly touched with a finger. Invert pan on cake rack until cool. Run spatula around edge of cake. Carefully remove from pan. With a serrated knife, gently cut layer in half.
Grapefruit Cream Cheese Frosting for Grapefruit Cake
Ingredients:
2 six-ounce packages of cream cheese
2 teaspoons lemon juice
1 teaspoon grated lemon rind
3/4 cup powdered sugar (sifted)
6 to 8 drops yellow food coloring
1 one-pound can grapefruit sections (well-drained), reserving 2 tablespoons of juice OR 3 fresh grapefruits, peeled, sectioned, and drained, reserving 2 tablespoons of juice.
Method of Preparation:
1. Let cream cheese soften at room temperature. Beat cheese until fluffy.
2. Add lemon juice and rind.
3. Gradually blend in sugar. Beat until well blended. Add food coloring.
4. Add reserved grapefruit and blend into frosting.
5. Divide the frosting evenly into two bowls. Roughly chop 2/3 of the grapefruit sections and add them to half the frosting. Spread this mixture on the bottom half of cake. Top with several grapefruit sections. Cover with the second layer of cake. Frost top and sides. Garnish with remaining grapefruit sections.
Will you be trying to recreate any of these Disney Recipes? Please let us know how they turn out in the comments below!
Join the AllEars.net Newsletter to stay on top of ALL the breaking Disney News! You'll also get access to AllEars tips, reviews, trivia, and MORE! Click here to Subscribe!