During my family's recent stay at Disney's Polynesian Resort at Walt Disney World, we had the opportunity to attend the Spirit of Aloha dinner show, which is modeled after a traditional luau. Although I have been to an authentic cultural feast in Hawaii, I was looking forward to experiencing Disney World's long-running version for the first time.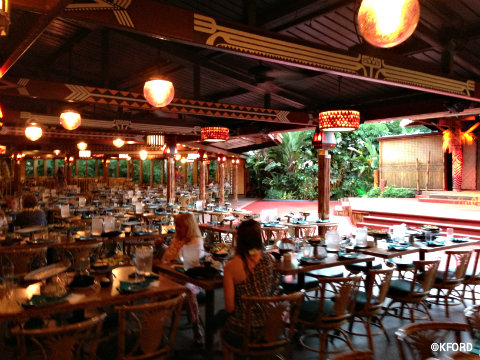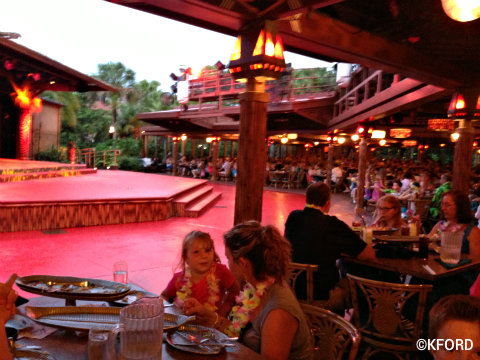 Category 1 luau seating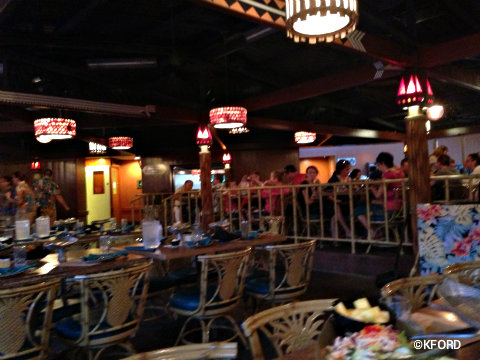 Categories 2 and 3 luau seating
The event begins when the check-in opens at the Great Ceremonial House about 45 minutes before show time. The luau is offered twice each night — at 5:15 and 8 p.m. Tuesday through Saturday. In general, seating is based on the category of table you select when you book the luau. For example, we paid for Category 1 seats (the most expensive) and were in the second tier of tables off to the side of the stage. A cast member told me the front row and the center tables were released to those who checked in before me. So, checking in as early as possible is key for getting those seats.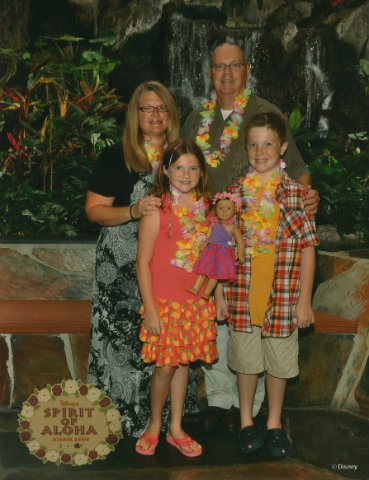 Also, getting to the lobby early means you're less likely to have a long line ahead of you for the professional group photos being taken there. There is no obligation to purchase the photos, so why not get a shot of the family wearing leis in front of the waterfall? A PhotoPass photographer will bring prints of the photo to your table at the end of the meal. One package is offered: a 5 x 7 and four 4 x 6 prints of your group, plus a stock photo of the luau performers, for $35. We chose to buy the package, even though it was expensive, and my husband appreciated that I stopped asking him and the kids to pose in front of the waterfall afterward!
After photos, guests can wander back from the Great Ceremonial House to Luau Cove, a short walk along the waterfront and beside the beach toward the Grand Floridian. Once seating begins, it moves quickly, but there is quite a queue in the beginning. A hostess explained that the meal is served family style, so we should ask if we would like more of any of the foods brought to our table. Also, she said, kids meals could be ordered separately (at no additional charge).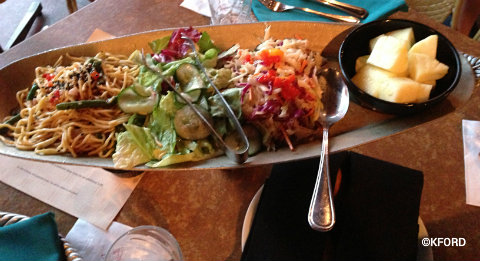 The appetizers were waiting for us at our table: pineapple-coconut bread, mixed greens with honey lime vinaigrette, mango slaw, soba noodle salad and fresh pineapple. My husband and I enjoyed trying each item, but our young kids zeroed in on the bread and waited to see what was coming next.
Unfortunately, that's when our experience really went off course. It took our server at least 15 minutes to stop by to take our drink orders, and he was very rude and rushed in that first interaction. The inappropriate behavior continued when we tried to ask for more pineapple and bread and order a kids meal for my 8-year-old daughter. I have never been treated so poorly by a cast member in all the years I have been going to Disney World, and I was shocked at how he was behaving. So, as the stage production was beginning, I left the table to find a manager and ask for another server. That took quite some time, and the manager was of no help, either, stating that he could not reassign our table to another server. He offered no solutions himself.
So, I headed back to my table disheartened and angry that I would have to continue dealing with our server for the two-hour experience. There was no incentive for his behavior to change because the gratuity is included in the price of the luau, which is expensive, even with the inclusion of alcoholic beverages. The total for our family of four was about $250. (See full pricing information on the AllEars.Net resource page.)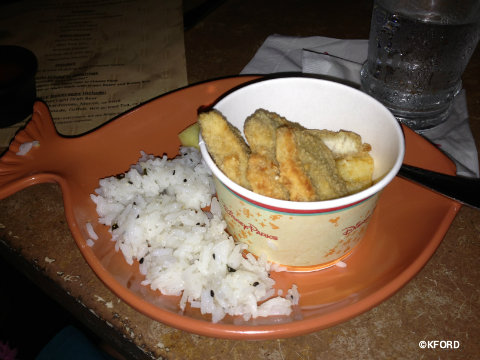 By now, I had missed the set-up for the show, so I had no idea what was going on, and the main courses already had appeared at our table. They included Aloha pulled pork, BBQ pork ribs, roasted chicken, jasmine rice with nori and a vegetable medley. My 10-year-old son was happy with the ribs, and my daughter settled on baked chicken nuggets. My husband and I tried each of the dishes, but weren't overly impressed with any of them.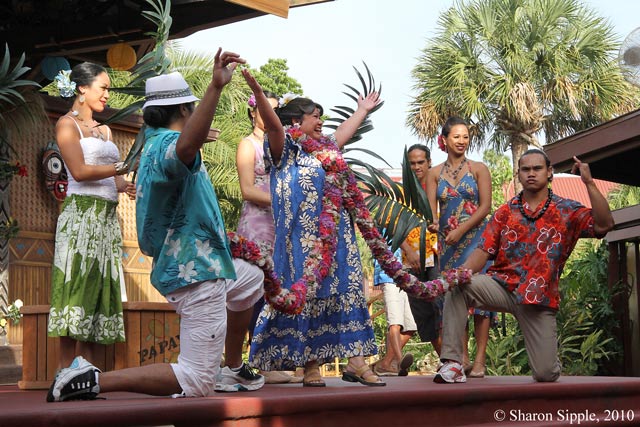 We tried to focus on the dinner show, which tells the story of Auntie Wini hosting a fun-filled luau to welcome home one of the local girls who has been living on the "mainland." It moves along slowly, but seeing the Hawaiian Wedding Song and the Birthday Hula performed are fun touches. Audience members are invited to join the professional dancers several times near the stage.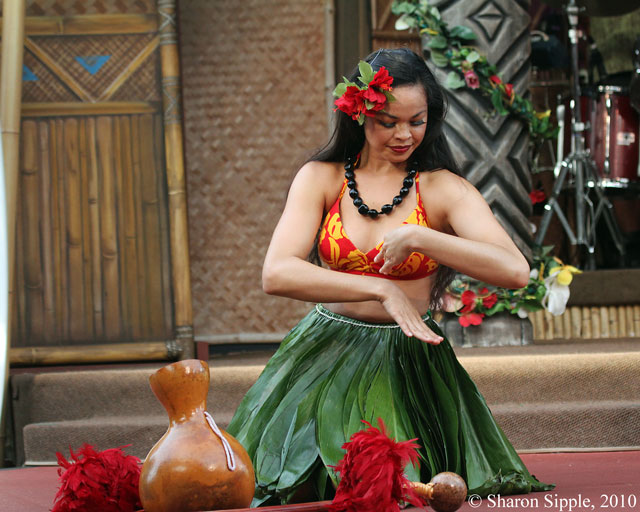 The main attraction, however, is the final third of the show, which features traditional dances from Tahiti, Samoa, Tonga, New Zealand and Hawaii. The dancers and the costumes are mesmerizing, and who could look away when the Samoan fire knife performer takes the stage? A dessert of warm pineapple bread pudding with caramel sauce is served during this act, and we found it to be the best part of the meal.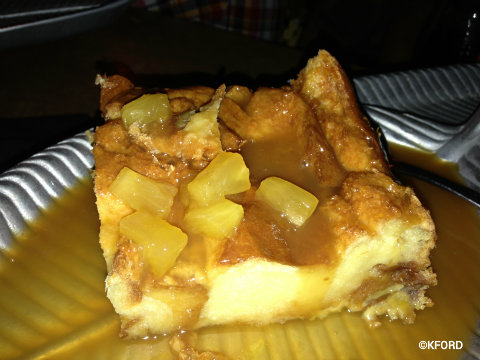 Still, our server's behavior, though out of character for most Disney cast members, certainly affected our evening and left my husband and I with little spirit of aloha (which means love in Hawaiian). We walked out of the open-air restaurant feeling like the dinner show was overpriced for what we received. Our kids weren't as aggrieved as we were, so perhaps the show is best recommended as a tropical — though expensive — diversion for youngsters after a long day in the theme parks. Aside from this, though, it's hard to think that our family will be saying aloha to this show again any time soon.