Disney's Polynesian Resort offers its guests many ways to be immersed in the South Pacific cultures it represents. For my young daughter, that meant spending time with Kau'i Brandt, better known as Auntie Kau'i, in the first-floor lobby of the Great Ceremonial House each day during our recent stay. At age 81, Auntie Kau'i is a Disney Legend, having been with the Polynesian resort almost since it opened.
She moved from the Hawaiian island of Oahu in 1971 to first open the Polynesian show at Disneyland and then a similar show at Walt Disney World. She was the master of ceremonies during the shows and has served as a cultural representative at the resort since its beginning.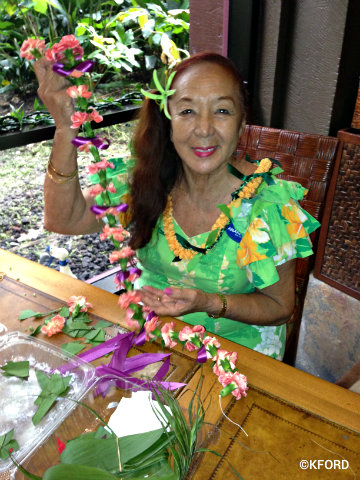 Guests can find Auntie Kau'i in the lobby of the Polynesian five days a week making leis at her table in the corner of the children's area. She is quick with a friendly smile and, when asked, an explanation that the leis she creates from real flowers are given to couples celebrating honeymoons or anniversaries. (All resort guests receive cloth-flower leis when they check-in or go to an activity.) These special leis also can be custom-ordered in the adjacent gift shop for $20 apiece. Auntie Kau'i said she creates about 20 such leis each day, mostly from carnations and ribbons.
My 8-year-old daughter was fascinated with the process of making leis, and Auntie Kau'i offered her and a friend the opportunity to try it themselves with enough cloth flowers to make bracelets. The girls were surprised that the kits contained pieces of Mickey-shaped pasta to use as spacers between the flowers. Now, those are truly hidden Mickeys!
After serving cookies each afternoon, Auntie Kau'i also teaches guests how to dance the hula. The lessons are complimentary and last about 15 minutes. Women and girls are invited to don grass skirts and are given instruments to play to accompany the ukulele music. During the lessons, Auntie Kau'i and another cast member take turns demonstrating the movements while the guests mimic them. Then, the guests put it all together for their finale. Hula time each day couldn't come soon enough for my daughter — even with all the competing activities at Walt Disney World.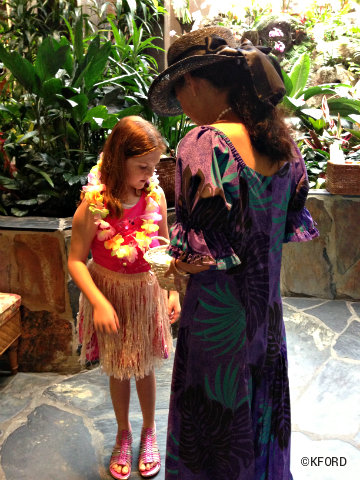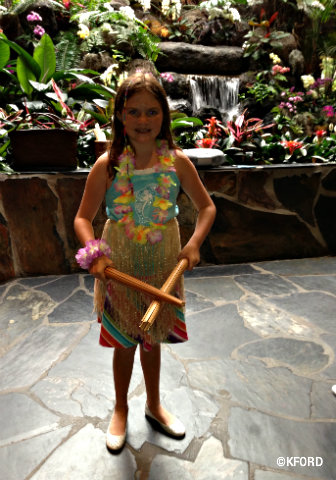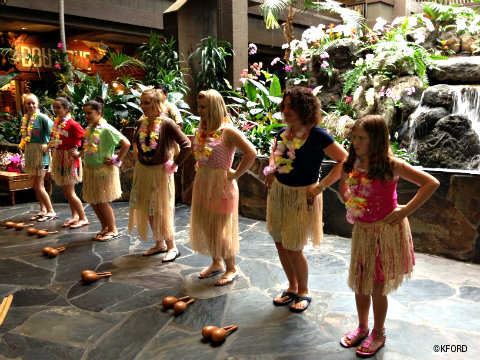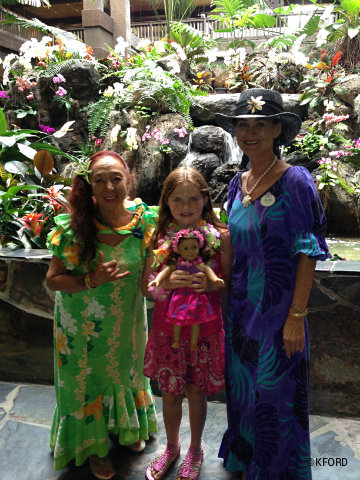 Auntie Kau'i, who has been dancing since she was 6 years old, also teaches lessons for two hours on Saturday mornings at the Polynesian resort. These, too, are free, and Auntie Kau'i told me she has many local residents who come regularly. In fact, some of the most dedicated are practicing for the Ho'ike dance competition on July 27 and 28 at the Wyndham Orlando Resort on International Drive. The two-day event features dance contests; vendors selling arts, crafts, jewelry, clothing, fresh flowers and hula implements; and a professional Polynesian production. Tickets can be purchased online at hoikehawaii.com.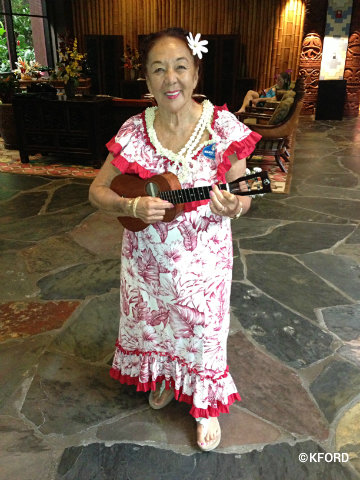 Auntie Kau'i clearly enjoys representing her culture on the mainland. When she was interviewed for an article in "Eyes and Ears," a Disney World cast member publication, Auntie Kau'i said, "I think I have the greatest job on earth. It is a lot of sharing [of her culture], and that is what it [aloha] is about."