If you're in Magic Kingdom and find yourself feeling hungry, where do you go?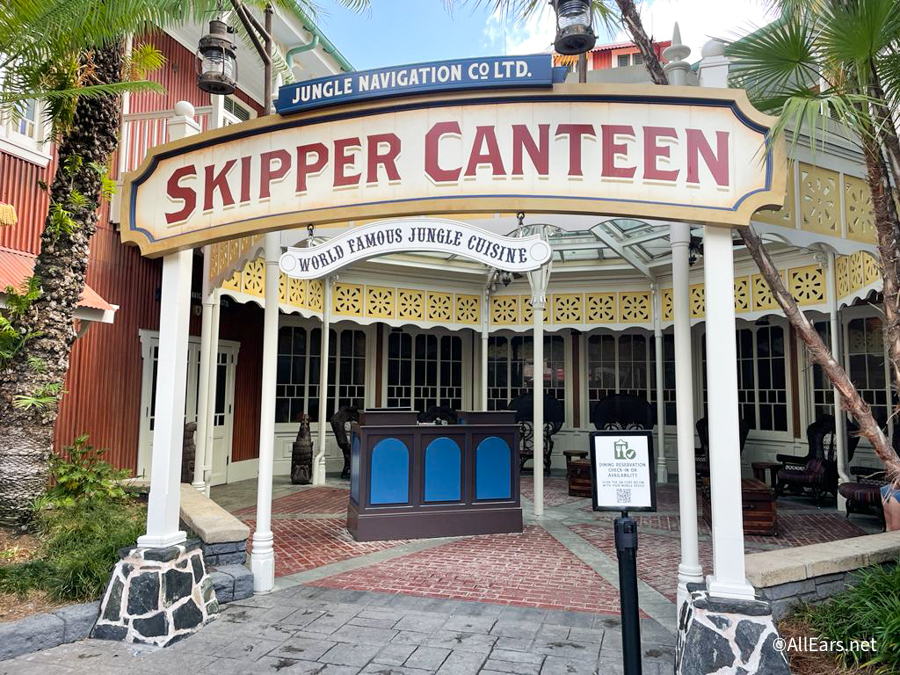 There is no shortage of restaurants in Magic Kingdom, but what if you're on a budget? Or what if you want to splurge on a really special meal? Where should you eat?
Well, we looked at YOUR reviews of every restaurant in Magic Kingdom and are using those to pick the best at every price point. So it doesn't matter if you're dining on a budget or you're planning on spending big $$$ for food, we've got you covered.
Low Budget — Under $20 Per Person
Let's start with those restaurants that generally cost $20 or less per person.
The winner in this budget category is Sleepy Hollow. Here, you can get a quick sweet treat (Nutella waffle sandwich, anyone?) or grab a corn dog or a chicken waffle sandwich. It's quick, it's easy, and it's cheap (by Disney standards at least).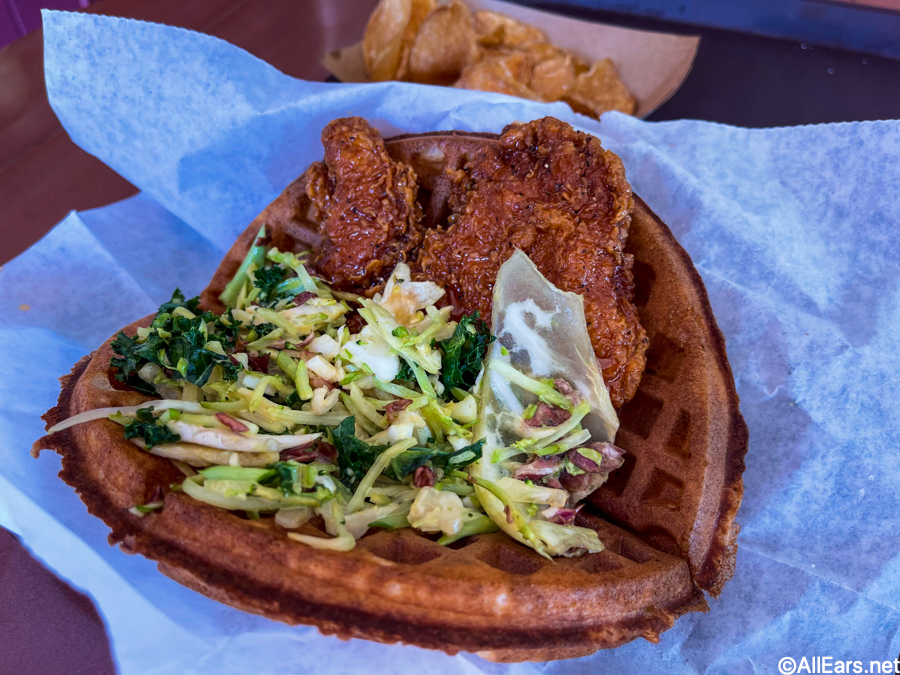 Here are a couple of All Ears reader reviews:
"Sweet and Spicy Chicken Waffle was the perfect quick service shareable lunch. Waffle was a little on the thin side, but I still found this delightful. Crispy slaw with well cooked chicken (crispy on the outside, tender on the inside), wonderful sauce. Mobile order was a bit of a mess at this location; long wait after my time arrived and I checked in and there was no where to stand while waiting for your order and there was no shade. And no where to sit once your order arrives."
"This is a MUST DO for every trip. This time we got the Waffle with Nutella , banana, strawberry and whipped cream. This is definitely shareable but you may not want to. Waffle is always crisp on the outside and soft on the inside mixed with the fruit juice. Grab a fork and a knife or be bold and eat it like a sandwich!"
This nautical-themed quick-service restaurant is where you can get some fast seafood and chicken dishes, including clam chowder, fish and chips, and more. There are also several gluten-free options here.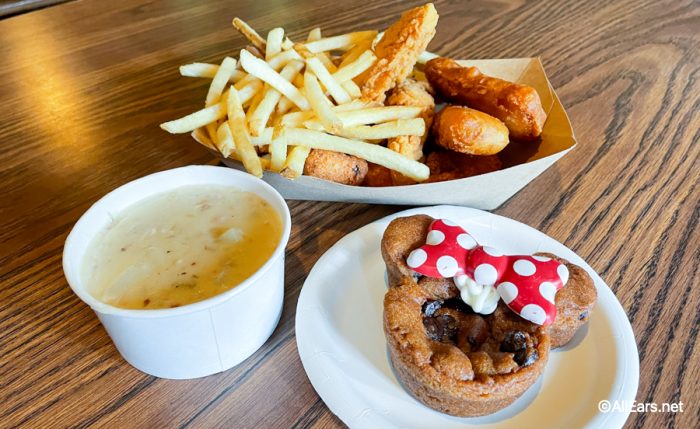 Reader reviews:
"I was wary of seafood at a theme park but, as a New Englander, I was shocked to learn the fish was pretty well cooked, the shrimp wasn't overdone (HOW?!), the hushpuppies didn't suck, and even the lobster roll was totally fine – which is a hard bar to meet. There's lots of fried food, but also plenty of fresh, simple options. This is the best counter service restaurant in the Magic Kingdom."
"CHH is consistently a place my family and I go back to you every year. Plenty of seating and the food is usually if not always well prepared. The clam chowder and the lobster roll are family favorites."
No one makes a cinnamon roll like Gaston, and that is one of the huge draws here. But you can also grab a sandwich and a few other snacks and sometimes, the man himself, Gaston, puts in an appearance out front.
Input from All Ears readers:
"Want something sweet? You'll find it here! The LeFou's brew is very sweet (but the topping is tart enough to help balance it a little) and the cinnamon roll is delicious (and huge!). The decor inside is adorable."
"I love Gaston's Tavern! Their sweet treats are delicious and so are their savory snacks. With the theming from the movie, it's a perfect snack place."
"The giant cinnamon roll was able to feed my entire family of 4 for breakfast and it was only $6. It was delicious and probably the cheapest breakfast you could do in the parks."
There's a reason there's usually a long line for the Spring Roll Cart when it's open — the spring rolls are delicious AND you can get two for less than $10.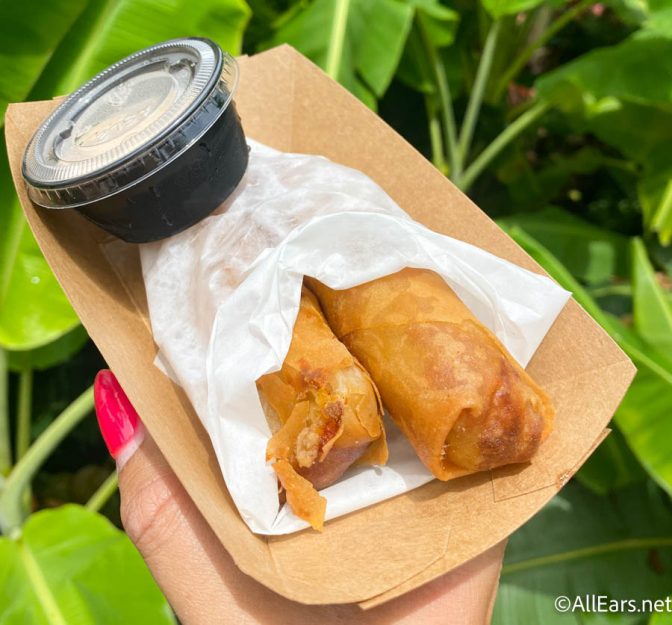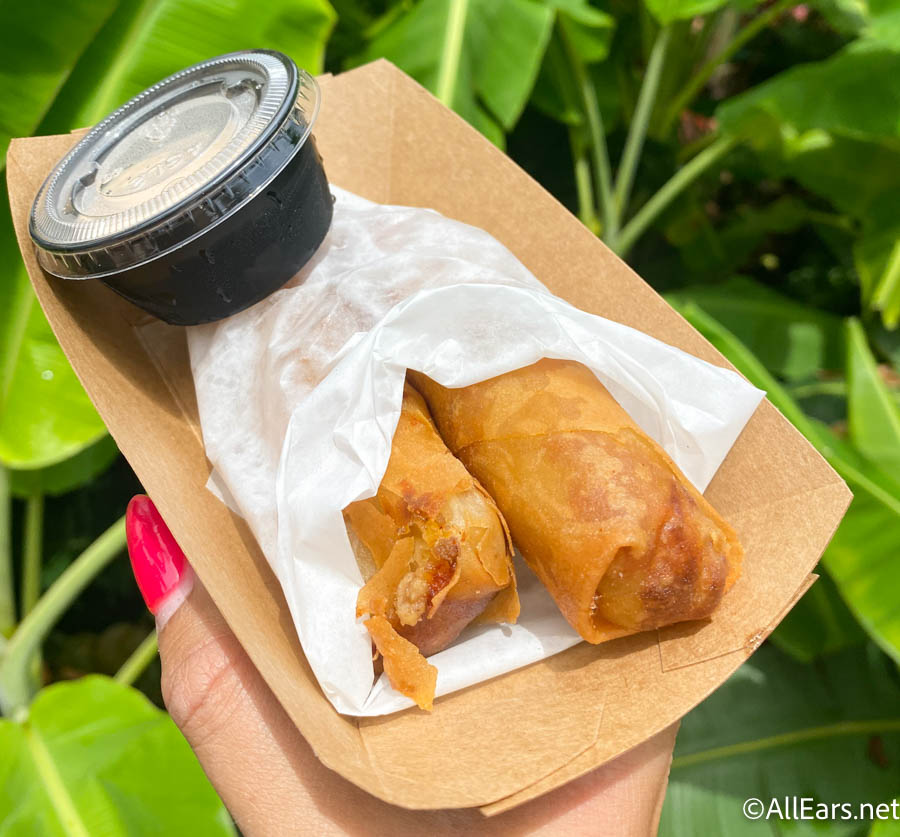 Some All Ears Reader Reviews:
"SO GOOD! This is our fav Disney park snack and we look forward to it everytime we come. Cheeseburger is still our fav, but the 50th pastrami was shockingly good too!"
"These little concoctions are the best! Every time we've had them they are delicious. We've tried the cheeseburger, pepperoni, and new pastrami. All flavors are recommended, especially with the dipping sauces."
"The cheeseburger spring rolls are, hands-down, one of the best snacks around!"
Want an inexpensive meal fast? Got picky eaters in your group? Casey's Corner is sure to please everyone with its classic theme park fare of hotdogs and fries.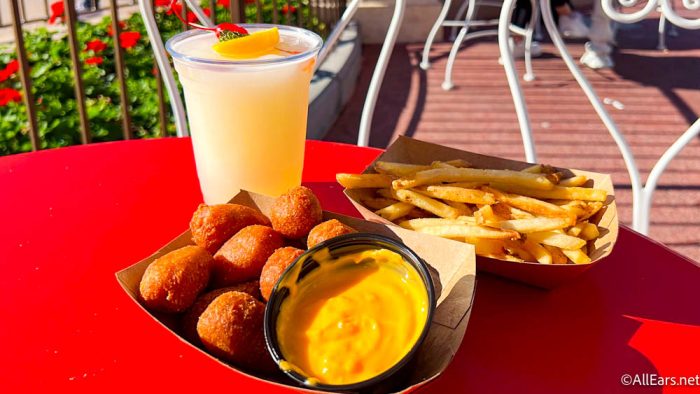 Reviews:
"The best place to get a hot dog in MK! We love the corn dog nuggets and big portions of fries. Plenty for the family to share. Pro tip, grab a table and mobile order for during the firework show. You'll have a great place to eat and watch the show."
"Okay this is seriously the only place I will eat a hotdog. 10/10 for theming and food quality. I mean its exactly what you would expect, hotdogs and corndogs, if you are expecting a non greasy light and easy lunch then this is probably not the place for you. I am patiently waiting for Disney to open up this ICONIC quick service spot before making my next trip, y'all its that serious. A must must do every trip."
Mid-Range Budget — $20 to $50 per person
If you've got a little more money to spend on a meal, there are some fantastic table service restaurants in Magic Kingdom that are sure to please.
If you want to eat a Thanksgiving meal, even when it isn't Thanksgiving, be sure to stop by Liberty Tree Tavern where you can eat your fill in a classic holiday dinner. This is also home to one of guests' favorite Disney World desserts, the Ooey Gooey Toffee Cake.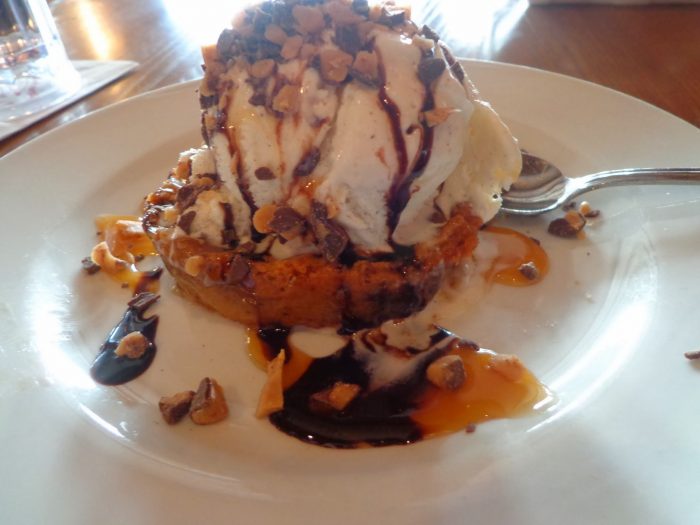 Reader Reviews:
"This is my new favorite restaurant at WDW, despite having been around for many years and many trips. I've been going here for the last three trips and have always enjoyed my meals. The food is your standard Thanksgiving faire: Turkey, cranberry sauce, mashed potatoes, green beans, stuffing, mac and cheese. The starter is a Colony salad and some rolls. As part of the platter, there is also a pork offering and a pot roast, neither of which I eat, so I left them off. The dessert is the infamous Ooey Gooey Toffee Cake, which I love. This place hits all of the right feels with me."
"Home cooking and I did not have to do it! We really loved the atmosphere in here, we ate a later lunch for an afternoon break. What a perfect place for that, good filling lunch to get our energy back. And that ooey gooey dessert, can not wait to return just for that!"
We personally think Skipper Canteen is seriously underrated, but it seems like the secret about this restaurant is out! Guests who have reviewed it seem to love it!
What Readers are Saying:
"This was the surprise hit of a wonderful vacation! We came here for Spring Break March 2022. We were lucky to get to eat here twice during our trip. The food is excellent. Highlights were the shrimp appetizer, the Perkins Thai Noodles, Taste Like Chicken(fabulous fried chicken) and the carrot-ginger soup. The kids loved the fried rice."
"It's no California Grill, but it's a great place to eat! The theming is great and makes you feel like an explorer, and the staff is not only friendly but "Punny" just like the skippers on the Jungle Cruise. The food we ordered was great as were the drinks. While Magic Kingdom is not known for it's sit down restaurants, this however is in my opinion one of the best in MK. A bit pricy, but if you want a sit down quality lunch/dinner in MK, this is your place."
This restaurant is tuned into the classic turn-of-the-century ice cream parlor vibe. Here,  you'll find classic American staples.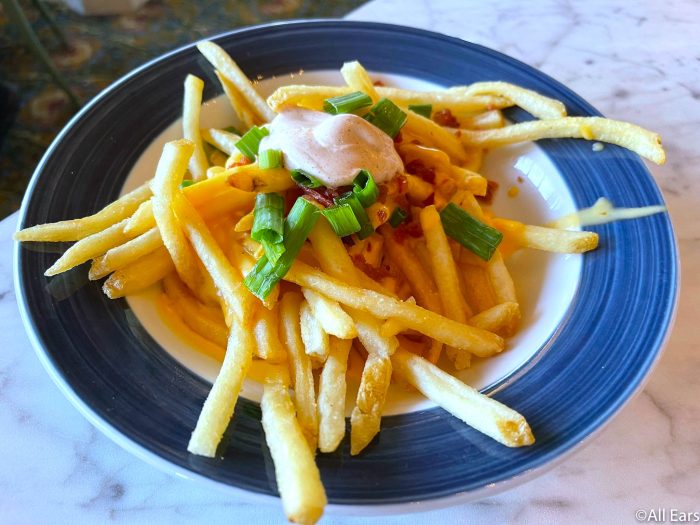 Reader Reactions:
"We really enjoyed the food and service at the Plaza. The server was so sweet to us and our kids. Even though this is pricier than quick service we felt the value was awesome! We got SO much food! My husband and I were able to easily split a burger and fries. The kid meals come with tons of food! They got their entrees, sides, and even a cute dish of ice cream with Mickey ears. The decorations give it a very Main Street USA feel. Overall a great place to sit down, relax, and get some AC. Love it!"
"This place is an underrated gem in Magic Kingdom. My wife and I had avoided eating here for some time as it seemed just small and nondescript. Once we tried it we were hooked. The food is great, the service excellent and who doesn't need bottomless shakes, especially since calories don't count at Disney!"
Crystal Palace has really upped its food game over the past few years, and although it is no longer a character dining meal (it used to include Pooh and Friends), many of you still love it.
Quick note: Crystal Palace reverted back to a buffet late last year after offering family style service when it reopened.
A couple of reviews:
"We ate dinner at Crystal Palace in February of 2021. It was our last day at Disney World before going back to Texas AKA back to the reality of life. We were sat with an amazing view of Cinderella Castle. We ordered the Prime Rib, and it was fantastic. It was cooked perfectly, and I think about it from time to time when I'm hungry. If your food tastes good even when you're crying, you know it's really good. I did not care for the desserts, but my sister loved them since she's really into honey. She loved the hummingbird cake."
"I went recently when Disney reopened in February 2021, the new menu was fantastic! We had a amazing view of the castle from our booth too my sister started to cry. Once again the server was so nice and kind."
High B
udget: Over $50 Per Person
There are only a few restaurants in Magic Kingdom that hit this price point, and two stand out as your favorites.
Who doesn't want to eat in Cinderella Castle? Although you can get all three meals here, guests really love the breakfast.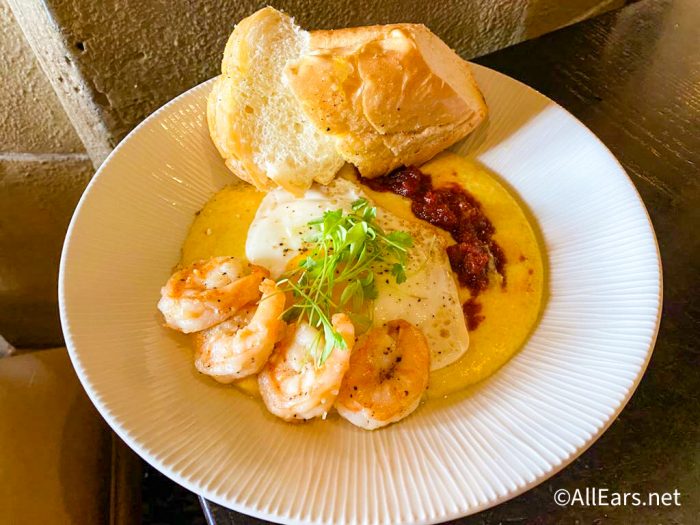 Here's what All Ears readers say:
"I read a lot of reviews before visiting this restaurant. I was a little concerned about the food, because people were saying that it was not worthy, but that it was only worthy because of the experience. For me it was totally the opposite. The experience was ok, it was nice to see cinderella in her castle, my table was right next to where she stands, so I got lots of pictures and greetung from her. But the food… The food was delicious, I started with the tomato salad, followed by the pan seared sea scallops and for dessert the clock strikes at twelve. Everything was delicious, actually it was a lot of food even though in the pictures looks like they are small plates. I highly recommend this restaurant."
"I love Cinderella's table. I don't know what everyone says when they say it's not worth it. The appetizers were amazing and the Beef tenderloin was beyond perfect. The cheesecake dessert was great and not too sweet. I know the price is a little steep but it's worth it. You get an appetizer meal and dessert for $62 as well seeing the iconic Cinderella. The whole experience was roughly an hour which is the perfect amount of time."
Be Our Guest has seen some changes since reopening, but it's still a very cool restaurant to go to if you are all about theming and atmosphere (and meeting the Beast).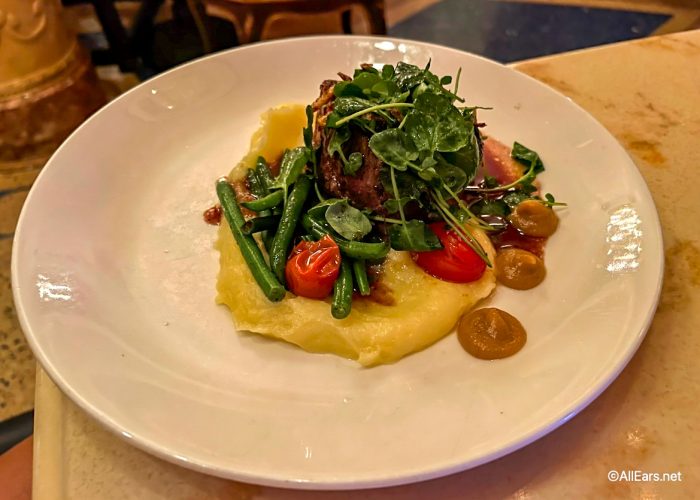 Some reader reviews:
"Surprised myself and really enjoyed lunch here .. .. Rooms were cool and all the food was really, really good .. .. This might have been the best overall meal I've had in a Disney Park .. .. A must-do for the Beauty & The Beast lover and I wouldn't mind coming back again someday .. .. Yeah expensive, but food was really good and everyone left happy!!"
"This was by far, the best meal I have ever had in WDW. My entire family loved it! We come to WDW every year (for the past 20 years) but had never dined here. I luckily scored a reservation for 6 one day prior (no idea how) and we will definitely be coming back! The bread, soup, steak, potatoes, drinks, and desserts were all amazing. My sister says it's the best meal she's ever had. Definitely try the grey stuff, it's delicious!"
We'll continue to cover ALL Disney news, so stay tuned to AllEars for more!
How do you feel about these rankings? Let us know in the comments!