Save the date! On Thursday, Aug. 11, Walt Disney World will welcome Princess Elena of Avalor to the resort for the first time in a limited-time show, "The Royal Welcome of Princess Elena of Avalor." It will take place at 10:45 a.m. ET on the Cinderella Castle Forecourt Stage at the Magic Kingdom. (If you cannot be there in person, you can watch on the Disney Parks Blog, which will live stream the show.)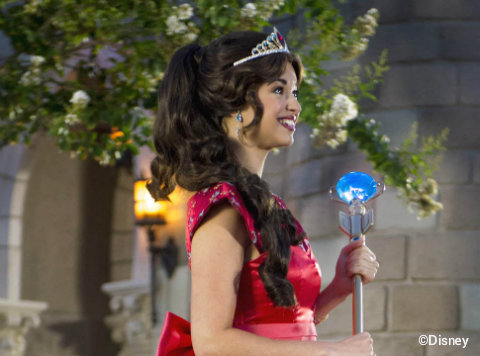 Beginning on Aug. 12, the show will be presented several times each day. (Check the daily times guide or My Disney Experience app for times.) During the production, Cinderella and Prince Charming welcome guests and introduce Princess Elena. She arrives with regal banner carriers and musicians, who accompany her in a performance of the song, "My Time," which describes her adventures and return to Avalor.
Princess Elena stars in Disney Channel's new series, "Elena of Avalor," which debuted last month. It airs at 7:30 p.m. Fridays.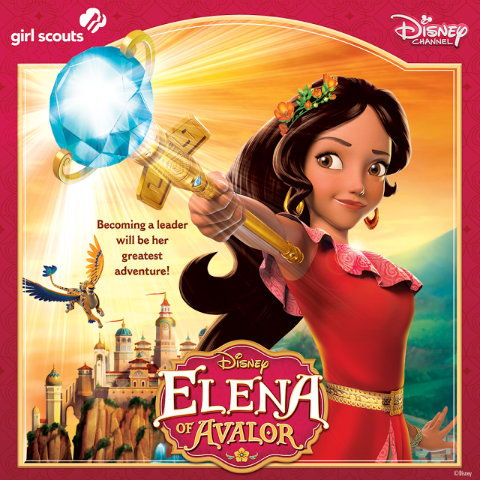 In addition, the Girl Scouts of the USA have partnered with Disney Channel and its "most adventurous Disney Princess yet" to educate girls about what it takes to be a leader and inspire girls to be leaders.
To start, the Girl Scouts emphasize that G.I.R.L stands for Go-getter, Innovator, Risk-taker, Leader. The organization has a history of empowering girls for more than 100 years. And Disney Channel has turned its spotlight on a young princess who is learning to be a collaborative, communicative and confident leader. Together, the network and the Girl Scouts have published "The Elena of Avalor Leadership Guide."
The guide, which is designed for girls in preschool through fifth grade, is free and available online in English and Spanish. It features 12 simple but proven tips for enhancing each girl's critical thinking, goal-setting and problem-solving skills.
This guide includes everyday ways to help girls make a difference in their own lives and in the world around them. Each section begins by describing strengths of girls and the leadership skills of Princess Elena. Then it offers activities to help each girl recognize the leader within herself.
For example, fourth- and fifth-graders typically have developed these qualities:
– She's got plenty of opinions and likely wants to make them known.
– She understands the concept of equity and believes in being fair.
– Her critical thinking abilities are growing, which makes her able to more easily consider and process the perspectives of other children and adults.
The problem: "If a problem comes up in Avalor, it's Elena's job as Crown Princess to solve it. One day, Elena learns that a rock monster is angry, causing the volcano to erupt, which is dangerous to her kingdom and the people who live there. Elena wants to learn why the rock monster is angry, so she goes to talk to him. That's when she learns the rock monster was upset and acting out because some local children took away rocks that belonged to him! The problem wasn't as simple as she'd thought, so Elena had to really think about how to fix it."
The activity: "To solve any problem once and for all, you need to learn what's causing the issue in the first place. Then, you need to think of all the possible solutions and what effect they would have on the situation. Talk with your girl about Elena and the rock monster. Can she come up with more than one solution to the problem?"
Girl Scouts of the USA and Disney Channel hope that the "The Elena of Avalor Leadership Guide" will help girls develop their leadership skills and feel empowered to help others do the same.