To all who come to this photo trivia game, Welcome! Along the way, the photos can make us relive memories and see details Walt's Imagineers put into everything we love in Walt Disney World!
Thank you, Jennifer Rowell, Cheryl Costello, Claire Gregory, and Jim & Lorie Sonnen! I think Daytona is cute too. He gets jealous of the computer so right now he's trying to get in my lap.
Now for Challenge #444: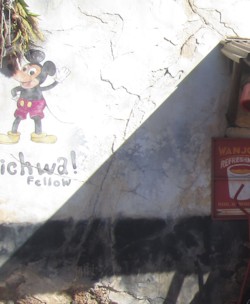 And here's the answer: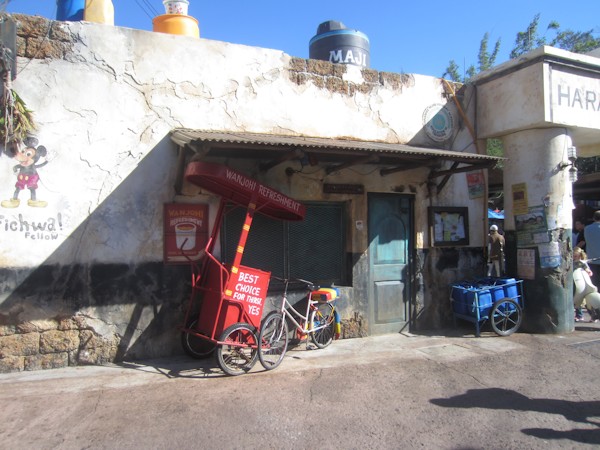 Copyright © Erin Blackwell
The new expanded Harambe Market in Africa of Disney's Animal Kingdom! Wanjohi Refreshments to be exact as Pat Schwier pointed out. Several of you — including a Cast Member in Africa! — knew Fichwa is Swahili for Hidden!
Bruce Jones was the first to send in the correct answer! Congratulations to Bruce and to all our winners this week! Luis Rodriguez, Andy Hickey, Team Hill, Linda Ranatza, Carol Lyons, Jim & Lorie Sonnen, Margaret Convery, Mary Beth Tarbet, Deb Gallo, Nan Amor, Dianne Mcginty, Tim Johansen, Melissa Such, Anthony, Maryann Romagnano, Pat Schwier, Karen Schlumpf, Andreas Beer, Lee Anastasi, Hillary Waldroop, Stacie Doughty , Joseph M. Zafia, Tricia Petty, Sharon Pierce, Ryan Mccorristin, Adolph And Kimberly Timm, Smitty, Andrew Carrieri, Jennifer Rowell, Tina Gottron, Belicia Cullen, Scott Cullen, Kyran Smith, Kara D & Jay R, Paige Angermaier, Eric Enli, The Gunnels Gang, Maryann Eckenrode, Jen Tremley , Brenda Mclean, Ed Adams, K Beasley, Axel Beer, Mark Donahue, Sarah And Chris, Bob & Kathy Mckim, John Bickers, Sandie Albrecht, John Warner, Bonnie Jean, Eric Berger, Bob Patterson, Mike O'brien , Michaela O'brien , Karen O'brien, Addison Welp , Kyra, Deb Ragno, Mark Hardy, Gloria Martin, Phyllis, Tammy Warmouth , Loring Family, Kerri Coggins, Kris Nixon, Pollyanna Buff, The Anzurs, Vera And Izzy Williams, Mary And Damian Dieuliis, Janet T Thorn, Hobbes And Snorky, Kristan Bertelmann, Donna Frank, Carla C, Grumpy's Groupies, Martha Collins, Kristi Strembicki, Stefan Owens, Paul Dickson, Ruben O'meara, The Kertes Family, Maureen And Warren Handy, Diane Curfman, Eric Johnson, The Fosbender Family, Chris, Gretchen, And Katie Barnes, Arlene Vicek, Team Bonnie Sue, Vicki Britt`, Chloe Mayhew, Jeremy Hardy, Jeff Blank, Herb Miller, Karolyn Ottmer, Wade And Rosanne Williams, Matt Wildey, Mike Amor, Theresa Rucando, Maureen Tavrell, The Holmes Family, Matt Holley, The Harper Gang, Chris Bauman, Terry Watt, Stephanie Linares, Matthew Frey, Carri Marotto, Scott Sangston, Dee Dee Kenney, Alison Rosenberger, Christi Ison, Sara Alaimo, Cathy Fleming, Cheryl Costello, Christa B, Jim Finley, Vanessa Gordon, Claire Gregory, Melesia Love, Mis Jamie Marie, Dave Carriere, Rebecca Keenan, Linda Grau, Barclay Bakkum, Don Purney, Jane Johnson, Sherri Pell, Linda Hoffman, Stacy Guarracino, George Mundy Jr, Les Whitten, Sands Family, Jamie Steiner, Thomas Higbee, and Steve Knapp!
It's time for our monthly drawing! And the July winner is: Mark Hardy! Congratulations! You will get a prize from Deb Wills!
__________________________________ _____________________
Challenge #445 Where in the world is this?
Changing parks! You don't have to worry about it being new and you don't know it. It's been around a long time. Whether you noticed it or went inside…

Do you know? Do you have a guess? Please send in your answer, before the end of the day on Thursday, August 11th, by clicking on the blue box below.
Please do not post answers using the Feedback Form link at the bottom of this post.
See you soon, Players!


_______________________________________________________________________
Everyone who sends in a correct answer to a Where in the World Challenge this month will be entered in a drawing at the end of the month for some special AllEars® goodies!
–