This is the week Star Wars fans have been waiting ages for, and it's finally arrived. The seventh film, "The Force Awakens," hits theaters Friday, so it's inevitable that conversations, TV specials and news outlets this week will focus on the Star Wars phenomenon. And, of course, Disney — which owns the franchise — is making the most of its popularity across the theme-park giant's properties.
Recently, we have heard a lot about the Star Wars additions at Disney Parks, but what about Disney Cruise Line? Earlier this year, officials announced the ways in which the franchise would be incorporated on the fleet's two largest ships, Disney Dream and Disney Fantasy, which are based at Port Canaveral, Fla.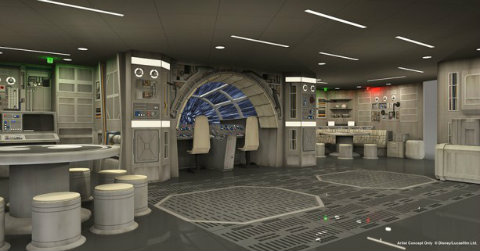 In November, the Dream debuted its Star Wars additions after a three-week dry-dock period. The lucky recipients? Kids ages 3 to 12 who visit the kids' activity center, Oceaneer Club. This huge space has four areas that immerse children in separate Disney stories and characters — and one has just become "Star Wars: Millennium Falcon." As the title would suggest, this area allows kids to step into a life-size Millennium Falcon and pilot it, something that no doubt makes many of their parents jealous.
The play area also features a version of the Jedi Training Academy experience at Walt Disney World that invites young Jedi hopefuls to learn lightsaber moves from a Jedi Master. They then can face off against Darth Vader. In addition, kids can chose to participate in Star Wars-themed crafts, games and activities or watch episodes from the Disney XD animated series, "Star Wars Rebels," on a large screen.
Another first for a Disney Cruise Line ship is the Dream's installation of a Disney Infinity video game room, which offers unique content. This year's version of Disney Infinity focuses on Star Wars (of course).
Reactions online from members of the media and other passengers who have observed the new Star Wars offerings on the Disney Dream have been overwhelmingly positive. Both the play area and the Disney Infinity room are exclusive to the Dream.
Passengers on the Disney Fantasy will enjoy new Star Wars entertainment, rather than refurbished spaces, beginning in January. Eight cruises early in 2016 will offer a Star Wars Day at Sea. Each daylong celebration features a deck party and fireworks; insiders from the Star Wars galaxy who will meet fans and sign autographs; a Star Wars-themed nightclub; character meet-and-greets; screenings of Star Wars movies; Jedi Training Experience and other kids' activities.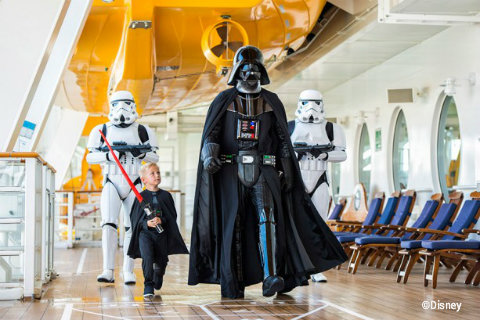 Because the first Star Wars Day at Sea has not taken place yet, we do not have any feedback. However, it's worth noting that the Star Wars activities on the Fantasy are designed for all ages, which likely would appeal to fans more. The Star Wars areas on the Dream are reserved for kids in the Oceaneer Club — except during the open houses, which are open to all passengers.
Would Star Wars experiences influence your decision to book a Disney Cruise Line vacation? Tell us in the comments, please.