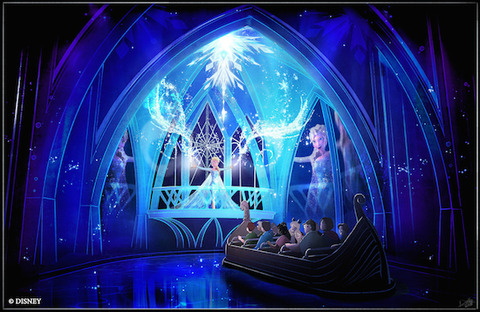 Walt Disney World has announced some details on the new "Frozen" attraction that is being constructed in Epcot's Norway pavilion, slated to open in 2016.
The new attraction will be called "Frozen Ever After," and it will be "an adventure fit for the entire family" that will take guests through the kingdom of Arendelle. Guests will be transported to the Winter in Summer Celebration where Queen Elsa embraces her magical powers and creates a winter-in-summer day for the entire kingdom. The attraction will include a visit to Elsa's Ice Palace and the ice-blue world of the North Mountain, along with other locations before returning to the Bay of Arendelle. Favorite "Frozen" characters, including the Snowgies from the animated short "Frozen Fever," will be part of the new attraction, along with the spectacular sights inspired by the film.
The Norway Pavilion's exterior will be expanded with many unique Norwegian architectural features and the interior design of the "Royal Sommerhus" will reflect the cultural arts and crafts of Norway, providing a charming setting for an Elsa and Anna meet-and-greet location.