We went to the very first party of the year on September 1, 2014. What a blessing! This party was definitely NOT crowded and was reminiscent of the old E-Ticket nights (circa 2000) with low lines and manageable crowds. The only downside, if there was one, was the heat and humidity and continual "sauna" feel the entire night.
The Cast Members were dressed in their regular party outfits. We had purchased tickets on-line and therefore had a printed ticket with bar code. When we used it to enter the event after 4pm, the Cast Member took our copy and gave us a wrist band. I didn't really think anything of it until near the end of the night, when this caused issues getting my special Halloween Sorcerers Card.
Jack and Sally's Meet and Greet was first on my list. Everyone was excited about meeting them and their line stayed long most of the evening until well after the fireworks.
After this we split up and some held spots for Mickey's Boo to You Parade and myself and others went to the Castle for the Villains Mix and Mingle show (without the Mingle) . It was cute but oh so short!!! I felt like it had just started and it ended.
TIP: See the Villains Castle show after dark! It was still light out during the first show and I missed most of the castle projections.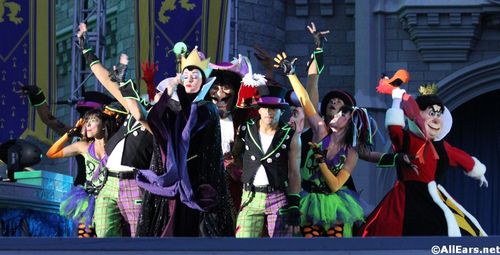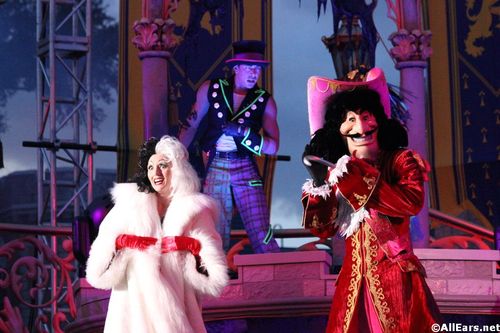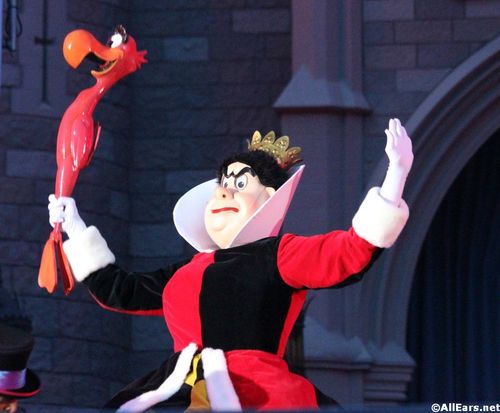 After the show it was back down Main Street to wait for the 8:15pm parade. Again, I must say how nice it was not to be crammed in with people given the heat.
Here's the first ride of the Headless Horseman for the 2014 Mickey's Not So Scary Halloween Party season:
There were changes to this year's Mickey's Boo to You Parade. Most notably is the addition of Vanellope and Wreck-it Ralph (Wreck-it Ralph movie).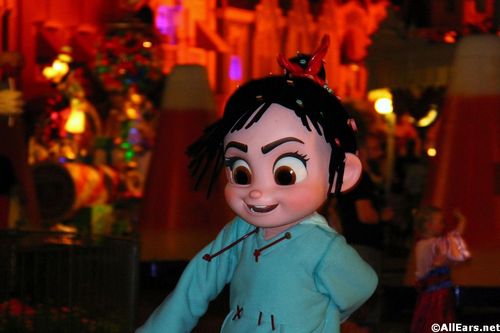 It is one of my favorite parades in the Magic Kingdom and it is lots of fun to watch!
We decided to not wander down Main Street with everyone to see the Fireworks so we walked around the park to see who was out Meeting and Greeting. Imagine my surprise when I stopped in Adventureland to see not only Terk and Jane, but also Tarzan! Wait was about 10 minutes or so, I got in line. Unfortunately, Tarzan had to leave before it was my turn, but it was neat to see him interact with folks, especially the kids.
We continued over to the Diamond Horseshoe, known on party nights as Club Villain. From 7:00pm to midnight various villains dance with guests – mostly kids but a few adults were also dancing.
GOOD TO KNOW: Be aware it is dark and foggy with lots of neon lights in the dance party.
Soon it was Fireworks time! Standing in Liberty Square between the Liberty Bell and Liberty Tree Tavern but on the water side, was a nice place to watch. Not crowded and a decent view of everything except the Castle projections. Music was loud and clear.
TIP: There are good fireworks viewing areas in Liberty Square and New Fantasyland if you want to avoid the huge crowds on Main Street. Just remember no Castle projections.
Off to the Haunted Mansion to see if Madame Carlotta was wandering the grounds. She was and even summoned Judy Garland!
As we walked through Fantasyland, we noticed most rides had small wait times, even Peter Pan. The Seven Dwarfs were all out meeting guests and even that line was only about 30 minutes, How cool to get your photo with all 7 of them.
Checked out Tomorrowland, again barely a 10 minute wait for attractions. Just past the Buzz Lightyear entrance, Buzz and Lotso the Bear were having Meet and Greets. I wanted to see Lotso! As you'll see in the video, he indicated to me he was sorry he was such a bad guy in Toy Story 3.
By this time it was getting late and the heat and humidity were getting to us. As we got to Main Street we realized it would soon be time for the 2nd performance of Mickey's Boo to You Parade. The area near Town Square and City Hall had lots of front row room to watch the parade and so we stopped to enjoy it again.
While waiting for the Parade I went over the the Sorcerer's of the Magic Kingdom area to obtain my special Halloween Card. I'll spare you the long details but several Cast Members and 10+ minutes later I still didn't have my card. The main issue had to do with not having my ticket (remember they Cast Member took it when we entered the park) or my Magic Band, even though I had my party wrist band. I didn't wear my Magic Band because of the heat. Eventually I did get my card.. but it shouldn't have been so hard.
We did not do any candy Trick or Treating but saw numerous stations set up. Check your guide map for locations.
TIP: The nice thing was there were signs to say what type of candy was being distributed at that location, like Crasins or Werthers, etc.
It was nice to see Cast Members being very diligent about making sure guests had their party Wrist Bands on before allowing them in many areas/attractions.
All in all we got our monies worth for Mickey's Not So Scary Halloween Party. The huge thing for us was the low crowds.
We opted not to do the $99 Villains Soiree. While I was disappointed to not be able to see Maleficent or the Queen, I didn't feel the cost was worth it for us. Plus, since we were going to the first party we were hoping it wouldn't be too crowded. It is all about priorities and what is most important to you. I am interested to hear from those of you who have!
I am sure as it gets closer to Halloween, the party will get progressively more crowded. Keep in mind, at this time, Halloween Night is SOLD OUT.